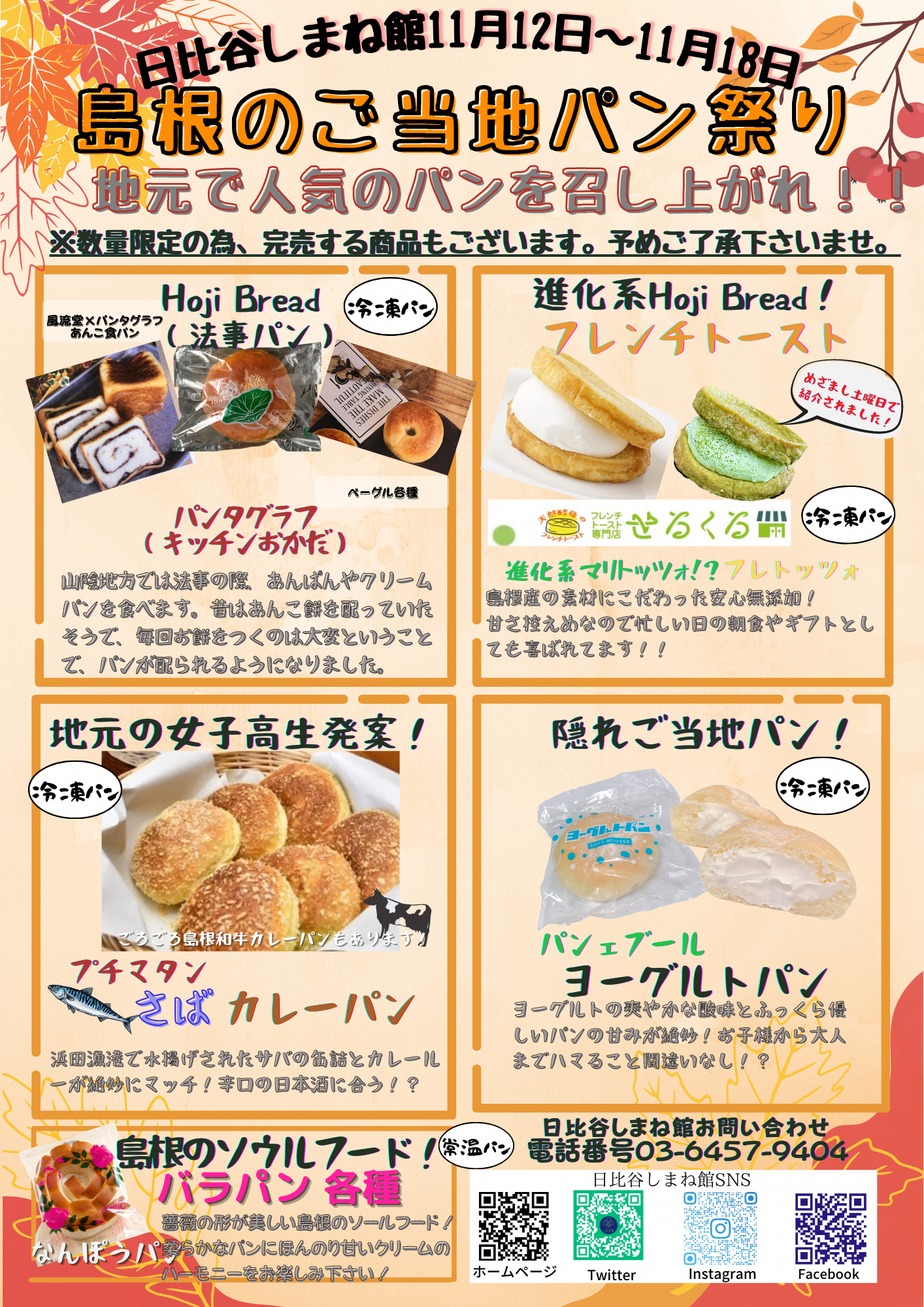 The long-awaited local bread fans, popular local shops and popular products are all at once
Event name: Shimane's local bread festival
Period: November 12th (Friday) to 18th (Thursday)
Business hours: 11:00 to 20:00
Venue: Hibiya Shimanekan (Hibiya Chanter B1F)
Others: Search for "Hibiya Shimanekan" on Twitter, Facebook, and Instagram, and follow us.
---
---
At the antenna shop "Hibiya Shimanekan" in Shimane Prefecture, we will hold the "first" local bread festival that continues to be loved as a local soul food for a week from November 12th (Friday) to 18th (Thursday).
The local bread that appears this time is "Bread that was conceived by a local high school girl" and "Hidden local bread" that became a hot topic at the secret Kenmin SHOW the other day. It is a gem that brings nostalgia to those who know it, and freshness and surprise to those who do not know it.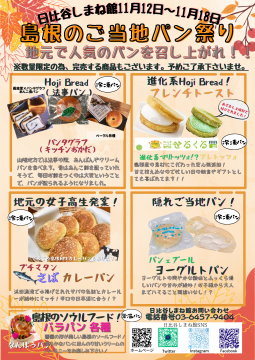 By all means, please enjoy the deliciousness of the bread itself and the story of the bread that has settled in the area while feeling the feeling of going on a trip to Shimane.
See homepage for details https://www.shimanekan.jp/events/event/7728
[Introduction of Hibiya Shimanekan]
Hibiya Shimanekan opened in May 2020 as an antenna shop where you can enjoy "whole Shimane" in the celebrity location "Hibiya" where the Imperial Hotel and Takarazuka Theater are lined up in the middle of Tokyo.
Through the exhibition and sale of seafood and mountain foods that make the best use of Shimane's natural blessings, and foods and crafts that are colored by culture and history, we are disseminating information every day to make everyone happy.
The following other events are also planned for this month. Please experience Shimane time slowly.
[Event in Hibiya Shimane]
11/15 (Monday) -30 (Tuesday) Kamitsuki Campaign ・ Customers who purchase at Shimanekan will receive "Kamitsuki" goods (bags) as gifts.
11/23 (Tuesday) Sales of instant rice that can be stored for a long time and is full of deliciousness using face-to-face sales and pregelatinization technology by employees of Alfa Foods Co., Ltd.
11/23 (Tue) Magatama Workshop
https://www.shimanekan.jp/events/event/7775
[Event outside Hibiya Shimane]
・ Opening department store events (opened and sold in Hachioji, Tachikawa City)
11/3 (Wed) -30 (Tue) Tachikawa Takashimaya SC (2-39-3 Akebonocho, Tachikawa-shi, Tokyo)
11/20 (Sat) -26 (Fri) Hachioji Octore (9-1 Asahicho, Hachioji-shi, Tokyo)