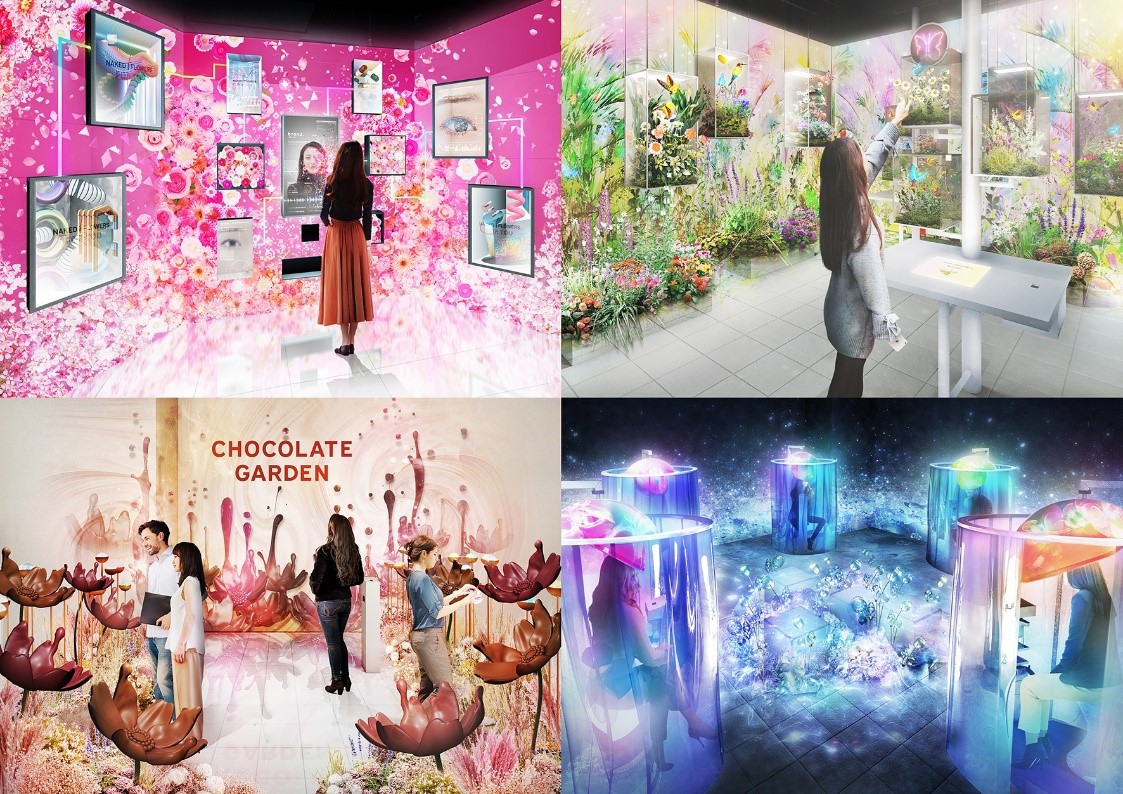 The opening date of "NAKED FLOWERS FOR YOU" on the 8th floor of Yurakucho Marui has been decided on Saturday, March 19th. This is the first permanent facility in Tokyo for the art exhibition "NAKED FLOWERS", which has gained popularity both in Japan and overseas.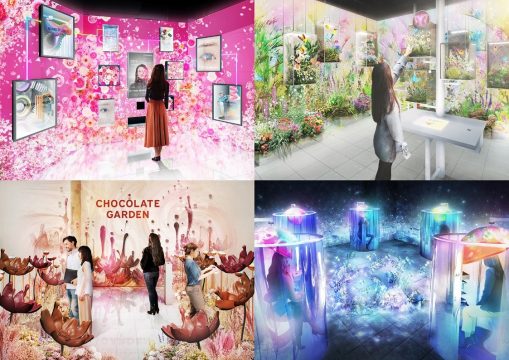 ■ What is the first permanent "NAKED FLOWERS FOR YOU" in Tokyo?
Creative company NAKED, INC. (Naked), Aktio Co., Ltd., Asahi Shimbun Co., Ltd., Sunny Side Up Co., Ltd., and Pia Corporation are jointly sponsored by the "NAKED FLOWERS FOR YOU Production Committee". It is a permanent facility. Until now, it has gained popularity both in Japan and overseas, including the world heritage sites of Kyoto and Nijo Castle, Tokyo and Nihonbashi, Hong Kong, and South Korea, but this is the first permanent facility in Japan.
"NAKED FLOWERS FOR YOU" is an experiential art exhibition "NAKED FLOWERS" where you can enjoy the "flowers" that represent naked with all five senses. It is offered as a variety of personalized experiences.
With profile diagnosis incorporating "PHYTOTHERAPY" (phytotherapy), you can enjoy a flower art experience where you can face your own charm while visiting four gardens, as well as six flower art experiences and spaces. , We will open as an evolutionary flower art facility where you can enjoy a personalized original experience, such as developing a sustainable cafe that is friendly to the environment.
■ Outline of contents in the venue
A new art experience unique to "NAKED FLOWERS FOR YOU"! [Four personalized experiences]
CHOCOLATE GARDEN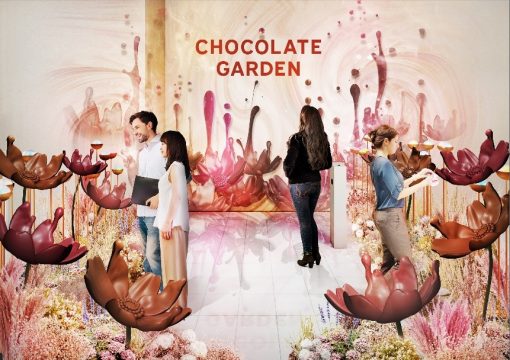 A garden of cosmos fields made of chocolate. Find and harvest the medical chocolate * 1 that customers need.
Incorporate the effects of plants into your body.
* 1: Under the supervision of a doctor, sugar-free, gluten-free, natural additive-free chocolate with condensed nutritional ingredients for health
FROZEN FLOWER GARDEN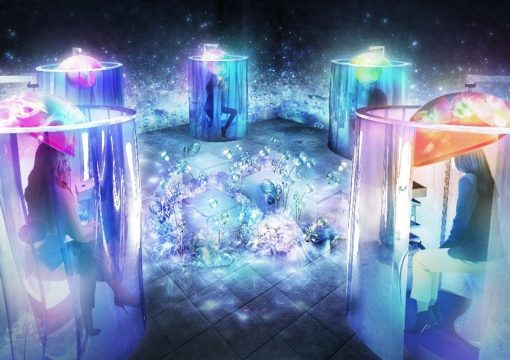 A garden with flowers that look like ice, shining in the clear winter air.
Choose aroma essential oils for meditation according to your current mood. In a personal space surrounded by sound and images, meditation is performed for several minutes while feeling the aroma. A space where you can meet yourself in a neutral way by calming your mind.
---
---
WILD FLOWER GARDEN ★ Premium garden area (experience fee: 700 yen)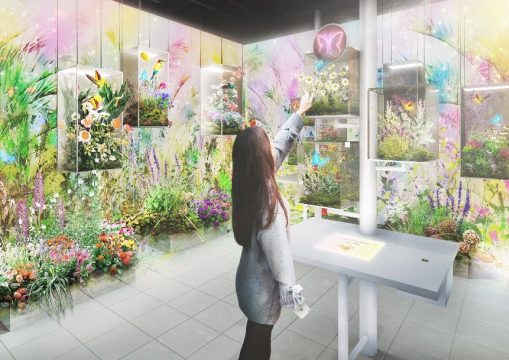 A garden of medical herbs with wild botanical energy. You can pick flowers of medical herbs that suit your condition and enjoy the effects with all five senses while being beautiful from your body.
BLOOMING GARDEN ★ Premium garden area (experience fee: 500 yen)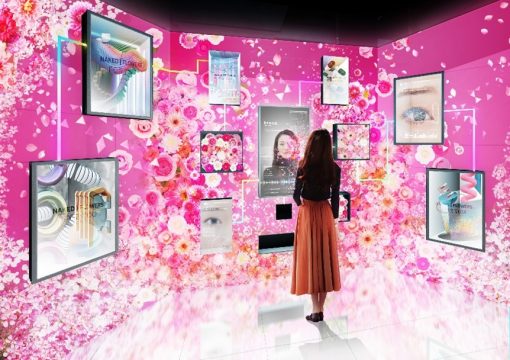 When you stand in front of the mirror, the AI program analyzes various data from the customer's face. When your own flower art is born based on that data, you will receive an art experience where you will be presented with cosmetics that suit you, and a premium experience where you can enjoy make-up. The place can also be enjoyed as a photo spot for flower art.
Color around the four gardens! [7 flower art experiences / spaces]
CLEAN JUNGLE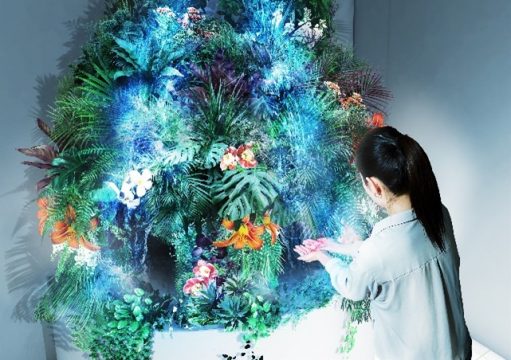 NAKED infectious disease prevention art. Alcohol disinfect your hands as if you were cleaning your hands with the water of a waterfall flowing through the jungle. Six kinds of flowers that bloom in the venue with alcohol disinfection spread randomly in the palm by projection mapping.
NAKED PHYTOTHERAPY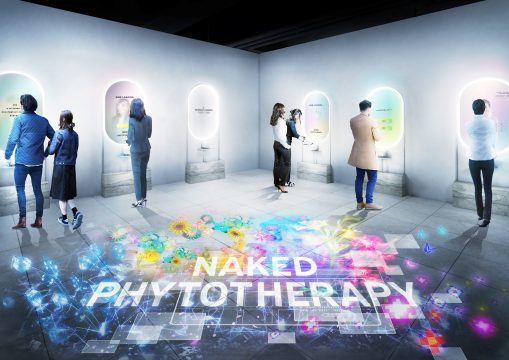 Through profile diagnosis based on phytotherapy (phytotherapy), personalize your current condition. Used in the following four personalized garden areas.
NAKED BIG BOOK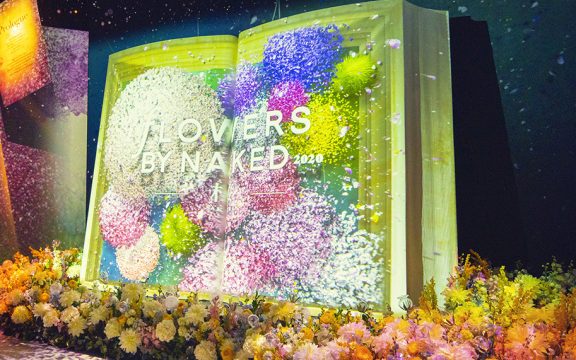 The NAKED BIG BOOK, which became the face of "NAKED FLOWERS", welcomes you. From everyday to extraordinary, we invite you to the world of "NAKED FLOWERS" with aroma.
Sakurasai OUSAI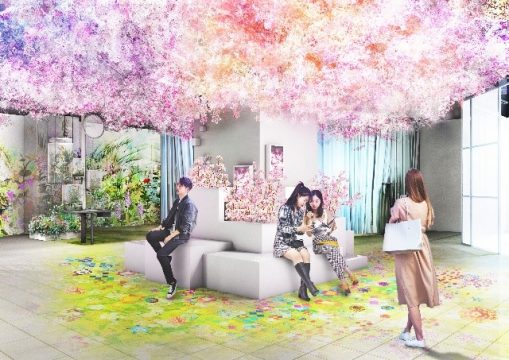 A cherry blossom art space that symbolizes "NAKED FLOWERS". Projection mapping spreads the beauty of the four seasons throughout the space.
COLORS
When you touch the wall, natural elements such as plants, light, and water appear like watercolors, and the scenery changes.
A natural ecosystem is created, such as growing by giving yellow light to plants drawn in green.
"THE SECRET" OF SECRET GARDEN ("THE SECRET" OF SECRET GARDEN)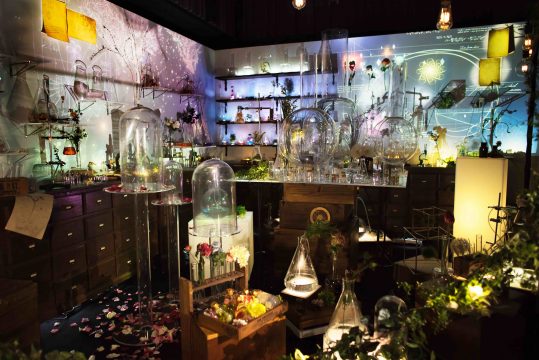 A secret laboratory that creates "NAKED FLOWERS", which was a popular area even when it was held in the past. You can purchase original goods such as aroma mask sprays and various items with the theme of flowers and plants.
* The image is from the past.
NAKED FLOWERS CAFÉ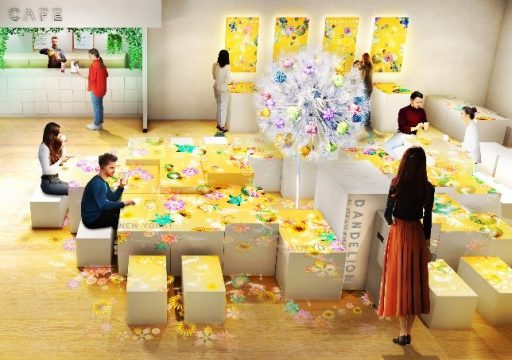 A sustainable cafe that offers personalized drinks and all menus in environmentally friendly containers. You can get the nutrients you need now according to the diagnosis result (customers who use only the cafe can select from the existing menu). In addition, an interactive art object "DANDELION" with a dandelion motif is exhibited in the store. Anyone from this cafe can participate in the art project "DANDELION PROJECT" that delivers flowers of peace to the world through the network.
■ Ticket price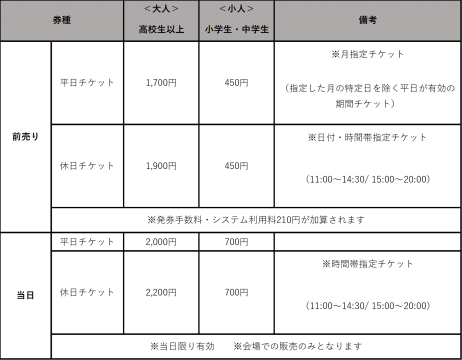 Ticket sales site: https://w.pia.jp/t/flowers-naked-foryou/
* All prices in the text and in the ticket price list are tax-included. * All-day admission is free for preschoolers. * Holiday tickets are available on Saturdays, Sundays, national holidays, holidays, and specific days set separately. * Some content Please note that chocolate is used for those who have chocolate allergies. * Premium garden areas (WILD FLOWER GARDEN, BLOOMING GARDEN) and NAKED FLOWERS CAFÉ in the venue will be charged separately from the ticket.
■ Efforts for "experience-based facilities" <br /> The Marui Group is focusing on "stores that do not sell" as a new form of retail.
We see real stores as a platform that integrates online and offline, and we are promoting initiatives that are not aimed at selling on the spot, such as providing value for experiences and engaging with customers.
We aim to expand "non-selling stores" that provide value unique to real stores by collaborating with tenants and facilities that provide art experiences such as "NAKED FLOWERS FOR YOU" as well as online services and D2C brands. I am. Going forward, we will continue to provide high-value experiences to our customers at real stores together with "NAKED FLOWERS FOR YOU" in order to promote "stores that do not sell".
■ Facility overview
Facility name: "NAKED FLOWERS FOR YOU"
Organizer: NAKED FLOWERS FOR YOU Production Committee
Location: 2-7-1 Yurakucho, Chiyoda-ku, Tokyo 100-0006 Yurakucho Marui 8F
Business hours: 11: 00-20: 30 (planned)
Closed days: Same as the closed days of Yurakucho Marui
Official HP: https://flowers.naked.works/foryou/
* Business hours are subject to change. For details, please see the website of Yurakucho Marui. * In order to alleviate congestion, admission to the facility may be restricted and admission ticket may be distributed. * The following measures are taken to prevent the spread of the new coronavirus infection.・ Staff wearing masks ・ Alcohol disinfection before entering the store and before tasting ・ Ensuring sufficient social distance ※ Facility opening may be changed or canceled without notice
<Inquiries from the general public>
NAKED FLOWERS FOR YOU Management Office
03-3760-4210 (Correspondence time: Weekdays 10: 00-16: 00)
▼ NAKED FLOWERS FOR YOU Management Office
https://flowers.naked.works/foryou/
▼ Yurakucho Marui
https://www.0101.co.jp/086/
▼ Marui
https://www.0101.co.jp/
▼ Marui Group
https://www.0101maruigrouo.co.jp/
<Past related articles>
"Inclusion Festival 2021 Autumn" will be held in Yurakucho Marui. September 9th (Thursday) -September 15th (Wednesday)
25th anniversary of anime! "Jigoku Sensei Nu-be-Exhibition" will be held from Saturday, July 31st to Sunday, August 29th at Yurakucho Marui! Many valuable cels and limited-edition goods from that time are also available!
A pop-up shop for chocolate "LOVE COCOA" and organic tea "JOE'S TEA" from England has opened in Yurakucho Marui!
A space where you can experience "Ross Flower" is now available in Yurakucho Marui! June 7th (Monday) -July 12th (Monday), 2021