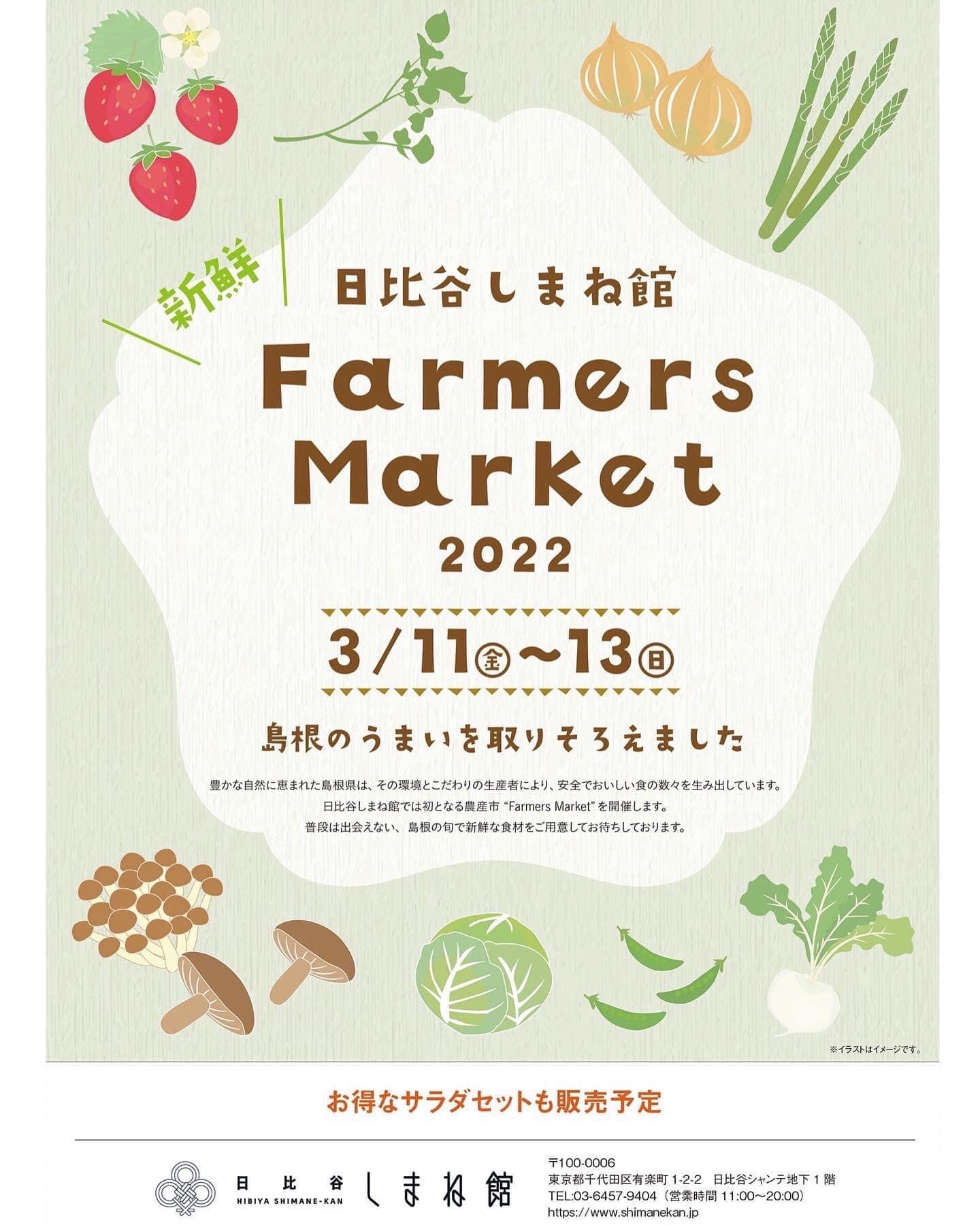 Safe and secure, delicious seasonal Shimane fruits and vegetables will appear in Hibiya at once ~ Schedule: 3/11 (Friday) -13 (Sunday) ~
Shimane Prefecture's antenna shop "Hibiya Shimanekan" (Hibiya Chanter B1F) will hold the first Shimane Prefecture agricultural market "Farmers Market".
---
---
At this event, we want to deliver the "safe and secure" and "seasonal" ingredients of Shimane producers to the dining table living in the metropolitan area, the desire to be energized, the story of the producer, and our commitment. It is a content that you can feel and enjoy.
We are waiting for you to prepare fresh ingredients that are seasonal and springy in Shimane, which you can not usually meet, so please come to Hibiya Shimanekan! !!
The fruits and vegetables of Shimane that will be released this time are planned to be sold mainly on vegetables and fruits that have been certified as delicious.
* Shimane Prefecture has established a "Delicious Shimane Certification" system that certifies that products are produced based on the GAP (Production Process Management) standards set by the prefecture .
● Event Overview [Event Name] Hibiya Shimanekan Farmers Market 2022
[Period] March 11th (Fri) -13th (Sun) 11: 00-20: 00 [Venue] Hibiya Shimanekan (Hibiya Chanter B1F)
[Examples of products for sale] Strawberries, Goutsukureson, organic vegetable salad set, etc. * Subject to change on the day [Nice deals]
・ We plan to provide mini salad food and drinks to users of the Goen Cafe (food and drink corner) ・ Original back gifts for vegetable purchasers ・ Novelty gifts by answering questionnaires
[Introduction of Hibiya Shimanekan]
Hibiya Shimanekan opened in May 2020 as an antenna shop where you can enjoy "whole Shimane" in Hibiya, a celebrity location where the Imperial Hotel and Takarazuka Theater are lined up in the middle of Tokyo.
And, through the exhibition and sale of foods and crafts that are colored by the culture and history of Shimane Prefecture, we are disseminating various information every day so that everyone in the metropolitan area will be pleased.
<Past related articles>
"Shimane's local bread" that attracts attention gathers in Hibiya!