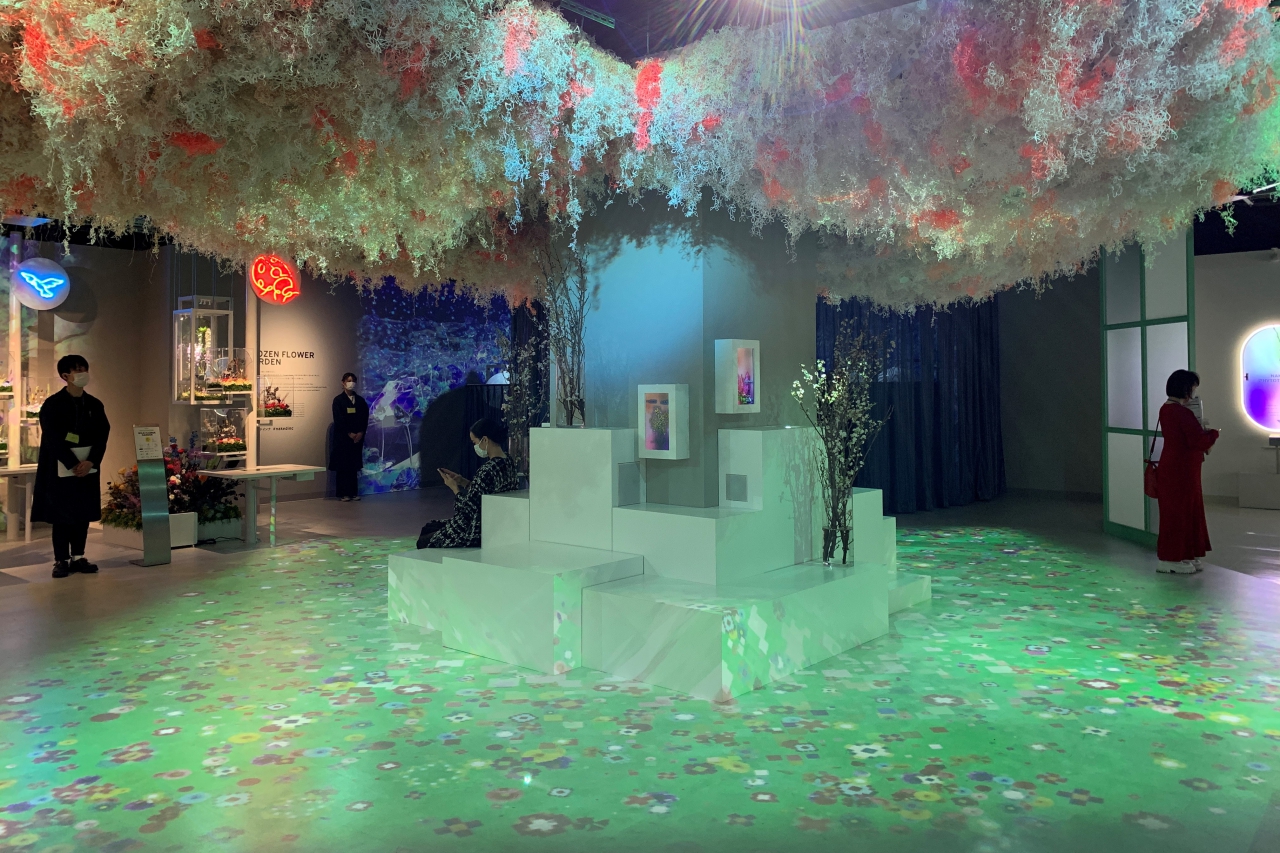 Enjoy the lab-like shop area and sustainable cafes!
So far, we have introduced various flower arts of "NAKED FLOWERS FOR YOU", but there are shop areas and cafes in the facility, so you can still enjoy it.
■ "THE SECRET" OF SECRET GARDEN
The shop area ["THE SECRET" OF SECRET GARDEN] is a space inspired by the secret laboratory that creates "NAKED FLOWERS".
It seems that this shop can only be used by those who have paid the entrance fee, so it has a special feeling.
You can purchase fragrance bath salt bottles, venue-limited original goods such as aroma mask sprays, and various items with the theme of flowers and plants.
It's as photogenic as the garden area, but in the back, you can see the flowers popping out of the flask on the transparent filter, so be sure to check it out!
Since the other side can be seen through, you can take cute pictures that look like they are in a flask.
■ NAKED FLOWERS CAFE
Lastly, I would like to introduce [NAKED FLOWERS CAFE]. This area is outside the venue and can be used by anyone without paying an admission fee .
A cafe that is conscious of sustainability, offering all menus in environmentally friendly containers. You can enjoy a personalized drink with a smoothie that can incorporate the nutrients and effects that you need now according to the diagnosis result. The details of the drink that suits you will be displayed on My Page, so show it to the clerk and order.
If you only use the cafe, you can choose from the grand menu.
I tasted one personalized drink. The ingredients used are a combination of "mango / carrot / ginger / walnut (orange) / milk / avocado oil / chia seeds".
I was able to drink it deliciously, but the ginger is good and the habit is quite strong. If your personalized drink contains ingredients that you don't like, it's a good idea to choose from your favorite grand menu without forcing yourself.
In addition to the three types of smoothies, I was able to purchase several types of coffee, tea, and soft drinks on the grand menu.
In addition, an interactive art object [DANDELION] with a dandelion motif was exhibited in the cafe. From here, you can participate in the art project "DANDELION PROJECT" that delivers flowers of peace to the world through the network, so if you are interested, please give it a try.
Naked representative Ryotaro Muramatsu will also appear at the exhibition!
Ryotaro Muramatsu, the representative of Naked, and Naoki Ito, the manager of Yurakucho Marui, appeared at the exhibition.
<Comment by Mr. Muramatsu>
Many of you may be familiar with NAKED FLOWERS, which has been around for several years, but as you can see, this time it's FOR YOU. Enjoy the content using your personal data. You can use your smartphone to experience your own experience and enjoy things that you couldn't do with FLOWERS. While cherishing the world view of FLOWERS, I would be happy if you could think of it as a kind of completely new IP that specializes in personalized experiences, or our work.
In the streets, NFT and Metaverse are attracting attention, but if we do it, it is not just the Metaverse or the online world, but it is characterized by crossing over real and online functions through mobile phones etc. I think it will become.
Since this will be a permanent installation, it will evolve over time, and while the online functions will become stronger, it will become closer to OMO (*). I think that you can make something unique as an experience. have fun.
* ・ ・ ・ A form that transcends the boundaries between online and offline and provides a better customer experience.
<Comment by Mr. Ito>
The value of real stores in retail has changed completely due to the drastic change in consumer awareness caused by the Corona disaster. Marui's answer to such a situation was "let's open a store that doesn't sell."
Given that the place where consumers buy things is eroding more and more into EC, I think that providing the optimal experience is one of the major roles when considering what role Real should play. ..
To that end, we will collaborate with D2C tenants who are appearing in real life with the aim of providing their brand values in the form of experiences and increasing engagement with customers. Or I think it's important to collaborate with someone like Naked who provides a truly entertaining experience.
I am convinced that customers who come to the store by opening a store with Naked will feel that it is good to be real, to have an extraordinary experience, and to come again. I am deeply grateful to be with Naked.
* Some comments are excerpted.
---
In "NAKED FLOWERS FOR YOU", the diagnosis result changes depending on the condition of the day, so you will want to go to play again and again to see what kind of experience you can have next time. Please come and visit us!
■ NAKED FLOWERS FOR YOU

Facility overview
Opened on Saturday, March 19, 2022
place
Yurakucho Marui 8F (2-7-1 Yurakucho, Chiyoda-ku, Tokyo)
business hours
11: 00-20: 30 (* Scheduled) Last admission 20:00
* From April, 11: 00-20: 00 Last admission 19:30
closing day
Same as Yurakucho Marui's closed days
Organizer
NAKED FLOWERS FOR YOU Production Committee (NAKED, INC., Aktio Co., Ltd., Asahi Shimbun Co., Ltd., Sunny Side Up Co., Ltd., Pia Corporation)
Planning / Direction / Production
NAKED, INC.
Official site
https://flowers.naked.works/foryou/
Ticket sales site
https://w.pia.jp/t/flowers-naked-foryou/
Ticket price [advance sale]
* Ticketing fee and system usage fee of 210 yen will be added.

■ Weekday ticket <Adult> High school students and above 1,700 yen <Children> Elementary and junior high school students 450 yen * Monthly designated ticket (period ticket valid on weekdays excluding specific days of the specified month)

■ Holiday ticket <Adult> High school students and above 1,900 yen <Children> Elementary and junior high school students 450 yen * Date / time zone designated ticket (11: 00-14: 30/15: 00-20: 00)

Ticket price [on the day]
* Valid only on the day * Only sold at the venue

■ Weekday ticket <Adult> High school students and above 2,000 yen <Children> Elementary and junior high school students 700 yen

■ Holiday ticket <Adult> High school students and above 2,200 yen <Children> Elementary and junior high school students 700 yen * Time zone designated ticket (11: 00-14: 30/15: 00-20: 00)

Precautions
Preschoolers are free to enter all day.

Two areas in the venue [WILD FLOWER GARDEN] [BLOOMING GARDEN] and NAKED FLOWERS CAFE will be charged separately from the ticket.

The payment method for [WILD FLOWER GARDEN] and [BLOOMING GARDEN] is only QR code payment in front of the area.
(D payment, PayPay, auPay, J-coin pay, Alipay +, WeChat Pay, UnionPay (UnionPay), COIN +)

For other details, please check the official website.
* The content of this article is as of the publication date (2022/3/19). Please note that the information may differ from the latest information.
<Past coverage articles>
[Interview report] Special exhibition "Delicious time in Sylvanian village" I faint in agony with the loveliness of a baby dressed as a bakery …! Held in Matsuya Ginza (until March 21st)
[Panasonic Shiodome Museum of Art] "The Power of Ceramic Art and Traditional Crafts that Connect to the Future" (~ 3/21) Preview Report
[Experience Report] Enjoy the illuminations at "Tokyo Christmas Market 2021 in Hibiya Park"! Introducing store openings, miscellaneous goods, and congestion status
[Actual food review] A colorful and cute petite-sized meat bun specialty store "TOKYO PAO" opens in Yurakucho!
Nana Suzuki fires "nice!" Tokyu Plaza Ginza "Mana Belle Marche-Production Process Exhibition Covered by Children-" Coverage Report
List of past coverage articles