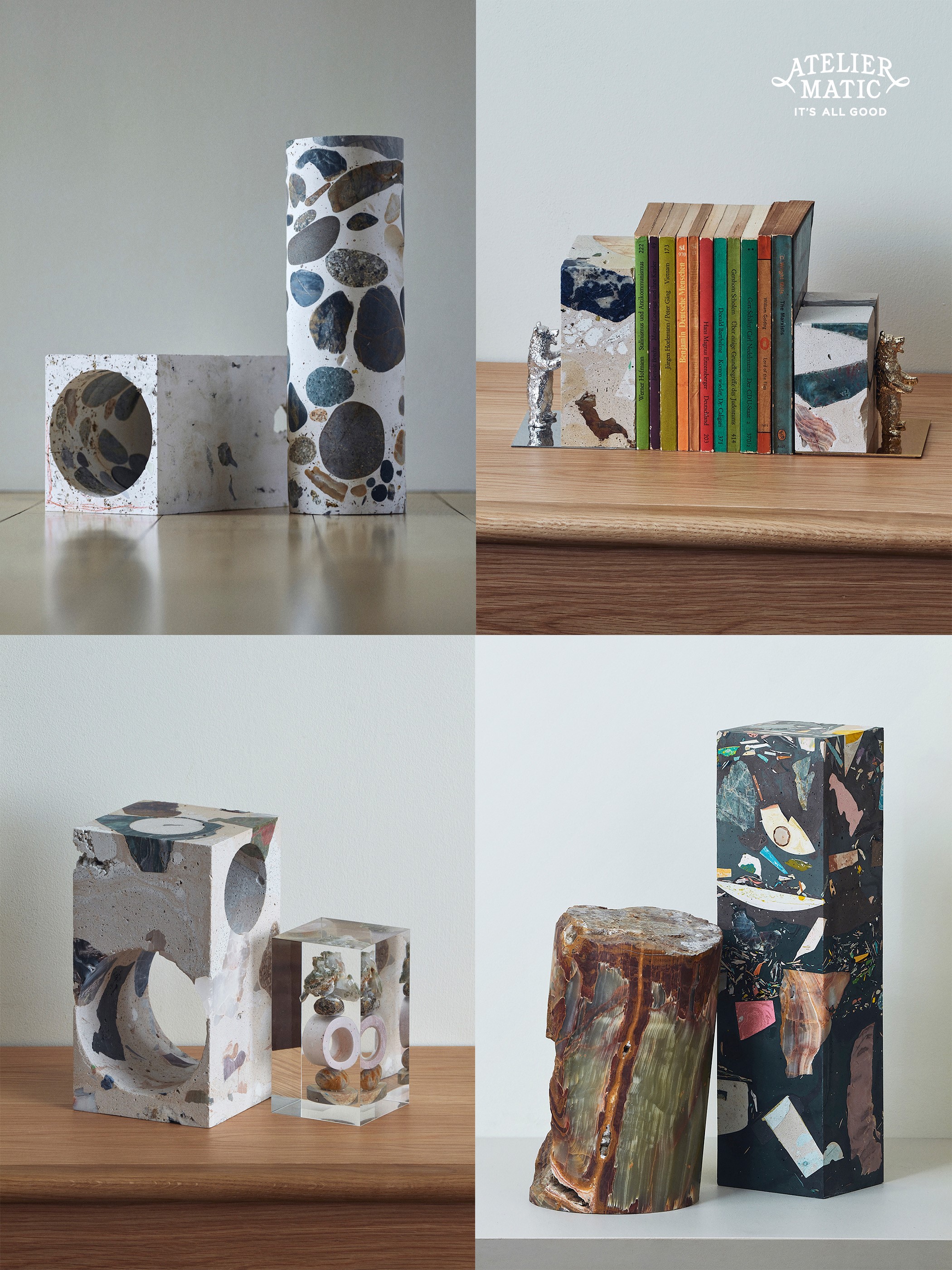 At Ginza Tsutaya Bookstore (GINZA SIX 6F, Chuo-ku, Tokyo), Atelier matic / Sho Toyama will hold a fair of objects and vases using minerals and plants, "Stones, Plants and Human Hands." on August 6th ( It will be held from Saturday) to September 2nd (Friday).
·Overview
Sho Sotoyama is a designer who develops his own activities under the name Ateliermatic. While working on space design such as design and exhibitions, I am engaged in creative activities of objects with nature as a motif.
In this fair, in addition to translucent objects in which plants and ores are confined in acrylic, solid objects in which minerals are put into resin and solidified, pieces of ore generated during the production of works are used. We will introduce works with natural motifs, such as design works, single vase imitating marble patterns and patterns on resin.
A number of works full of vitality created by fusing the "natural" possibilities of ore with the "artificial" possibilities of acrylic. Recommended novels and poetry books on the theme of nature, selected by Ginza Tsutaya Bookstore, are also available for this fair.
Feature page| https://store.tsite.jp/ginza/blog/magazine/27989-1608210725.html
·Product Details
​Product Name|S10/Object
---
---
It is a work that puts ore into resin, hardens it, and then hollows it out. The design I intended at the time of creation and the expression of nature that was born by chance are crossed. It was born from Toyama's desire to turn the cross section, mass, and strength of a stone into a work of art.
Price | 110,000 yen (tax included)
Size|D100×W105×H107mm
Material|Water-soluble resin, ore
Product name|ADB02/Acrylic dryflower object 02
I confined dried flowers in acrylic.
By putting it in acrylic, the details stand out more clearly, giving it a strong presence.
Price | 187,000 yen (tax included)
Size|D125×W125×H332mm
Material|Acrylic, flower
Product name|SL05/STONE LIGHT 05
Stone lighting series. amethyst.
Rather than creating a lighting fixture, I tried to create a rugged image of a light bulb attached to a stone. With the minimum number of parts, stones are selected based on criteria that Toyama considers beautiful, such as roughness, beauty of form, and balance of colors.
Price | 46,200 yen (tax included)
Size|D100×W110×H85mm (Body size) Cord 1.5m
Material|Ore
E17 10w ball included, PSE acquired.
・About sales
Sales will begin at 10:30 on Saturday, August 6th at Ginza Tsutaya Bookstore and online store.
*Only some products are sold online.
Sales page | https://store.tsite.jp/feature/601.html
・Atelier matic Sho Toyama
Sho Toyama
Independent as "matic" in 2012. Based on space design, he works on store design, event venue configuration such as exhibitions, and display design such as Christmas show windows in Midtown. In addition, he calls his art activity "Ateliermatic" (Ateliermatic), and mainly produces objects using marble and acrylic.
https://matic.jp.net/
・Fair details
"Stones, Plants, and Human Hands." Fair
Period | August 6th (Sat) to September 2nd (Fri) during business hours Venue|Over-the-counter/hosted by online stores|Ginza Tsutaya Bookstore Inquiries|03-3575-7755 (during business hours)/info.ginza@ ccc.co.jp
*The end date of the fair is subject to change.
・ Ginza Tsutaya Bookstore
By connecting art, Japanese culture, and life through books, we propose a lifestyle with art.
Address|6-10-1 GINZA SIX 6F, Ginza, Chuo-ku, Tokyo 104-0061
Phone number|03-3575-7755
Business hours | Please check the store website.
Homepage| https://store.tsite.jp/ginza/
Facebook| https://www.facebook.com/GINZA.TSUTAYABOOKS/? ref=bookmarks
Twitter| https://twitter.com/GINZA_TSUTAYA
Instagram |https://www.instagram.com/ginza_tsutayabooks/
・CCC Art Lab
We are a planning group that conducts business related to art within the planning company Culture Convenience Club Co., Ltd. We would like to contribute to making people's lives happier and creating a better society by making art more accessible through "proposing a life with art". Based on the knowledge cultivated through many years of business experience, such as store planning, art media, product development, and event production, we will propose plans with a professional approach.
https://www.ccc-artlab.jp/
<Related articles in the past>
[Ginza Tsutaya Bookstore] A new exhibition by ceramic artist Takuro Kuwata will be held from Saturday, July 9th. Original and colorful works on the theme of "tea bowl" are exhibited.
[Ginza Tsutaya Bookstore] Solo exhibition "In the Human Forest" by Onishi Kayafu, winner of the 24th Taro Okamoto Award for Contemporary Art, will be held from Saturday, July 16th. In addition to the award-winning work "Requicolos" (core part), new works will also be exhibited.
[Ginza Tsutaya Bookstore] A solo exhibition "Colours in summer" by Rikako Kawauchi, an up-and-coming artist who is attracting attention, will be held from Saturday, July 2nd.