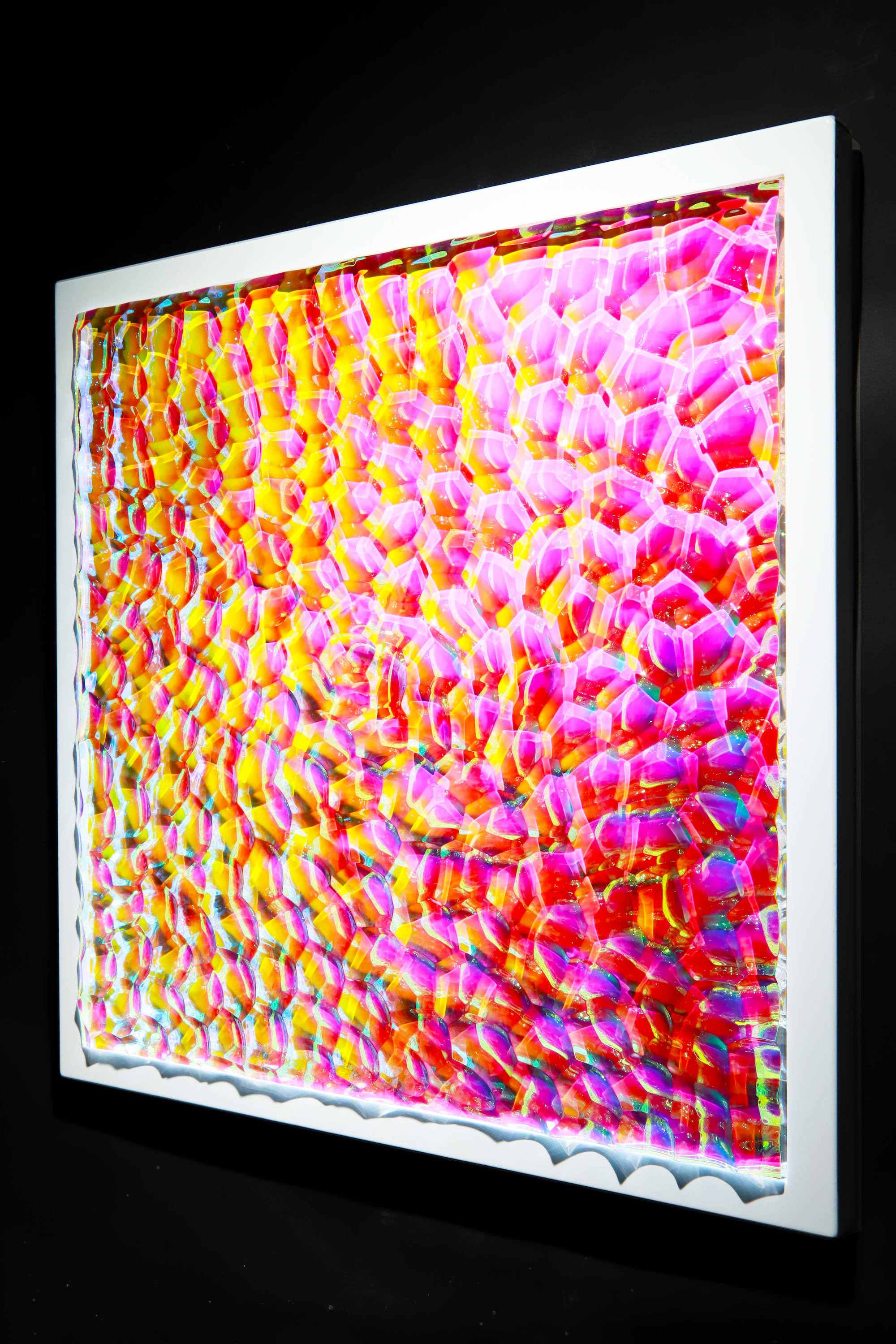 Tsuyoshi Ogawa, Nebula prism, 2022, H65×W65×D6cm, acrylic, special film, wood
Tsuyoshi Ogawa solo exhibition "Surreal Prism – Invisible Substance" held at Whitestone Gallery Ginza Shinkan
At Whitestone Gallery Ginza Shinkan (6-4-16 Ginza, Chuo-ku, Tokyo), Tsuyoshi Ogawa's solo exhibition "Surreal Prism – Intangible Entity" (English title: Surreal Prism – Intangible Entity) will be held on October 7, 2022. It will be held from (Friday) to October 29 (Saturday).
At the venue, we have prepared a viewing experience where you can enjoy the appearance of the prism changing due to the swinging lighting, and the work that shows a different aspect by shining a black light on yourself. Please enjoy Tsuyoshi Ogawa's solo exhibition at both the gallery venue and the online exhibition.
・About the exhibition
Tsuyoshi Ogawa's "Light Formation", which governs space by applying the refraction of light by prisms, renews the visual experience itself. Special films and various mediums are turned into luminous bodies through elaborate techniques and elaborate production processes, as if looking at vivid alchemy. Ogawa's "light" contains not only novelty, but also fragments of personal memories, reminiscent emotions, and the history of art.
In this exhibition, Ogawa digs deeper into light (image) = memory.
Images perceived by the brain are no more than records of the past.
A four-dimensional space-time that adds a time axis to the three-dimensional sculptural concept. This time axis is viewed as "light" and visualized to construct a multi-layered work.
If the phenomenon that we see now is a virtual image, and the real image has a different meaning, what is its true nature?
I would like to pose this question to each of the viewers in the experience of surreal light woven by the super-dimensional world.
We look forward to welcoming you to our gallery.
・Change of work by light
---
---
Tsuyoshi Ogawa's "light sculptures" literally change their appearance depending on the light. Where does the light come from and where do we see it? It changes its appearance depending on the time and place of appreciation. For lighting, MinebeaMitsumi Co., Ltd.'s "SALIOT", which has been used in many art galleries and museums, is used. Beautifully illuminates your work with reproducibility of colors that are as close as possible to sunlight and ever-changing light.
Also, there are works that show a completely different aspect by applying black light. This work is a shot of the main visual "Nebula prism" from a different angle. A black light is also available at the venue, so you can enjoy the changes in the work yourself.
・Exhibited works
・Exhibition Overview / Gallery Exhibition
Tsuyoshi Ogawa Solo Exhibition "Surreal Prism – Invisible Substance"
Date: October 7th (Friday) to October 29th (Saturday), 2022
Venue: Whitestone Gallery Ginza New Building Hours: 11:00 – 19:00
Closed: Sundays/Mondays Location: 6-4-16 Ginza, Chuo-ku, Tokyo
Click here for exhibition details:
https://www.whitestone-gallery.com/en/blogs/gallery-exhibitions/tyo-n-go-ogawa-102022
・Artist Profile: Tsuyoshi Ogawa
Applying the refraction of light generated by a "prism", the space is wrapped in particles of light that diffuse in a variety of colors. Its novelty dazzles the viewer while at the same time evokes a nostalgic memory of light. Tsuyoshi Ogawa's work is a radical attack on the viewer's consciousness of formative art, and the flow of art history from impressionism to minimal art. Bringing the legitimacy to draw. An up-and-coming artist who continues to challenge "disturbance and expansion of vision" with carefully selected mediums and precise technical skills. In recent years, they have also collaborated with Tsutaya Bookstore in China to produce jewelry (sold at four stores in Shanghai, Xi'an, and Hangzhou), and have registered a trademark as the "GoOGAWA" brand.
Born in Kanagawa Prefecture in 1981. Graduated from Tokyo University of the Arts in 2007 (Received the Governor of Tokyo Award at the graduation exhibition). Completed graduate school at the same university in 2009. Selected twice for the Mitsubishi Corporation Art Gate Program (10th and 13th). Belongs to the artist group "C-DEPOT" since 2011. Selected for the 8th Tugboat Art Award in 2013.
Here is the author introduction:
https://www.whitestone-gallery.com/en/blogs/artist/go-ogawa
・Writer career / Biography
solo exhibition
2022 "The Prism of Eternity" Ginza Mitsukoshi 7F Gallery
2021 "The Prism of Eternity" Tenmaya Okayama Main Store 5F Art Gallery (Okayama)
2021 "Eternity Prism" Isetan Shinjuku Main Building 6F Art & Frame (Tokyo)
2019 "Glowing Maple Firefly" Kajicho Square, Kawagoe City (Saitama)
2019 "Membrane Prism" Isetan Shinjuku Main Building 6F Art & Frame
2018 "Phantom Prism" Whitestone Gallery Karuizawa (Nagano)
2018 "Deep Prism" Isetan Shinjuku Main Building 5F Art & Frame
2018 "Meteor Shower" Ginza Six Artglorieux
2017 "Synchronicity" Isetan Shinjuku Main Building 5F Art & Frame, Hideharu Fukasaku Gallery Roppongi (Tokyo)
2017 "Spring Prism" Park Hotel Tokyo 25th and 31st floor
2017 "Virtual Image and Real Image, Light" Tokyo International Forum Art Shop
2016 "Tsuyoshi Ogawa: Light Modeling Exhibition with the Brilliance of Prisms" Chofu City Cultural Center Tazukuri (Tokyo)
2016 "OGAWA Go Exhibition Prism Shine" Isetan Shinjuku Main Building 5F Art & Frame
2016 "Glowing Landing Exhibition" Ueno Toshogu Kagura Hall (Tokyo)
2016 "Tsuyoshi Ogawa Exhibition" Nihonbashi Mitsukoshi main store 6th floor + ART art goods store
2015 "Light Shapes Created by Prisms" Ikebukuro Hotel Metropolitan 1F Lobby
2015 Collaborative exhibition with "Compolux" Seibu Shibuya Store B Building 3F Compolux
2015 『Luminous Flux』 Hideharu Fukasaku Gallery Roppongi
2015 "Luminescence" fei art gallery (Yokohama)
2014 "Light Scattering" Tokyo International Forum Art Shop
2013 "Prismatic The Diffusion" Daikanyama T-SITE (Tokyo)
2013 Arakawa Giken Head Office Omotesando Showroom Window Display (Tokyo)
​ ・ About shooting and sharing on SNS
All works in this exhibition can be photographed and posted on SNS.
Instagram: https://www.instagram.com/whitestonegallery.official/
・About the online store
The official site where you can enjoy the exhibition not only at the gallery venue but also online. We will send out a variety of information such as artist information and interview articles, including online exhibitions. You can also purchase your favorite works online. Since you can contact art advisors with specialized knowledge in real time, we have introduced a system that makes it easy for anyone from collectors to art beginners to purchase.
URL: https://www.whitestone-gallery.com/ja
・About Whitestone Gallery
Since opening in Ginza, Tokyo in 1967, Whitestone Gallery has established itself as a world-class art gallery. In addition to domestic stores in Ginza and Karuizawa, it also has bases in Hong Kong (art complex HK H Queen's) and Taiwan. Whitestone is one of the most pioneering galleries in Asia, introducing post-war Gutai art, contemporary artists, and up-and-coming young artists.

Company name: Whitestone Co., Ltd. Representative: Yukie Shiraishi, President and CEO Address: 5-1-10 Ginza, Chuo-ku, Tokyo 104-0061
Founded: 1967
・About exhibition lighting "SALIOT"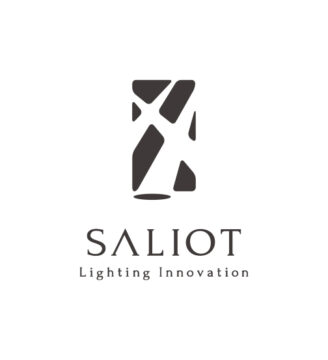 "SALIOT" brought about a major revolution in the lighting field by allowing the direction and brightness of lighting fixtures to be controlled from a distance. Combining optics, motors, and wireless technology, we have achieved beautiful light with high color reproducibility, a compact size, and a quiet design. This solo exhibition uses it as a light that enhances the appeal of the work.
MinebeaMitsumi Inc.
SALIOT Moving Spotlight:
https://shop.minebeamitsumi.com/spotlight/
<Related articles in the past>
A solo exhibition by young artist Ameyako, who works on the theme of human nature, will be held in Ginza.
The first solo exhibition in Japan by female painter Wu Shan, who is attracting attention from home and abroad, will be held in Ginza.
Cheerful eroticism and humor shine | Go Yayanagi's solo exhibition held in Ginza, Tokyo