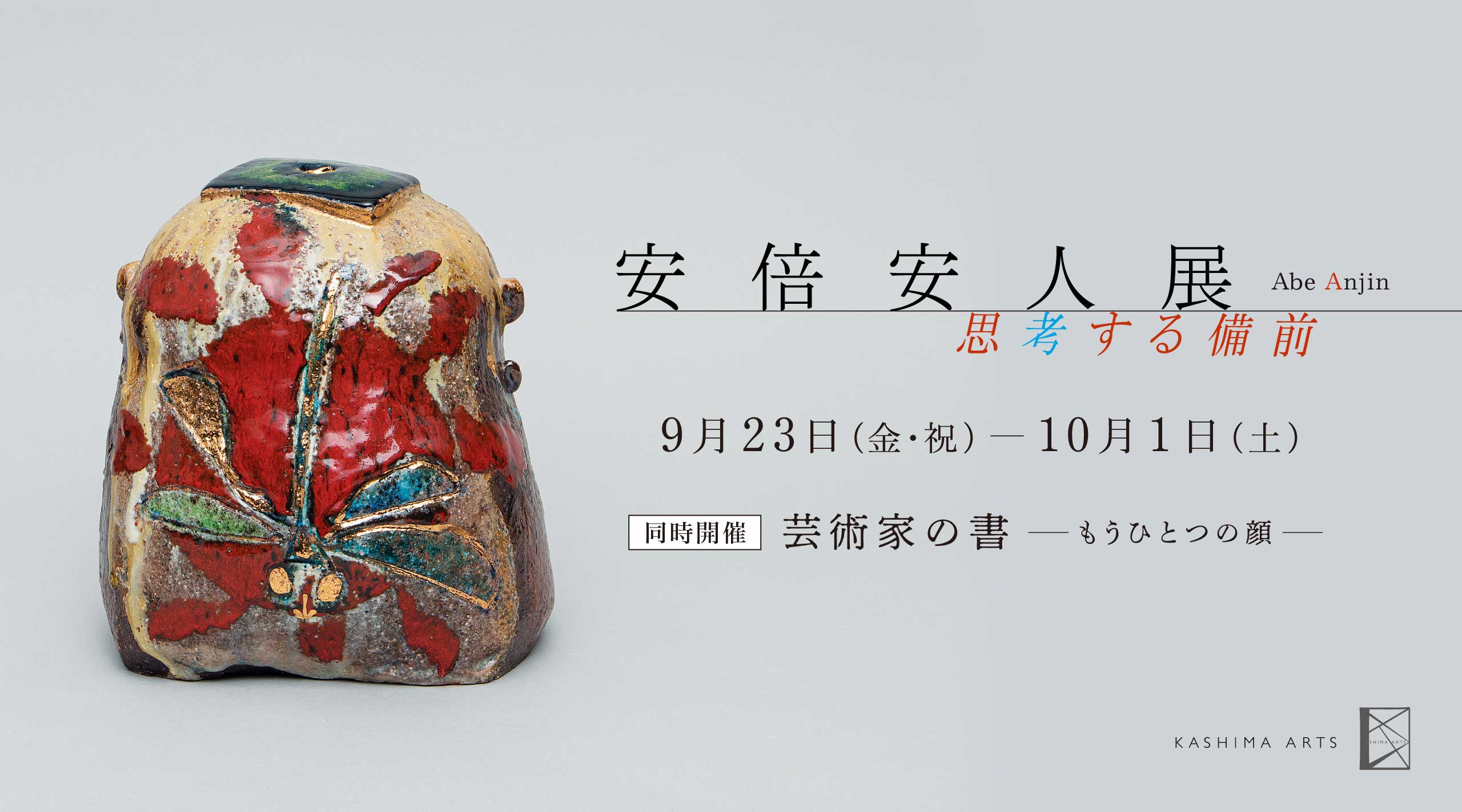 Dates: September 23rd (Fri/holiday) to October 1st (Sat)
Venue: Kashima Art (3-3-2 Kyobashi, Chuo-ku, Tokyo)
Total number of exhibited works: about 55 / Free viewing / Available for sale
Kashima Art (Kyobashi, Tokyo) will hold exhibitions from September 23 (Fri./holiday) to October 1 (Sat.), 2022, "Anto Abe: Thinking Bizen" and "An Artist's Calligraphy – Another The face of the world" will be held at the same time.
We have set up venues on the 1st and 2nd floors of the Kashima Art Gallery, where you can enjoy the free expression of artists who transcend the times, so please take a look.
Detailed URL: https://www.kashima-arts.co.jp/exhibitions/abeanjin_calligraphy/
[About "Anto Abe Exhibition – Thinking Bizen"]
In this exhibition, we will display approximately 40 unpublished works by Yasuto Abe, known as the master of Bizen ware.
---
---
Yasuto Abe has a deep insight and insight into the classics at his core, and continues to explore the possibilities of expression that can only be achieved with Bizen ware with his sharp aesthetic sense.
The appeal of Yasuto Abe's works, created by adding a unique color expression to Bizen ware, is truly unique. His works are highly acclaimed worldwide, and his works are stored in the Metropolitan Museum of Art in the United States and the National Palace Museum in Taipei.
[Abe Yasuto (1938-)]
Born in Osaka City in 1938 (Showa 13), from the age of 21 he studied at the Institute of Contemporary Art Saburo Miyamoto. In his thirties, he began to pursue pottery in earnest and built a kiln in Ushimado-cho, Setouchi City, Okayama Prefecture.
In 1996, he held his first overseas solo exhibition, Abe Yasuto Exhibition, in New York. Since then, he has expanded his activities overseas, including holding a solo exhibition "ANJIN ABE" in France (Paris, 2002) and exhibiting at the "Arts of Pacific Asia Show" (San Francisco, 2008) in the United States.
In addition, he is in charge of planning the ceramics department at the establishment of Shimane Design College, and actively gives academic lectures both in Japan and overseas.
[Exhibited works]
[About "An Artist's Calligraphy -Another Face-"]
Calligraphy reveals the personality and way of life of the writer.
Artists' calligraphy created with exceptional expressiveness is full of charm that cannot be explained by stylization such as calligraphic style and the color of the times. The unique and carefree calligraphy tells us that they loved calligraphy with an innocent heart and were immersed in its charm.
The artists on display are Kokuta Suda, Sofu Teshigahara, Shiko Munakata, and others. About 15 works will be exhibited.
– Kokuta Suda (1906-1990)
A Western-style painter who ran through Showa history before and after the war. Aspiring to become a painter while still in junior high school, he studied Western painting almost on his own and was active in pre-war and post-war government exhibitions such as Kofukai, Bunten, and Shinbunten. His powerful and rich expressiveness was utilized in both abstract and figurative paintings, and he also left many excellent works in calligraphy. He is also known for being in charge of illustrations for Kaido wo Yuku (written by Ryotaro Shiba, serialized in Weekly Asahi).
– Shiko Munakata (1903-1975)
One of Japan's leading printmakers. Impressed by Van Gogh's sunflowers, he aspired to become an oil painter, and later entered the path of printmaking. Influenced by the Mingei movement of Soetsu Yanagi and Kanjiro Kawai, he put letters on the screen and established a unique expression that fuses and integrates pictures and letters. He created many masterpieces with religious themes, such as 'Two Bodhisattva Shaka Ten Great Disciples'. At the age of 67, he received the Order of Culture.
– Sofu Teshigahara (1900-1979)
A flower arrangement artist who founded one of the three major schools of ikebana, the Sogetsu School of Ikebana. Although she has been instructed in ikebana since childhood and has demonstrated outstanding talent, she has pursued a unique style that is not found in conventional ikebana, and has set herself up as the Sogetsu school. In 1960, he was awarded the French Order of Arts and Letters, in 1961, the Legion d'Honneur, and in 1962, he was awarded an art award.
[Overview]
Exhibition name: "Artist's Calligraphy – Another Face" / "Abe Yasuto Exhibition – Thinking Bizen -"
Special exhibition website: https://www.kashima-arts.co.jp/exhibitions/
Date: September 23 (Friday/holiday) to October 1 (Saturday), 2022 10:00 to 18:00 Open every day during the exhibition period
Number of works on display: Approximately 15 works of "An Artist's Calligraphy -Another Face-"
(Kokuta Suda, Sofu Teshigahara, Shiko Munakata and others)
"Abe Yasuto Exhibition-Thinking Bizen-" About 40 works *Both exhibitions have works for sale
Venue: Kashima Arts Phone: 03-3276-0700
Participation fee: Free to view Access: 3-3-2 Kyobashi, Chuo-ku, Tokyo 104-0031
Subway Ginza Line "Kyobashi Station" Exit 3 2 minutes on foot Subway Yurakucho Line "Ginza Itchome Station" Exit 7 3 minutes on foot Toei Asakusa Line "Takaracho Station" Exit A4 5 minutes on foot
JR Tokyo Station Yaesu South Exit 9 minutes on foot
* Business days and hours may change depending on the spread of the new coronavirus infection. Any changes will be announced on our website and various social media.
<Related articles in the past>
Photographer Toshiaki Takeuchi's solo exhibition "Flower Photo 22" held in Ginza
Kashima Art's art exhibition and sales event "Bimatsuri Selection" will be held from November 13th.
Kashima Art will hold a special exhibition "Prayer Exhibition ~Inori~" that brings together everything from Buddhist art to contemporary art in one place from September 18th to October 3rd!