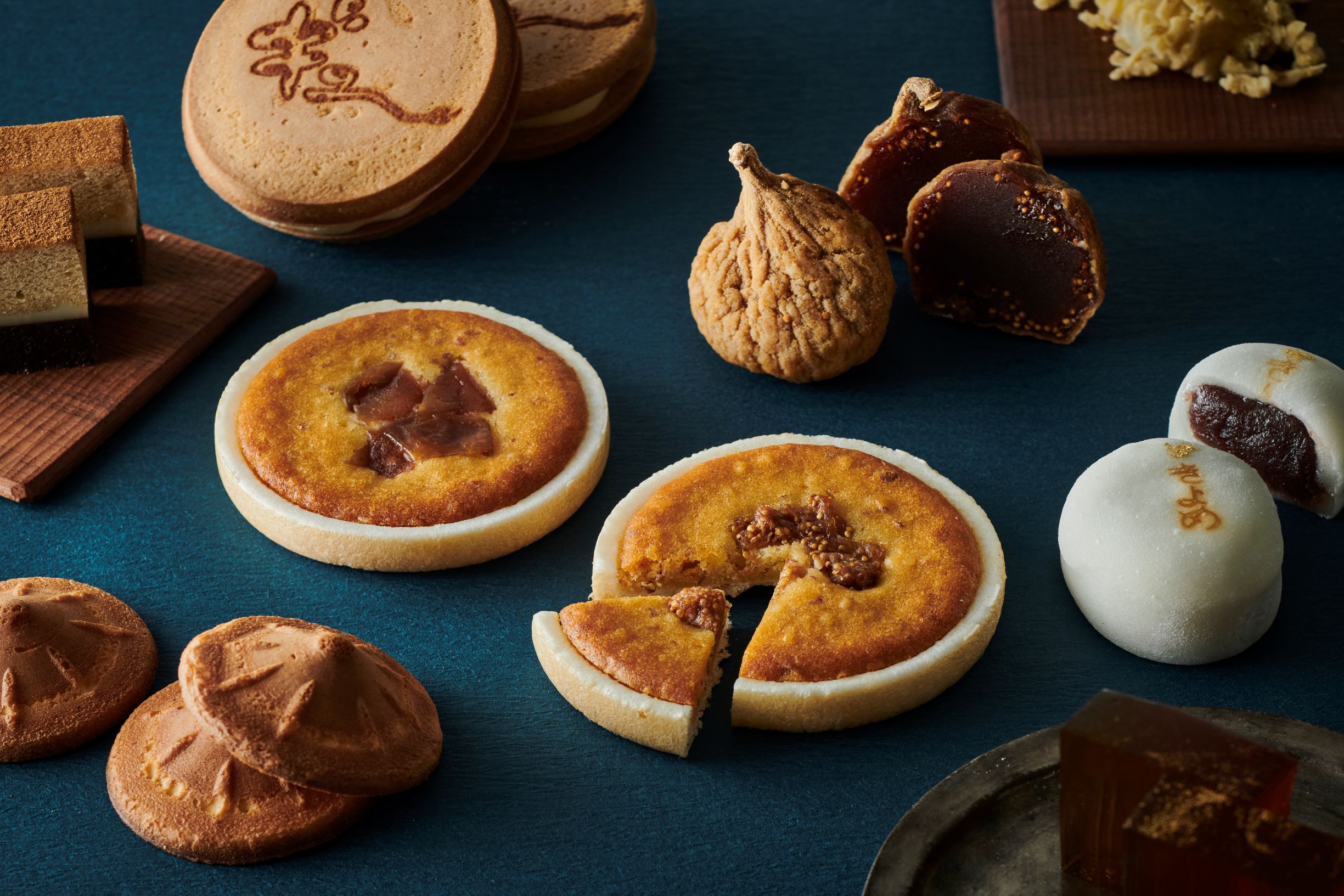 Pay attention to the new limited-edition Japanese sweets that can only be purchased here!
Date: November 9th (Wednesday) to November 15th (Tuesday), 2022
■ Venue: Ginza Mitsukoshi Main Building B2F GINZA Stage
* Mitsukoshi Isetan's food media website "FOODIE" URL: https://mi-journey.jp/foodie/84300/
Wakadanna-shu, long-established Japanese confectionery shops nationwide, will hold an event where you can enjoy new Japanese sweets with the slogan "Tradition x Innovation", "Hon-Waka-shu 10th Commemorative Return to Origin-Free Fun of Japanese Sweets to the Modern Age-" in November. It will be held from 9th (Wednesday) to November 15th (Tuesday) at the GINZA stage on the 2nd basement floor of the Ginza Mitsukoshi Main Building.
Their activity, which has continued to create new Japanese sweets that add a modern essence to traditional Japanese sweets, will finally reach its 10th anniversary. This time, new items that fuse elements of Western confectionery with traditional Japanese flavors are appearing one after another. Please enjoy Japanese sweets that have evolved further. During the exhibition period, the shop owner will also visit and welcome you.
・Celebration 10th Autumn Japanese sweets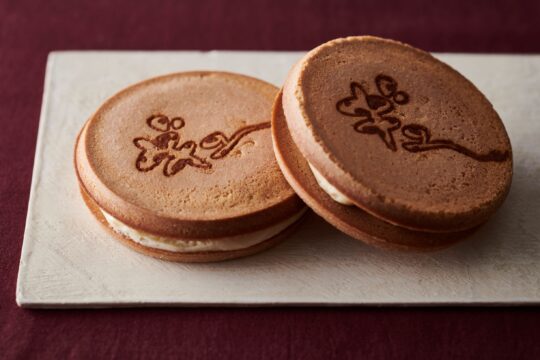 <Tanakaya Senbei Sohonke> Cheese Butter Sand Awai 1,512 yen (3 pieces)
Gifu Prefecture <Tanakaya Senbei Sohonke>, known for its traditional confectionery "Ogaki Senbei with Miso", offers "Awai (Where Two Things Meet)", a mixture of Japanese and Western styles, with Western cheese butter cream sandwiched between egg crackers. Appearance. It does not use fragrances, etc., and the original light taste of raw materials is attractive.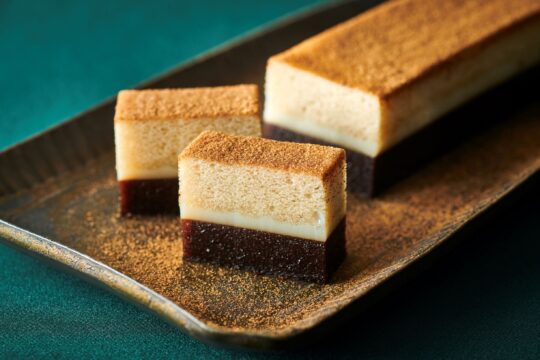 ---
---
<Okashi Tsukasa Saiundo> Uki Masala 1,404 yen (1 piece) *Limited to 300 pieces during the period <br /> <Okashi Tsukasa Saiundo>, which was founded in Matsue City, Shimane Prefecture during the Meiji Era, specializes in traditional "floating islands" and masala chai. We offer a new sensation Japanese confectionery that fuses. Exotic taste with various spices such as cinnamon and cloves.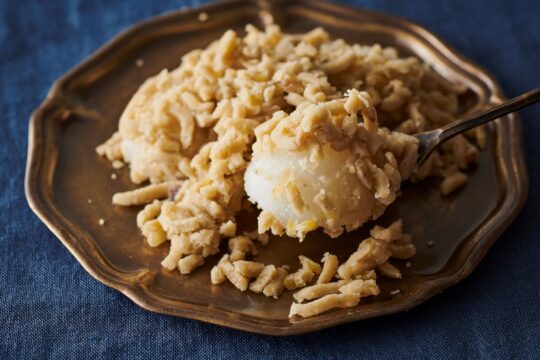 <Noshiume Honpo Satoya> Kurikomochi 1,296 yen (3 pieces) *Limited to 50 each day We offer sweets that let you enjoy chestnuts luxuriously. It is a simple dish that is made by spreading soboro made only from Ibaraki chestnuts and sugar around Kyoto-style Kashira Domyoji rice cakes.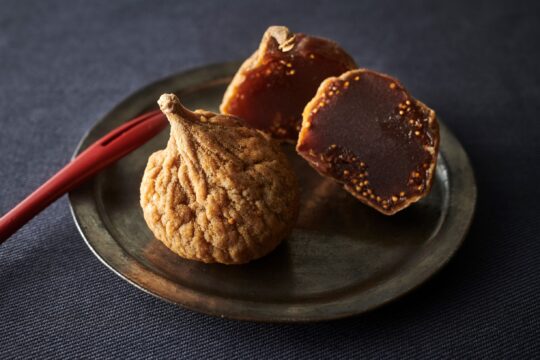 <Gokatteya Honpo> Times/Re-Fruit ¥432 (1 piece)
With a history of more than 150 years, Gokatteya Honpo, Esashi-cho, Hokkaido, will introduce its representative product, Gokatteya Yokan, which uses red kidney beans from Hokkaido in white figs from Turkey. A unique confection that is tightly packed.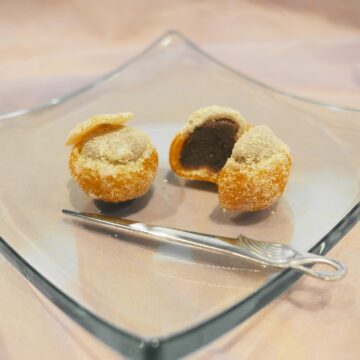 <Fukagawaya Mutsu Daijo> Yamato Tachibana 540 yen (1 piece) *Limited to 200 pieces during the period <br /> From <Fukagawaya Mutsu Daijo> in Mie Prefecture, the 14th generation will prepare new sweets. It is a product that touches on the origins of Japanese sweets using the Japanese citrus "Yamato Tachibana" that appears in Japanese mythology. The elegant taste of the bean paste and the refreshing scent of Japanese mandarin oranges stand out.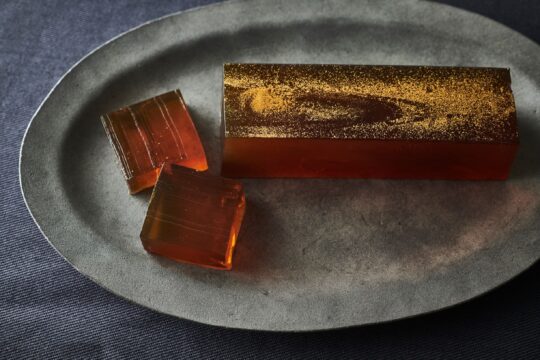 <Kameya> CHICHIBU 1,944 yen (one)
Kameya, a Japanese confectionery shop representing Koedo Kawagoe, which served the Kawagoe clan for generations, has developed a kingyokukan that uses the world-famous whiskey "Ichiro's Malt" luxuriously. The amber color of the malt is made with only domestic Wasanbon sugar, giving it a rich, overly sweet taste.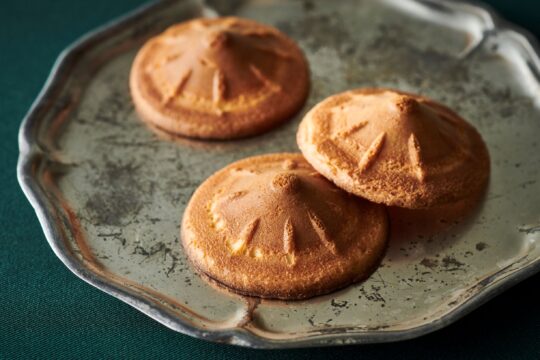 <Heiji Senbei Main Store> Heiji Senbei [Reprint Edition] 648 yen (10 pieces) *Limited to 50 items each day Heiji Senbei, an egg rice cracker with a characteristic shape shaped like a hat, is a reprinted version of the recipe at the time of its founding. The simple flavor of the ingredients is attractive.
<Yanagiya Hozen> Rice Kudo and Potato Monaka 864 yen (2 types included) *Limited to 50 items each day Arranging a certain monaka sweet "Oi no Tomo", it is made by adding maple syrup to local rice flour from Mie Prefecture, which is likened to a tart and baked with sweet potato dough. Suggest. You can enjoy two flavors, apple and fig.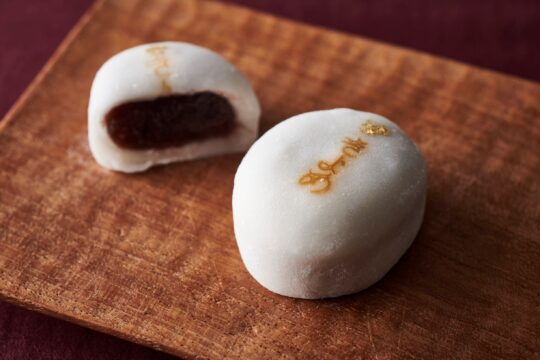 <Kiyome Mochi Sohonke> Ultimate Kiyome 751 yen (2 pieces) *Limited to 50 each day is tailored to a special dish. The soft dough created by the strong egg whites of Nagoya Cochin and the smooth texture of the Tamba Dainagon adzuki beans are a perfect match.
・"Hon Wagashu" formed by young masters of long-established Japanese confectionery shops nationwide
"Honwakashu" is a group of Japanese confectionery heirs who have gathered together with the desire to spread the free enjoyment of Japanese sweets to the modern world. We create new Japanese sweets that demonstrate free sensitivity and playfulness while valuing traditional flavors and techniques.
◆ Thoughts of young people on the 10th anniversary ◆

■ <Tanakaya Senbei Originator> Mr. Yusuke Tanaka
In 2013, Honwakashu started with the idea of creating a new type of Japanese confectionery that fits into modern life. What could have happened in 10 small flaps? Please come and find the "now" of Japanese sweets standing in the future of those days.

■<Okashi Tsukasa Saiundo> Mr. Shuhei Yamaguchi <br /> Ten years ago when up-and-coming pastry chefs were in the spotlight, Japanese confectionery shops were flying low. The heir sons, who were worried that "if things go on like this…", gathered together and launched Hon Wagashu under the slogan "Tradition x Innovation". "Let's wear kimono and stand in the sales floor!" "Make new sweets and sell them yourself!" At first, the area was about 40 cm per company, and the young people were full of anticipation and anxiety, wearing kimonos that they were not used to. It's been 10 years since then, and it hasn't all been smooth sailing, but it's no exaggeration to say that we're here today thanks to our friends who have been with us and our customers who have supported us. From now on, I would like to continue to devote myself without forgetting the feeling of "gratitude".

■ <Noshiume Honpo Satoya> Mr. Shintaro Sato became. Take care of the fun of tradition, but don't be bound by it. It looks fresh even though it's not chasing only novelty. In order for a long-established store to spin a new history, we believe that it is necessary to be re-evaluated for each era.

■<Gokatteya Honpo> Mr. Toshifumi Ogasawara Please come to Ginza Mitsukoshi Honwakashu.

■<Fukagawaya Mutsu Daijo> Mr. Kichiemon Aki Hattori <br /> Honwagashishu started with a space of about 30 cm for each company. In the last 10 years, the sales floor has expanded and the distance with customers has decreased. This year, we will be a Hon-Wagashu that conveys our heartfelt gratitude to everyone.

■ <Kameya> Mr. Atsuki Yamazaki <br /> Finally, this Japanese confectionery is in its 10th year. Thank you for your patronage over the years. I am the youngest member, but I will continue to do my best, so please support me.

■ <Heiji Senbei Main Store> Mr. Hiroyasu Ito
After being active in Honwakashu for 10 years, I feel that I have gained the right to challenge the founder. It makes sense to return to the origin. We would like to propose "Reiwa Heiji Senbei".

■<Yanagiya Hozen> Mr. Issei Oka <br />Hon-wagashi-shu, who enjoys and excites with customers. We will continue to challenge the future of Japanese sweets!
■ <Kiyome Mochi Originator> Mr. Shigenori Shintani I still want to do my best for the future of Japanese sweets.
※The image is an image.
*All prices include tax. Standard tax rate (10%) and reduced tax rate (8%) are mixed.
*Some products are limited in number, so please forgive us when they are out of stock.
*Information posted is subject to change or cancellation without notice due to various circumstances. For details, please check the Ginza Mitsukoshi website in advance.
* Depending on the congestion situation, we may limit the entry of customers.
[Isetan Mitsukoshi Holdings Ltd.] From the press release
<Related articles in the past>
A large collection of award-winning cheeses and carefully selected cheeses from Japan and overseas! "Cheese Collection in Ginza Mitsukoshi 2022" where you can enjoy freshly made cheese dishes will be held from October 5th (Wednesday)
Mai Kishimoto Exhibition "Barometer 75" will be held at Ginza Mitsukoshi Main Building 7F Gallery! !
"# Bear Festival in Ginza Mitsukoshi 2022" A large collection of popular bear characters that continue to be loved!