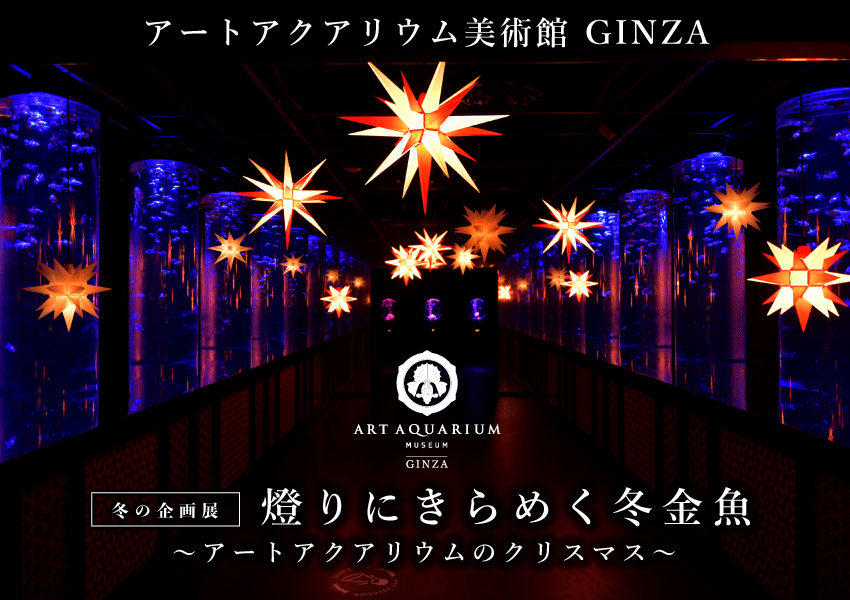 ~Christmas at Art Aquarium~ Today, November 29th (Tuesday) to December 26th (Monday) Limited time only
ART AQUARIUM MUSEUM GINZA (Ginza Mitsukoshi New Building 8F) will hold a special winter exhibition "Winter Goldfish Glittering in the Light" from November 29th (Tuesday) to December 26th (Monday), 2022 ~ ART AQUARIUM. We will hold a Christmas ~.
■Christmas illumination that can be enjoyed even during the day A tunnel-shaped illumination appears in the lantern rium where goldfish swim!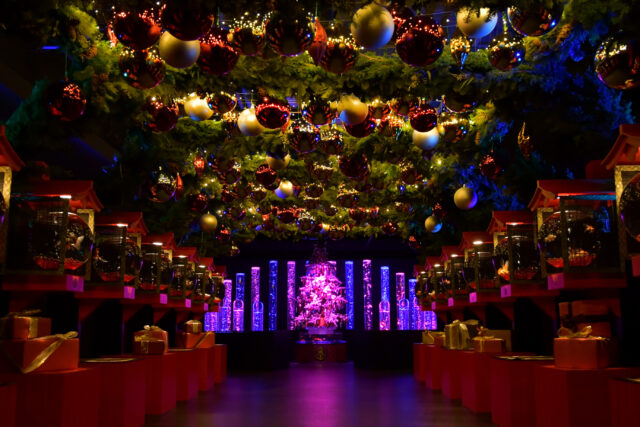 The glow of Christmas illuminations brightens up the dark space as if the night continues forever. Enjoy Christmas in the exciting art aquarium while being soothed by the beauty of the goldfish swimming gracefully inside.
---
---
In the winter special exhibition that will be held this time, the space where the aquarium works called "Chochin Rium" are lined up will be produced with illumination unique to Christmas. You will be immersed in a fantastical space where you will forget that it is daytime, as only the ART AQUARIUM MUSEUM can produce, displaying aquarium works in a dark hall with vivid light.
*"Chochin Rium"
A space of about 10m where spherical tank works that look like lanterns are lined up like a path. Rare types of goldfish swim in a total of 14 tanks. There are moments when the goldfish appear larger due to the lens effect in the tank, and it is popular at the museum as a unique work of art.
■ Art Aquarium Christmas
In addition to illumination, the interior of the building is dyed in the exciting atmosphere of Christmas with a production using Christmas trees, herrnhut, poinsettia, etc.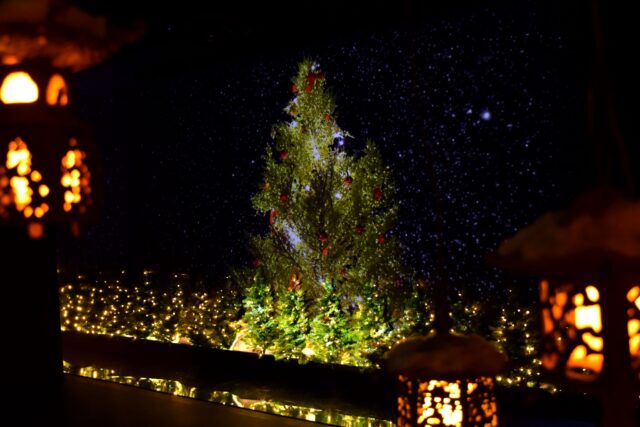 ●Christmas trees line the snowy landscape<br /> As soon as you enter the museum, you will be greeted by a landscape of Christmas trees lined up in front of you. The winter goldfish artwork presented by ART AQUARIUM starts with the expression of the winter cityscape with this Christmas tree.
If you pass through the arch of Ginza Mantoro, which is lined with faintly lit lanterns, while looking at this winter scenery, you will be connected to the fantasy world of the art aquarium where goldfish dance and swim.
The Ginza Mandoro lanterns are covered with snow and are wearing a little winter makeup.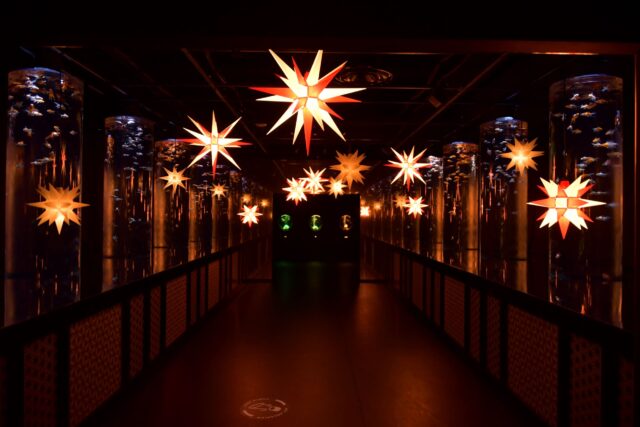 ●Goldfish Corridor <br />A colonnade of goldfish stands in a space that expresses the corridors seen in Japanese temple architecture. Lights that can be said to be a symbol of Christmas decorations called herrnhut light up in this space that seems to continue forever. The colorful glowing tanks on the left and right and the red and white stars that give off a gentle glow. The first aquarium work will also appear in Christmas colors.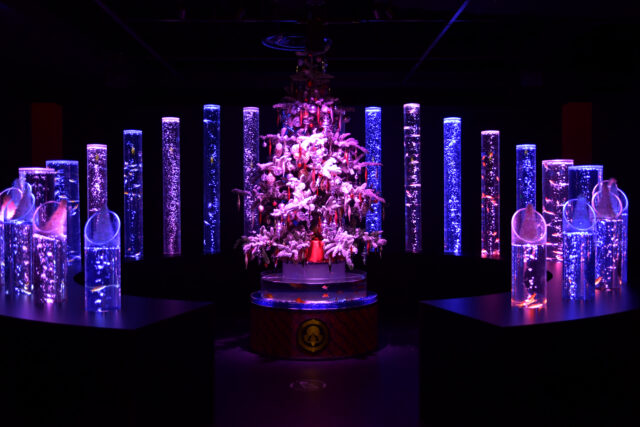 ●Bamboo Grove of Goldfish<br />Bamboo Grove of goldfish that appears as you go through the Christmas tunnel. A Christmas tree will appear in the center of the space where cylindrical aquariums with the image of bamboo are lined up. Goldfish are also swimming at the feet of the tree, creating a Christmas space unique to Art Aquarium.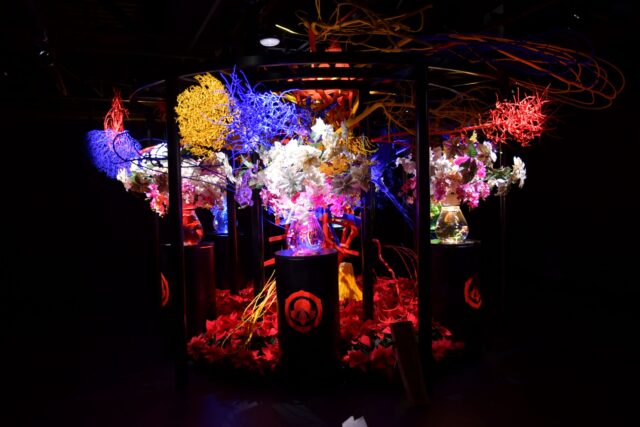 ●Flowerrium <br /> "Flowerrium" is a collaborative work with flower arrangement artist Shogo Kariyazaki. Until Christmas, this work will be decorated with poinsettia, which is also called "Christmas flower". Please enjoy the Christmas scenery created by the fusion of the beautiful red color of the poinsettia, the aquarium work that looks like a vase, and the goldfish that swim in it.
Cooperation: Tahara City, Aichi Prefecture/JA Aichi Minami
ART AQUARIUM MUSEUM GINZA
With the theme of "Hundred Flowers – Evolving Art -", the museum is a permanent facility where you can enjoy the change of the four seasons throughout the year as a permanent facility where you can enjoy the changing of the four seasons with the dance of colorful goldfish. is being held.
·Equipment outline
Facility name: Art Aquarium Museum GINZA
Admission fee: WEB ticket 2,300 yen https://ticket.artaquarium.jp/
Same-day ticket 2,400 yen (Same-day tickets are sold on the 1st floor of Ginza Mitsukoshi New Building)
Location: Ginza Mitsukoshi New Building 8th floor (Entrance is on the 9th floor) (4-6-16 Ginza, Chuo-ku, Tokyo)
access:
・Directly connected to Ginza Station on the Tokyo Metro Ginza Line, Marunouchi Line, and Hibiya Line ・5-minute walk from Tokyo Metro Yurakucho Line "Ginza-itchome Station" (Exit 9) ・Toei Asakusa Line/Tokyo Metro Hibiya Line "Higashi-Ginza Station" Ginza 2 minutes on foot via underground passage towards the station ・9 minutes on foot from JR Yurakucho Station (Central Exit/Ginza Exit)
Business hours: 10:00-19:00 (subject to change)
Closed: Same as Ginza Mitsukoshi (In addition, it may be closed irregularly due to maintenance, etc. Please check the official website for details)
Official website: http://artaquarium.jp/
Official SNS: Twitter https://twitter.com/artaquarium_tm
Instagram: https://www.instagram.com/artaquarium_tm_official/
Facebook: https://www.facebook.com/artaquariumofficial
*The official account has been transferred.
Safety measures: We will operate with thorough infection control measures for all guests and staff, and appropriate measures against the new coronavirus.
Please note: Strollers, suitcases and pets are not allowed inside.
There are no lockers for luggage.
Organizer: AQUA ART RELATIONS Co., Ltd.
Planning and production: Amuseum Parks Co., Ltd.
Management: Amuseum Parks Co., Ltd.
Cooperation: Isetan Mitsukoshi Ltd. Ginza Mitsukoshi
<Related articles in the past>
ART AQUARIUM MUSEUM GINZA 〈Limited time〉Autumn special exhibition held Halloween for adults dyed in autumn colors
ART AQUARIUM MUSEUM GINZA Summer Special Event Summer Art Aquarium ~Feel Summer with Goldfish, Cool~
ART AQUARIUM MUSEUM GINZA Tanabata special production from June 20th for a limited time