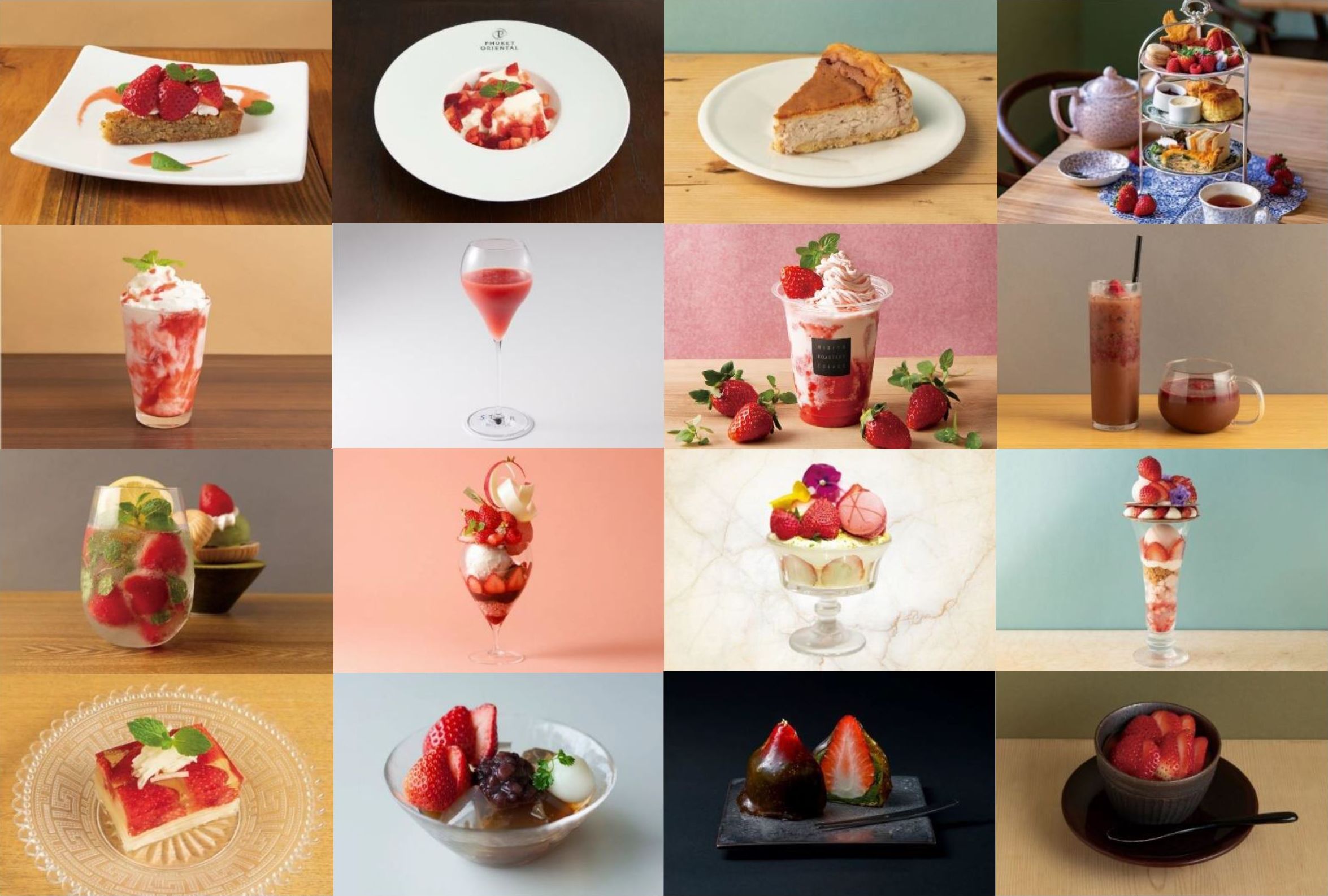 From parfaits and cakes to Japanese sweets and drinks, we offer a blissful strawberry menu.
At Tokyo Midtown Hibiya, for a limited time from January 13th (Friday) to March 14th (Tuesday), 2023, we will hold a "Strawberry MENU SELECTION" that offers a wide variety of strawberry menus at restaurants in the building. increase.
Strawberries are the most delicious season from winter to spring. At Tokyo Midtown Hibiya, sweets and drinks that use plenty of seasonal strawberries will appear on the menu. We will deliver an attractive lineup such as bright parfaits and cakes, luxurious afternoon tea, Japanese sweets that are fun to collaborate with Japanese ingredients such as red bean paste and matcha, dessert drinks and strawberry scented sake. . In addition to the menu that you can enjoy in the store, we also introduce a takeout menu. Each store in Tokyo Midtown Hibiya offers hospitality with its own unique flavor. Please come to Tokyo Midtown Hibiya to enjoy the encounter with the exciting and fascinating strawberry menu.
Official site URL: https://www.hibiya.tokyo-midtown.com/stage_vol_23/#strawberry
・11 selections of luxurious sweets made with strawberries!
A luxurious parfait for strawberry lovers
ICHIGO HOLIC ¥2,750 <Eat-in>
Pâtisserie & Café DEL'IMMO (B1)
A parfait for strawberry lovers that combines strawberry confit, red wine jelly, milky ice cream and strawberry ice cream.
A happy unity of nuts and fruits
Strawberry and pistachio parfait 1,650 yen <Eat-in>
THE SPINDLE (1F)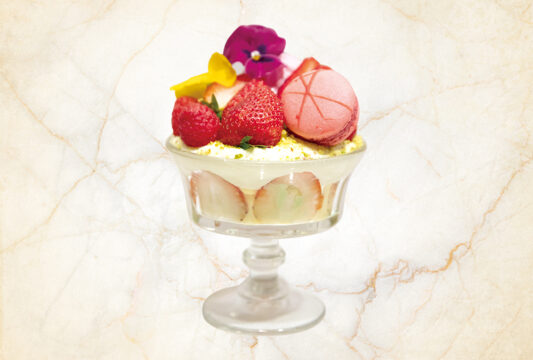 A parfait made with sweet and sour fresh strawberries, rich pistachio cream, almond biscuits, pistachios, and strawberry ice cream. *Available from 14:00
●Sophisticated Japanese snacks
Honoka ¥605 <Takeout>
Suzukake (B1)
---
---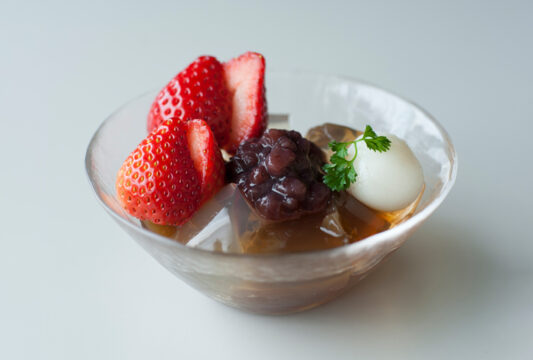 A dish of high-quality hojicha agar with Amaou from Fukuoka Prefecture, adzuki beans from Hokkaido and shiratama dumplings. The fragrant and rich taste of hojicha goes well with the sweetness of strawberries.
[Limited quantity] * Offer period: From mid-February
Elegant form and taste
Strawberry and rose fragrant parfait 2,200 yen <Eat-in>
DRAWING HOUSE OF HIBIYA (6F)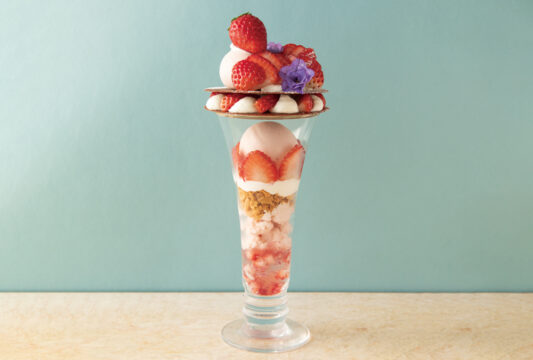 A parfait that combines ice cream and roses using Sanukihime strawberries from Kagawa Prefecture. Enjoy the scent of strawberries and roses.
Sweets made with plant-based ingredients
Strawberry vegan tart 979 yen <Eat-in>
Mr. FARMER (B1)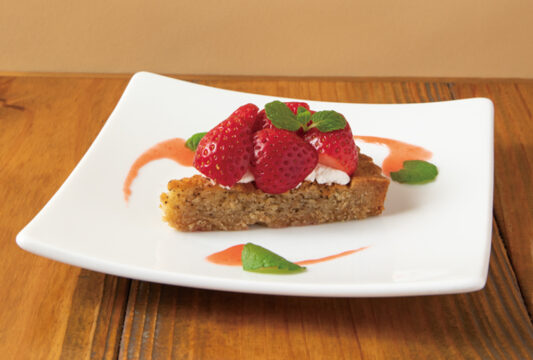 You can enjoy the harmony of sweet and sour strawberries with a slightly Earl Gray fragrant dough.
A mature taste with the scent of Western liquor
Strawberry and seasonal fruit jelly 1,200 yen <Eat-in>
Sobagami (3F)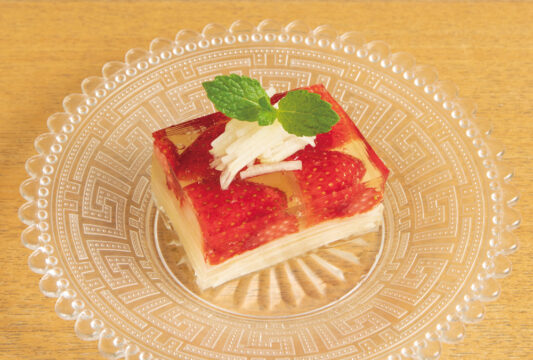 Sweets that confine seasonal strawberries and seasonal fruits in jelly. Homemade sabayon sauce with western liquor enhances the taste of the ingredients. *Available for lunch 8,000 yen and dinner 8,000 yen/10,000 yen courses.
Enjoy England with an elegant tea set
KIKI's Afternoon tea set "Strawberry thief" 4,235 yen <Eat-in>
TEA ROOM KIKI Tea & scone specialty store (B1)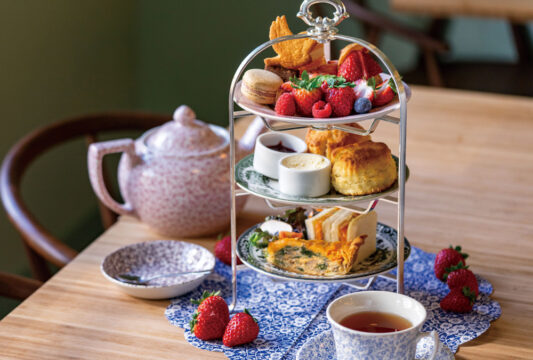 A limited set that pays homage to the masterpiece "Strawberry Thief" by the great British designer William Morris. Made with Marihime strawberries directly delivered from Wakayama Prefecture.
[Limited to 30 servings each day]
The red and white contrast is delicious to the eyes
Almond tofu with strawberry sauce 1,500 yen <Eat-in>
PHUKET ORIENTAL (2F)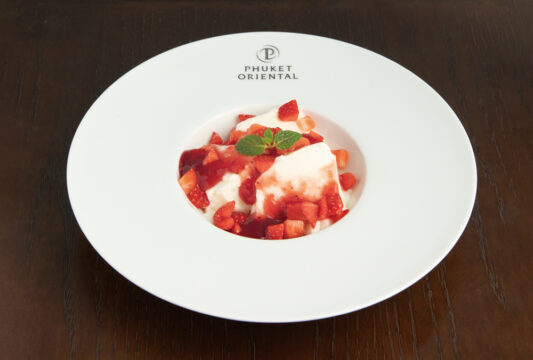 A special sweet with strawberry sauce that adds color and a gorgeous scent to our proud almond tofu.
*Served from 16:30
Collaboration of Japanese ingredients and strawberries of brown sugar & red bean paste
Strawberry amber rice cake 648 yen <takeout>
Hayashiya Shinbei (2F)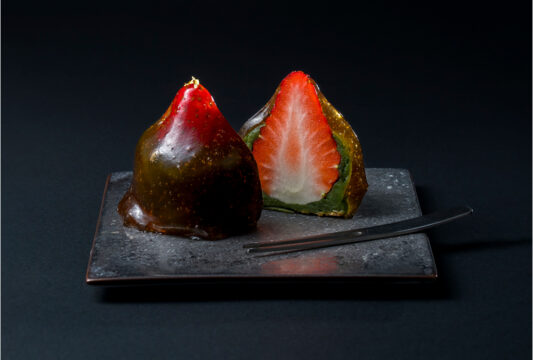 A delicious red cheeks wrapped in amber-like handmade brown sugar warabi mochi, a seasonal dish. You can enjoy two flavors of matcha bean paste and strained bean paste. [Limited quantity] * Offer period: From January 16th
Good compatibility between special pudding and fresh strawberries
Japanese restaurant strawberry pudding 770 yen <Eat-in>
Sanbuntei (3F)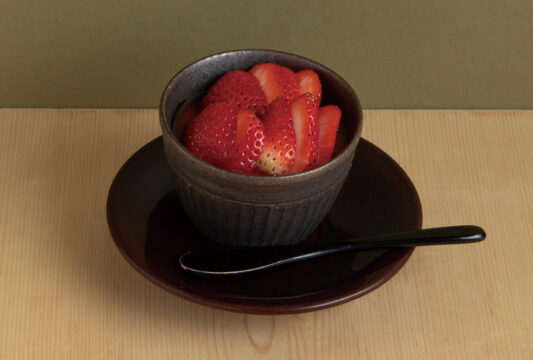 Sanbuntei's special pudding is topped with strawberries to create a special feeling.
*Dinner time only
●Crispy, fluffy and pleasant texture
Strawberry cheesecake 800 yen <Eat-in>
HIBIYA CENTRAL MARKET (3F) *Provided at the coffee stand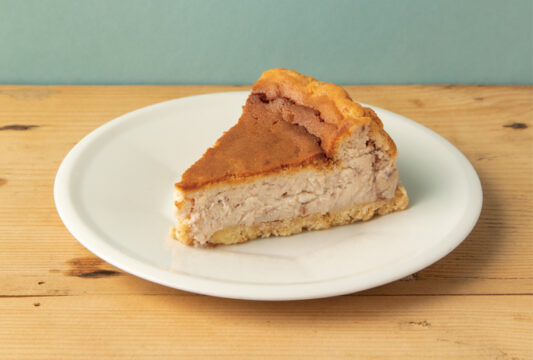 A rich, melt-in-your-mouth cheesecake with strawberry confiture inside. With crispy tart dough.
・Fragrant strawberry dessert drink & 5 alcoholic beverages!
Enjoy strawberries with drinks and desserts
Strawberry monaka & strawberry mojito 1,150 yen <eat-in>
Tempura Tentora (2F)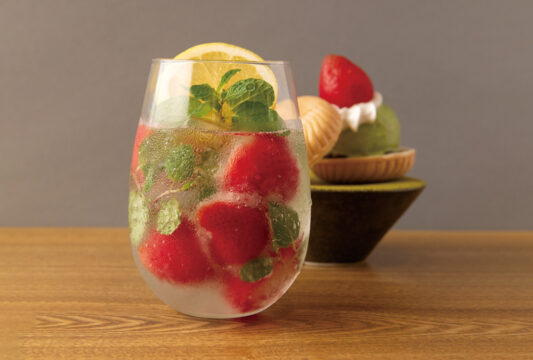 A wonderful set of matcha ice cream mixed with whole strawberries and a sweet and sour mojito with plenty of strawberries.
[Limited to 5 meals each day] *Available from 16:00
Make yourself gorgeous with strawberries and wine
Rossini ¥2,500 <Eat-in>
STAR BAR (3F)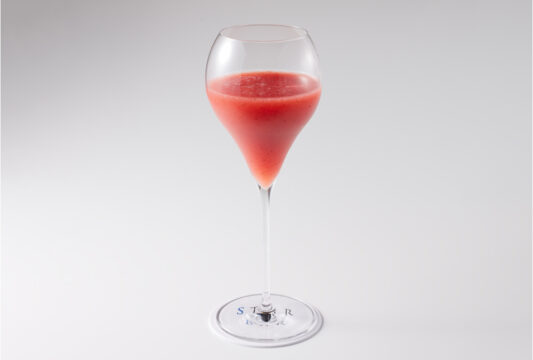 A cocktail made with plenty of seasonal strawberries and sparkling wine. It looks gorgeous and is recommended for special days.
*Alcoholic beverages *A separate charge of 1,100 yen will be charged.
Exquisite harmony of sourness and sweetness
Strawberry Lassi ¥790 <Eat-in>
DIYA (2F)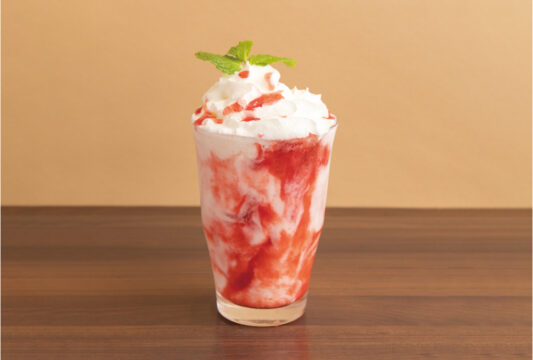 The sweetness of strawberries and the sourness of yogurt create a harmony that spreads in your mouth, making it a drink that you can enjoy like a dessert.
A gentle drink perfect for winter
Amazake cocoa with berries and ginger (HOT/ICE) ¥770 each <Eat-in>
REVIVE KITCHEN THREE (2F)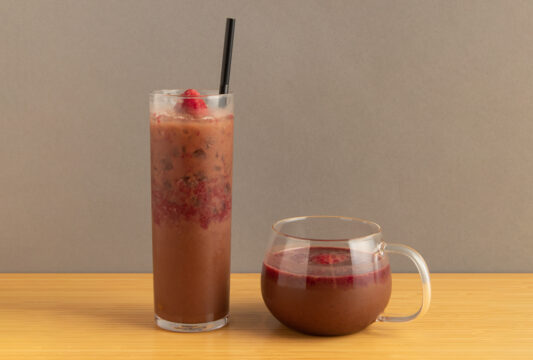 A drink that combines berries that go well with cocoa that you want to drink in the cold season. Made with nutritious amazake and accented with ginger to warm the body.
●Strawberry even ice! The melted taste is also pleasant
ICHIGO milk 702 yen <takeout>
Hibiya Roasted Coffee (B1)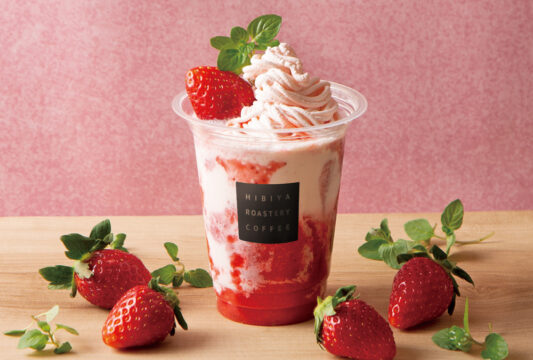 Supervised strawberry specialty store "ICHIBIKO". Strawberry milk with a gentle sweetness, even the ice is made from strawberries. Strawberry milk that you can enjoy twice as the strawberry ice melts!
*Please note that the content is subject to change due to circumstances.
*Please note that the number of servings per day may end depending on the availability of ingredients.
*Please contact each store for details as the service hours may change due to changes in business hours. *All prices include tax. Some stores charge a separate service charge.
* Due to measures to prevent the spread of new coronavirus infection, sudden changes in business hours, menu contents, suspension of alcohol service, and temporary closure may occur.
*We will refrain from providing alcoholic beverages to customers who come by car and to minors.
*Eat-in is not available for the take-out menu.
*Some eat-in menu items can be taken out. For details, please contact each store.
■ About the "Mitsui Fudosan 9BOX Infection Control Standards" <br /> At the Mitsui Fudosan Group, we believe that easy-to-understand infection control measures based on medical and engineering knowledge are essential so that our facilities can be used with peace of mind. We have formulated the "Mitsui Fudosan 9 Box Infection Control Standards" and are thoroughly implementing new coronavirus infection control measures for each facility. The Group operates a wide range of facilities, including office buildings, commercial facilities, hotels, resorts, logistics, and housing. I would like to contribute.
The Group will continue to work toward the realization of a sustainable society through the creation of safe and secure communities.
* Reference release: https://www.mitsuifudosan.co.jp/corporate/news/2021/1001_01/
[Tokyo Midtown Management Co., Ltd.] From the press release
<Related articles in the past>
<Tokyo Midtown Hibiya New Year's Gourmet, Gifts, and Event Information> New Year's Limited "Luxury Gourmet" will be available from January 2nd (Monday)!
[Tokyo Midtown Hibiya] The theme is "exciting moments" "HIBIYA Magic Time Illumination 2022" The details of the production of 3 areas that enhance the world view of the aurora and the Milky Way have been decided!
Cool summer spent in Tokyo Midtown Hibiya Open space "HIBIYA SUMMER SQUARE" to enjoy summer July 22nd (Friday) to August 28th (Sunday)