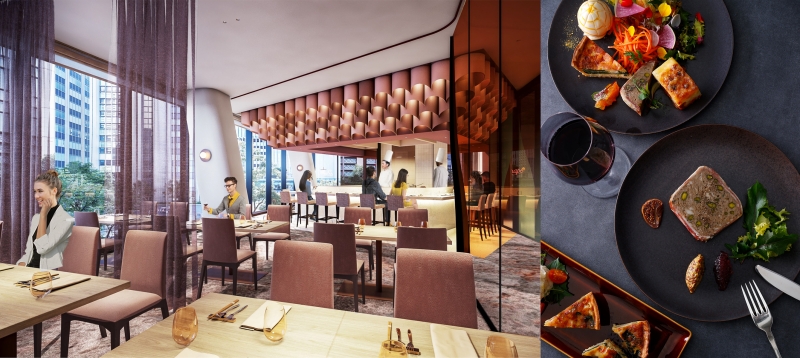 A new store where you can easily enjoy Tokyo Kaikan's traditional classical French à la carte / Directly connected to Hibiya Station / Based on the concept of "theater", we have created a stage where you can enjoy the cooking and customer service process as entertainment.
Tokyo Kaikan will open on March 16, 2023 (Thursday) in the "Toho Hibiya Promenade Building" in Hibiya. will be newly opened.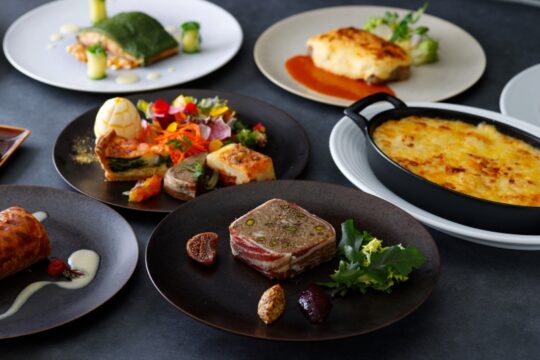 ・You can casually enjoy classic French cuisine, a tradition of Tokyo Kaikan, with wine.
Since its founding, Tokyo Kaikan has entertained many state guests and VIPs, and with the desire to make it easier for customers to enjoy the authentic traditional French cuisine, it is like a bistro that is not constrained by course meals or dress codes. We propose restaurants that can be enjoyed in a la carte style. While preserving the classic French flavor, the plate, presentation and portions have been devised to create a sophisticated and modern presentation. You can order from 1 item per person, or you can order in your favorite style while sharing with a group. We also have a wide selection of drinks, mainly wine, and you can enjoy the marriage carefully selected by the sommelier to match classical dishes such as "Ufu Mayo", "Pate de Campagne", and "Black Pork Orloff Style".
– Based on the concept of "theater," a live atmosphere with an open kitchen will be created.
Created a new food stage based on the concept of "theater" in connection with the city of Hibiya, where various entertainments such as culture, art, movies and theater gather. The draped curtain opens, creating a sense of exhilaration as if a gorgeous show is about to begin.In the open kitchen, which is likened to a stage, the process of cooking and serving customers is shown as a performance, creating a variety of scenes that can be enjoyed by various guests. will produce
Our à la carte menu can be used in a variety of situations, regardless of whether you have lunch or dinner, such as late lunches and early dinners before and after the theater, and aperitif time after work. In addition to the bright window seats, we also have counter seats that are easy to stop by even if you are alone.
・Lunch menu (11:00-14:30)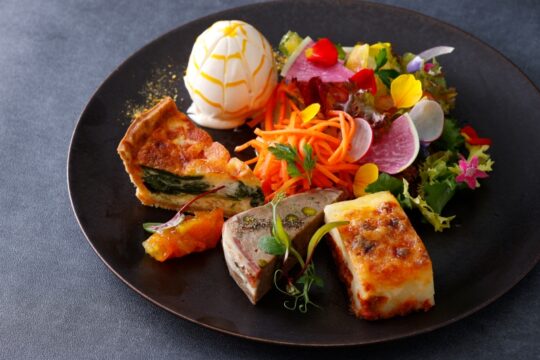 ▮ Plate lunch     ¥ 1,980 _
A lunchtime limited plate where you can enjoy a colorful menu in small portions, such as the famous ufumayo, quiche, pate de campagne, and meat sauce dauphinois gratin.
・Seasonal Soup/Salad/Ufu Mayonnaise/Carrot Lape/Quiche Lorraine/Meat Sauce Dauphinois Gratin/Pate de Campagne/・Original Baguette & Cornbread
---
---
▮Lunch plan ¥ 3,800 _
( Plate lunch + 3 dessert plate and coffee included )
This is a great value plan that comes with a half-sized plate of 3 desserts of your choice from among the seasonal desserts and coffee. From late lunch to tea time, it is recommended for relaxing scenes.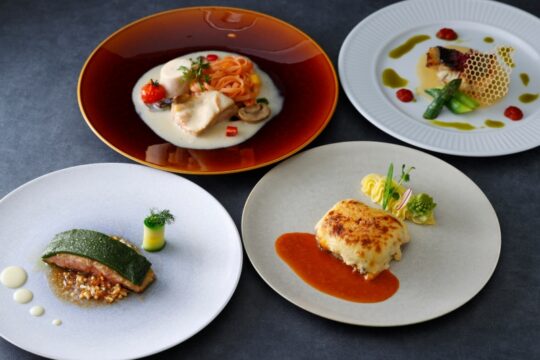 ▮ Appetizer of the day + 1 main dish  ¥ 3,600 _ _
▮ Appetizer of the day + 2 main dishes  ¥ 5,000 _ _
A full lunch set with a main dish of your choice.
[You can choose the main dish from the following]
・Cherry salmon meuniere polish style ・Sea bass poiret with beurre blanc sauce ・Date chicken simmered in supreme sauce ・Black pork Orloff style Mornay sauce
・Recommended a la carte menu (14:30-21:00)
We reconstruct traditional classical French and offer dishes expressed in a new presentation at a reasonable price. We also have a wide selection of reasonably priced wines that go well with richly flavored dishes. The menu consists mainly of à la carte menus, and we recommend sharing several items according to your taste.
▮ Appetizer  ¥ 880 ~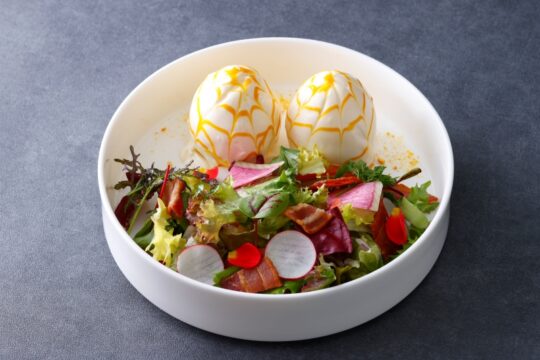 ・Colored Ufu Mayo Salad  
Abbreviation for "euf (=egg) mayonnaise'', it's a classic French dish made by mixing soft-boiled eggs with mayonnaise sauce. A rich ufumayo garnished with mango puree and a colorful salad with a special French dressing. Recommended as an appetizer or aperitif.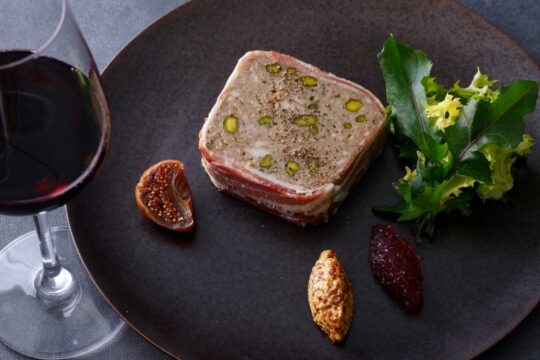 ・Pâté de Campagne <br /> A country-style pâté that is a classic French dish, made by mixing minced pork with liver paste and baking it. At Drape, you can enjoy the sweet and sour accents with the chef's special port wine jelly and semi-dried figs.
▮Main _ Dish ¥2,980~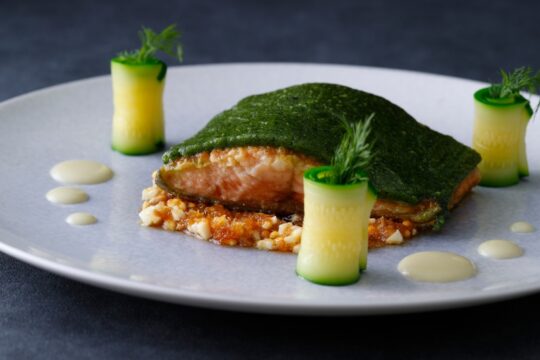 ・Cherry salmon Meuniere Polish style 
Seasonal cherry salmon served as meuniere, topped with parsley, bread crumbs, and parmigiano crout and baked. The flavor of finely chopped eggs and lemon goes well with the umami of cherry salmon.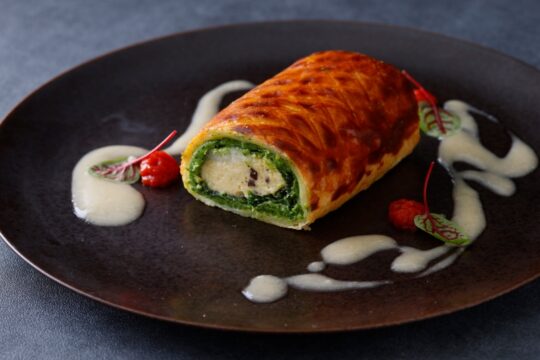 ・Pie wrapped sea bass with beurre blanc sauce  
Sea bass fillets and seafood quenelles are wrapped in vegetables, wrapped in pie crust and baked fragrantly to lock in the umami. In French cuisine, it is served with the classic beurre blanc sauce.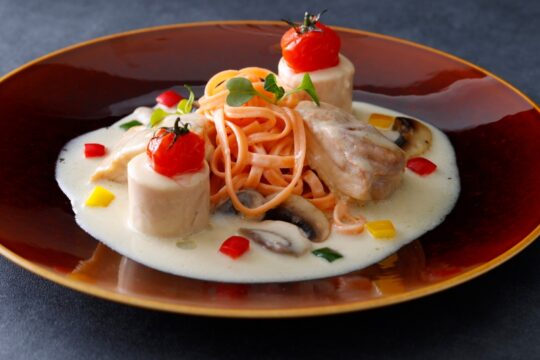 ・Date chicken simmered in Supreme sauce 
Supreme means "best" in French. This dish is an arrangement of the chicken a la king that is served at parties at Tokyo Kaikan.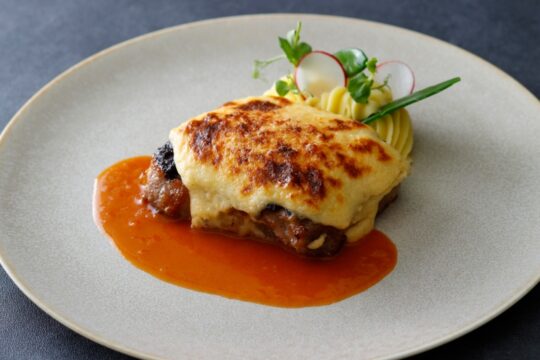 ・Black pork Orloff-style Mornay sauce <br /> Pour a thin layer of champignon-duxelles sauce over fragrant grilled black pork, add a rich Mornay sauce, and then add cheese to give it a brown color. Enjoy the harmony of the umami of black pork and the sauce, simple yet profound.
▮Various desserts (a la carte) ¥990~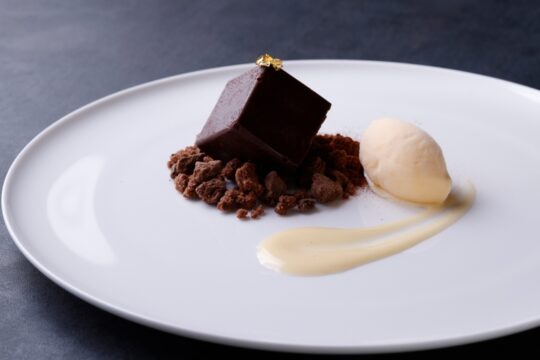 ・Chocolate terrine <br /> Cassis marmurad is hidden in a cube-shaped terrine using high-quality chocolate from Cacao Barry, and the mature sourness enhances the taste of chocolate. Enjoy with coffee crumble, vanilla ice cream and custard sauce.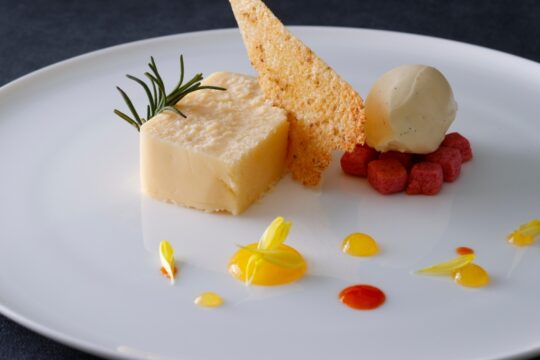 ・Cheesecake plate <br />A terrine-shaped rich cheesecake with a moist texture is served with beetroot cookies and vanilla ice cream. Two sauces, mandarin orange and blood orange, are accented.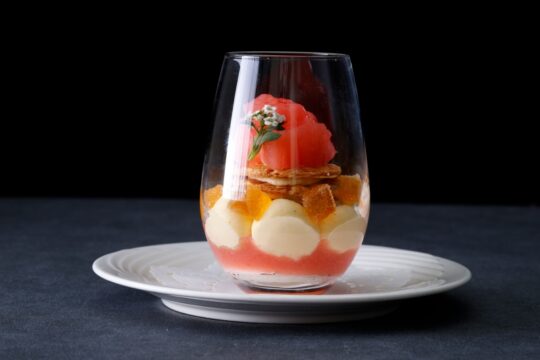 ・Apple pie glass 
A dish that reconstructs apple pie as a glass dessert. Finished with apricot part de fruit, diplomat cream, meringue and dried fruits in the center, fresh cream mousse, pie dough, apple jam and compote.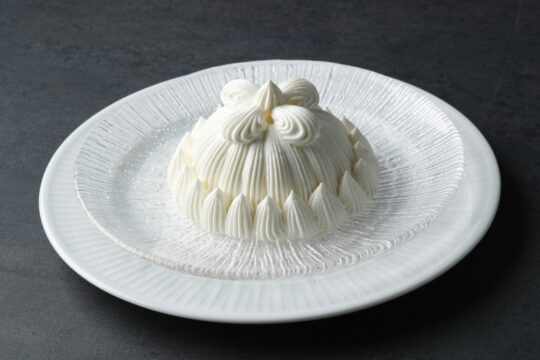 ・Japanese chestnut chestnut chanterelle
A signature sweet devised by the first confectionery manager of Tokyo Kaikan over 70 years ago.
Plenty of minced Japanese chestnuts are in the pure white whipped cream like fresh snow. We offer a special taste using Japanese chestnuts from Ibaraki Prefecture.
▮Drink Champagne Glass ¥2,200 / Bottle ¥16,500
・Sparkling wine glass ¥680 / bottle ¥3,300~
・Various wine glass ¥680 / bottle ¥2,500~
・Blend coffee ¥880
・Espresso/cafe latte ¥990
・Various types of black tea ¥990~
・Chai ¥990
*All prices shown in this document include tax.
*All images are images.
*Business hours are subject to change. For the latest information and business hours, please check the official website or contact the store.
・Drape Concept ・Logo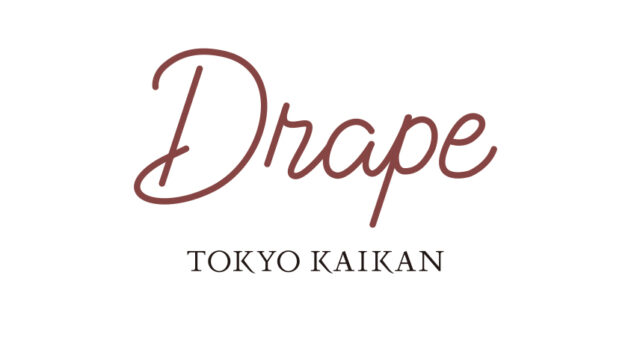 Set up as a chef's stage, located in Hibiya, the city of theater,
Production of various scenes, and
Illuminated by light that raises expectations of the dignity of being a Tokyo Kaikan restaurant,
A draped curtain with a slightly classic feel opens, and various guests are invited to the world of the chef's performance, which is suitable for Hibiya, the city of theater, as if a gorgeous show is about to begin.
·store information
・Store name: Tokyo Kaikan Drape
・ Location: 1-5-2 Yurakucho, Chiyoda-ku, Tokyo Toho Hibiya Promenade Building 2F
【Traffic access】
・Tokyo Metro Chiyoda Line / Hibiya Line "Hibiya Station" A5 Exit Directly connected ・JR Yamanote Line / Keihin Tohoku Line "Yurakucho Station" 3 minute walk from Hibiya Exit ・Tokyo Metro Marunouchi Line "Ginza Station" 4 minute walk from Exit C1
・Business hours: Weekdays and Saturdays 11:00-22:00
Sunday 11:00-21:00
・Reservations: 050-3177-2770 (Reservations only from early February)
・Number of seats: 52 seats (127㎡)
・URL: https://www.kaikan.co.jp/branch/drape/index.html
▮ Introduction of Chef Drape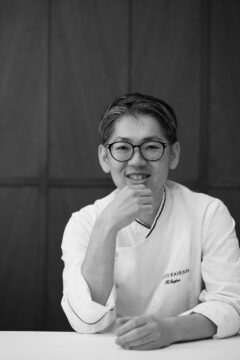 Kenji Sugino
After joining Tokyo Kaikan in 2001, after working in the Honkan cooking department,
2013 Audvre Chief Assistant,
2016 Josui Kaikan chief assistant,
2017 "Hamamatsucho Tokyo Kaikan" Deputy head chef, 2018 Honkan banquet chef,
3-star restaurant "Maison Lamloise" in France in 2019,
After studying at "Hotel du Palais", after returning to Japan
In 2021, he served as the chief chef of "Prunier" and the deputy head chef of "Ginza Sky Lounge".
2023 Appointed head chef of the new store "Drape".
▮ Tokyo Kaikan Overview of the main building
Tokyo Kaikan was born in 1922 as a social gathering place that anyone can use, even though it is a world-class facility. In January 2019, it was reborn as a complex facility with restaurants, banquets, and weddings, and celebrated its 100th anniversary in November 2022. Tokyo Kaikan welcomes customers under the theme of NEWCLASSICS.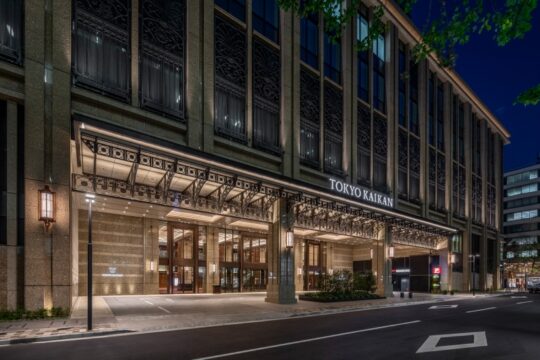 Name Tokyo Kaikan Main Building Location 3-2-1 Marunouchi, Chiyoda-ku, Tokyo
Private area approx. 17,697㎡
Main facilities 8 restaurants and shops 13 banquet rooms (including guest rooms)
Official website https://www.kaikan.co.jp/
Official Facebook https://www.facebook.com/tokyokaikan/
Official Instagram https://www.instagram.com/tokyokaikan
[Tokyo Kaikan Co., Ltd.] From the press release