"Goldfish Day" From March 3rd to April 25th, the hall will be dyed in cherry blossoms for a limited time.
ART AQUARIUM MUSEUM GINZA (Location: Ginza Mitsukoshi) will hold a special spring project "Mecha Sakura ~ SAKURA Special ~" from March 3rd (Friday) to April 25th (Tuesday), 2023. The beauty of goldfish dancing and swimming in a space surrounded by cherry blossoms. Please enjoy the beautiful scenery of Japan.
[The arrival of spring, goldfish dancing in cherry blossoms]
In this project, we will exhibit various works and create a space with the motif of cherry blossoms, which symbolize spring in Japan, and welcome everyone in spring attire. There is also a space that expresses a natural scene where cherry blossoms are in full bloom and weeping cherry blossoms hang down. Cherry blossom petals dance in the tank where the goldfish swim elegantly, and the spring breeze blows throughout the building.
Please enjoy the "much cherry blossom" space delivered by ART AQUARIUM.
– Shiny scented goldfish, all in cherry blossoms!
In this project, in addition to adding a cherry blossom motif decoration, the light and scent, which are the major elements that make up the art work of art aquarium, are also specially designed for cherry blossoms. Please enjoy the atmosphere like cherry blossoms at night in a fantastic space.
In addition, there are varieties of goldfish that have "Sakura" in their names. Enjoy a variety of "cherry blossom x goldfish" art.
●Goldfish Day <br /> Today, March 3rd is Goldfish Day! Goldfish are a summer tradition, but it is said that in the Edo period, goldfish were sold from around February to decorate the Dolls' Festival. For this reason, March 3rd was established as Goldfish Day, just like Hinamatsuri. (There are various theories)
・ A group of works that are "mecha cherry blossoms"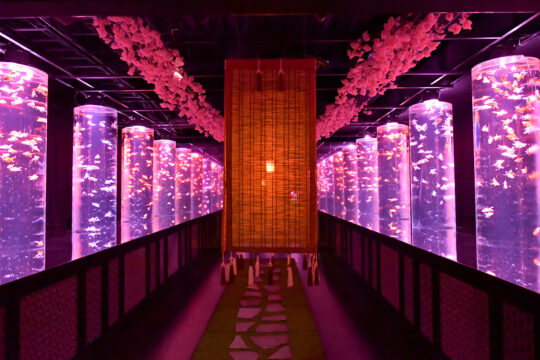 ●Goldfish Corridor-Yaezakura Corridor- <br />A colonnade of goldfish stands in a space that expresses the corridors seen in Japanese temple architecture. This space, which seems to continue forever, is decorated with double cherry blossoms, making it a spring-like corridor. The colorful glowing water tanks on the left and right and the view of overlapping flower petals invites you to a fantasy world of "very cherry blossoms".
---
---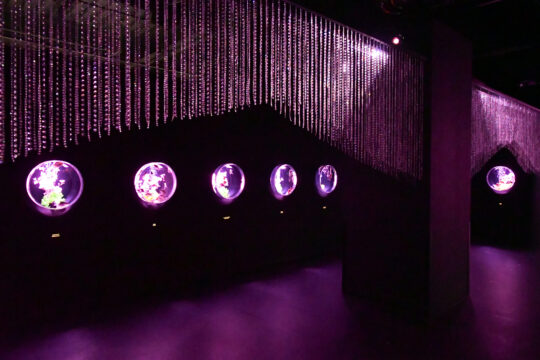 ●Goldfish Collection -Sakura Crystal- <br /> Round tanks are lined up like an art gallery, and you can appreciate various kinds of goldfish. The goldfish collection space is decorated with cherry blossom crystal blinds, making it a gorgeous space. In addition, cherry blossom petals will color the inside of the tank work. Please enjoy the collection of goldfish in a "very cherry blossom" space.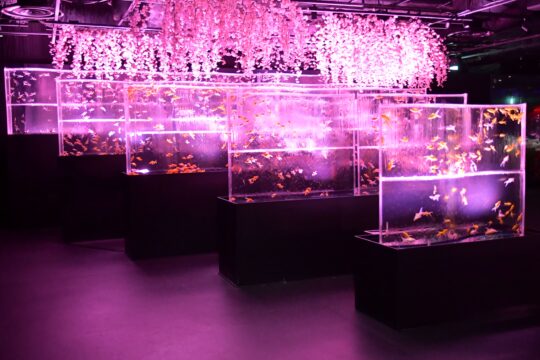 ●Goldfish Waterfall – Weeping Cherry Blossoms -<br /> In this work inspired by a waterfall, weeping cherry blossoms hang down from the top of the waterfall, expressing spring in Japan's natural environment. Please enjoy the scenery of cherry blossoms in spring.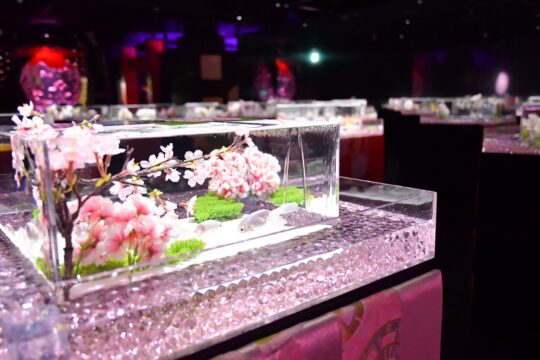 ● New Goldfish Evaluation – Cherry Blossom Color – A goldfish swimming gracefully and leisurely in a square tank. It is a work that allows you to see the goldfish peeking out to the surface of the water and appreciate it from above. Nishijin brocade belts are used to decorate the sides.
Cherry blossoms bloom in the aquarium, and cherry-colored marbles shine around.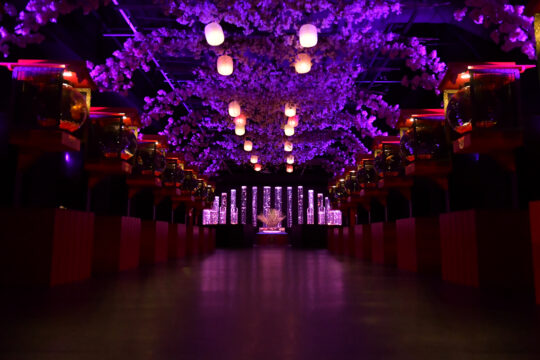 ●Chochin Rium-Cherry blossoms in full bloom- <br /> A space of about 10m where sphere-shaped aquarium works that look like lanterns are lined up like a path. The cherry blossoms are in full bloom in this work area, which has been creating a space according to the season! The row of cherry blossom trees is illuminated by cherry-colored lanterns along with the lantern rium, in which goldfish swim.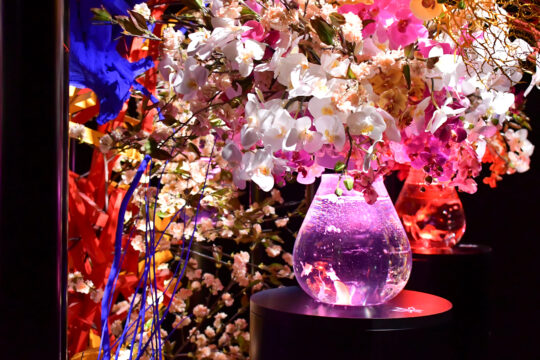 ●Flowerrium-Sakura- <br /> "Flowerrium" is a collaborative work with flower arrangement artist Shogo Kariyazaki. This work, which is colored with seasonal flowers, is also a cherry blossom version in the spring project. Please enjoy Flowerrium unique to spring.
・Goldfish with "Sakura" in their names
Four kinds of goldfish with "cherry blossom" in their name will be exhibited in conjunction with the special event held in spring.
[Kind of goldfish with cherry blossoms in its name]
"Sakura" refers to the characteristics of the scales, which are characterized by the pattern of two colors, red and white.
Sakura goldfish can be viewed in the work area called "New Goldfish Evaluation". Please pay attention to the pattern of the scales.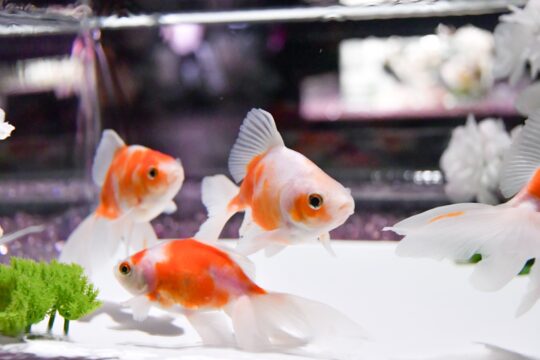 Sakura Ryukin
​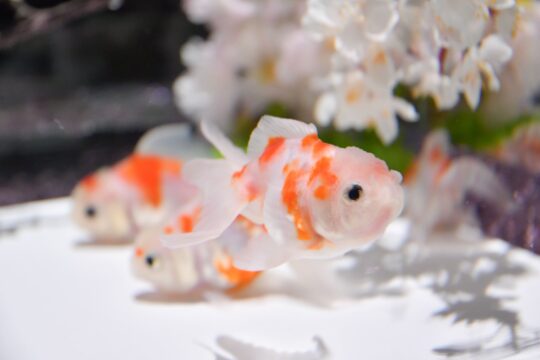 Sakura Higashi Nishiki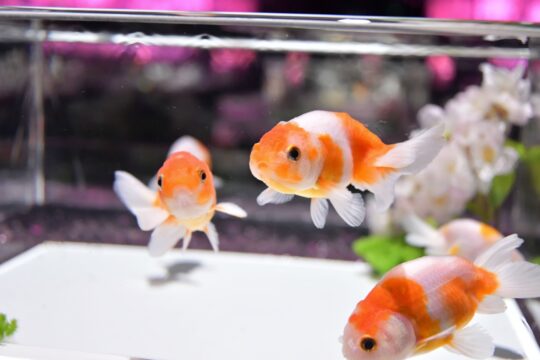 Sakura Nishiki
●Spring Photo Contest!
During the spring special project, we will hold the "Mecha Sakura Photo Contest" at Art Aquarium. Please check the official website for details such as how to apply. ( https://artaquarium.jp/ )
Please take a picture of the spring special project "Mecha Sakura ~SAKURA Special~" and share it on Instagram and Twitter.
[Period] Friday, March 3, 2023 to Tuesday, April 25, 2023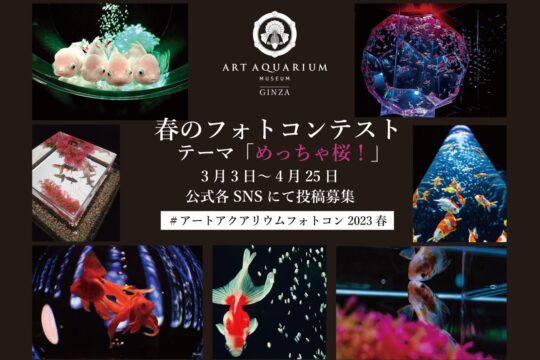 ●Museum shop is also "Mecha Sakura"!
The museum shop in the museum will also be "much cherry blossoms" during the period. Cherry blossom motif accessories, key holders, Japanese miscellaneous goods, etc. From the aroma used in the production of the hall, which has been on sale since February, we have also prepared a fragrance for the cherry blossom project. Please enjoy shopping at the shop as well as viewing the works.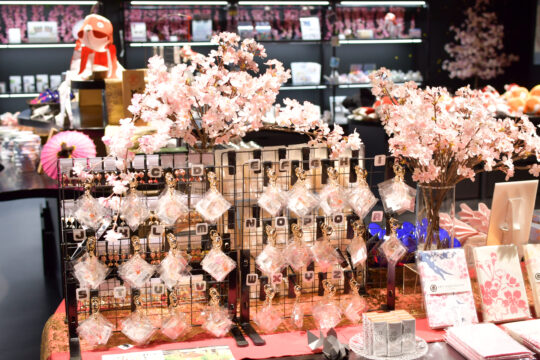 ・The new CM for THE RAMPAGE collaboration has started airing!
ART AQUARIUM MUSEUM will run a new commercial for ART AQUARIUM MUSEUM GINZA (location: Ginza Mitsukoshi) in the Kanto area on March 4 ( It will be aired from Saturday).
The new commercial can be viewed on the official YouTube channel of the Art Aquarium Museum and SNS. In addition, we will release a making-of movie that captures the appearance of the three enjoying the hall during the recording. Please enjoy it!
YouTube: https://www.youtube.com/@artaquarium_tm_official
Instagram: https://www.instagram.com/artaquarium_tm_official/
Twitter: https://twitter.com/artaquarium_tm
·Equipment outline
Facility name ART AQUARIUM MUSEUM GINZA (English notation: ART AQUARIUM MUSEUM GINZA)
Admission fee WEB ticket 2,300 yen https://ticket.artaquarium.jp/
Same-day ticket 2,400 yen (Same-day tickets are sold on the 9th floor of Ginza Mitsukoshi New Building)
Location Ginza Mitsukoshi New Building 8th floor (Entrance is on the 9th floor) (4-6-16 Ginza, Chuo-ku, Tokyo)
Access ・Directly connected to Ginza Station on the Tokyo Metro Ginza Line, Marunouchi Line, and Hibiya Line ・5 minutes on foot from Tokyo Metro Yurakucho Line "Ginza 1-chome Station" (Exit 9) ・Toei Asakusa Line/Tokyo Metro Hibiya Line "Higashi Ginza Station" 2-minute walk via underground passage towards Ginza Station ・9-minute walk from JR Yurakucho Station (Central Exit/Ginza Exit) Business hours 10:00-19:00 (subject to change)
Closed days Same as Ginza Mitsukoshi closed days (In addition, it may be closed irregularly due to maintenance etc. Please check the official website for details)
Official HP http://artaquarium.jp/
Official SNS Twitter https://twitter.com/artaquarium_tm
Instagram https://www.instagram.com/artaquarium_tm_official/
Facebook https://www.facebook.com/artaquariumofficial
*The official account has been transferred Safety measures We will operate after taking appropriate measures against the new coronavirus, taking thorough measures against infection for all guests and staff.
Notes Strollers, suitcases, and pets are not allowed inside. There are no lockers for luggage.
Organizer AQUA ART RELATIONS Co., Ltd.
Planning and Production Amuseum Parks Co., Ltd.
Operated by Amuseum Parks Co., Ltd.
Cooperation Isetan Mitsukoshi Ltd. Ginza Mitsukoshi
[Art Aquarium Production Committee] From the press release
<Related articles in the past>
Goldfish designated as a natural monument assemble in full force! Enjoy beautiful goldfish at the ART AQUARIUM, a museum where life lives
Christmas illumination space immersed in the daytime Art Aquarium Museum GINZA Winter special exhibition starts! "Winter Goldfish Glittering in the Light"
ART AQUARIUM MUSEUM GINZA 〈Limited time〉Autumn special exhibition held Halloween for adults dyed in autumn colors