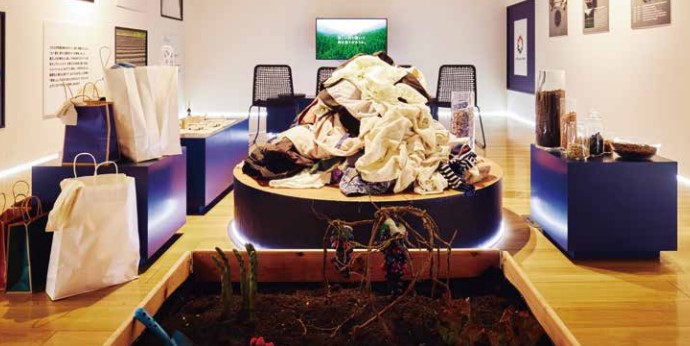 Recycling technology created by CresavaReturning clothing to fertilizer and nurturing food
Kuresava Co., Ltd., which proposes recycling technology that turns clothes into fertilizer and nurtures food, and Aloof Home, which develops one-mile wear and home miscellaneous goods that make use of the functions of Japanese paper, cotton, silk, and natural fibers with a focus on texture. Co., Ltd. will open a pavilion-type large-scale sustainable shop "Circular Farm Museum" on the 7th floor of Tokyu Plaza Ginza from Saturday, April 22, 2023 to Monday, July 31, 2023.
Five booths and a pop-up space with the concept of "learning, experiencing, and practicing" will be set up in a vast space of about 400 tsubo. There is also a restaurant bar "YUBA" * that offers a menu using consumable ingredients. We will work to increase awareness of the "Circular Farm" business model that applies cyclical technology for clothing and food. In the shop space, there is also a clothing collection counter by the lifestyle brand "Aloof Home" that uses natural materials. You can experience the circulation model of Cresava on one floor.
* Open on April 29, 2023

---
---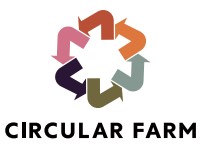 Recycling technology created by Cresava
Recycling from clothing to fertilizer to nurture food
Mass production and mass consumption in fashion is said to result in the disposal of approximately 510,000 tons* of clothing annually*. Since its founding, Kuressava has been researching the idea of "returning" unwanted clothing to the soil instead of "throwing it away" as an essential solution to this problem. As a result, we have developed a technology that generates safe fertilizer that can be safely returned to the soil from all clothing containing new synthetic fibers. At the Kyoto Miyama farm surrounded by beautiful nature, fresh vegetables are grown in rich soil made from fertilizer made from clothing and returned to everyone. This is the circulation system of CIRCULAR FARM, a sustainable innovation for the future that we propose.
*Source: Ministry of the Environment FY2020 survey on fashion and the environment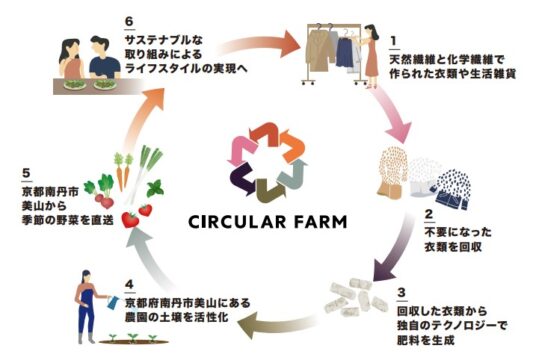 Cresava has developed and patented a technology that produces cylindrical pellets (fertilizer) from collected clothing. Laboratory tests have shown that these pellets contain the necessary ingredients for fertilizer.
STEP1 Collect the clothes and fabrics that no longer need to be crushed and put them in the crusher. Not only natural fibers, but also chemical fibers and accessories such as fasteners and buttons can be crushed without manual separation.
STEP2 The pulverized material is further pulverized into filamentous fibers using a pulverizer. This process promotes fermentation.
STEP3 Fermentation The pulverized fiber is mixed with organic matter and naturally fermented. It is decomposed by microorganisms and becomes a fertilizer that nurtures healthy soil. Organic matter used in fermentation, which would otherwise have been discarded, is collected and effectively utilized (upcycled).
STEP4 After pellet fermentation, granulate into cylindrical pellets of about 1 to 2 cm. Reflecting the opinions of farmers, we considered the most efficient way to spread the seeds over a wide area with agricultural machinery, and optimized the shape. These pellets promote the activation of microorganisms, which helps maintain soil health and improve the nutritional value of crops.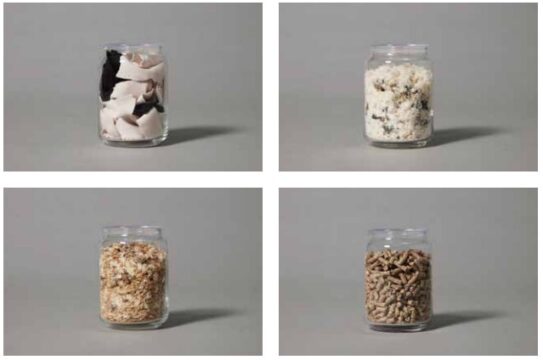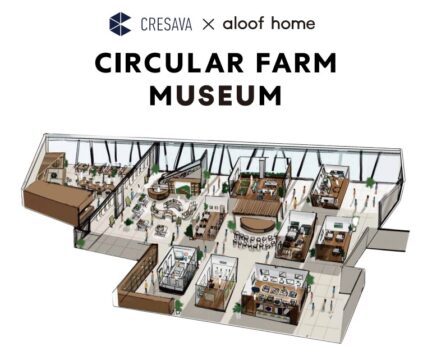 『CIRCULER FARM MUSEUM』
Date: Saturday, April 21, 2023 to the end of July <Limited time>
Place: Tokyu Plaza Ginza 7F
Opening hours: 11:00-21:00 *Restaurant open until 23:00 Sponsors: Kuresava Co., Ltd. / Arufu Home Co., Ltd. Contact information: CIRCULAR FARM MUSEUM
Phone number: 03-6274-6658
https://ginza.tokyu-plaza.com/shop/detail.html?_id=21900
■Company profile・Company name: Cresava Co., Ltd. ・Location: Mont Blue Building 2F, 5-16-14 Minami-Aoyama, Minato-ku, Tokyo
・Representative: Hiroshi Sonobe ・Established: March 2017 ・Business description: Circular farm technology development, OEM & ODM, consulting business, etc. ・URL: https://www.cresava.com/
■Company profile・Company name: Alf Home Co., Ltd. ・Location: 5-16-14 Minami-Aoyama, Minato-ku, Tokyo Mon Blue Building 2F
・Representative: Rika Sonobe ・Established: June 2022 ・Business description: Development of recycling model apparel brands, clothing collection business, operation of circular farms, etc. ・URL: https://aloof-home.com/
[Kuresava Co., Ltd.] From the press release
<Related articles in the past>
Salad as a staple food? The third store in the Ginza/Yurakucho area! Salad bowl specialty store Tokyu Plaza Ginza opens on September 16, 2022
[Interview report] Fun leads to learning! "I tried it ~ Amusement park where you can learn with your body ~" is being held at Tokyu Plaza Ginza (until September 4, 2022)
[Held monthly at Tokyu Plaza Ginza] Hands-on workshop of "Flower arrangement made from vase"