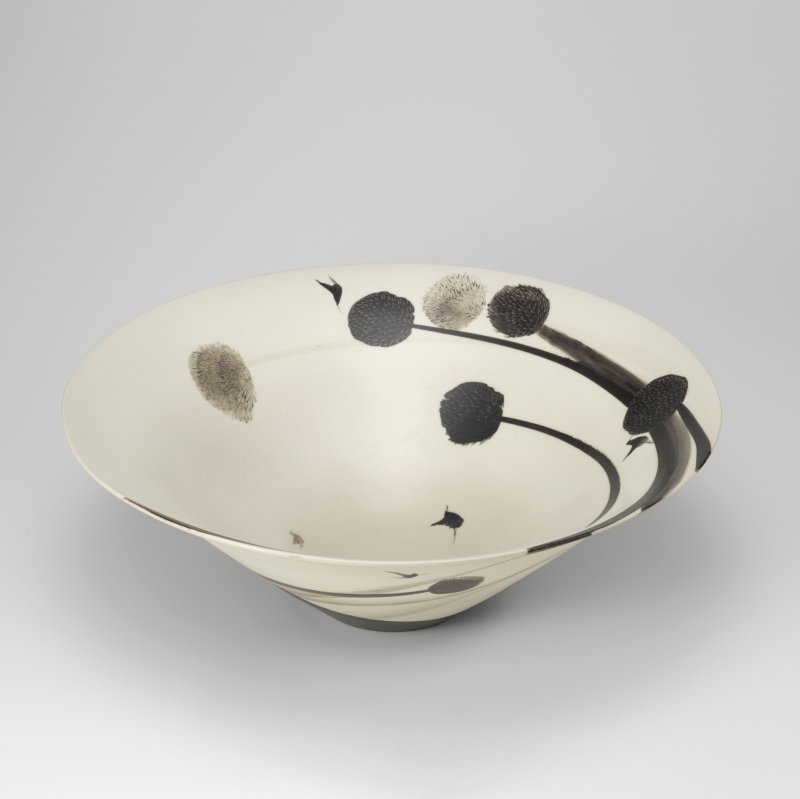 The second two-person exhibition will be held in Wako by mother and daughter Kazu Yoneda and Aya Yoneda, ceramic artists living in Ishikawa Prefecture.
Seiko House Ginza Hall will hold the "Kazu Yoneda and Fumi Yoneda Ceramics Exhibition – Forms of the Wild, Forms of Dreams" from November 30th (Thursday) to December 10th (Sunday).
Her mother, Kazu Yoneda, who is a regular member of the Japan Crafts Association, primarily uses black drawings to create motifs of natural flowers and birds on pottery made using a potter's wheel. In addition to his large-scale pots and bowls, this exhibition will also feature personal cups that transform everyday life into heart-pounding moments, as well as portable tea baskets.
His daughter, Aya Yoneda, creates intricate and humorous small objects in rich colors by hand. This time, kaleidoscopes, small boxes, vessels, and tiered decorations filled with dreams, secrets, and imaginary worlds will be exhibited.
---
---
"We each create our own works, so a two-person exhibition where we can talk about each other's work is a refreshing and special time."
"Even though it's the same pottery, I hope you can enjoy the different perspectives."
Please take this opportunity to experience a space where works of completely different styles, yet somehow connected, come together.
Kazu Yoneda Biography
Born in Okayama Prefecture in 1949
1991: Selected for the first time at the Japan Traditional Crafts Exhibition (selected 30 times since then)
1996 Received the Ishikawa Prefectural Governor's Award at the Ishikawa Traditional Crafts Exhibition
2009 Japan Crafts Association Ceramics Section Exhibition Japan Crafts Association Award Winner
2011: Selected for Japan Ceramics Exhibition and International Ceramics Exhibition Mino
2014 Received the Asahi Shimbun Prize at the Japan Traditional Crafts Exhibition and the Special Jury Prize at the International Ceramics Exhibition Mino.
Selected for Kikuchi Biennale in 2015 (selected in 2017, 2019, and 2021)
Provided by Nikolai Bergman's "Tradition of Traditional Flowers"
2018 Midorigaoka Art Museum "Yoneda Wa" Exhibition
2021 Ceramics Exhibition 14th Kakiemon Memorial Award Winner
2022 Exhibition "Ceramics Connecting to the Future/The Power of Traditional Crafts" Exhibition
2023 Okayama Prefectural Museum of Art "Ceramics: Kazu Yoneda" Exhibition Current member of Japan Kogei Association
Bun Yoneda Biography
Born in Ishikawa Prefecture in 1975
1998 Graduated from the Department of Art, Faculty of Fine Arts, Tokyo University of the Arts. Entered the Kutani Ware Technical Training Institute and began a career in ceramics.
2002 Completed Kanazawa Utatsuyama Crafts Workshop Currently produced in Kanazawa City, Ishikawa Prefecture
Mainly active as an artist, focusing on solo exhibitions at galleries and department stores around the country.
"Kazu Yoneda and Fumi Yoneda Ceramics Exhibition – Shapes of the Wild, Shapes of Dreams"
November 30th (Thursday) – December 10th (Sunday)
Venue: Seiko House Ginza Hall (6th floor, Seiko House Ginza, 4-5-11 Ginza, Chuo-ku, Tokyo)
Contact: Wako (03)3562-2111 (Representative)
Business hours: 11:00-19:00 (until 17:00 on the last day)
Closed days: None Admission fee: Free Sponsored by/Wako
◎Wako Hall has been renamed to "Seiko House Ginza Hall."
We will communicate a variety of things to the world, including exhibitions related to Seiko Group business in general and co-creation with artists.
Business hours and events are subject to change without notice.
Please see our homepage for the latest information.
home page
https://www.wako.co.jp/
Instagram
https://www.instagram.com/wako_ginza_tokyo/
Instagram dedicated to art
https://www.instagram.com/art_wako_ginza_tokyo/
[Wako Co., Ltd.] From the press release
<Past related articles>
[Seiko House Ginza Hall (formerly Wako Hall)] "Fusion of Crafts – This is the Answer" will be held from November 9th (Thursday)
[Seiko House Ginza Hall (formerly Wako Hall)] "Jihei Murase Urushi Work – Tradition and Future" will be held from October 12th (Thursday)
[Seiko House Ginza Hall (formerly Wako Hall)] "Iron Painted Copper Painted Norio Kamiya Pottery Exhibition – Akimitsu Touka -" will be held from September 28th (Thursday)