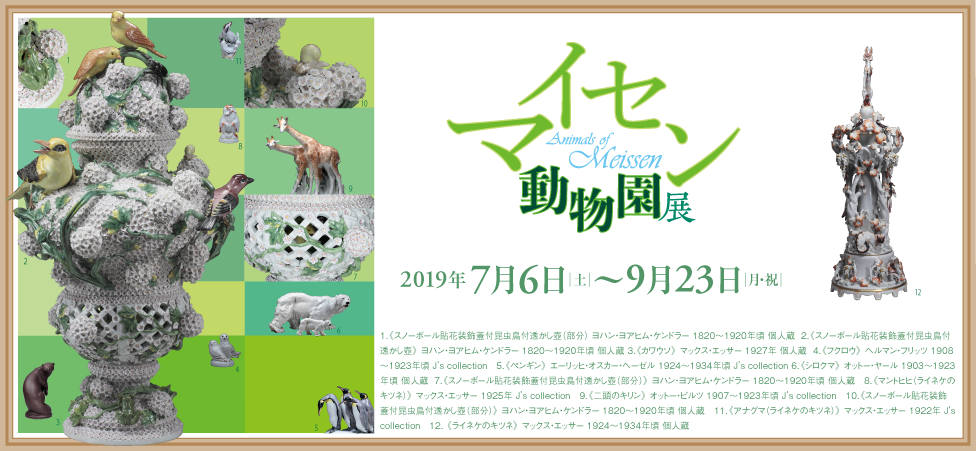 Exhibition summary
Germany's Meissen Porcelain Works proclaimed the establishment of the Royal Porcelain Works in 1710, successfully producing Europe's first hard porcelain. This exhibition focuses on Meissen's animals. The Art Nouveau style, which was popular in the European arts and crafts industry from the late 19th century to the early 20th century, also influenced Meissen and was widely adopted from cups and saucers to statues. At the same time, in Meissen, techniques such as Yuzushita Aya, which is painted under the glaze, and Yukanakasai, which sinks the paint drawn from the top of the glaze, are frequently used, creating works of light and delicate colors. It was done.
On the other hand, works of art with animals as motifs have been produced regardless of age or region, but some of them are drawn or shaped to symbolize something, it is their own loveliness There were a variety of things that were produced to convey, and the same was true for Meissen. Especially the Art Nouveau animal works succeeded in expressing the suppleness of the animals from the pattern to the expression, and achieved a perfect balance of realism and loveliness. This exhibition is organized around such Art Nouveau works. In addition to porcelain and fixtures, catalogs and other materials will be exhibited, and new approaches will follow Meissen's shapes and decorations.
Opening period
Saturday, July 6, 2019-Mon. 23 (Mon.)
Opening time
From 10:00 am to 6 pm (The admission is until 5:30 pm)
※ August 2nd (Fri), September 6th (Fri) will be open at night until 8:00 pm (The admission is until 7:30 pm)
closing day
Wednesday, August 13 (Tuesday)-15 (Thu)
Admission fee
General: 1,000 yen, 65 years old or older: 900 yen, university student: 700 yen, middle and high school students: 500 yen Free for elementary school children
Discount of ¥ 100 for groups of 20 or more.
Anyone with a disability certificate and one attendant can enter for free.
Website discount voucher is here
Sponsored
Panasonic Shiodome Museum of Art, Tokyo Shimbun
Sponsorship
German Federal Embassy, Minato City Board of Education
Event
---
Talk show "Myensen Animal Wonderland!"
Mr. Masao Takahashi The keyword of "Chinjyo Tenka", the ecology of birds that became Meissen's extraordinary techniques and motifs, and a number of topics to enjoy the exhibition, such as art tellers-Mr. and Mr. Dr. M. Takahashi I will talk to you.
| | |
| --- | --- |
| Lecturer | Art Teller Toni Mr. Masao Takahashi (Ph.D.) |
| Date and time | July 28th, 2019 (Sun) 2 pm-3:30 pm (opened at 1:30 pm) |
| Capacity | 150 persons (reservation required) |
| Audition fee | Free (but you need a ticket for this exhibition) |
| Venue | Panasonic Tokyo Shiodome Building 5th floor hall will be free seat. |
* Please refrain from preschool children.
【How to apply for a talk show】
Please apply using the Hello Dial (03-5777-8600).
1 event name 2 number of participants (up to 2 people can apply at one time) 3 full name (required name required applicant name) 4 address 5 phone number, besides, you will receive a simple questionnaire.
・ Registration starts from May 13, 2019 (Monday) ・ Registration time of application 8:00 am to 10:00 pm ・ Receipt of application will be closed as soon as it becomes the first-come, first-served basis.
・ The reference number to be notified at the time of application will be required at the time of reception.
※ We use personal information that we had at the time of application only for the purpose of attendance management of this event.
The personal information received will be deemed to be agreed to its use for the above purpose.
※ When we do not reach capacity, we may receive on the day.
[About the ticket]
The talk show is free, but you will need a ticket for this exhibition. Primary school children are free. Please purchase before the reception if you do not have it.
※ If you have a pass, it is necessary to exchange it for a ticket (stub), so please make a request.
※ If you have a disability certificate, please present at the reception desk.
---
Depending on the crowded condition of the gallery talk * by the curator of this building, it will be changed to slide talk (held outside the exhibition hall).
July 13 (Sat), July 19 (Fri), August 23 (Fri) 2 pm each
Held in the exhibition hall, no reservation required, no participation (but you need a ticket for this exhibition)
---
Coloring present
Coloring will be presented on the 23rd every month of the show, in honor of the declaration of the establishment of the Royal Porcelain Manufacturing Plant on January 23, 1710.
The type can not be selected up to one per person.
---
Friday Night
Open until 8:00 pm for open on the night of August 2nd and September 6th! (Until 7:30 pm for admission)
We are looking forward to preparing the benefits for guests entering after 6 pm.
※ Details will be notified through our website.
---
See information / review of Panasonic Shiodome Museum of Art