We also hold the Ginza Tsukiji Market, a collection of delicious items from all over Japan, and live artists. Period: Saturday, April 20, 2019-Friday, May 24
Ginza Sony Park (Ginza Sony Park) is an experimental park located in the urban area for a limited period of time until the fall of 2020, and carries out programs such as various hands-on events and live performances that surprise and playful feelings can be felt throughout the year. You are
The seventh of the experimental program, which will be held from April 20 (Saturday), is a chef (Ryourito) who presides over the food creative team "eatrip" and is a collaborator who works with Yuri Nomura, who runs restaurant eatrip in Harajuku, Tokyo. In the middle of the city, we will hold a program '# 007 eatrip city creatures', a program to grow food using the water from the underground of Ginza, the voices of the visitors, the sounds of the city, and the music played as nutrients.

As we proceeded with the concept of "parks in the city" for a limited period of time in rebuilding the Sony Building, we found that there were a lot of spring water coming out of Ginza's basement. The sea was once spread around Ginza until the Edo period, and the area around the Sukiya Bridge intersection where Ginza Sony Park is was also a moat filled with water until the middle of Showa. By its remnants, groundwater still flows around the area.

There is a resource called "water" necessary for food to grow in the city of Ginza.
In this program, "# 007 eatrip city creatures", we focused on the groundwater in Ginza and created a water field on the underground floor. Using the spring water flowing under the Ginza Sony Park, we grow food while listening to the voices of guests and the sound of live performances. Various talk events and workshops will be held, including live performances by musicians UA, BIGYUKI and U-zhaan.
In addition, around Ginza, Tsukiji is also a town where food gathers from the whole country. During the period, the Ginza Tsukiji Market, which sells delicious food items from all over Japan selected by eatrip, will also appear weekly.
---
---
Everyone is welcome to participate in this program, which fosters food with groundwater and people's voices and music flowing into Ginza.
■ Yuri Nomura profile <br /> Food creative team "eatrip" presiding director / cook (Ryuribito). To the way of cooking under the influence of my mother who had opened a hospitality class for many years. Based on the cuisine that represents the four seasons of Japan and the heart that treats guests, we will connect and spread people, places and things from various angles through food based on food. The first documentary film "eatrip," which is the first director's film, was released in 2009 and is now on DVD. His books include "eatlip gift", "Saturday, Summer, Autumn, Winter, and Delicious" and "Tokyo eatrip". The latest book "TASTY OF LIFE" will be published in May.
■ Comments from Yuri Nomura <br /> I think a lot.
"What is the current food?"
As a person who lives in Tokyo and lives cooking as a living,
As one person's question,
Maybe, the more you do the work of cooking, so always
I would like to throw it to a lot of people.
And such a feeling, the movie "eatrip" I made 10 years ago,
It is connected to the event "beat on food-inner eatrip" that I did two years ago.
When I received this story,
I heard that there is underground water in Ginza and it continues to flow under the Ginza Sony Park.
The city of consumption has resources!
Of the soil, water and air necessary for food to grow,
"Water" was in the city of Ginza.
So, this time, in "eatrip city creatures", I thought about "a foundation to make food" centering on "water".
Like the small Tsukiji Market, a lot of food born and raised all over the country gathers, and at the same time it produces and nurtures food.
Foods grown in Ginza Sony Park grow from the ground water of Ginza and the voices of people and the sounds of the city as nutrients.
The visitors are "consumers" and everyone is also a "producer".
Food is a very important act involving all people.
For about a month, through the various events, exhibits and spaces that take place here,
I hope that it will be a place to think about the future food while feeling the water of Ginza and the energy possessed by people.
Nori Yuri
<# 007 eatrip city creatures event summary>
Holding period: Saturday, April 20, 2019-Friday, May 24
Holding time: 10:00 to 20:00
Venue: GL / Ground-PARK B3 / Basement Level 3 Fee: Free Entry * Partial paid workshop available
■ Exhibition outline
・ PARK B3 / B 3rd floor <br /> Using Ginza's groundwater, through the wave of that water, the water field that brings up plants and flowers while listening to the voices and sounds of the guests appears. You can also see a water installation that responds to sound.
・ PARK B2 / 2nd floor <br /> Permanently set up a freely playable piano. The sound that is played is linked to the water field on the third floor underground, and the water surface reacts. In the waterway surrounding the piano, a circulation installation of flowers by The Little Shop of Flowers, which gradually changes its shape throughout the exhibition period.
We will also hold the Ginza Tsukiji Market, which sells delicious goods eatrip has collected from all over Japan.
・ Blow-over <br /> A cloth installation by the dyer Kitta Yuko, beautifully colored with grass and wood, welcomes visitors to the venue. You will feel the circulation of plants and water throughout the venue.
■ Ginza Tsukiji Market <br /> We produce food from the water and soil all over Japan, and the producers of the area take the time to spare and sell them weekly.
First week: April 20 (Saturday)-April 26 (Fri) Hokkaido · Kanto Second week / April 27 (Saturday)-May 5 (Friday) Kinki · Chubu district third week / May 4 (Saturday)-May 10 (Fri) Chugoku · Shikoku Region 4th week / May 11 (Saturday)-May 17 (Fri) Kyushu · Okinawa Region 5th week / May 18 Sun (Sat)-May 24 (Fri) Encore – welcome back –

■ Relevant events <br /> During the exhibition period, various events will be held, including live food, city themed live events, talk events, workshops (some charges will be made), centering on the exhibition floor's PARK B2 / basement 2 floor. You Details of the date and time will be announced later on the Ginza Sony Park official website and SNS.
<Major artists, speakers, lecturers>
Takuji Aoyanagi, Yayoi Inomoto (photographer), Koji Ihara (Kotoko), Toshiro Inaba (Ph.D.), eatrip / The Little Shop of Flowers, UA, Kyoko Nagata (food remedies), Akiko Kawamura (food writer), Kitta Yuko (stainer), Ginza Wakadanana meeting, Kobayashi Koji (Wakayama villa aida chef), Saito Teruhiko (Auckle Store), Sugi Noriyuki (Sugimoto Pharmacy), Nishio Yoichi (Casa BRUTUS Editor in chief), Nomura Yuri (eatrip) , HIKOKONAMI, BIGYUKI, MATMOS, U-zhaan, Toru Wachi (Mardi Grashev), etc.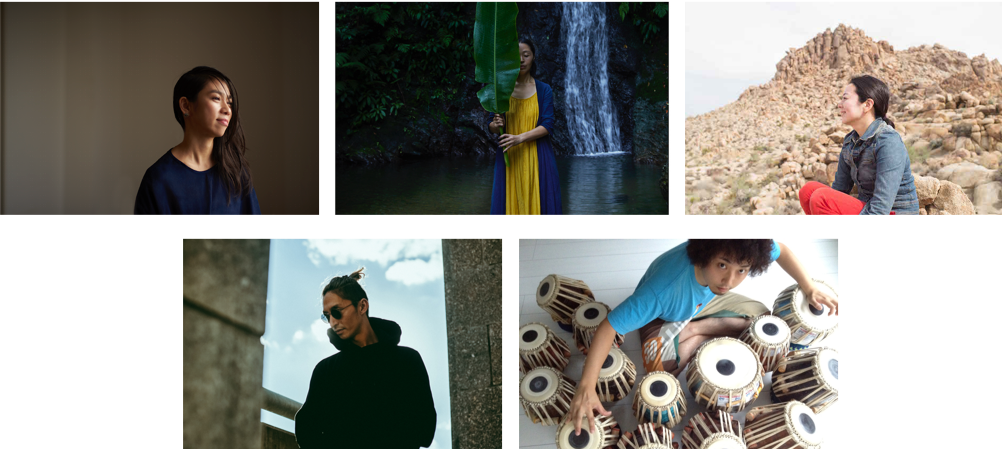 UA / Kitta Yuko (C) T. Minamoto / Yuri Nomura / BIGYUKI / U-zhaan
Hosted by: Ginza Sony Park
Planning and production: Yuri Nomura (eatrip), Ginza Sony Park
Direction: Yutaka Endo, Nakahara Raku (LUFTZUG)
Art Direction: Hiroma Higuchi Sound Curation: Ryu Takahashi (Park Live ✕ eatrip)
Venue composition: Takashi Nakahara Acoustics: Kei Shibataguchi Advisor: Toshiro Inaba Main visual design: Takagi Mika Venue graphic illustration: Hiroaki Yamaguchi Handwriting: Shikatsuda Masakatsu Exhibition and installation: Kitta Yuko, The Little Shop of Flowers, SOLSO, Taro Mizutani , Izumi Nikita event curation: Tanaka Kai market: Miho Kanauchi, Natsuko Maeda Cooperation: Hanako editorial department
Special Thanks:
Aoyanagi Takuji, Arimoto Yayoi, Iki Yukari, Ihara Kiko, UA Nagada Kyoko, Kawamura Akiko, Kurokawa Mitsuharu, Saito Teruhiko, Sugio Yo, Nishio Yoichi, Hanaregumi, HIKOKONAMI, BIGYUKI, Fukuhara Kazuto, Hirano Ayako, MATMOS, MATMOS, Keita Izumi, U-zhaan, Toru Wachi
About the Ginza Sony Park Project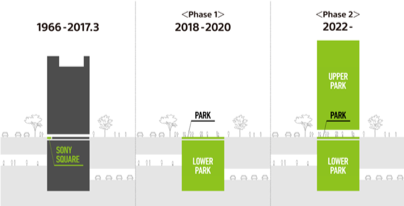 It is a project to renew the former Sony Building, which has continued since 1966, after two phases. In the first phase, we will further expand the public space (Sony Square) next to the Sony Building entrance, which has continued as the Ginza garden since its establishment, and open the Ginza Sony Park for a limited period until the fall of 2020. In the second phase, we plan to complete a new Sony Building in 2022, a new concept that extends the Ginza Sony Park Park concept to the upper and lower floors.
Ginza Sony Park Official Website / Account
Web: https://www.ginzasonypark.jp/
instagram: https://www.instagram.com/ginzasonypark/
twitter: https://twitter.com/ginzasonypark/
facebook: https://facebook.com/ginzasonypark/
peatix: https://ginzasonypark.peatix.com/
#ginzasonypark #eatrip
---
Ginza Sony Park (Ginza Sony Park)
See information and reviews