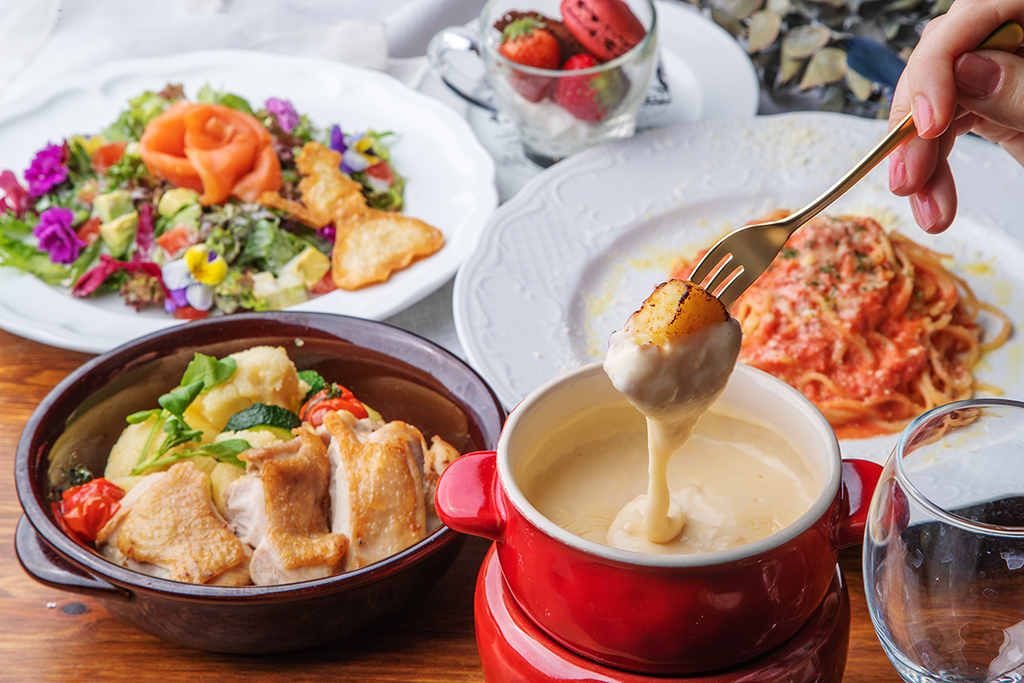 All parties are in SNS shine with cute dessert & sparkling cocktail!
Fantasy restaurant "Alice in the country of labyrinth", "Alice in the country of picture books", and "Alice in the country of old castles" operated by Diamond Dining Co., Ltd., a consolidated subsidiary of DD Holdings Inc., redesigned the grand menu, June 25 (Tuesday) We will notify you as we have started offering the service on a full scale.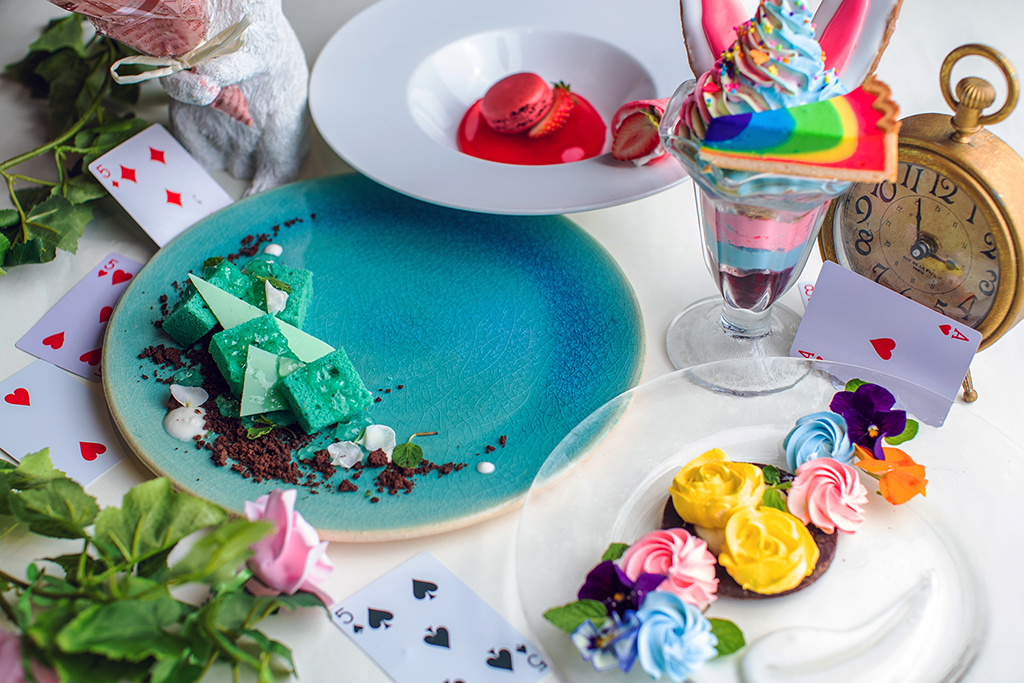 "Alice's fantasy restaurant" that has appeared in the food and beverage industry in 2003
The menu was boldly renewed at this time when the original issue was changed to "Rekazu" because this brand continued to be a symbolic icon of diamond dining. The world view of the mysterious story of the British literature "Alice in Wonderland" remains as it is, and we have prepared a "delicious dinner" to live in this era and to attract people from all over the large city and Tokyo.
Ginza "Alice in the country of labyrinth", Shinjuku "Alice in the country of picture books", Ikebukuro "Alice in the country of old castles".
In the downtown area representing Tokyo, please try to open the door to Wonderland …
Alice of the Labyrinth country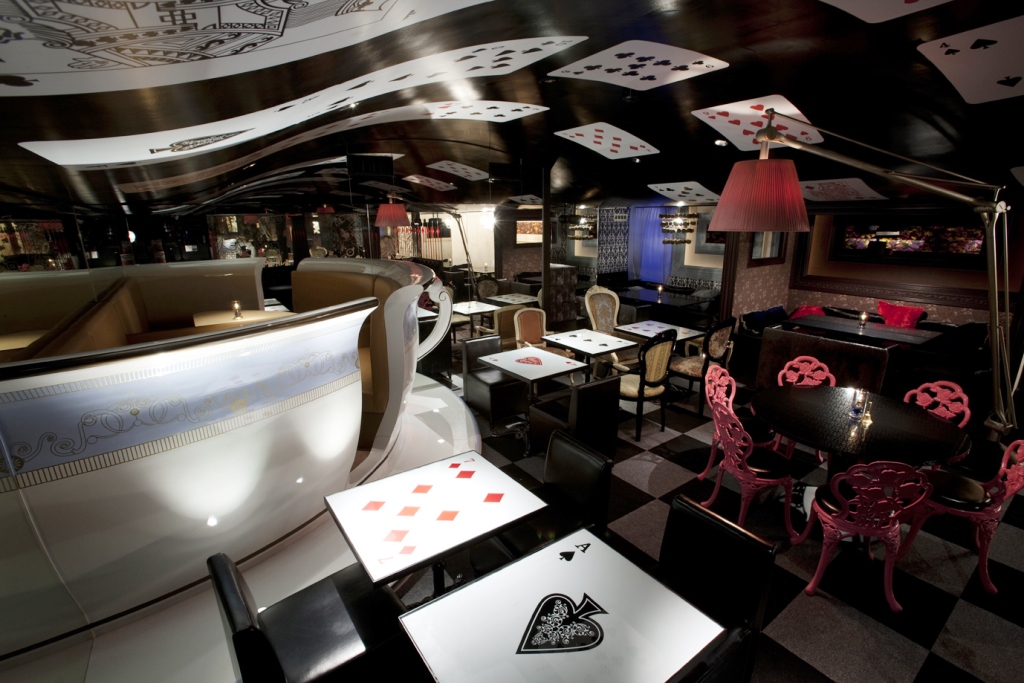 ■ Address 8-8-5 Ginza, Chuo-ku, Tokyo Taiyo Building 5F
■ TEL 03-3574-6980
■ URL https://www.dd-holdings.jp//shops/alice/meikyuginza
Alice in the picture book country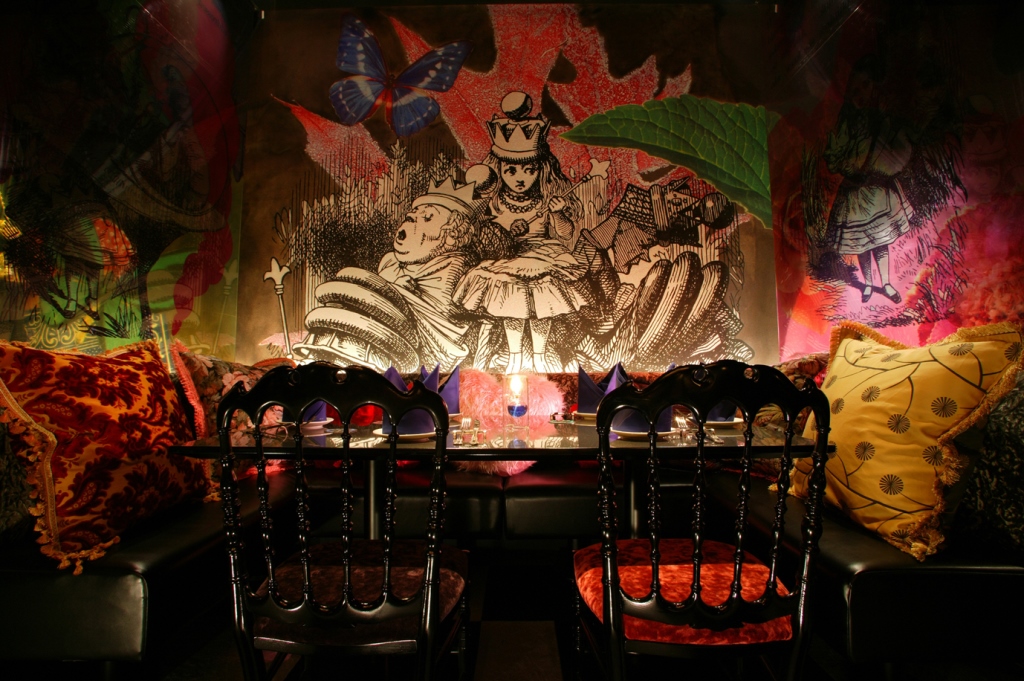 Address: 1-6-2 Kabukicho, Shinjuku-ku, Tokyo T-wing Building B2F
■ TEL: 03-3207-9055
■ URL https://www.dd-holdings.jp//shops/alice/ehonsinjyuku
Alice in the Castle Country
---
---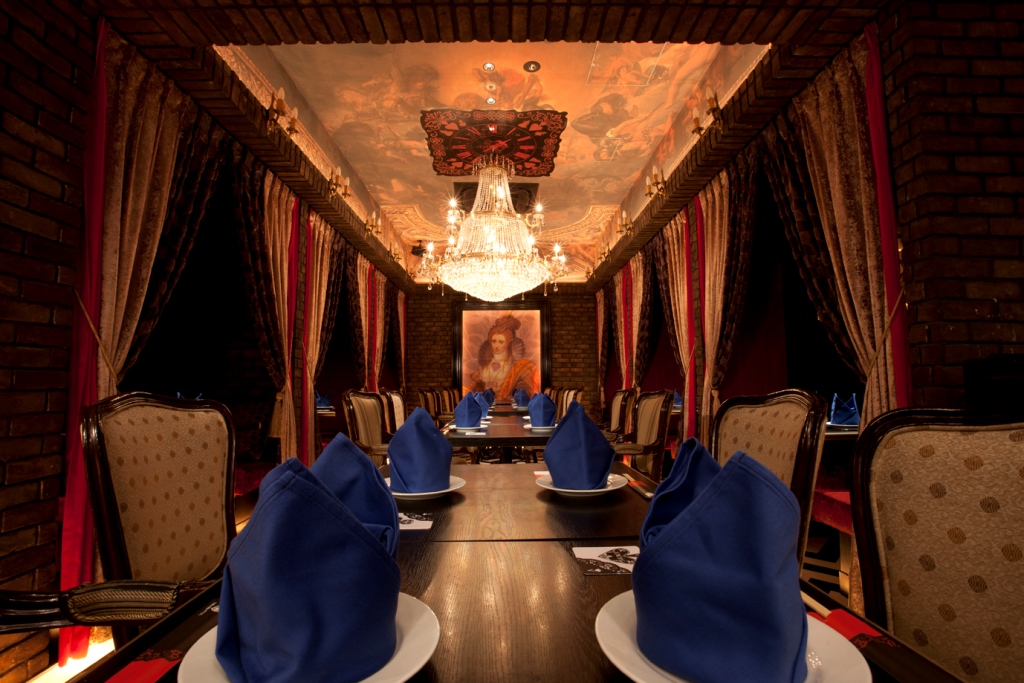 ■ Address 2-16-8 Minami-Ikebukuro, Toshima-ku, Tokyo Suzuwa Building B1F
■ TEL: 03-3985-2193
■ URL https://www.dd-holdings.jp/shops/alice/kojyoikebukuro
Meat cheese fondue with a choice of mains ■ Ribot steak 2,390 yen / ■ Herb chicken steak 1,790 yen / ■ Hamburger 1,690 yen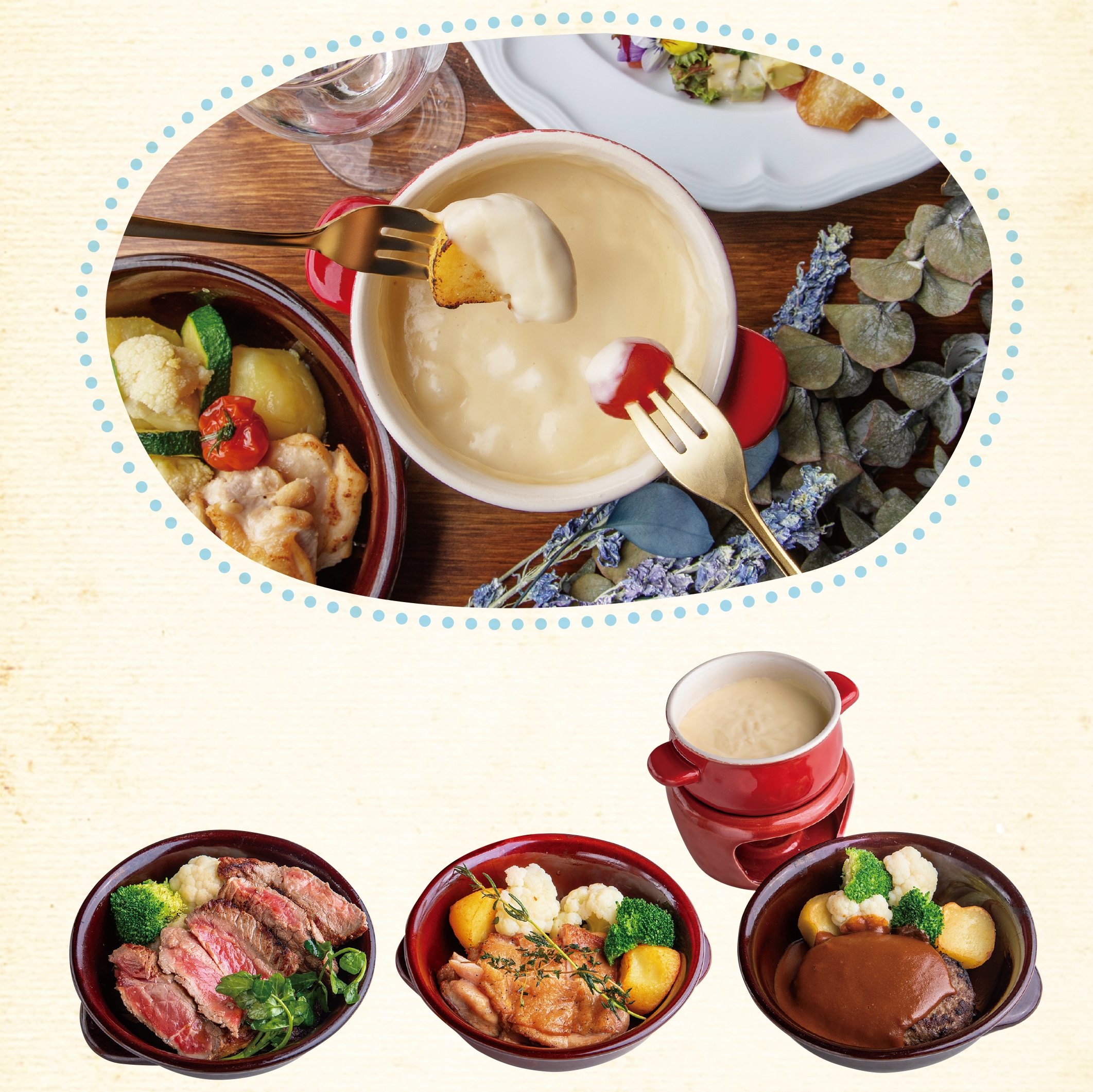 It is suitable for the main cooking of a small party scene, such as a place for women's meetings and family gatherings, and it is a self-confident work delivered by residents of Wonderland with a sense of heart. The main ingredient to dip in the melt cheese is "Ribulose" which has a feeling of feasting even if it is eaten as "steak", "herb chicken" which is healthy but has a satisfying sense of volume of single meat, and plump juicy You can choose from 3 kinds of "Hamburg" which can not bear the texture.
The colorful vegetables together also "Enclose one pot" time, regardless of the season, should produce a heartwarming important time.
Rose flowering Caprese-white rose red with fran Boise ~ 790 yen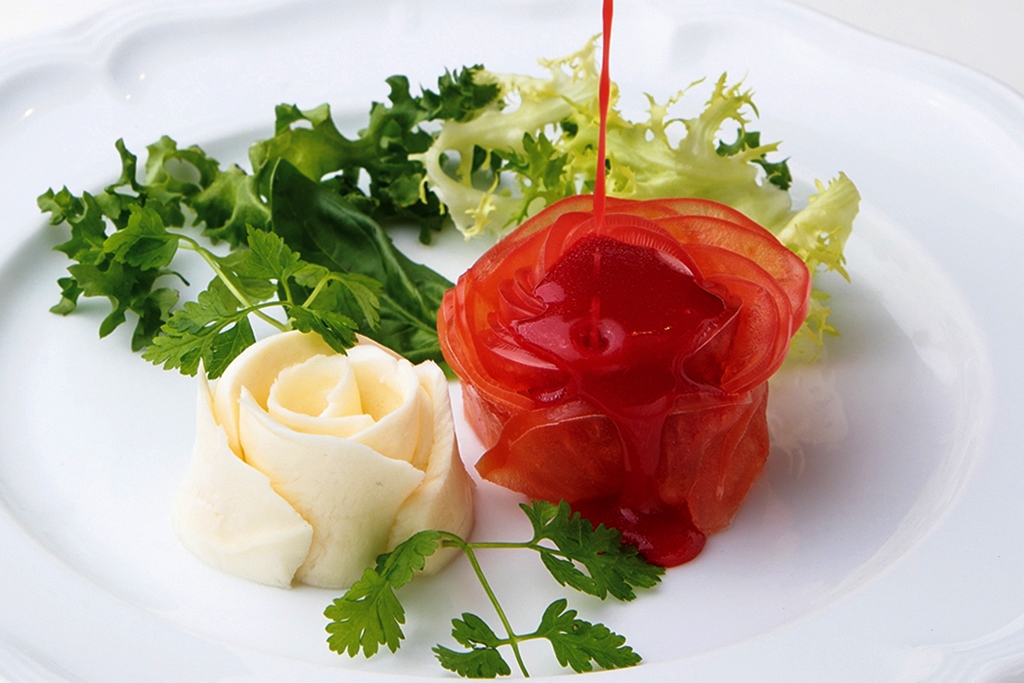 In the red queen's garden, the white birch is indecent! Trump soldiers who found find out and dye red … Here is a menu with one of the most famous episodes in the story of "Alice in Wonderland" as a motif. The compatibility of the mozzarella cheese white grapes with the bright red framboise sauce is outstanding.
Burschetta-White Rabbit, Humpty Dumpty, Cheshire Cat at Rose Garden- H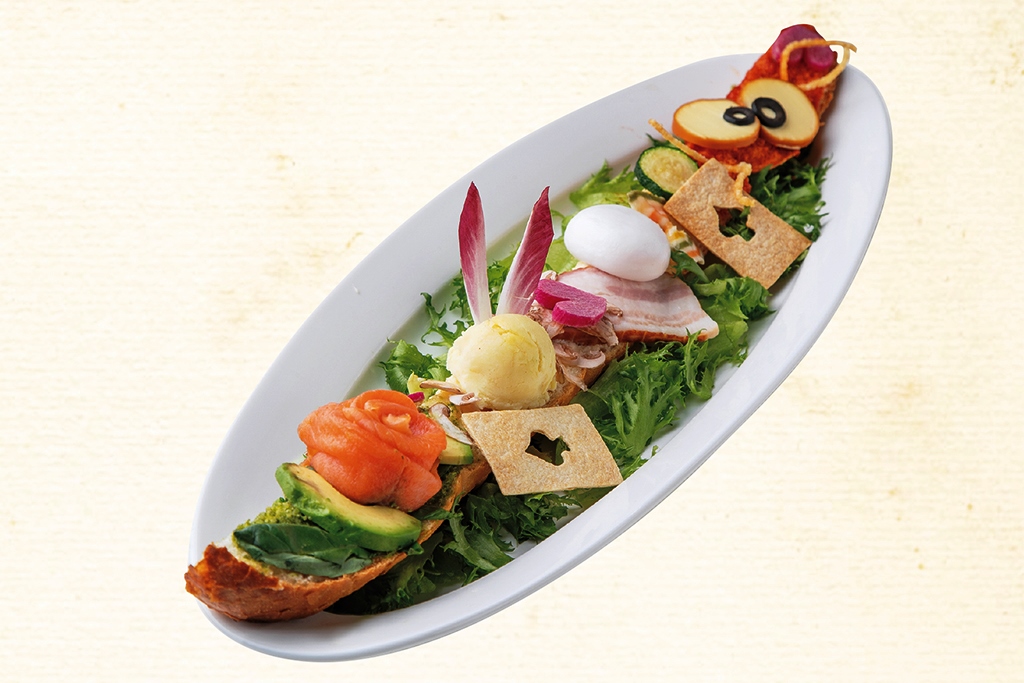 A white rabbit that is constantly chased for a while, a gentleman humpty dumpty of an egg that breaks easily when rolled with a colon, a sudden appearance or a sudden disappearance … A rare plate that everyone from Cheshia Cats of Kamiideki will meet. The start of a small party of 4 to 5 people is better than anything like this dish.
Hatta-bouquet salad to give to Alice-Flemish dressing- 1,100 yen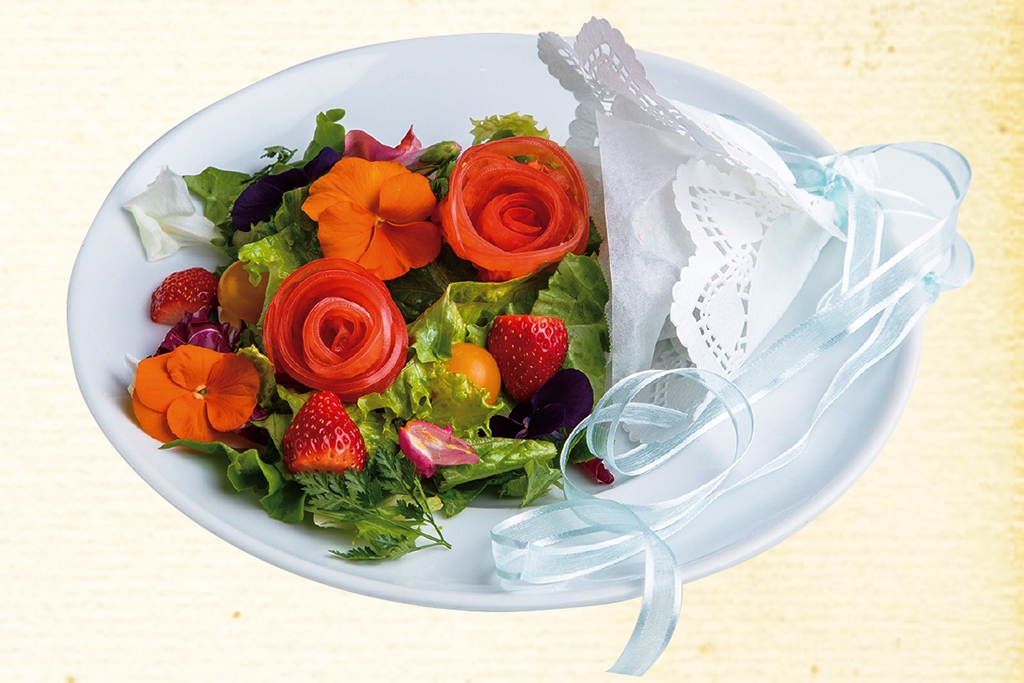 A beautiful salad with a motif that is rumored that Mad Hatter gave it to Alice. A new age of salad, with tomato and salmon shaped roses striking the eyes, and sweet and sour strawberries accenting the tongue with unexpected accents, adds more appeal with a fresh framboise dressing.
Crescent moon salad ~ honey French dressing ~ of the Cheshire cat which disappeared 990 yen
A seemingly standard green salad centered on frilled lettuce. If you look up with a little glance and look at it … The mysterious crescent moon that appears there! Though it is a light system salad that you want to upload up with SNS involuntarily, the taste of the finished form that dressed dressing is a # ability that does not stay in # light.
Pick Up Menu-Pasta & Risotto-
Cheshire cat tailoring ragout sauce 1,300 yen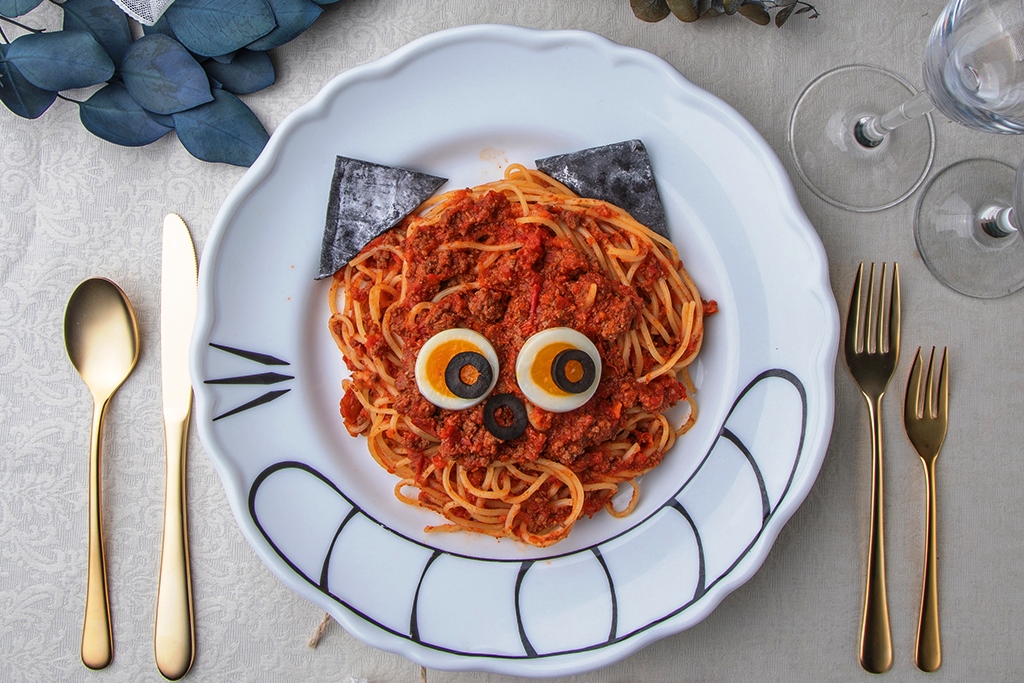 Don't be fooled by the pretty look imitating a Cheshire cat. The pasta that the chefs of the Queen's Queen of Hearts showed their full range, is a full-fledged Italian with smiles even for the Queen of Hearts who are angry. The aroma of ragout, in which the taste of beef is thoroughly mixed with tomato, makes you even more appetitey.
How much and salmon cream 1,200 yen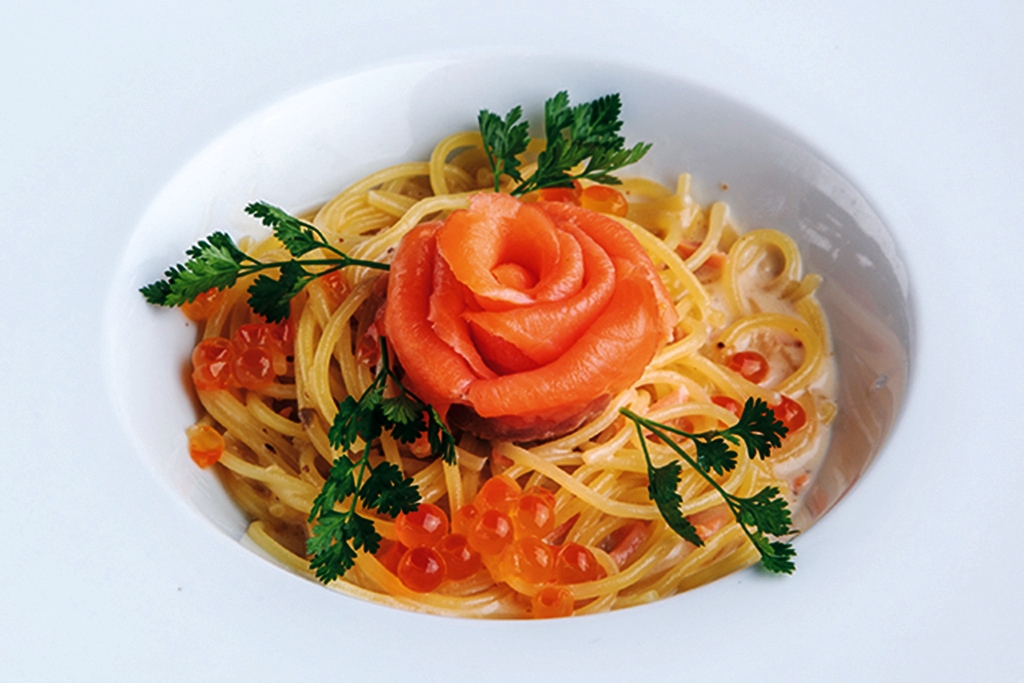 If you like pasta with creamy sauce, we recommend this! The mariage of cream sauce and creamy taste that can be squeezed slightly gives a slight adulty taste, and it is a luxury pasta where the feeling of feast is fully enhanced by combining the petals of salmon that reminiscent of a red rose that blooms in the castle garden.
Baked risotto of quattro cheese 1,200 yen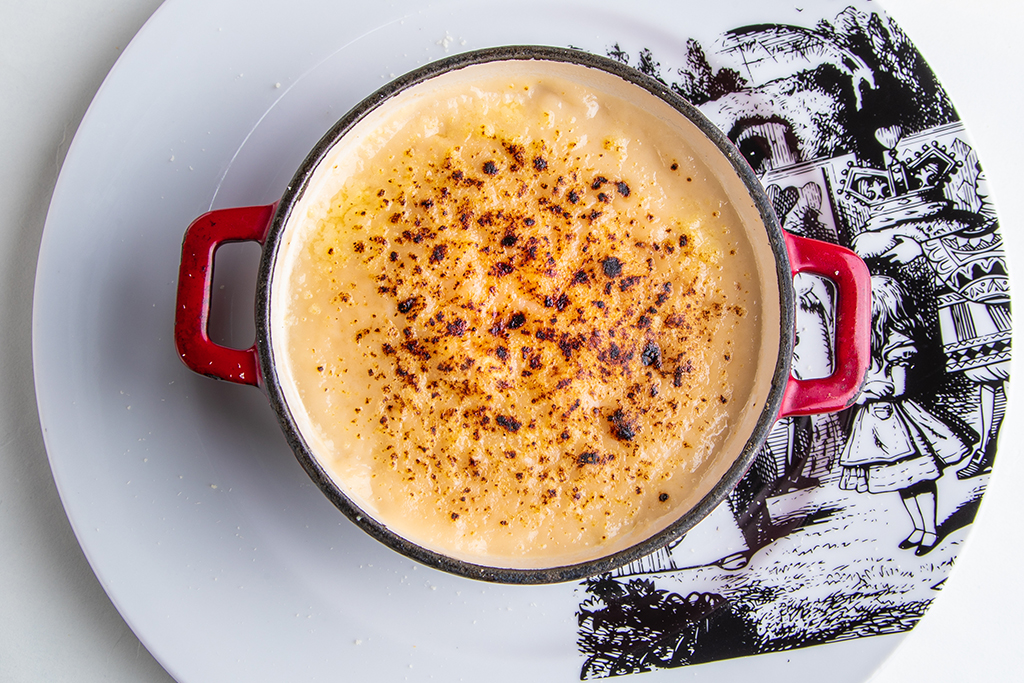 Especially recommended for cheese lovers who want to enjoy cheese until the end, not just cheese fondue in the main dish. A risotto made of cheese cream mixed with four types of cheese, from mild to rich, to a complex taste, with a brownish burnt, is delicious after pulling out after the spoon has stopped even when full. Please enjoy the original recipe risotto which looks like a standard and can only meet here, which seems to fit well with slightly stretched alcoholic drinks such as wine.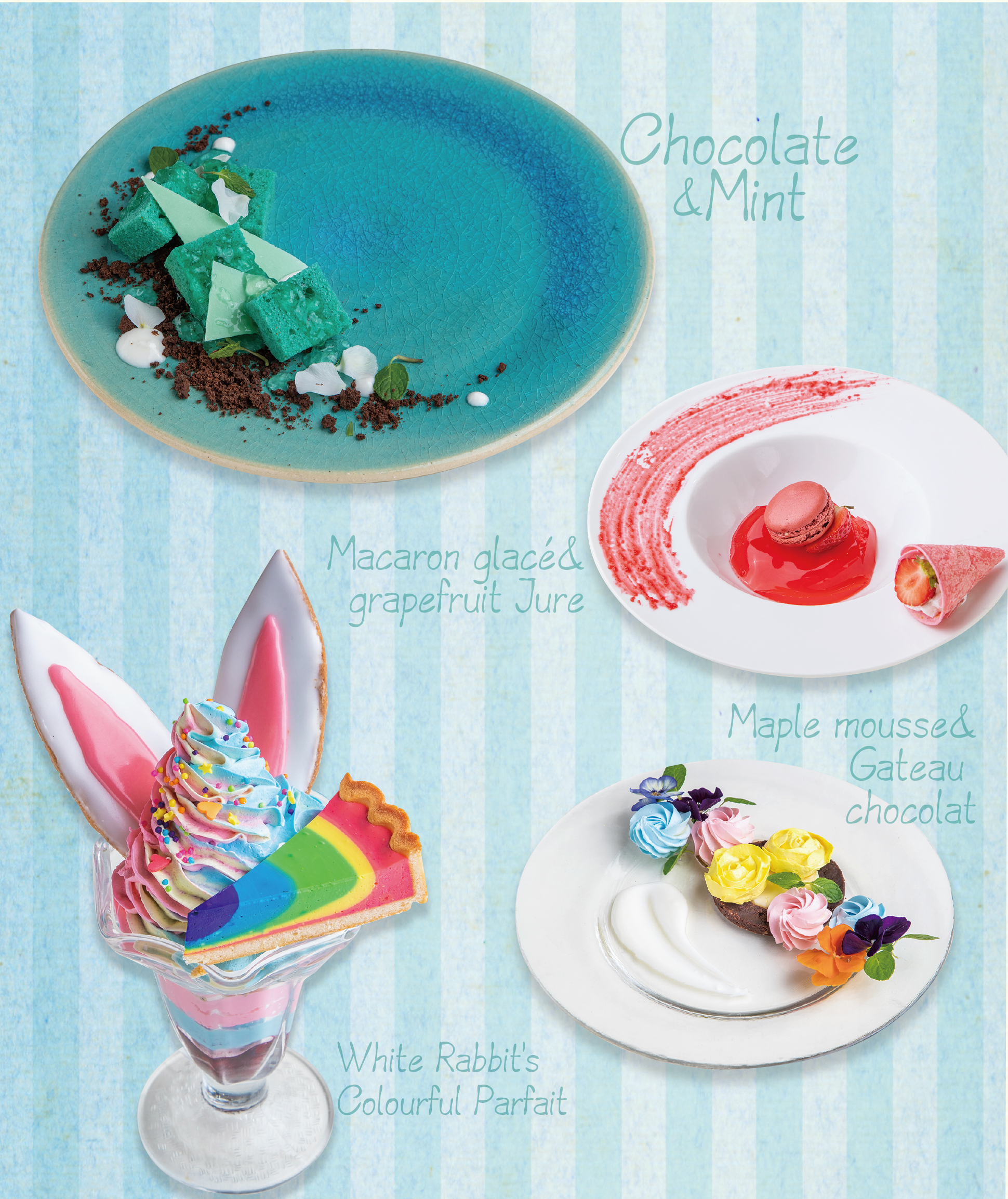 Chocolate & Mint ~ Lake of Tears ~ ~ 980 yen <br /> Blue's dessert with the motif of Alice in the sea of tears, fascinated by mysterious colors at first glance. When it is carried to the mouth, the sweetness of chocolate and the freshness of mint spread. Chocomint sweets, which attract particular attention in recent years, are a must-check dish.
White Rabbit's Dreamy Parfait ¥ 1,280 <br /> A long-awaited regular member with a dessert that boasted overwhelming popularity even in the seasonally recommended menu! The big "Bear Ear" is eaten with patissier handmade icing cookies and the response is also big. Dip and enjoy unicorn-colored whipped cream!
Macaron glacé & grapefruit Jure ~ for the red queen ~ 980 yen <br /> Here is a dessert that tells us that the card soldiers who served the castle had created it for the red queen. Macaroons floating in the red jelly, pink mini crepe with a slight presence on the side also seems to tell something … It is an artistic dessert that contrasts of simple colors stir up imagination.
Maple mousse & Gateau chocolat ~ white flower garden ~ 980 yen <br /> For the red queen, the white queen garden is full of colorful flowers to express the hope of the country It seems like Pink, yellow … and mysterious blue … Enjoy the finest teatime while combining the flowering cream flowers and the rich Gatochocolat.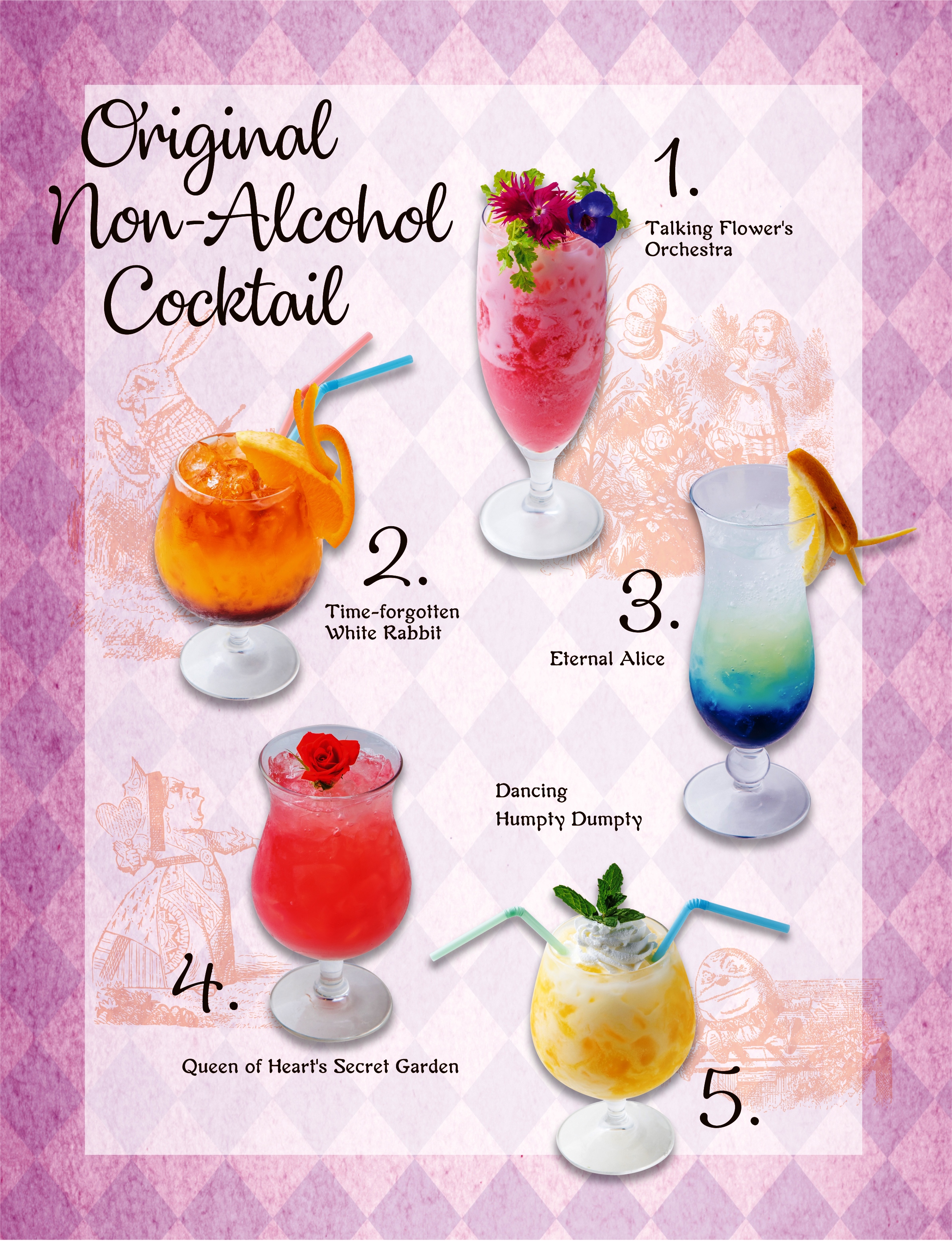 1. A chattering flower orchestra 880 yen * The taste of the non-alcohol sweet and sour strawberry syrup and cranberry juice, combined with the sweetness of the milk that mixes with it, is just "Symphony".
2. I forgot the time White rabbit 850 yen * A special drink for tea parties that adds a refreshing flavor of cassis and orange to black tea with nonalcoholic bitter taste. I can't wait for the white rabbit late because I lost my watch!
3. Eternal Alice 900 yen * An original drink with the motif of heroine Alice loved over the non-alcoholic era. The sweet and sour taste of raspberry and grapefruit is just the image of Alice.
4. Secret Garden 800 yen for Queen of Hearts * A beautiful drink with flowers and roses that the queen of non-alcoholic hearts loves. We combine cranberry juice with rose syrup and tighten it with the ginger hotness of ginger ale.
Five. Dancing Humpty Dumpty 800 yen * A cocktail with a humpty dumpty motif with a lovely non-alcoholic egg form. Mango juice with bright yellow and thick sweetness, of course the compatibility of milk is ◎.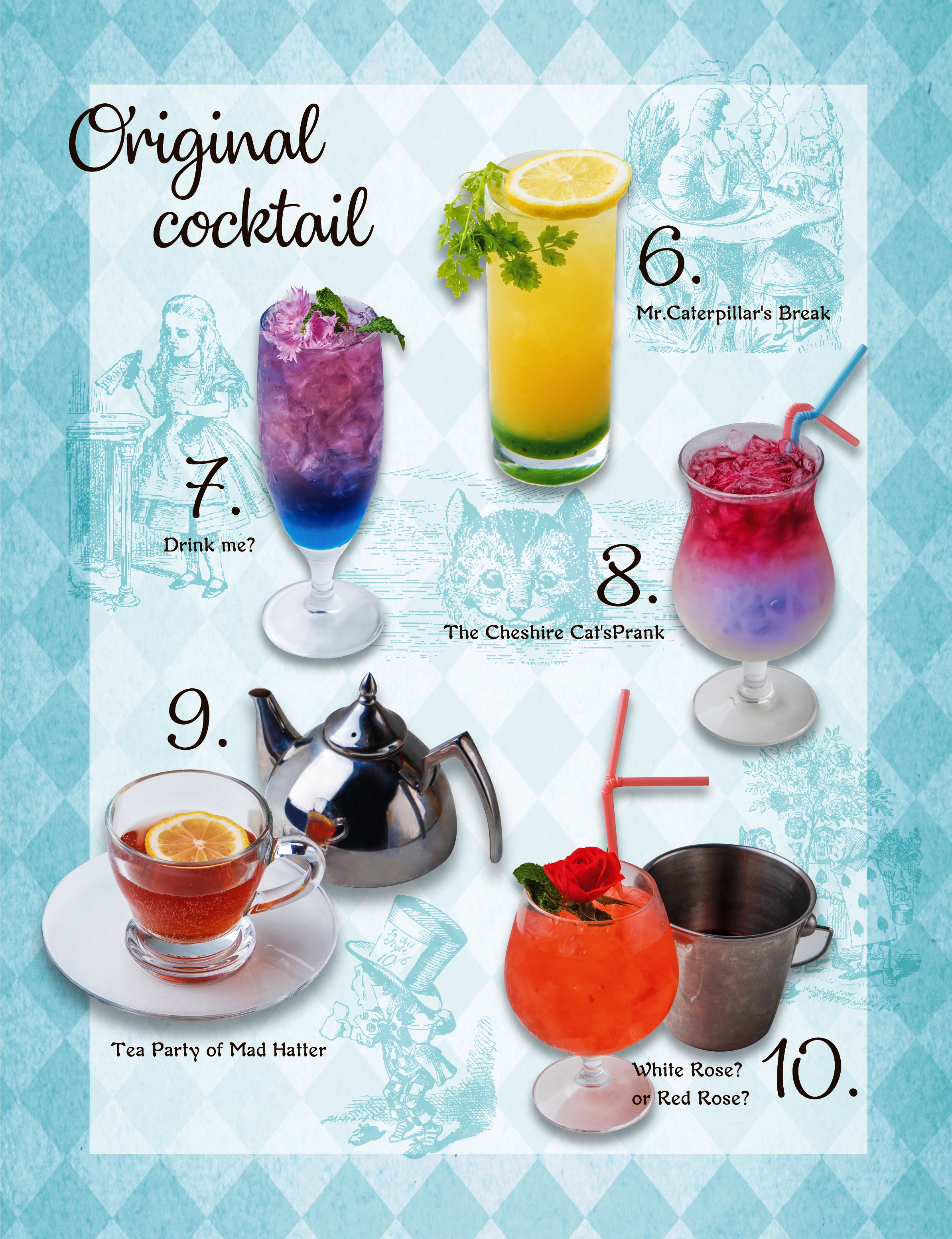 6. Unomoi Momoshi's night break 920 yen * The existence that brings advice to alcohol Alice is 'imomouji uncle'. This time, "add milk" …? The mellowness of milk added to the sour taste of kiwi and pine is a good match with the advice.
7. Drink me? ¥ 920 * If you are familiar with the alcohol story, you may guess what happens if you drink a drink with this name … but if you do not know the story, beware of the intoxicating feeling too refreshing that Blue Curacao brings.
8. Cheshire Cat's Mischief 950 yen * A cocktail as if that alcohol represents the elusive mystery of Cheshire Cat . The point is the "prank" combination of yogurt liqueur and red wine.
9. The crazy messed tea party 890 yen hat shop ※ of alcohol tea liqueur, hat shop specialty drinks the combined ginger ale spiciness of pungent ginger endure. The stimulus may actually be the best for a tea party in which it goes!
Ten. Is it white? Is it a red rose? ¥ 920 ※ You need to quickly change the color of red wine into alcoholic beverages as well … If you pour sangria taste red wine into a clear soda, you can make a slightly mature cocktail!
---