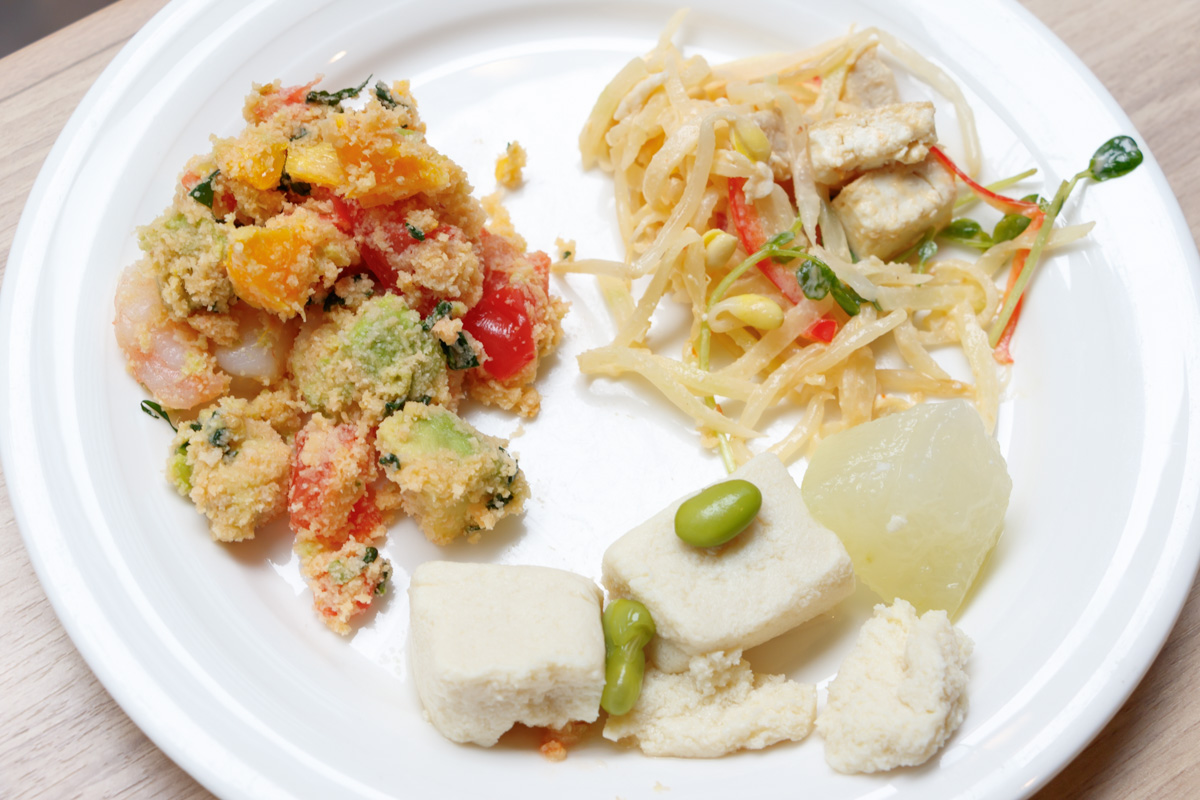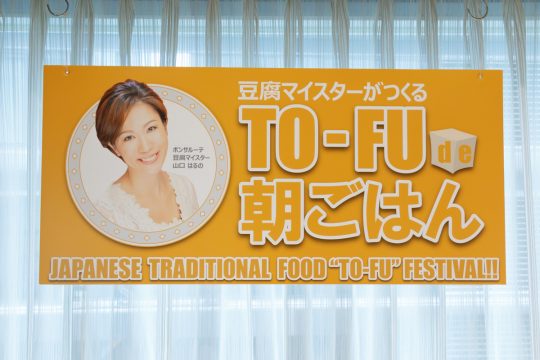 Hotel Gracery Ginza is holding a breakfast buffet titled "TO-FU de breakfast made by Tofu Meister" on Monday, July 1st, 2019 at the restaurant Bon Salute (3F). (Until August 31st)
This time, I visited Hotel Gracery Ginza and had a delicious breakfast buffet, so I would like to report on the situation.
■ We interviewed the head chef of Hotel Gracery Ginza, Hitoshi Kato, and Tofu Meister, Haruno Yamaguchi, about the breakfast buffet this time.
Q: What inspired you to create this TO-FU de breakfast meal?
I think that tofu has the image of "white and plain food," but I made the plain tofu into cream or added an arrangement,
This project was born from the idea of Tofu Meister to create a surprising and fashionable tofu dish that customers would be happy to ask, "Is this tofu?"
Q: Have you had any difficulties in making this tofu menu?
We offer about 12 kinds of tofu dishes, but the hard thing is the tofu moisture. Depending on the tofu, the texture changes when the water content is high, so which is the best? Took a long time to choose.
Also, how much do you want to use the soybean scent? I also paid attention to the good balance.

Q: If you have a message from Tofu Meister Mr. Yamaguchi that you would like to convey in this TO-FU de breakfast, could you please tell me?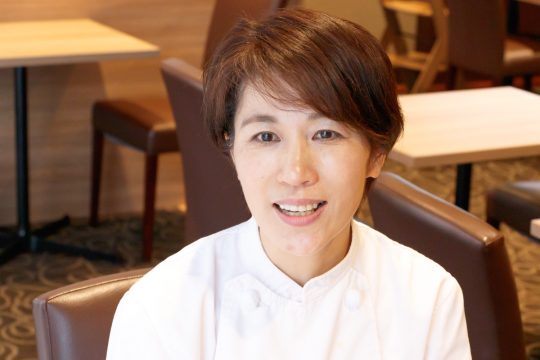 Currently, many tofu shops are crushed.
As a tofu meister, I'm working with the idea of "I want to support the tofu shop so that it doesn't decrease as much as possible ."
Through the opportunity like this, if you can get interested in tofu and reaffirm the charm of tofu, "Tofu is delicious!" "Huh! It changes like this!" I think.
There is also a menu that small children will appreciate, so I hope you can refer to it when cooking at home.
■ Introducing some TO-FU de breakfast menus recommended by the editorial department
◎ Arranged tofu dishes to apply to bread.
There are two types: Okinawan island tofu, white sesame hummus, tofu, cream cheese and walnut dip.

I will have it with bread.
The left is hummus of Okinawa prefecture island tofu and white sesame. The right is dip of tofu, cream cheese, walnut.

* Okinawa Prefecture Tofu and white sesame hummus In the mouth, the taste of white sesame and cumin spreads slightly in the mouth.
It doesn't feel like tofu and goes well with bread.
It has a refreshing taste that is perfect for the morning.
・ Tofu, cream cheese, walnut dip cheese is a menu that was born from the inspiration of Chef Kato focusing on the good compatibility of tofu.
The sweetness of oligosaccharides and raisins, and the texture of walnuts are fun.
This also goes great with bread.
◎ Arranged tofu dishes that are ideal for salad dressing.
It's tofu Bagna cauda.
A creamy tofu is added to anchovy, garlic and olive oil for a mellow finish.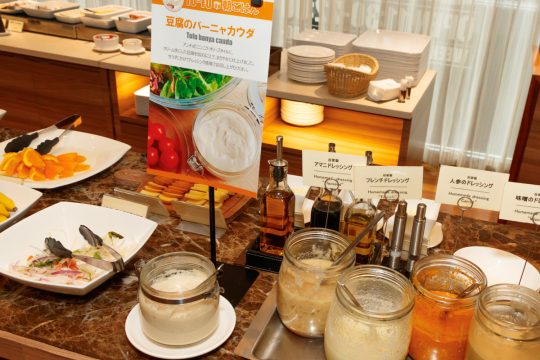 Plenty of tomato, lettuce and onion salad.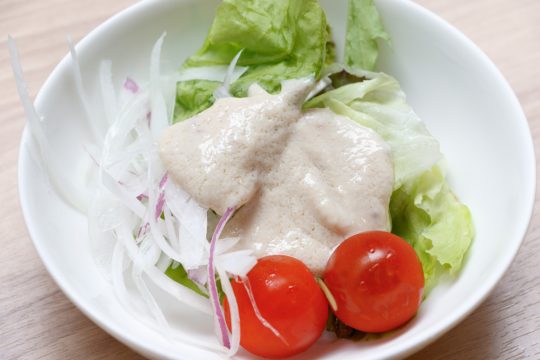 You can enjoy the fluffy texture of tofu, and the right balance of garlic and anchovies.
It is a taste that even children who don't like vegetables will love vegetables.
◎ Three kinds of tofu dishes with pork and deep-fried gado gado salad, simmered koya tofu and winter melon, shrimp, avocado and kale okara tabre orange flavored tofu dishes.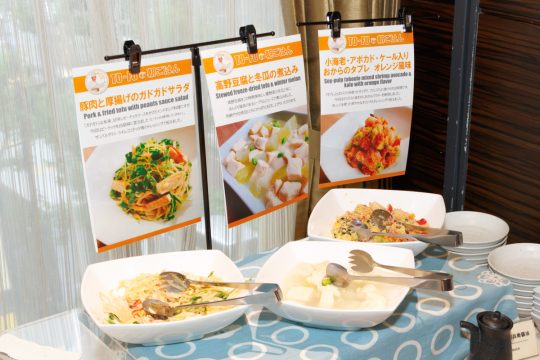 Serve on a plate.
The front is stewed Koya tofu and winter melon. The right side is pork and deep-fried gadogado salad. The left side is a savory orange flavor of shrimp, avocado and kale.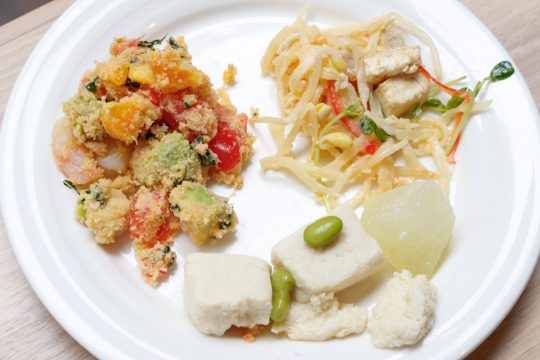 * Simmered Koya tofu and winter melon You can enjoy the texture of Koya tofu.
And the winter melon also melts in your mouth.
* Steamed pork and thick-fried gado gado salad Originally a menu for Indonesian cuisine arranged in a Japanese style for summer.
The flavor of white sesame, the deep-fried texture, and the crispy texture of sprouts are pleasant.
・ Shrimp, avocado and kale okara tabre Orange flavored tabre is a French salad dish that uses the world's smallest pasta called couscous.
In this menu, Okara powder is used instead of that couscous.
I was also surprised at the idea of using orange for tofu.
When I ate it, orange, shrimp and okara were entwined in my mouth,
Finally, you can enjoy the refreshing aftertaste of orange.

◎ Soy milk coffee jelly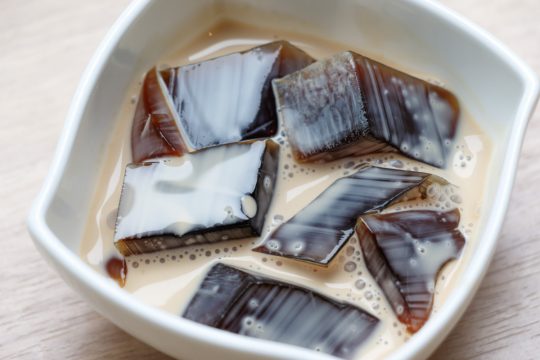 I had soy milk coffee jelly as a dessert after eating.
The coffee used here is made using drip coffee from Restaurant Bonsalute.
The mellowness of soy milk and fresh cream and the deep bitterness of coffee jelly with caramel entangle in the right way.
And the texture is also solid.
Recommended for those who like sweets and those who like coffee.
Summary
What did you think?
Hotel Gracery's breakfast buffet TO-FU de breakfast where you can enjoy delicious food and rich feelings that are not at other hotels.
In addition to the menus introduced this time, there are many delicious tofu dishes, so please come visit us and try the many tofu dishes.
You will be amazed at the moment you eat it.
By the way, this breakfast buffet is available not only for guests who stay, but also for the general public.
It seems that some of our customers can stop by at the marathon and enjoy the breakfast buffet.
[Hotel Gracery Ginza Breakfast Buffet TO-FU de Breakfast]
Period: Monday, July 1, 2019-Saturday, August 31 2019
■ Time: 7: 00 ~ 10: 00 (until 10:30 on weekends and holidays)
■ Fee: Adult 2,160 yen / Child (6-12 years old) 1,080 yen / Child (3-5 years old) 540 yen * All tax included
■ Menu example
・ Lasagna with tofu and ground Ezo deer
・ Tofu Senka Chample Okinawa style
・ Simmered Okinawan miso of island tofu, loofah and pork
・ Pork and thick-fried gado gado salad
・ Tofu and caprese of Okinawa sea grapes
・ Vietnamese salad of dried radish, tempeh and green papaya
・ Bagna cauda of tofu
・ Okinawa island tofu and white sesame hummus
・ Soy milk coffee jelly
・ Other
* The contents may change depending on the circumstances and days of purchase.
* In addition to the above, we also have many regular dishes.
Home page: https://gracery.com/ginza/
[Tofu Meister, Haruno Yamaguchi]
Tofu Meister who is active in various fields such as events, media appearances, supervision of magazines and books, provision of recipes to companies, etc.
"Tofu Fair" Dreamia Club "Recipe Contest Associate Grand Prix," Tofu & Soybean Food Fair Tokyo Soy Wholesale Cooperative Booth "operation supervision, Tofu Meister Award Award.
The book, " Yamaguchi Haruno's Easy! Delicious! Aesthetic Creative" Tofu "Recipe ".
Currently working as a Bonsalute staff.
Haruno Yamaguchi's Instagram: https://www.instagram.com/explore/tags/%E5%B1%B1%E5%8F%A3%E3%81%AF%E3%82%8B%E3%81%AE/ ? hl = ja
..