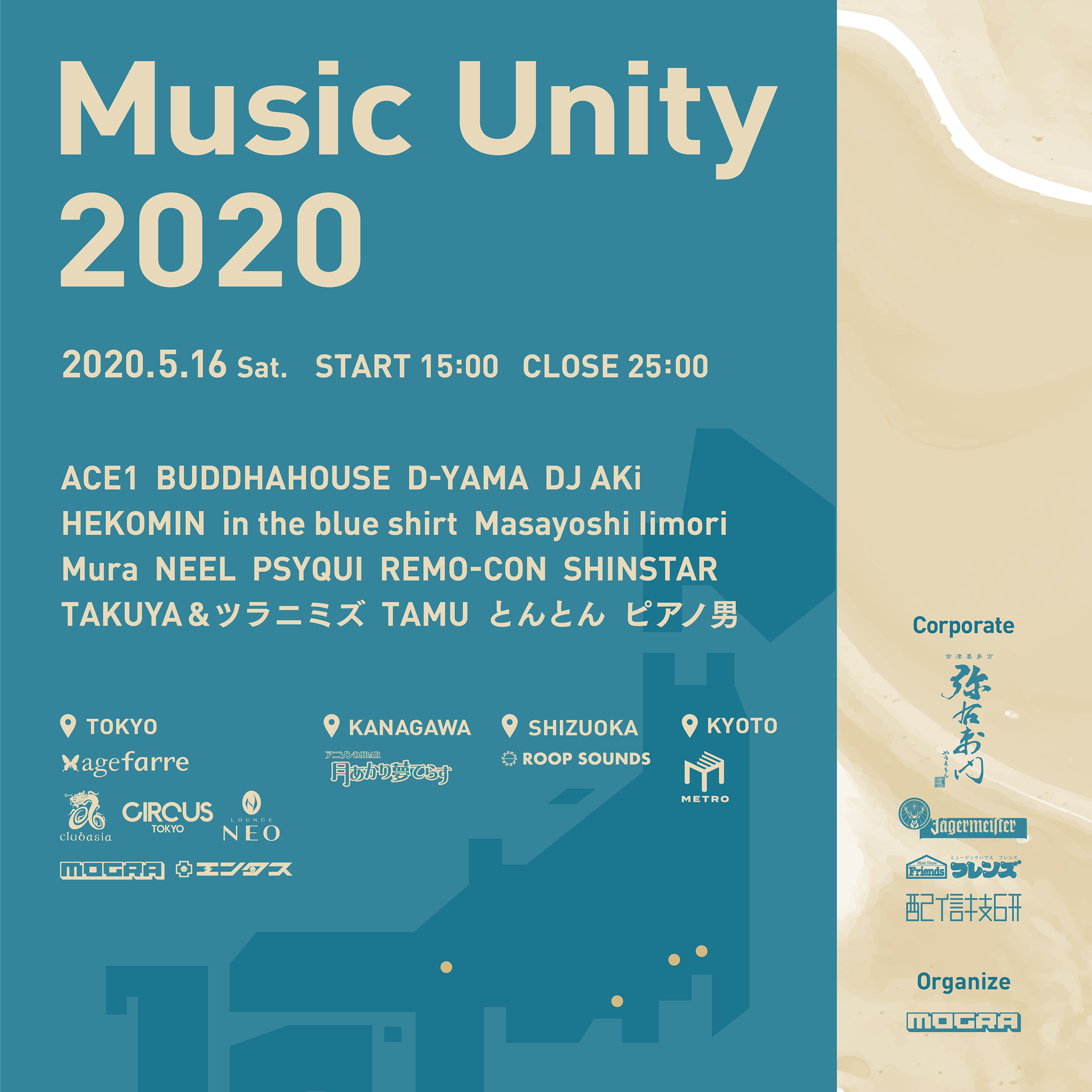 Music Unity 2020 (hereafter MU2020) is an online streaming festival sponsored by Mogura Co., Ltd. and Akihabara MOGRA.
DJ performances by artists selected by clubs and live houses existing all over Japan are distributed from various locations. A groundbreaking project that allows you to enjoy the performances of artists from all over the country while staying at home by consolidating on MOGRA's Twitch channel.
Collaboration with other industries has also become an attraction of MU2020, which sells various products such as chocolate, wine, curry, etc. in the form of distribution.
3rd Music Unity 2020
It was announced that the online streaming festival "Music Unity 2020", which was suddenly held in April and has been a hot topic on SNS until now, will hold the 3rd time on Saturday, May 16th.
2nd held on April 18
---
---
The maximum number of simultaneous connections is 12,000 and the total number of viewers is over 197,000. The second streaming festival # MU2020, which connects artists from all over the country and music venues online, will be held on Saturday, April 18th.
https://prtimes.jp/main/action.php?run=html&page=releasedetail&company_id=53958&release_id=2&owner=1
The total number of unique users at the time of the second holding reached 108,525 people, and the number of PV reached 244,535 PV, which is an overwhelming record.
We also attempted to share the experience by delivering food on the day of distribution, and the famous store in Ginza "Sushi Yamada" cooperated with this. Orders started from 18:00 on April 15th, and all 100 sets were sold out on April 16th the next day. All were delivered to the purchaser without noticeable trouble.
In addition, an attempt to donate 1 yen per 1 ml of purchased Jagermeister to the medical / education period carried out in collaboration with the German liqueur brand "Jaegermeister" was 296 700 ml and 28 200 ml. It has achieved the feat of selling 212,800 ml in total through MU2020.
3rd overview
CLUB METRO in Kyoto and ROOP SOUNDS in Numazu have decided to join the 3rd time. Both Shizuoka and Kyoto prefectures are areas where MU2020 is a first-time participant, and this year's participation from the Kansai region will be Kyoto CLUB METRO.
Furthermore, this time, the Yamatogawa Sake Brewery, a sake brewery in Fukushima Prefecture with a number of award-winning backgrounds, agreed with the project and started collaboration in different industries. From May 10th (Sun) to May 18th (Mon), 20% of the sales of the target products listed on the special sale page will be donated to the production costs of each venue and medical / education related As a result, the Yamatogawa Sake Brewery has begun shipping the products after receiving orders that far exceed expectations.
Music Unity 2020 × Yamatogawa brewery special sales page
http://yamatogawa.by.shopserve.jp/SHOP/1124724/list.html
The performers also have a luxurious and realistic lineup unique to MU2020, such as REMO-CON, DJ AKi, PSYQUI, in the blue shirt, and Masayoshi Iimori.
Details of participating clubs, live houses, artists, etc. are as follows.
-Musci Unity 2020 # MU2020
● Date and time Saturday, May 16, 2020 15: 00-25: 00
● Delivery URL https://www.twitch.tv/mogra
● Participating clubs / live houses (in no particular order)
[Tokyo] ageHa feat. Agefarre, clubasia, LOUNGE NEO, CIRCUS Tokyo, MOGRA, Entas [Kanagawa] Tsukiakari Yume Terasu [Shizuoka] ROOP SOUNDS [Kyoto] CLUB METRO
● Performers (AtoZ)
ACE1, BUDDAHOUSE, D-YAMA, DJ AKi, HEKOMIN, in the blue shirt, Masayoshi Iimori, Mura, NEEL, PSYQUI, REMO-CON, SHINSTAR, TAKUYA & Tsuranimizu, TAMU, Tonton, Piano Man , Music House Friends, Distribution Technology Laboratory Co., Ltd. ● Sponsors Mole Co., Ltd., Akihabara MOGRA
Detail page
https://club-mogra.jp/2020/05/16/4183/
The most popular music distribution on the Internet since COVID-19 will undoubtedly be the most watched # MU2020 live streaming from Saturday, May 16th at 15:00 on MOGRA account of streaming platform Twitch plans.