The first project will sell masks made of "Edo Komon" and "wedding dresses" at stores and online stores that are beautiful as art by eight Japanese brands.
Ginza Tsutaya Shoten aims to "support the creator by making and selling masks with contemporary artists and creators" and "contributing to the medical field" as a measure to prevent the extension of new coronavirus infectious diseases. The charity project "GINZA ART MASK PROJECT" will start from July 31st (Friday). This project will be implemented as part of the "Culture Support Project by CCC" implemented by Culture Convenience Club Co., Ltd., and half of the proceeds will be donated to the National Center for Global Health and Medicine to support medical practice.
What is GINZA ART MASK PROJECT?
This spring, a new type of coronavirus infection that has dramatically changed the way people live. The number of infected people is still increasing every day, and the evil continues to cast a dark shadow on our lives. This coronal erosion has taken away the place where people gather, and the place where many artists, as well as consumers, have no choice but to work.
In response to this situation, we decided to launch "GINZA ART MASK PROJECT", thinking that we could contribute to society as a store that connects art, Japanese culture and lifestyles and proposes "a lifestyle with art".
This project aims to "support the artists and creators" and "contribute to the medical field" by making masks together with the artists and creators and putting them on.
When we conveyed this intention, many artists, creators, and craft artists expressed their support. The masks they produce will be sold for a limited time at the Ginza Tsutaya Bookstore and online stores, and half of the proceeds will be donated to medical professionals through medical organizations.
The purpose of this project is to continue the support. As the first stage, "Monodukuri and Mask" by craft artists and creators will start from July 31st (Friday), and this autumn, the second stage will be "Make with contemporary artists". I plan on a mask.
Special page: https://store.tsite.jp/ginza/blog/stationery/14740-1409470707.html
What is Culture Support Project by CCC?
---
---
Culture Convenience Club Co., Ltd., a planning company that proposes lifestyles, will continue to illuminate the lights of various cultures facing crisis due to the global expansion of the new coronavirus infectious disease (COVID-19) To this end, we are implementing the "Culture Support Project by CCC" to support and support culture.
As the third step of this project, CCC Art Lab Co., Ltd., a subsidiary of CCC, will start "GINZA ART MASK PROJECT".

Donation destination
National International Medical Research Center
The National Center for International Medical Research has various organizations such as center hospital, Kofudai Hospital (Ichikawa City, Chiba Prefecture), research institute, clinical research center, International Medical Cooperation Bureau, National College of Nursing (Kiyose City, Tokyo), and infection. In addition to providing research and advanced comprehensive medical care related to illness/immune diseases, diabetes/metabolic diseases, etc., we are comprehensively developing international cooperation in the field of medical care and human resource development for medical professionals.
The first project: "Manufacturing and masks"
Eight brands that continue to take on new challenges while valuing traditional artistic techniques have created masks that allow them to feel the beauty and culture of Japanese crafts.
We will introduce masks created by craftsmen and creators who are craftsmen who use traditional craft techniques such as Komon and Hakata Ori, and craftsmen and creators who are particular about designing and fabrics and delicate embroidery to create elegant and high-quality products. To do.
This time there are many one-piece projects.
We would like you to choose a wonderful mask that makes you happy when you wear it and have fun participating in charity.
Brand profile (in no particular order)
■ Hirose Some Factory (Hirose Somekou)
The Hirose dyeing factory has been dyeing Edo komon for over 100 years in Tokyo for four generations. Edo Komon is a dye that was dyed on the samurai sash of the Edo period. It is dyed by a dyer using a pattern carved by Ise craftsmen. Recently, we have created modern gems with modern designs and colors such as the 4th generation original skull pattern, squid pattern, and madras check pattern.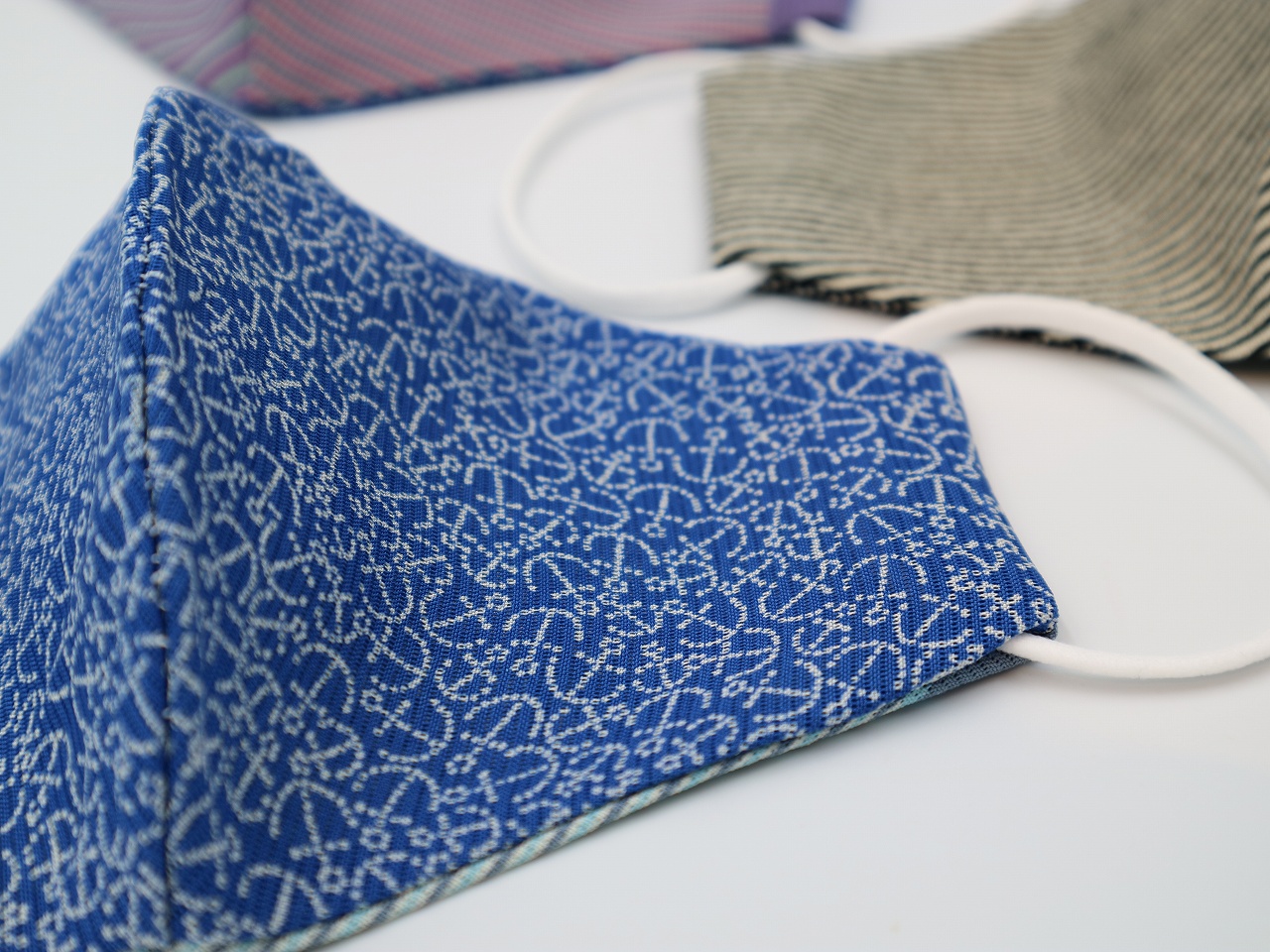 ■ MOUNTAIN COLLECTOR
A project by a mountain collector, Yuka Suzuki, to create a handkerchief for the scenery seen in the mountains. I collect pictures of beautiful things that I can never meet again, and by putting them in textiles, I keep my own mountain history record.
■ Herkimer dēcor
The motto is "natural" is the most beautiful. A silk fabric that has been handed down to Japan since ancient times and is made using a method that coexists with nature. A rare domestically produced race that has been traditionally inherited. Using the finest materials that have been carefully created by craftsmen, the dresses of the bride's hare's day are tailored "beautifully and lightly" without breaking the flow of nature.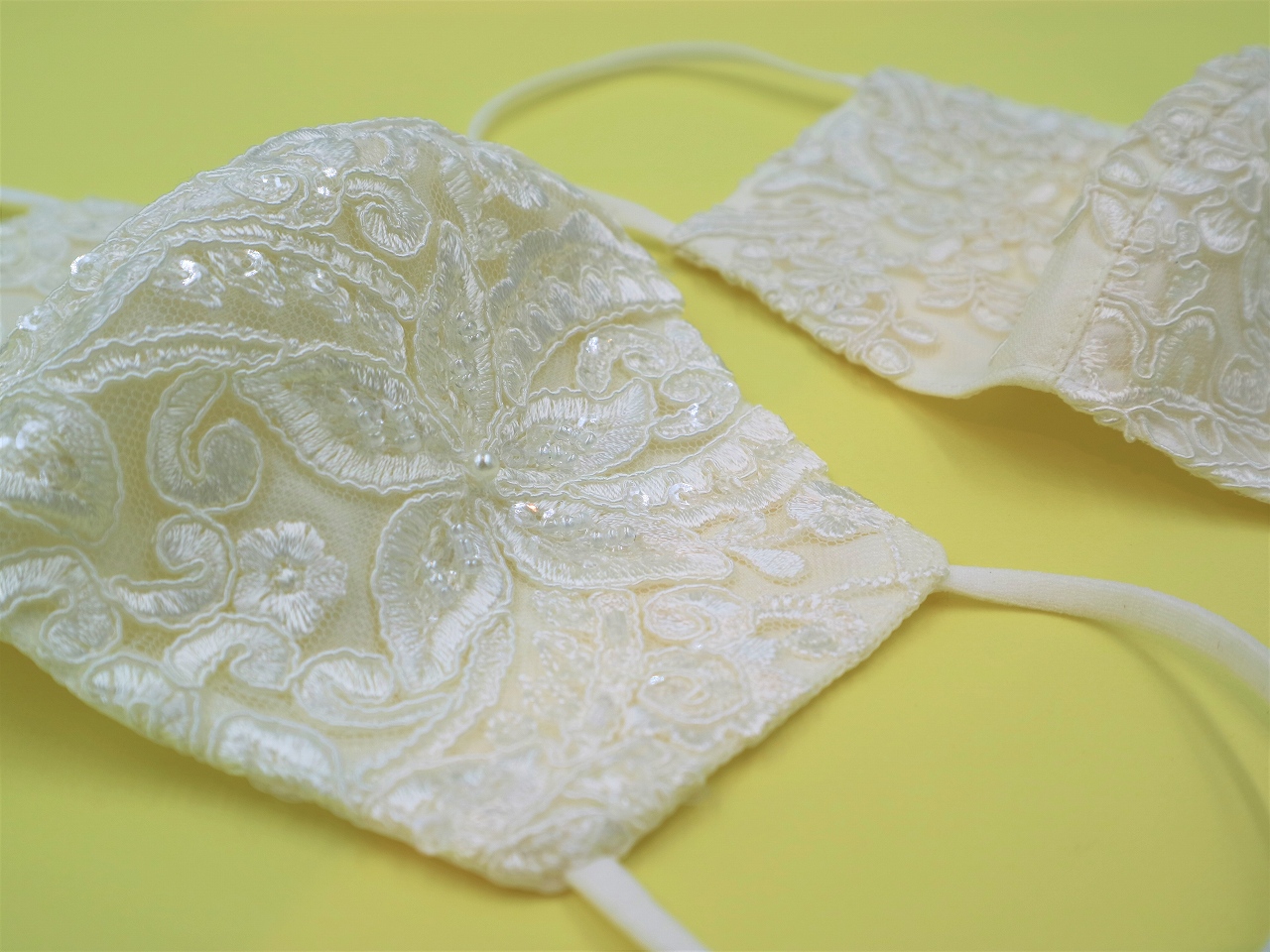 ■ Isono Shoten Yokke Pokke
With the concept of "wearing and enjoying culture," we draw and fabricate Japanese culture such as folk crafts and local toys.
In addition, we are engaged in manufacturing that focuses on Made in Japan, from fabric production to products.
■ Kuroki Textile Co., Ltd.
I am working on Hakata Ori, a traditional craft of Fukuoka Prefecture. This mask uses Hakata Ori luxuriously. "Ryojiji Saori" used for summer is used for the outer material, and the very precious "Hakata Raw Silk-Hakata Suzushi" is used for the lining, giving it a cool look.
■ Tofu tenp
A brand that produces various textiles and cloth products with illustrator Toshiyuki Fukuda as a designer. We value the experience and skills of craftsmen, and the traditions and ideas of the production areas. This time, I used Fukushima's "sashiko weave" with beautiful geometric patterns, Indian "block print" with woodblocks, and the old-fashioned "tenugui" as a mask.
■ Kaji Textile Co., Ltd.
A long-established manufacturer of traditional Nishijin woven cloth in Kyoto has created a high quality Nishijin woven mask. The lining is made of sportswear fabric with the functions of absorbing water, quick drying and UV protection. The unique three-dimensional sewing makes it difficult to touch the mouth and nose, making it extremely comfortable to wear.
■Aoi Agogoromo
In Japan and Kyoto, we collect the scenery that we casually look at and make it "it's fun if there is such a pattern". The concept is "new Nippon textiles". All textiles are "dyed" in Kyoto with the motif of Nippon's designs such as Moriwaka, Maiko and Mitarashi Dango. We value the local pattern of Kyoto and aim to create a new pop, colorful textile that comfortably betrays the conventional image.
*In no particular order *Other brands may be added
Detailed information
GINZA ART MASK PROJECT 1st "Manufacturing and Masks"
Release date: Friday, July 31, 2020, 10:30 am
Sales: Ginza Tsutaya Bookstore, online store
*The URL of the online store will be announced later on a special page Special page: https://store.tsite.jp/ginza/blog/stationery/14740-1409470707.html
Store brands: Aoi Agoromo, Isono Shoten YokkePokke, Kaji Textile, Kuroki Textile, Tenfu tenp, Herkimer dēcor, Hirose Some Factory, MOUNTAIN COLLECTOR
*Brands may be added.
*End date undecided
store information
Ginza Tsutaya Bookstore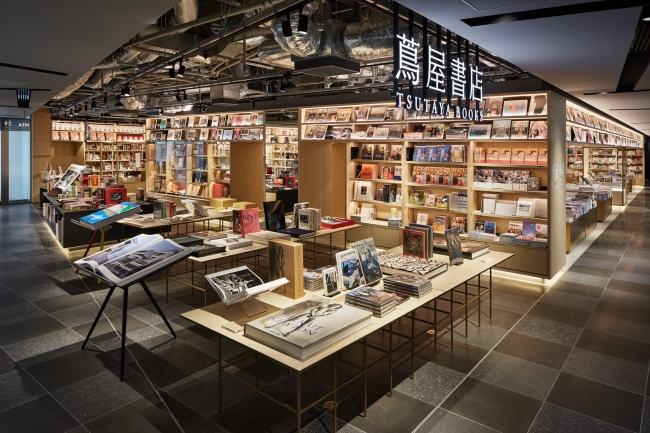 Address: GINZA SIX 6F, 6-10-1, Ginza, Chuo-ku, Tokyo 104-0061
Phone number: 03-3575-7755
Business hours: Please check the website.
Home page: https://store.tsite.jp/ginza/
Facebook: https://www.facebook.com/GINZA.TSUTAYABOOKS/?ref=bookmarks
Twitter: https://twitter.com/GINZA_TSUTAYA
Instagram: https://www.instagram.com/ginza_tsutayabooks/