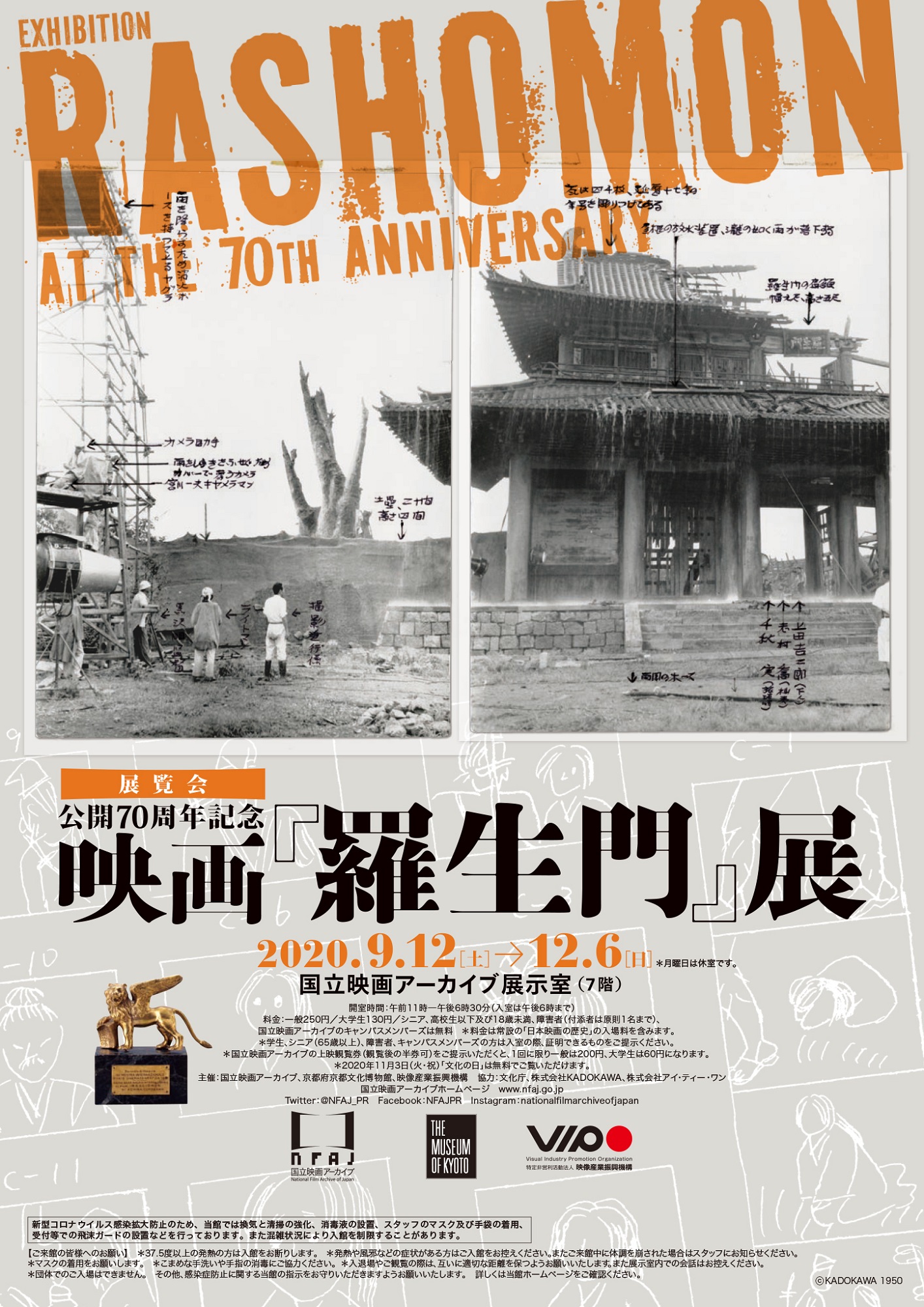 From filming scenes, publicity to film festival awards and impact on the world — thoroughly dissecting masterpieces of Japanese film history!
The exhibition "70th Anniversary Movie "Rashomon" Exhibition" will be held in the exhibition room on the 7th floor of the National Movie Archive for approximately three months from Saturday, September 12, 2020.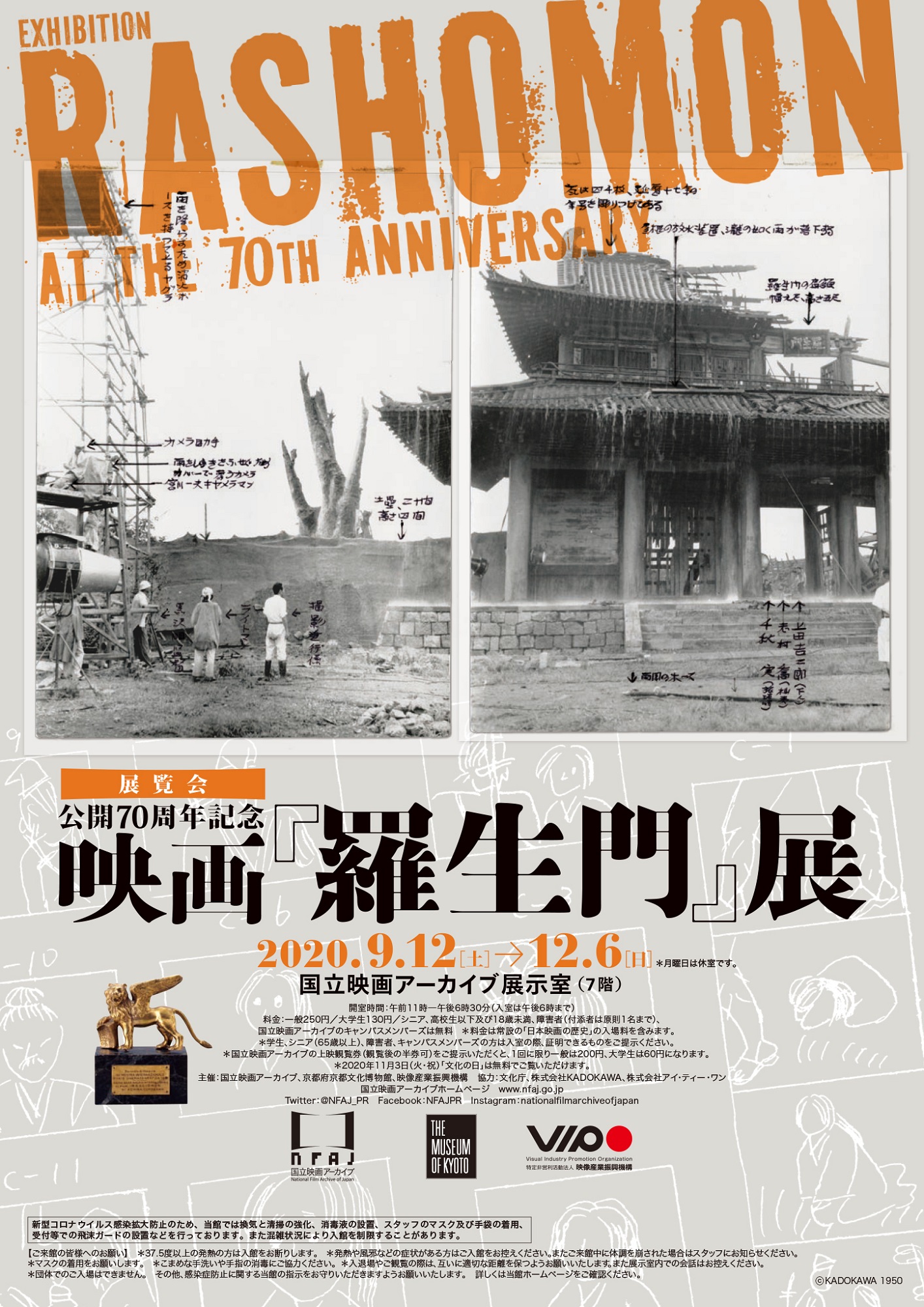 The movie Rashomon, which was released on theaters on August 26, 1950, did not become a big hit in Japan, but the artistic ambition of director Akira Kurosawa was recognized, and at the Venice International Film Festival in September 1951. Winning the Golden Lion Award and receiving the Honorary Award from the American Academy Awards in March 1952, established international recognition and made Kurosawa known to the world about the high standard of Japanese movies, and one of the post-war reconstructions. Became a symbol of.
---
---
"Rashomon" is supported not only by Kurosawa's outstanding performance output, but also by the numerous staff work that has revolutionized the way Japanese films were made. Shinobu Hashimoto's screenplay that each testimony of each character obscures the truth, innovative shooting of Kazuo Miyagawa who aimed the camera to the sun by utilizing the location, Takashi Matsuyama art staff who created a huge Rashomon as an open set , The music of Fumio Hayasaka, which boldly incorporates a bolero-style melody into the story of the Middle Ages of Japan, and the ensemble of such profession are the real charm of this movie.
In this exhibition, we will introduce the actual achievements of these famous staff, including the world's first exhibition items, using digital exhibitions as well, such as Toshiro Mifune, Machiko Kyo, Masayuki Mori and Takashi Shimura who created distinctive figures. We will also pay attention to the famous actors, as well as the materials at the time concerning the award in Venice and the influence that this film had on the world.
Exhibit structure and highlights
Akira Kurosawa and "Rashomon", which made the world aware of the power of Japanese movies, are approached in various ways by various materials from planning to shooting, release, and global expansion, and various episodes coloring this work are re-verified. At the same time, we will work on the possibility of exhibiting new materials using digital technology.
Chapter 1 Planning and Screenwriting <br /> There were many changes before the movie "Rashomon" was written by the scenario written by Shinobu Hashimoto, who later became a famous screenwriter. In this chapter, we will introduce the idea that started from focusing on Ryunosuke Akutagawa's work, which became a movie project and resulted in one movie scenario.
[Major exhibits] Handwritten "Rashomon" planning scenario, and the scripting script of Soujiro Motoki, the actual producer.
Chapter 2 The art "Rashomon" was a seemingly inexpensive project with only two sets and locations, but the image of Kurosawa swelled during the preparation for shooting, and the set of Rashomon is a huge one that exceeds the usual budget. It was This chapter focuses on movie art, which has been a hot topic since its production.
[Main exhibits] Reproduced flat image used in "Rashomon" and "Rashomon" photo album of art director Takashi Matsuyama
Chapter 3 Shooting and recording <br /> Shooting of "Rashomon" is colored in many episodes, such as a camera facing the sun and a rain scene using a large amount of water to stop the nearby water supply. In this chapter, we will explore the secrets of filming "Rashomon", while also attempting a new digital exhibition using Kazuo Miyagawa, a scripter, and Teruyo Nogami, a scripting script, and an interview with related parties.
[Main exhibits] Video display of cut butt film in the forest scene, shooting script of Teruyo Nogami, etc.
Chapter 4 Music Fumio Hayasaka, who worked on the music for Kurosawa's works before and after "Rashomon," was not only an excellent composer, but an alliance that also influenced Kurosawa's creative activities. Through valuable materials left by early genius composers, such as the sketches of famous bolero-style themes, you can see Hayasaka's original creation techniques that take advantage of the composition of the movie.
[Main Exhibits] Music composition chart written by composer Fumio Hayasaka and music score (part of sketch and score)
Chapter 5 Acting <br />In this chapter, we will focus on the great contributions of the actors who succeeded in "Rashomon" with limited characters and complicated composition, focusing on the shooting script of Toshiro Mifune and Takashi Shimura. ..
[Main exhibits] Scripts used by Toshiro Mifune and Takashi Shimura, photo albums of former Machiko Kyo.
Chapter 6 Publicity and Opening <br />In this chapter, we will introduce the trajectory of domestic screenings, including the first public release and the triumphal screening after the Venice International Film Festival, and the revival release. In particular, pay attention to the valuable materials that convey "Rashomon" before the Golden Lion Award, such as the original posters released to the theater and special screenings held just before the exhibition.
[Main exhibits] Original posters for theater release, press material "DAIEI AD BOOK" No.231, etc.
Chapter 7 Evaluation and Impact on the World
The 1951 Venice Film Festival Golden Lion Award was a catalyst for the world to "discover" Japanese films, and at the same time, the Japanese film industry became aware of its world-class ability. In this chapter, we will introduce the circumstances behind the exhibition at the Venice Film Festival, as well as the responses and effects after the award from various perspectives, mainly in the United States.
[Main exhibits] Venetian International Film Festival Golden Lion Award Trophy [reproduction], promotional photo of Broadway version of "Rashomon", original book "Akira Kurosawa's Rashomon" by Paul Andorra, etc.
Special Corner: Traveling Rashomon <br /> In this corner, you will see the posters and promotional materials of each country, and highlight the outstanding internationality of Rashomon.
[Main exhibits] West German revival posters, original American lobby cards, etc.
Event outline
Exhibition name: 70th Anniversary Movie "Rashomon" Exhibition / Rashomon at the 70th Anniversary
Organizer: National Movie Archive, Kyoto Prefectural Museum of Culture, Kyoto Industry Promotion Organization Cooperation: Agency for Cultural Affairs, KADOKAWA Co., Ltd., IT One Co., Ltd. Venue: National Movie Archive Exhibition Room (7th floor)
Date: Saturday, September 12, 2020-Sunday, December 6
Closed day: Closed on Monday.
Opening hours: 11:00 am-6:30 pm (entry until 6 pm)
Access: Get off at Kyobashi Station on the Tokyo Metro Ginza Line, 1 minute walk from Showa Dori toward Exit 1 and get off at Takaramachi Station on the Toei Asakusa Line, 1 minute walk from Chuo Dori on Exit A4 to Ginza 1-chome Station at Yurakucho Line, exit 7 5 minutes on foot
10 minutes walk from JR Tokyo Station, Yaesu South Exit Fee: General 250 yen / University student 130 yen / Senior high school student or younger and under 18 years old, handicapped person (up to 1 attendant in principle), Campus members of National Film Archive are free *The price includes admission to the permanent "History of Japanese movies".
*Students, seniors (aged 65 and over), persons with disabilities, and campus members must present proof of proof when entering each room.
*If you show the screening ticket for the National Movie Archive (stubs available after viewing), it will be 200 yen for general and 60 yen for college students only once.
*On November 3, 2020 (Tuesday/Holiday) "Culture Day", you can view the exhibition for free.
Inquiries: 050-5541-8600 (hello dial)
HP: https://www.nfaj.go.jp/exhibition/ rashomon2020/