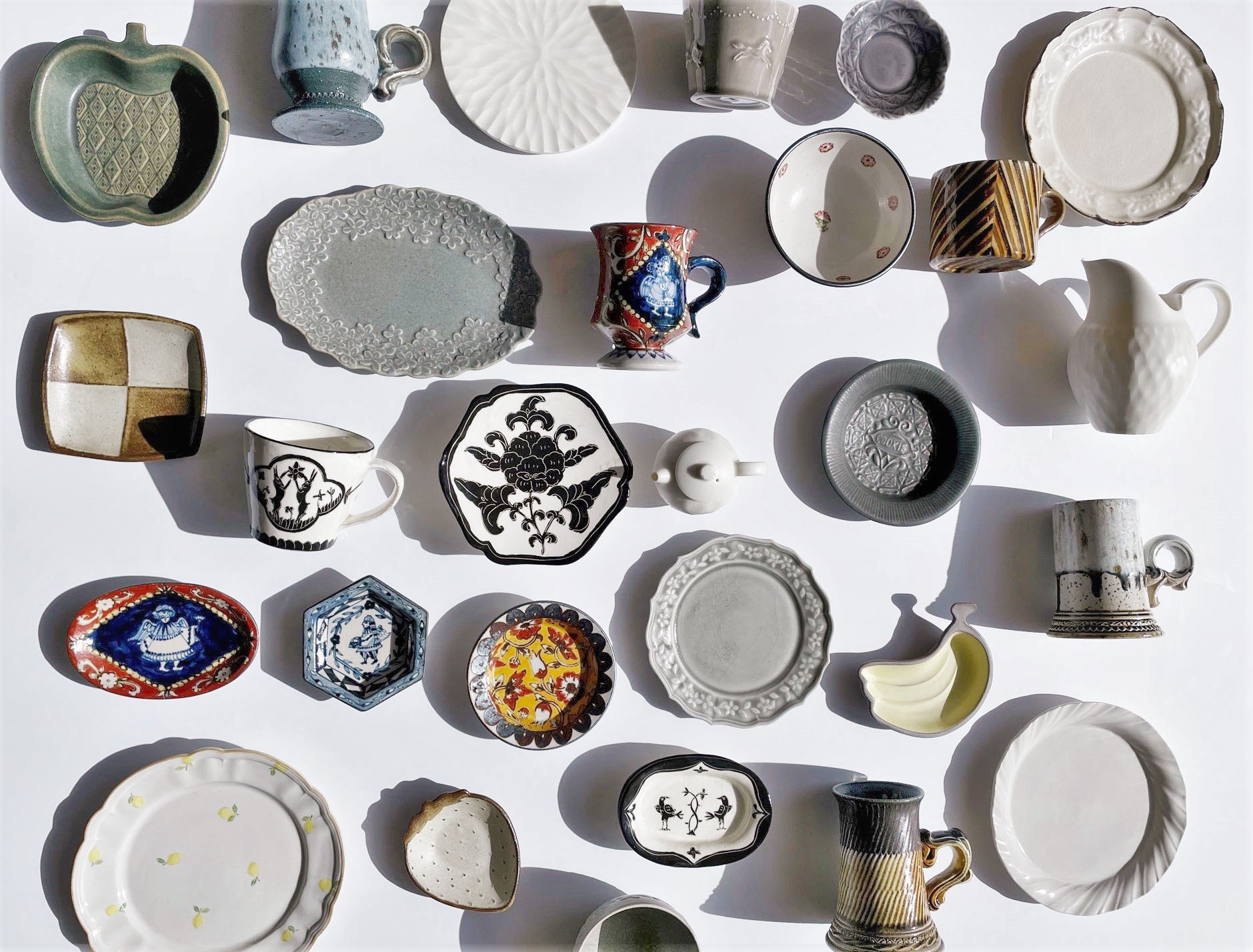 Ginza Tsutaya Bookstore (GINZA SIX 6F, Chuo-ku, Tokyo) will hold the "Autumn Afternoon Tea Time" fair from November 1st (Monday) at stores and online stores. We have a large selection of works by 6 recommended artists. In addition to the works of the artist who was popular at the popular spring pottery fair held in stores and online, we will introduce many works that are colorful and make the tea time gorgeous.
·Overview
At Ginza Tsutaya Bookstore, we would like to introduce some recommended works to prepare sweets and tea and enjoy a relaxing "afternoon tea" time at home.
We have a large selection of works by 6 artists, including those who were popular at the pottery fair, which was held online in February and was very popular. Introducing works with animal and plant motifs, dull-colored bean dishes, mugs, and other works that make your home time look like autumn.
At the store, we also sell confiture, sweets, and tea for a limited time. Enjoy a relaxing time with your favorite pottery. These items are also recommended as gifts for the coming season.
Special page | https://store.tsite.jp/ginza/blog/stationery/23055-1752411026.html
・ Warm Mashiko kiln: Yoshizawa kiln
The Yoshizawa kiln, which is very popular on SNS, is a Mashiko kiln where about 30 members work, centered on Mr. and Mrs. Yasuhisa Yoshizawa and Mr. Rie. A delicate and cute vessel is made by a technique called "tatara", which uses a plaster mold to make a vessel from plate-shaped clay. Featuring a warm matte texture, the antique shades fit into any table.
Introducing works that are perfect for placing small sweets that are indispensable for afternoon tea.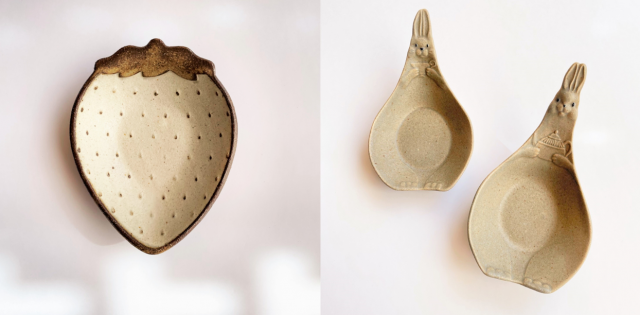 ・ Feeling of glaze and decoration: Takehiro Ito
---
---
How about incorporating autumn colors into your life with a mug made by Takehiro Ito, who is making pottery in Mashiko?
The soda ash put into the kiln combines with the soil, and each vitrified surface is finished in a different color and pattern, so it is a beautiful vessel that can be said to be one-of-a-kind. This work is characterized by the decoration of the handle of the mug.
The small mug made in the electric kiln is warm and recommended for coffee time.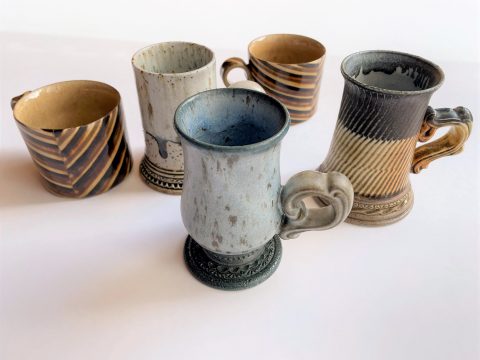 ・ Delicate and soft image work: Chikako Kuwata
Chikako Kuwata's vessel, which is carved by hand one by one and enjoys an elegant pattern. The fine pattern and matte texture give a very gentle impression. This time, we will introduce pitchers, teapots, and plates.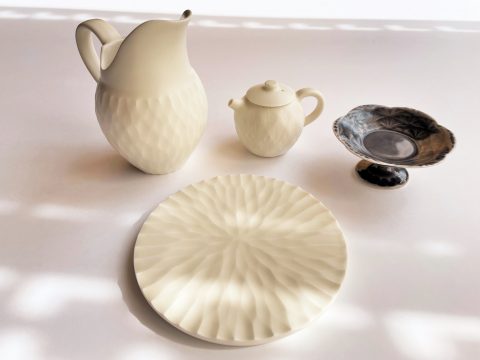 ・ Unique painting that feels the story: Hizumi Pass
Hizumi Togesha is manufactured by Keiji Miura and Arisa Miura in Yamaguchi Prefecture. The painting that makes the story float feels nostalgic. All hand-painted, warm and autumn-like colors. Please take this opportunity to enjoy the world view of Hizumi Pass.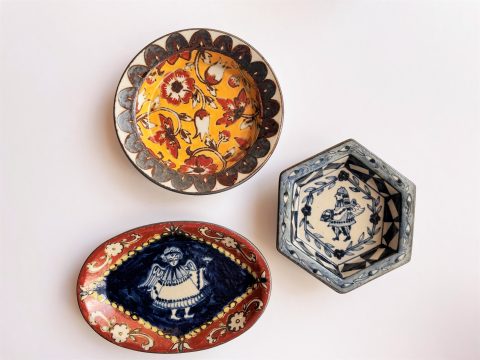 ・ Modern and cute painting: Kazumi Kanno
Kazumi Kanno is producing in Tajimi City, Gifu Prefecture. This time, we will introduce works inspired by old Chinese pottery (Cizhou ware). A picture is drawn on white makeup (*), and fine lines are drawn by a scraping technique that scrapes the surface to give a different color. Mr. Sugano's work has a strong presence with a clear contrast between black and white. Introducing mugs, hill plates, cake plates, etc. with animal patterns such as birds, peonies, and rabbits.
* White makeup: A technique for applying white makeup soil to colored clay.

・ Beautiful decoration with attention to detail: Shintaro Abe
Shintaro Abe, who makes pottery in Kasama, Ibaraki Prefecture, creates works that make the dining table gorgeous. His work, which aims to be polite and homogeneous, has an antique and high-quality atmosphere.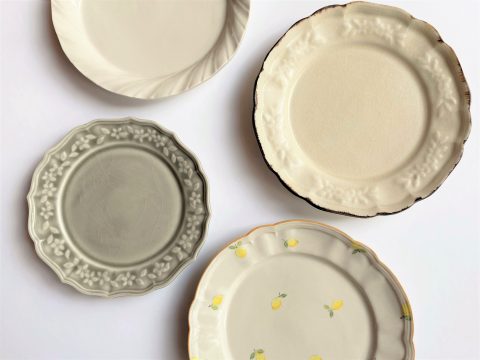 ・ Limited time sale at stores: Tea and sweets
So that you can enjoy your afternoon tea even more, enjoyable and delicious confitures and sweets using seasonal fruits from the confiture specialty store "Chez Momo" in Matsumoto City, and "Sasano Tea", which makes tea in Togo Town, Kagoshima Prefecture. Will be on sale for a limited time. "Sasano Seicha" is a brand that features black tea and green tea that are cultivated in our own tea plantation and carefully made in our own factory.
・ About sales
It will be on sale from 10:30 on November 1st (Monday) at the Ginza Tsutaya Bookstore and online shop.
* Some products are only sold over the counter. Please check the sales page for details on the products handled online.
Special page | https://store.tsite.jp/ginza/blog/stationery/23055-1752411026.html
* About how to sell Shintaro Abe's work
From November 1st to November 7th, 10 to 20 items will be exhibited every day.
Sales are only available at stores and will end as soon as they are sold out.
No numbered tickets will be distributed, but only one ticket can be purchased per person during the period.
Thank you for your understanding and cooperation in advance.
・ Fair details
"Autumn Afternoon Tea Time" Fair
Period | November 1st (Friday) -November 30th (Tuesday), 2021 * The work will end as soon as it is sold out.
Venue | Store / Online shop (Only some works will be sold online)
Organizer | Ginza Tsutaya Bookstore Inquiries | 03-3575-7755 (during business hours) /info.ginza@ccc.co.jp
* The fair end date is subject to change.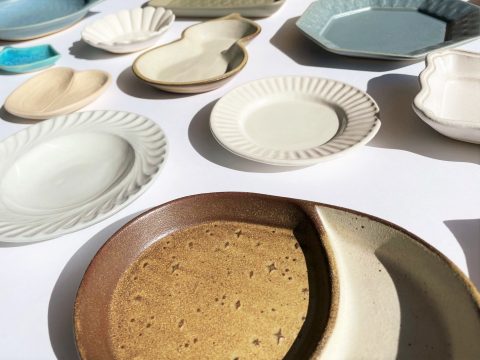 ・ Ginza Tsutaya Bookstore-Stationery and miscellaneous goods-
Proposing writing tools and objects as art pieces
We are pursuing the creation of beautiful writing tools and objects collected from all over the world, as well as sales floors that convey the wonderful manufacturing of Japan. In particular, while inheriting traditional techniques, we have adopted contemporary designs and are focusing on the crafts of craftsmen who are taking on new challenges. We also have a large selection of products limited to Ginza Tsutaya Bookstore, so please stop by to find souvenirs from Tokyo Ginza.
・ Ginza Tsutaya Bookstore
We propose "living with art" by connecting art, Japan and living through books.
Address | GINZA SIX 6F, 6-10-1, Ginza, Chuo-ku, Tokyo 104-0061
Phone number | 03-3575-7755
Business hours | Please check the store homepage.
Homepage | https://store.tsite.jp/ginza/
Facebook | https://www.facebook.com/GINZA.TSUTAYABOOKS/?ref=bookmarks
Twitter | https://twitter.com/GINZA_TSUTAYA
Instagram |https://www.instagram.com/ginza_tsutayabooks/
・ CCC Art Lab
We are a planning group that conducts art-related business within the planning company Culture Convenience Club Co., Ltd. Through "Proposals for a life with art," I would like to make art closer to me, make someone's life happier, and contribute to the creation of a better society. Based on the knowledge cultivated through many years of business experience such as store planning, art media, product development and event production, we make planning proposals with a professional approach.
https://www.ccc-artlab.jp/
<Past related articles>
[Ginza Tsutaya Bookstore] The exhibition and sale of official modern prints by legendary fashion photographer Helmut Newton will begin on October 25th (Monday).
[Ginza Tsutaya Bookstore] Pierre-Elie de Pibrac solo exhibition "Catharsis" will be held at THE CLUB from Saturday, October 16th.
[Ginza Tsutaya Bookstore] Fantastic autumn leaves burning in the autumn sky. The exhibition "Travel Guide" by Hiroki Saito, a paper-cutting artist who creates a landscape that is so realistic that it can be mistaken for a photograph, will be held from October 12th (Tuesday).
[Ginza Tsutaya Bookstore] Painter LY's solo exhibition "LUV STORIES" will be held from October 16th (Sat). Announcing a new work created with the theme of a book.