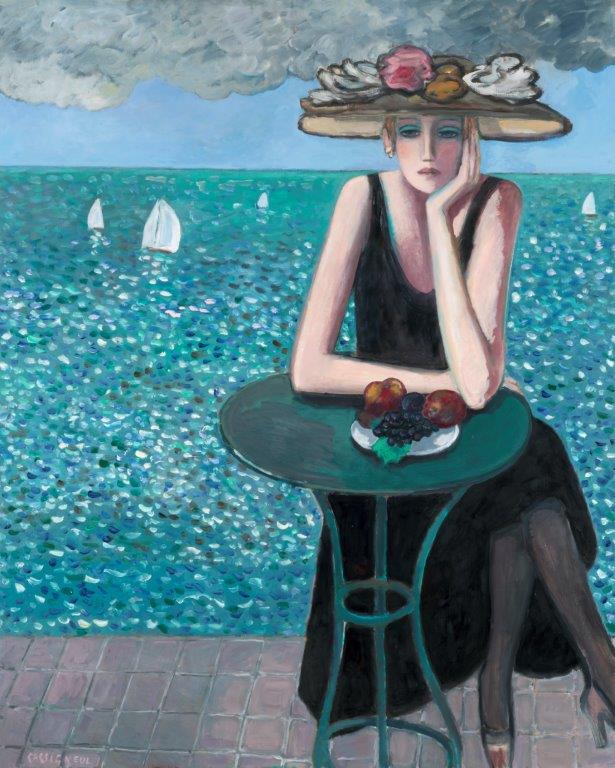 May 28th (Sat) -June 19th (Sun), 2022
At the Galerie Tamaga Tokyo store, we will hold a solo exhibition of Jean-Pierre Casiñol, a French painter who is popular for the image of a woman who conveys the gorgeous spirit of Paris, for the first time in 13 years.
---
---
Born in a haute couture family for three generations in Paris, Casignor has witnessed brilliant fashion and the beautiful Manukan who wear it since childhood. He naturally loves music and art that were familiar to him, and begins to draw pictures with the theme of beautiful landscapes and beautiful women.
It was in 1964 that I met Kiyoji Akinaga, the founder of Galerie Tamaga.
The exchange begins on the day when Akinaga, who was fascinated by the image of a woman he saw in a gallery in Paris, visited the atelier of Casignor, a young painter who was 29 years old at the time.
The opportunity was in 1966, two years later. This is an exhibition at the 4th "International Figurative Exhibition" sponsored by Akinaga every year. The name suddenly became known all over the country when it was first unveiled in Japan, and even after half a century, it continues to have a warm friendship as an irreplaceable existence.
In this exhibition, about 40 works will be exhibited, focusing on beautiful landscapes such as the Bois de Boulogne in Paris, the coast of Deauville, and Lake Geneva in Geneva, which has recently set up an atelier, and new works depicting beautiful mysterious women standing there.
We hope that you will enjoy the world of painters that has not changed even after 60 years of painting.
Outline of the exhibition [Jean-Pierre Casignor Exhibition]
Date: May 28th (Sat) -June 19th (Sun), 2022
Venue: Galerie Taménaga 7-5-4 Ginza, Chuo-ku, Tokyo
TEL: 03-3573-5368
Time: Mon-Sat 11: 00-19: 00
Sundays and public holidays 11: 00-17: 00
web page:
https://www.tamenaga.com/exhibitions?exhibition=exhibitions
<Past related articles>
Information on holding "Paul Aizpiri Exhibition" at Galerie Taménaga (Ginza, Tokyo)
Information on holding "120th Anniversary Ogisu Takanori Exhibition" at Galerie Taménaga (Ginza, Tokyo)
Guidance for Galerie Tamaga "Japanese Eight People Exhibition that Fascinates Paris"