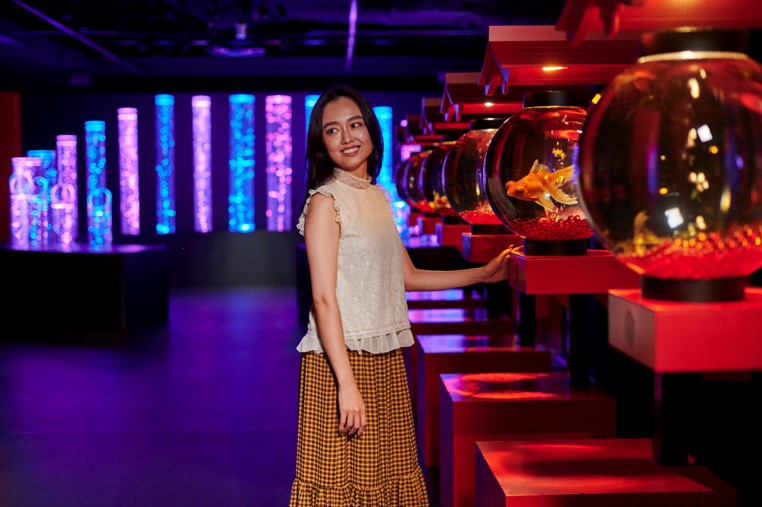 July 20th-September 20th, 2022
Art AQUARIUM Museum GINZA will hold a special project "Summer Art AQUARIUM-Feeling Summer with Goldfish, Ryo-" for a limited time from July 20th to September 20th, 2022.
The "Art AQUARIUM Museum GINZA", which opened in May 2022, has the theme of "Hyakka Ryoran-Evolving Art-", and inside the museum is a gorgeous fantasy world where the traditional beauty of Japan shines along with the dance of colorful goldfish. As a permanent facility that expands, we are holding a special exhibition where you can enjoy the changes of the four seasons throughout the year.
In this summer's special project, we will carry out a new exhibition and production under the title of "Feeling summer with goldfish, Ryo". Please enjoy the unique Japanese summer atmosphere of Art AQUARIUM.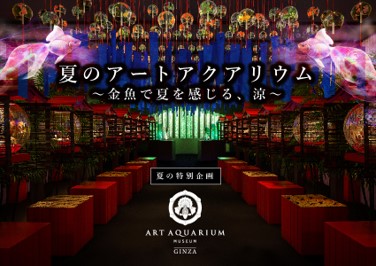 ・ Cool wind chime tunnel production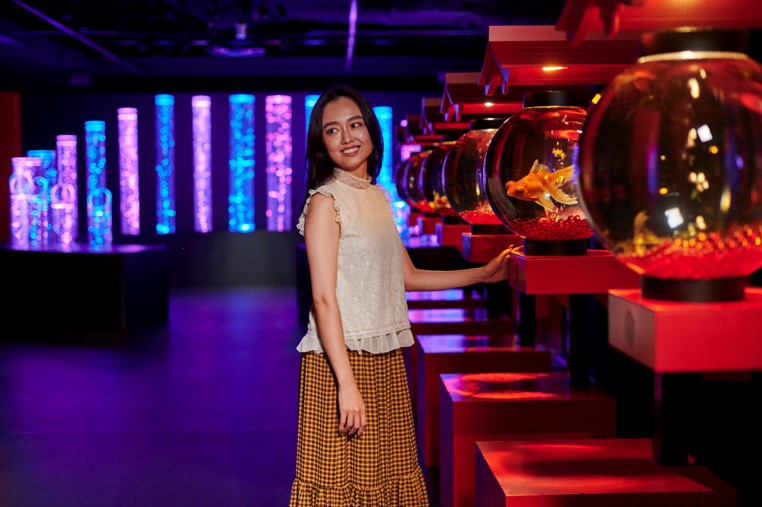 ---
---
The exhibition area of the work "Lantern Rium" with the motif of "Festival lanterns", which is the traditional lighting of Japan, is decorated with many layers of wind chimes. A wind chime that emits a faint light and a goldfish that swims like a shimmering light in a lantern express the summer night unique to Art AQUARIUM. Proceeding through the wind chime tunnel, it is a cool summer production that leads to the "goldfish bamboo grove".
・ Flowerium x sunflower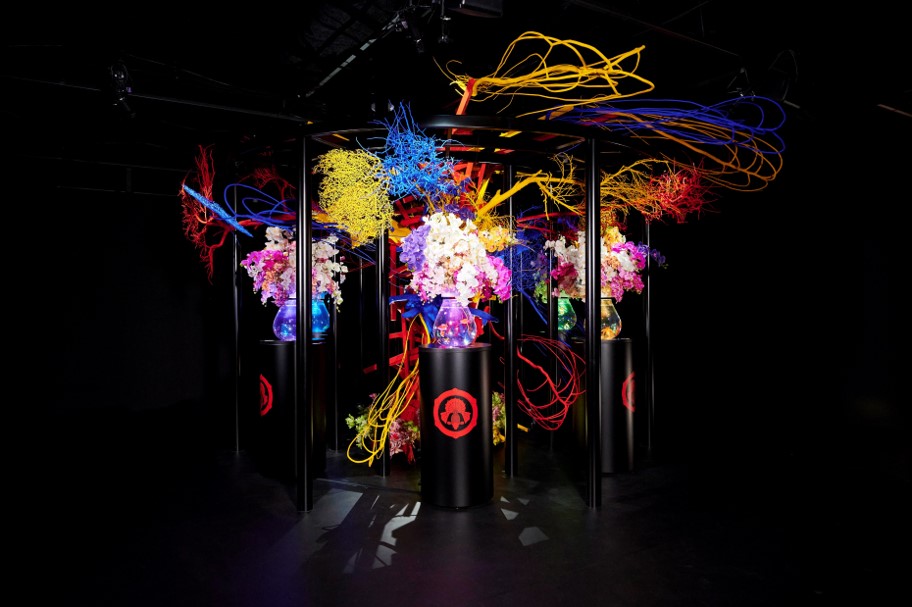 The collaboration work "Flower Rium" with the flower arrangement artist Shogo Kariyazaki will be colored with the vibrant flower "Sunflower", which is a vitamin color that represents summer.
[Flower Rium]
A small new vessel that looks like a vase is made into a large and dynamic work by Shogo Kariyazaki's ikebana art. It is a collaboration work with a gorgeous and bewitching world view, a goldfish that swims gracefully with a finely constructed beauty.
* The image is a work of normal exhibition
● Shogo Kariyazaki Profile <br /> The original flower arrangement artist. Reputed as "a person who has a hand to bring out beauty," he is in charge of decorating the program studio for the abdication of the emperor and the coronation of the emperor, producing the G20 welcome monument, and producing the flower expo. Served as a visiting professor at Joshibi University of Art and Design, Goodwill Ambassador for Tourism in France, and Ambassador for Tulip in the Netherlands, and designs and produces kimono and glassware. Held a solo exhibition "Challenge to Historical Buildings", a collaboration between flowers and buildings. We are also engaged in activities to promote regional revitalization such as "flower education" and "problem with declining birthrate", and we are expanding the field of activity more and more with 40 years of flower arrangement history. Shogo Kariyazaki Flower Class / Ginza School opened. Recruitment of students! Contact 03-6712-6873
・ A new production will start at the Goldfish Corridor and Goldfish Waterfall!
With the start of the summer exhibition, new productions will be added. Please enjoy the upgraded work.

● Goldfish corridor (left photo)
A huge hanging lantern with the motif of the hanging lantern drawn in Utagawa Kuniyoshi's ukiyo-e will appear, illuminating a new light in a fantastic space.
● Goldfish Falls (right photo)
Blue autumn leaves grow thick at the top of the waterfall, creating a clear stream upstream and further improving the refreshing feeling.
* The image is a work of normal exhibition
・ Two new exhibits have been released!
Not only new productions, but also new exhibition works will be released. The exhibition works that shine with the traditional beauty of Japan that can only be seen here are a must-see.
● New work "Goldfish display shelf"
Edo Kiriko, a traditional Japanese craft, goldfish swimming in it, and bonsai, a traditional Japanese culture, are displayed on the shelves. Edo Kiriko will exhibit the work of Yukinobu Nemoto, and Bonsai will exhibit the work of bonsai master Shigeshi Hirao.
● Utagawa Kuniyoshi Collection <br /> About 20 pieces of goldfish and carp drawn from the works of Utagawa Kuniyoshi, an ukiyo-e artist at the end of the Edo period, will be collected and exhibited.
・ Voice guide will start at the same time!
Art AQUARIUM Museum GINZA will introduce a new "audio guide".
In addition to the explanation of each work, you can enjoy the world of Art AQUARIUM Museum GINZA more deeply by listening to the thoughts and stories put into the production.
Sales start date: July 20, 2022 (planned)
Sales price: 500 yen Supported languages: Japanese / English / Chinese (Mandarin)
We will inform you about the purchase method etc. on the official website ( http://artaquarium.jp/ ) from July 20th.
・ A photo contest will be held during the period!
Art AQUARIUM Museum GINZA will hold the first photo contest.
Details such as how to apply will be released on the official Instagram from July 20th. ( Https://www.instagram.com/artaquarium_tm_official/ )
Please take a picture of "Summer Art AQUARIUM" and share it on Instagram.
【period】
July 20th (Wednesday) -September 20th (Tuesday), 2022
・ What is Art AQUARIUM?
A new exhibition that has established a unique art field called "Art Aquarium" by fusing art, design, entertainment and aquarium. It is composed of a fantastic Japanese world view that specializes in goldfish and shines with the traditional beauty of Japan. So far, we have held a total of 40 exhibitions in Japan and overseas. The unique view of the world has been highly evaluated, and to date, it has mobilized a cumulative total of more than 10.8 million visitors.
・ Facility overview <br /> Name Art AQUARIUM MUSEUM GINZA (English notation: ART AQUARIUM MUSEUM GINZA)
Admission WEB ticket 2,300 yen https://ticket.artaquarium.jp/
Same-day ticket 2,400 yen Location Ginza Mitsukoshi New Building 8th floor (4-6-16 Ginza, Chuo-ku, Tokyo)
Access Directly connected to "Ginza Station" on the Tokyo Metro Ginza Line, Marunouchi Line, and Hibiya Line How to enter You can enter from the Ginza Terrace on the 9th floor of the new building.
Please come to the 9th floor by the escalator in the new building or the elevator in the book / new building.
(You cannot go directly to the 9th floor on the escalator in the main building)
Business hours 10: 00-19: 00 (subject to change)
Closed days Same as the closed days of Ginza Mitsukoshi (In addition, the museum may be closed irregularly due to maintenance, etc.
Please check the official website for details. )
Official HP http://artaquarium.jp/
Official SNS Instagram https://www.instagram.com/artaquarium_tm_official/
Facebook https://www.facebook.com/artaquariumofficial
* Safety measures for which the official account has been transferred We will thoroughly implement infection control measures for visitors and staff, and will open after taking appropriate measures against the new coronavirus.
Please note that strollers, suitcases, and pets are not allowed in the venue.
There are no lockers for luggage.
Sponsored by AQUA ART RELATIONS Co., Ltd.
Planning and production Amuseum Parks Co., Ltd.
Operated by Amuseum Parks Co., Ltd.
Cooperation Isetan Mitsukoshi Co., Ltd. Ginza Mitsukoshi
<Past related articles>
[Venue Report] "Art AQUARIUM Museum GINZA" opens in Ginza Mitsukoshi! A fantastic art space where goldfish dance
Opened May 3 Art AQUARIUM Museum GINZA exhibition area and collaboration contents released