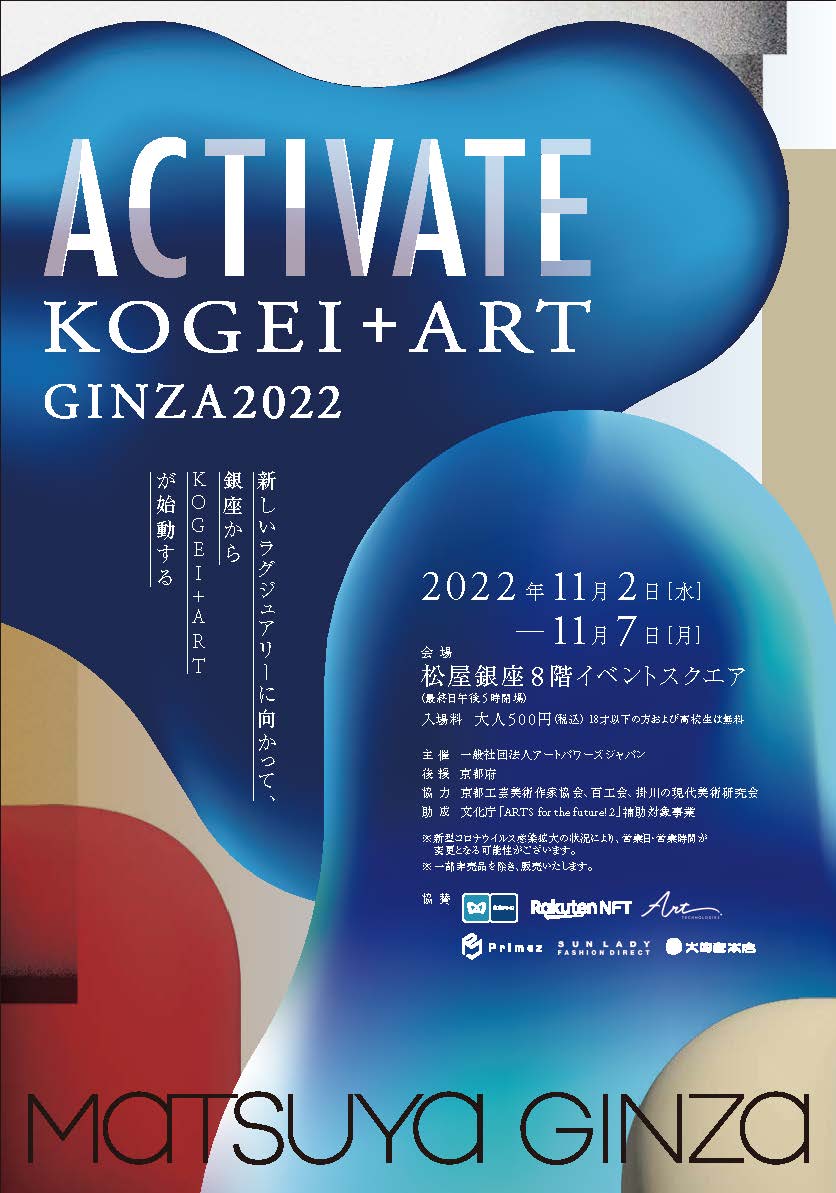 ​"ACTIVATE KOGEI+ART GINZA2022" Exhibition
KOGEI + ART starts from Ginza toward new luxury
Japanese crafts are established by embodying the SDGs while harmonizing with the environment, such as the ingenuity of natural materials and tools, and skilled craftsmanship. There is a limitless admiration for tradition, culture, and the climate of the region, and it is gaining worldwide acclaim for the sophistication of the work that is completed in response to its indigenousness and earthiness. Recently, attention has been focused on works that are close to the realm of contemporary art. We will hold the "ACTIVATE KOGEI + ART" exhibition with the aim of creating KOGEI as a new world-class luxury by refining our values ​​and values ​​as content.
In this exhibition, we will be able to display and sell the works of about 100 craft artists and 50 contemporary artists thanks to the cooperation of Kyoto Prefecture and each artist. We also exhibit and sell collaborative works by craft artists and contemporary artists.
Toward CREATING THE NEXT LUXURY (new luxury), KOGEI (craft) and art utilizing the latest NFT and metaverse (virtual space) will be created through collaboration between craft artists who continue to inspire the traditional world and contemporary artists. We aim to realize new exhibitions and sales.
---
---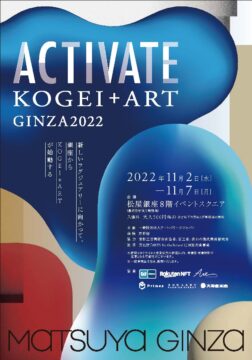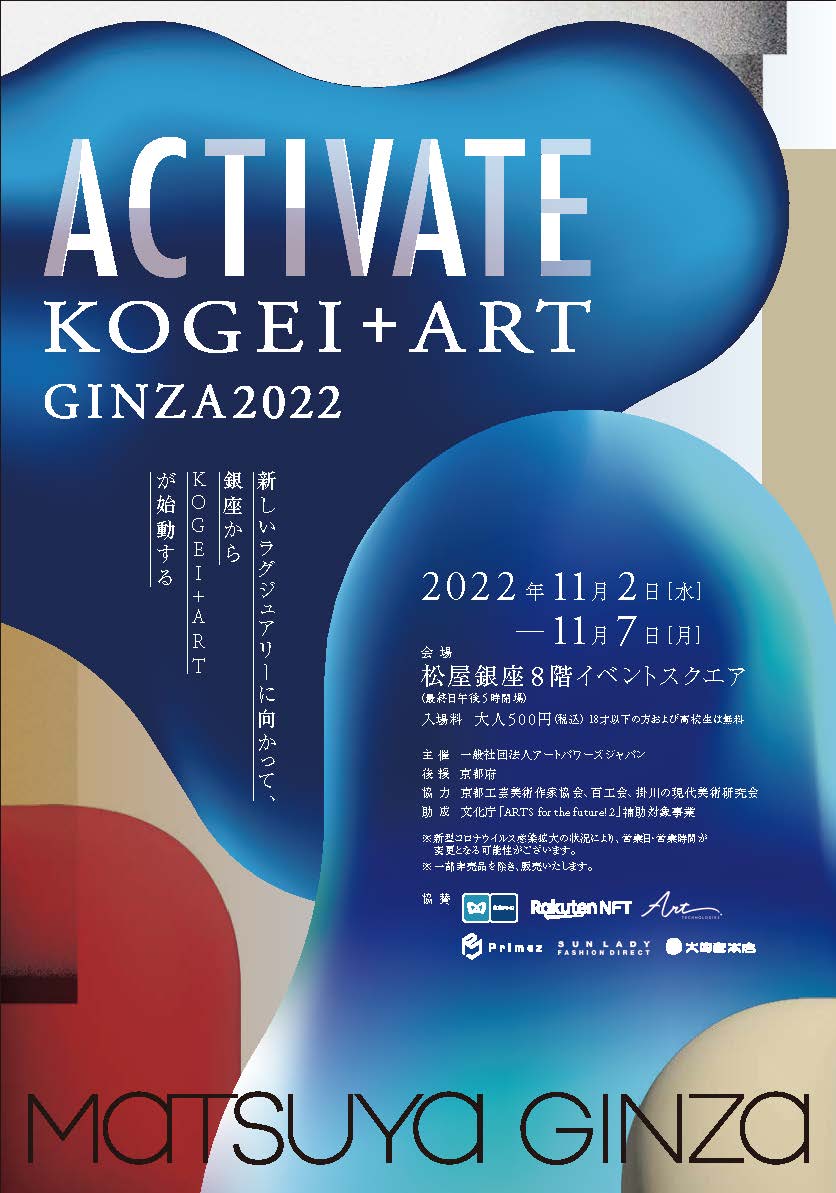 Highlights of this exhibition/main exhibitors Masamasa Imai (ceramic), Hirotomo Maeda (metal engraving), Sento Nishinaka (glass)
Akira Murayama (woodworking), Masaru Nishikawa (ceramics)
Kenji Honma (lacquerware), Mamiko Masumura (lacquerware), Mari Yoshimura (ceramics)
secca (three-dimensional), MOYAN (Kyoto collaboration), Masayoshi Nojo (painting)
・Main works Kohei Nawa (Furosaki folding screen), Ryo Shinagawa (Furosaki folding screen/Natsume),
Yoichi Muta (sake bottle, sake cup), Akimasa Ikeda (jujube),
Takanobu Kobayashi (fan art), Motoi Yamamoto (fan art) and more than 150 artists participated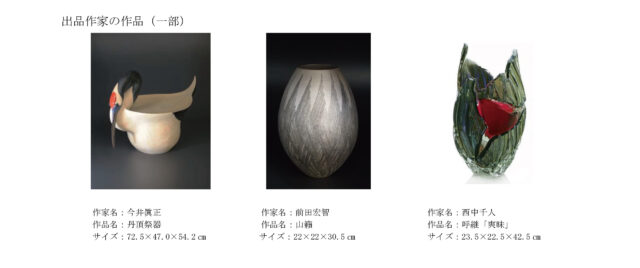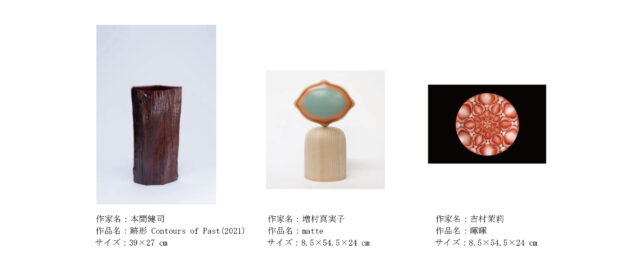 Other attractions
・Traditional techniques handed down in Kyoto by artists of the Kyoto Craft Artists Association (including members of the Japan Art Academy and Living National Treasures) who have been pursuing beauty through new forms of expression for a long time. , excellent techniques, and works full of the charm of a variety of craft arts.
・An exhibition of works by craft artists who continue to inspire the traditional world, recommended by artist Mai Miyake and art director Tom Vincent.
・Exhibition of craft art works that have few opportunities to see the real thing, aiming to create new luxury by utilizing Japanese culture, tradition and technology, polishing the world view and values ​​as content. (The jewelry section is recommended by Akiro Seki, who specializes in jewelry.)
・Hyakkohisho" GINZA, referring to "Hyakkohisho", a compilation of materials on crafts in general collected, organized and classified by the fifth lord of the Kaga domain, Tsunanori Maeda, to further promote the art of crafts and Hyakukohhisho in the present age An exhibition of tea utensils by craft artists and contemporary artists supervised by Mr. Sokyu Nara (Urasenke Kyoan Gyotai). Developed as a related project of "Hyakko Tea Ceremony" held at the same time in Kanazawa.
・Exhibition of tea bowls, jujubes, Kyoto candles, and folding fans that were specially created for this exhibition in collaboration between Kyoto craft artists and contemporary artists.
(Tea bowl): Koshun Kiln: Shinichi Takashima + Kota Hirakawa, Misa Funai Makuzu Kiln: Shinichi Miyagawa + Taro Yamamoto (Natsume): Keikou Nishimura Lacquer Workshop + Ryo Shinagawa, Aki Fueda (Kyoto Candle): Nakamura Candle: Koichi Tagawa + Ryosuke Hara, MOYAN
(Folding fans): Tsune Onishi + Noboru Tsubaki, Motoi Yamamoto, Takanobu Kobayashi, Rina Otani, Atsuhiko Misawa, Nozomu Tanaka,
Aki Fueda and Misa Funai
・Introduction of APJNFT arts and crafts developed on Rakuten NFT Marketplace.
The first 5,000 visitors will receive a special NFT for the "ACTIVATE KOGEI + ART" exhibition.
Exhibition Overview <br /> Exhibition name: "ACTIVATE KOGEI + ART GINZA2022" Exhibition Period: November 2nd (Wednesday) to 7th (Monday), 2022 10:00 am to 8:00 pm *Sundays are 7:30 pm , closing at 5:00 p.m. on the last day. Admission until 30 minutes before closing.
Venue: Matsuya Ginza 8th Floor Event Square (3-6-1 Ginza, Chuo-ku, Tokyo)
Admission fee: Adult 500 yen (tax included)
* Free for those under 18 and high school students Sponsored by: General Incorporated Association Art Powers Japan Venue composition: Asterisk Studio Logistics Partner: TERRADA ART ASSIST Co., Ltd. Sponsors: Tokyo Metro Co., Ltd., RakutenNFT, ArtTechnologies Co., Ltd., Primez, Sunlady.inc, Daikokuya Main Store Support: Kyoto Prefecture Subsidy: Agency for Cultural Affairs "ARTS for the future!
Reference: Art Powers Japan HP (exhibition special page)
https://www.artpowersjapan.org/activatekogeiart
About General Incorporated Association Art Powers Japan A general incorporated association established for the purpose of "supporting artists"
From 2020 to 2021, we will use the Meiji Jingu Shrine as a venue to create new ideas in places and regions where traditional culture and contemporary art meet, such as the Japan Expo "Jingu no Mori Art Festival" project sponsored and co-sponsored by our group and the Agency for Cultural Affairs. Creating a base that induces various activities, creating new business models and innovations that make use of art and other cultures, cultivating human resources who open up the future full of creative ideas, regional branding and community Aiming to design , we continue to work with artists, considering the development area of ​​new cultural and artistic activities such as NFT art and metaverse as a place to present and promote new art works.
<Related articles in the past>
Exhibition "Large Berserk Exhibition-Kentaro Miura 32 Years of Painting-Ginza Edition" First appearance goods, collaborative cafe menu announced! Held at Matsuya Ginza from Wednesday, September 21, 2022 to Tuesday, October 4, 2022!
It will be held at Matsuya Ginza from Wednesday, September 21st! "Tom and Jerry Cartoon Carnival"
"Exhibition that was slime after reincarnation 2" in Matsuya Ginza Audio guide and collaboration cafe by gorgeous voice actors will be held!