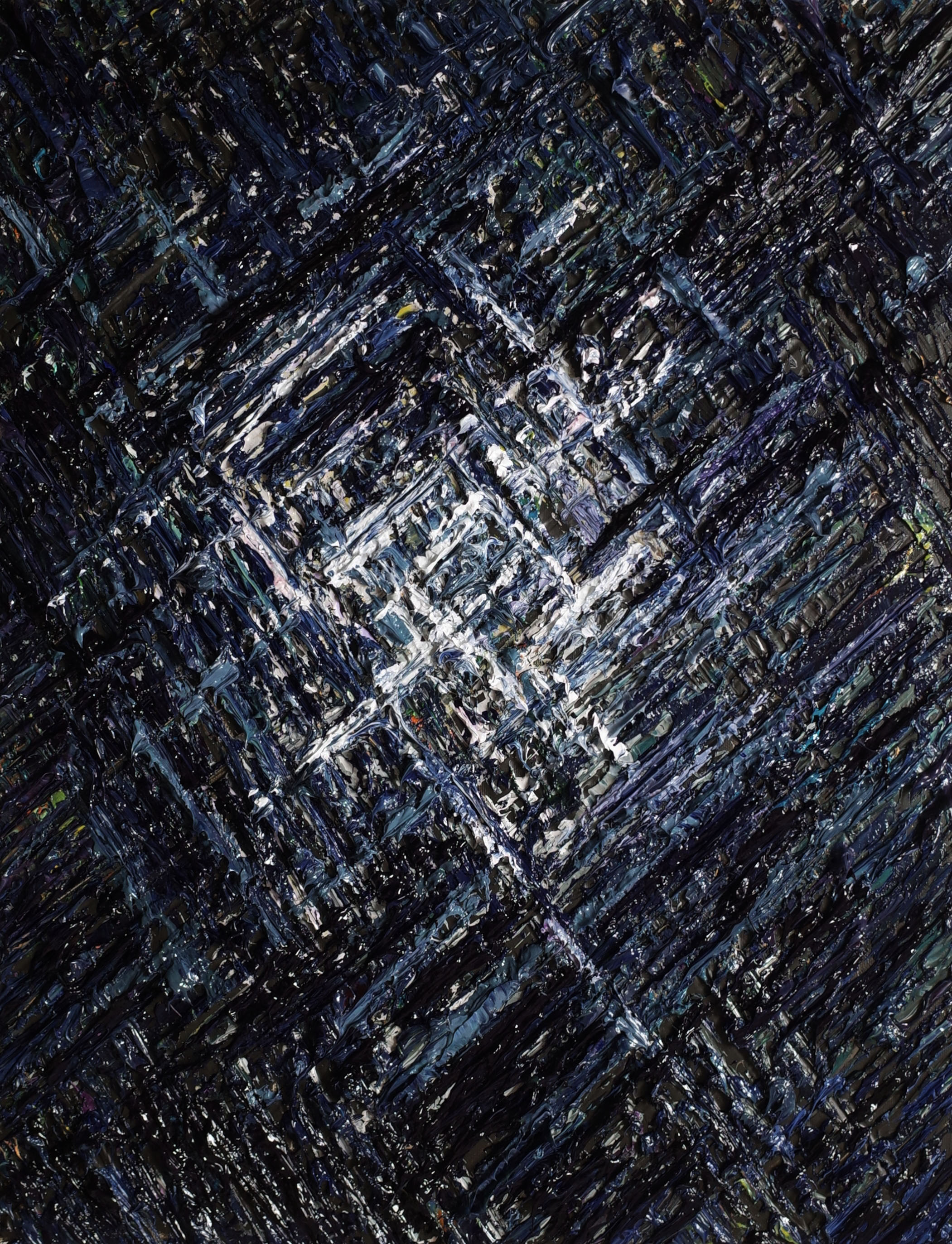 Ginza Tsutaya Bookstore (GINZA SIX 6F, Chuo-ku, Tokyo) will hold a solo exhibition by artist Ryota Watanabe "Stardust sticks in the eyes" from December 27, 2022 (Tuesday) to January 20, 2023 (Friday). Held on the in-store art wall, 6 new works will be exhibited.
·overview
Ryota Watanabe is an artist who creates paintings by repeatedly breaking and piling up paint using cutters and self-made tools. This act is an attempt to depict the very senses of us who live in the present age where things that exist in reality and things that do not exist are confused and exist without being recognized.
In the past, he aimed for figurative and descriptive paintings, but he realized that the reality he was trying to capture was not fixed, but rather uncertain. For example, even in the image of a person captured by a digital camera, the actual existence is actually destroyed as particles on the digital screen, and then assembled into a form that is closest to reality.
This feeling comes from the big changes in values every few years, such as recessions, natural disasters, unknown viruses, wars, etc. that their generation, born in 1998, continued to experience during a sensitive period.
Watanabe's work can be said to be the trajectory of a person who has been exposed to the unimaginable and has come to face the reality of force majeure.
And in this exhibition, Watanabe is taking on new challenges.
The new work "STELLA" consists of red, which is reminiscent of intense heat in the cracked and thickly plastered part in the center, and a silver cage that is hung to seal it, which has not been seen in Watanabe's previous works. Various textures coexist in a production method that was not there before.
As Watanabe said in his statement, "An explosion occurred in the faraway darkness, and various stardusts were scattered. It overlaps with the appearance of people who are trying to shine even though they are scattered in front of them.
---
---
Please enjoy the work that shows the progress of Ryota Watanabe at the venue.
Feature page| https://store.tsite.jp/ginza/blog/art/30831-1545551223.html
・Artist statement
An explosion occurred in the faraway darkness, scattering various stardust, repeating decomposition and reconstruction, and this planet was also formed in that cycle. A very small point in the universe.
The expansion of the world of data born on that star was tremendous, and the stars in the universe were edited and swallowed and mixed.
And those two incredible edges of the universe are still expanding, and we are floating in them like stardust.
This planet where I exist, and that big, beautiful star, are getting farther and farther away, turning into distant stardust, and I might even forget their names. Beings smaller than grains of sand are more compressed, they shine brighter, and I want them to stick in your eyes
・About sales
The work will be on sale from 10:30 on December 27 (Tuesday) at the Ginza Tsutaya Bookstore and the art online marketplace "OIL by Bijutsu Techo".
https://oil.bijutsutecho.com/gallery/730
* Depending on the pre-sale situation, sales of works may end before the exhibition period starts.
·profile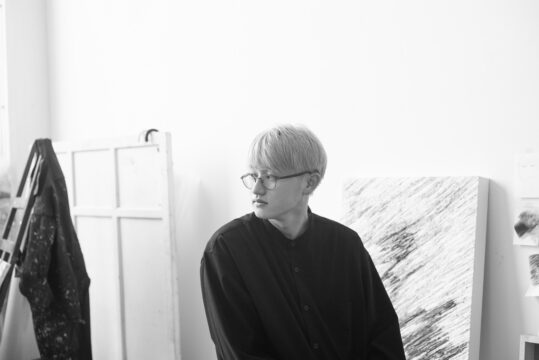 Watanabe Ryota
1998 Born in Saitama Prefecture
2021Graduated from Tohoku University of Art and Design
2022Registered at Tokyo University of the Arts Graduate School No. 6 Laboratory
<Major exhibition history in recent years>
[Solo exhibition]
2021 "HORIZON" (Lloyd Works Gallery, Tokyo)
[Group exhibition]
2022 "1998" (GALLERY ROOM・A, Tokyo)
2022 One Art Taipei 2022 The Sherwood Taipei
2021 "Kengo Nishigashira (Kyoto University of the Arts) x Kan Usukubo (Tokyo University of the Arts) Recommended Artist Exhibition" (Shibuya Saibu Alternative Space)
2021 "One FACE Exhibition" (Lloyd Works Gallery, Tokyo)
2020 "heso" Exhibition (old folk house heso, Yamagata)
etc.
<Award History>
2022 One Art Taipei "TOP 10 Highlights"
2021 WATOWA ART AWARD 2021 "Kenji Kobashi Award"
2018 Grand Prize for "Twenty-Year-Old Profile" sponsored by Rokkatei and Nakamura Art Village 2016 The 66th Saitama Art Exhibition Sankei Shimbun Award
・Exhibition details
Ryota Watanabe Solo Exhibition "Stardust Stings in Your Eyes"
Dates | December 27, 2022 (Tuesday) to January 20, 2023 (Friday)
*Closes at 17:00 on the last day.
*Please check the store website for business hours.
*Exhibition dates are subject to change.
Venue|Ginza Tsutaya Bookstore Art Wall Gallery Fee|Free Organizer|Ginza Tsutaya Bookstore Inquiries|03-3575-7755 (during business hours)/info.ginza@ccc.co.jp
Feature page| https://store.tsite.jp/ginza/blog/art/30831-1545551223.html
・Ginza Tsutaya bookstore
By connecting art, Japanese culture, and life through books, we propose a lifestyle with art.
Address|6-10-1 GINZA SIX 6F, Ginza, Chuo-ku, Tokyo 104-0061
Phone number|03-3575-7755
Business hours | Please check the store website.
Homepage| https://store.tsite.jp/ginza/
Facebook| https://www.facebook.com/GINZA.TSUTAYABOOKS/? ref=bookmarks
Twitter| https://twitter.com/GINZA_TSUTAYA
Instagram |https://www.instagram.com/ginza_tsutayabooks/
・CCC Art Lab
We are a planning group that conducts business related to art within the planning company Culture Convenience Club Co., Ltd. We would like to contribute to making people's lives happier and creating a better society by making art more accessible through "proposing a life with art". Based on the knowledge cultivated through many years of business experience such as store planning, art media, product development and event production, we will propose plans with a professional approach.
https://www.ccc-artlab.jp/
<Related articles in the past>
[Ginza Tsutaya Bookstore] The current location of five artists who are attracting attention in Japan and overseas and moving the air of the city with art. Group exhibition "Piece of the times" will be held from December 3rd (Sat) to December 14th (Wed)
[Ginza Tsutaya Bookstore] Haruka, an artist who has refined her sensibility in New York and Europe and expresses it with various materials and painting methods, will hold a solo exhibition "Rebirth" from November 17th (Thursday) to November 23rd, 2022 ( held on Wed.
[Ginza Tsutaya Bookstore] An exhibition "little wish" by illustrator Ami, who gently draws a fantasy world in pop, will be held from November 4th (Friday).
[Ginza Tsutaya Bookstore] A group exhibition "Intermission" by eight young artists active mainly in Asia will be held from Saturday, October 22nd.