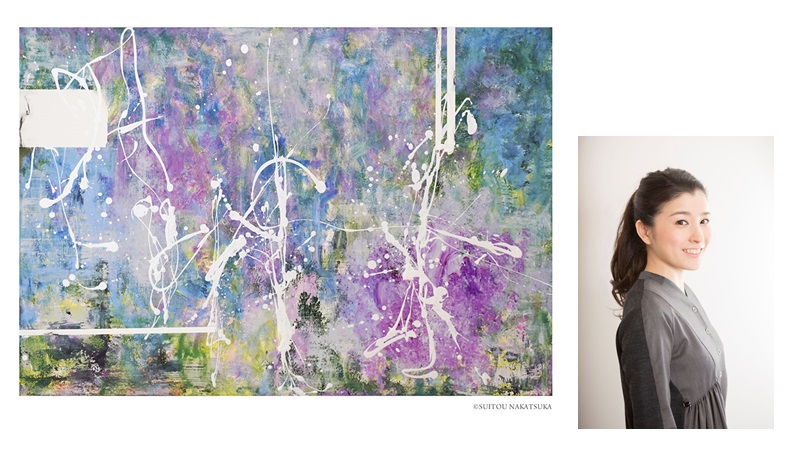 Date: March 8, 2023 (Wednesday) to March 13, 2023 (Monday) *Ends at 5:00 pm on the last day
■ Venue: Ginza Mitsukoshi Main Building 7F Gallery
While thinking about your travel destination, remember the comfortable atmosphere you felt there. The colorful world is full of everyday life. I expressed the "Irodori" of such days. We hope you enjoy it. (Mr. Suito Nakatsuka)
The Ginza Mitsukoshi Main Building 7th floor gallery will hold Suito Nakatsuka's exhibition "Irodori" from March 8, 2023 (Wednesday) to March 13, 2023 (Monday). Suito Nakatsuka creates pictorial works based on letters and continues to challenge new possibilities of expression. He has received high acclaim both at home and abroad, with his installation work presented in Paris winning both the Gold Prize and the Gold Jury Prize. In this exhibition, which will be held for the second time at Ginza Mitsukoshi, we will display and sell the theme of "Irodori" that overflows in everyday life. We hope that you will take this opportunity to view the powerful yet lighthearted works of Suito Nakatsuka, including the new works unveiled at this solo exhibition.
・Work introduction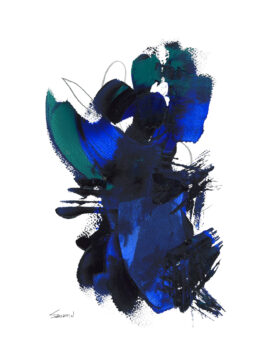 ---
---
■ Title: "L'heure bleue"
■ Size: H333mm × W242mm
■Comment on the work: A work that expresses the quiet blue time before dawn that I met while traveling.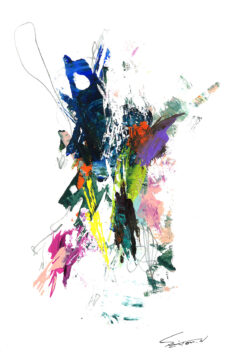 ■ Title: "Winter" from Vivaldi Four Seasons ■ Size: H227m x W158mm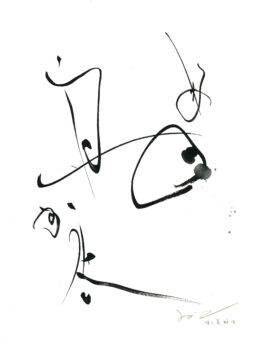 ■Title: "Days are Good Days"
■Size: H334×W245mm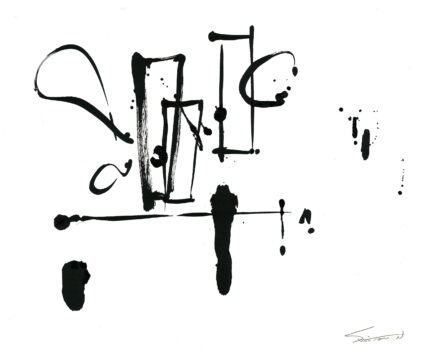 ■ Title: "Raku-music Ⅱ-"
■ Size: H349mm × W420mm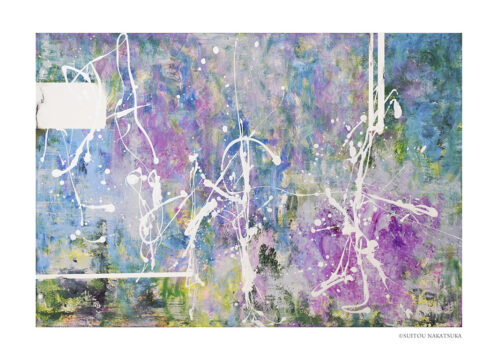 ■ Title: "Moeharu – revive -"
■ Size: H804mm × W1167mm
・Profile of Suito Nakatsuka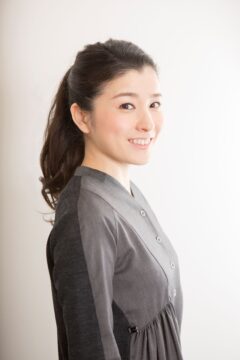 ・I spent my childhood in Kurashiki City, Okayama Prefecture, where I became familiar with calligraphy. He grew up in the mild climate of the Seto Inland Sea, which is where the pen name of Suito comes from.
・ In 2016, at the Societe Nationale des Beaux-Arts 2016 held at the Carrousel du Louvre exhibition hall in the Louvre Museum in Paris, he presented a calligraphy installation in a space of approximately 300 m2, winning the Gold Prize and the Jury Prize. Double award.
・ In charge of the title of the 2020 taiga drama "Kirin ga Kuru". The "Pen-letter practice book that allows you to write beautiful characters in 30 days" (Takarajimasha) series has exceeded 4.3 million copies in total.
・2010 Solo exhibition "Time -Toki-" / Tokyo (Daikanyama T-SITE GARDEN GALLERY)
・2015 Solo Exhibition "Expression – The Form of Words -" / Tokyo (familiar gallery)
・2016 Societe Nationale des Beaux-Arts "Ichigo Ichie ichi-go-ichi-e"
・2017 Solo Exhibition "Kotobano Sky – Every Day is a Good Day" / Tokyo (Futako Tamagawa Takashimaya Gallery), "THE Doraemon Exhibition Tokyo 2017 'Light and Shadow'" / Tokyo (Roppongi Hills), "150th Anniversary of Japan-Denmark Diplomatic Establishment Contemporary Opera "Kage (SKYGGEN)"/Denmark
・2018 solo exhibition "LOVE PEACE HAPPINESS" Tokyo (Jean Paul knott), solo exhibition "Kotobano toy box" / Tokyo (familiar gallery)
・2019 solo exhibition "La Danse" Paris (Hotel Meurice), solo exhibition "Musique"/Paris
・2020 "Calligraphy x French Literature" / Paris (Hotel Meurice)
・2022 Solo Exhibition "Suito Nakatsuka Exhibition – Kotobano Hikari -" / Tokyo (Ginza Mitsukoshi Gallery)
・<Royce Antiques> Collaboration with vintage furniture
In this exhibition, we will display and sell vintage furniture from <Lloyd's Antiques> along with paintings. We will introduce the charm of art that enriches our lives through the collaboration of Suito Nakatsuka's colorful works and masterpiece furniture.
◇Present news◇
During period, we purchase picture (book) work more than 110,000 yen (tax-included) at <Suito Nakatsuka Exhibition> held in gallery on the seventh floor of the main building after enrolling in MI Card Plus at store and Mitsukoshi Isetan The first 20 customers who present the coupon screen of the app will receive <Maison Cacao> nib chocolate (2 bags) designed by Suito Nakatsuka.
* Limited to 1 per person * It will end as soon as it is gone.
◆Overview◆
Suito Nakatsuka Exhibition "-Irodori"
Date: Wednesday, March 8, 2023 to Monday, March 13, 2023 *Until 5:00 pm on the last day Venue: Ginza Mitsukoshi Main Building 7F Gallery Address: 4-6-16 Ginza, Chuo-ku, Tokyo
■ https://www.mitsukoshi.mistore.jp/ginza.html
*Ginza Mitsukoshi Gallery HP
https://www.mistore.jp/store/ginza/shops/living/gallery/shopnews_list/shopnews070.html
*Please contact us for the price.
*Admission may be restricted due to various circumstances.
* The contents of this event may be changed or canceled due to circumstances. Please note. For details, please check the Ginza Mitsukoshi website.
[Isetan Mitsukoshi Holdings Ltd.] From the press release
<Related articles in the past>
First held in Japan at Ginza Mitsukoshi! ! "Disney100 THE MARKET in Ginza Mitsukoshi" will start on Wednesday, March 15th.
"Season of Love" Chocolate sweets for the overflowing "love". Why not find your "love" at Ginza Mitsukoshi?
First scone of 2023! Let's enjoy English tea time! "Scone Party with TEA 2023 @GINZA" will be held at Ginza Mitsukoshi from Thursday, January 5th.