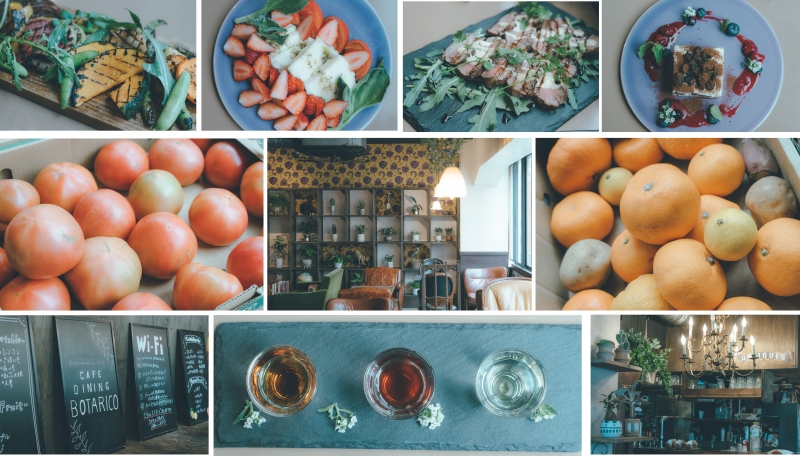 Proactively use "first-class B-grade products" that are considered to have no commercial value, even if they are delicious, just because they are damaged or deformed. A new type of cafe dining where you can taste fruits opens in Ginza
Misho Hikarimaru Co., Ltd., which operates the "Petit Veil" urban fruit and vegetable store mainly in the 23 wards of Tokyo, is a cafe and cafe where you can enjoy healthy and satisfying dishes using plenty of fresh and delicious vegetables and fruits. The dining-style restaurant "cafe dining botarico" will open in Ginza, Tokyo from Saturday, April 1, 2023 (pets allowed).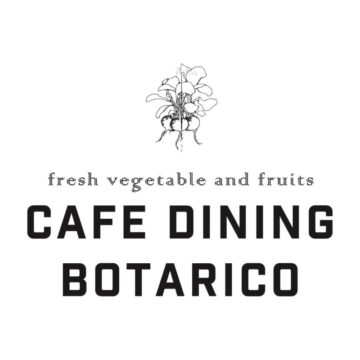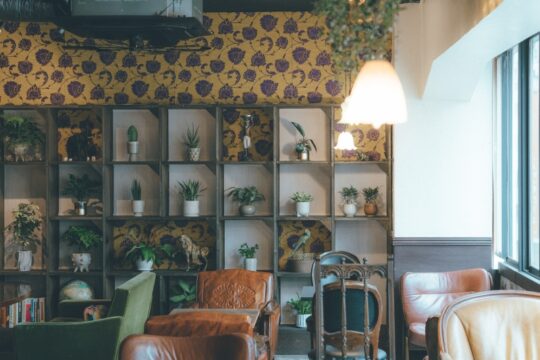 The dishes created by the Italian-born chef are simple and bold, making the most of the ingredients, from appetizers to main dishes and desserts. We make full use of fresh vegetables and fruits procured by a fruit and vegetable store, and the umami, sweetness, and juiciness of the ingredients spread in your mouth. In addition, the interior of the store is mainly based on antiques, and 50 pots of foliage plants are displayed. It is a space where you can enjoy a variety of fresh vegetables and fruits in a warm atmosphere of plants and trees.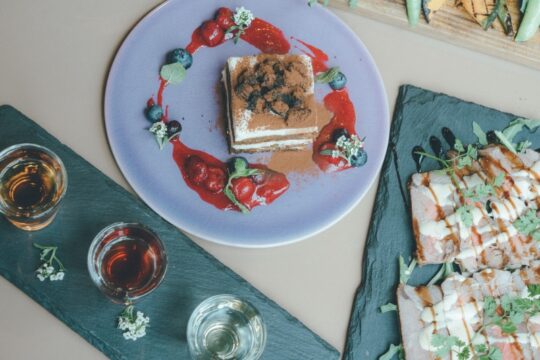 ・Proactively use "first-class B-grade products" in cooking, countermeasures against food loss from the perspective of fruit and vegetable stores!
In the world, there are vegetables and fruits that are judged to have no value as products and are not distributed to the market, and are classified as B-grade products, even if they are slightly damaged or slightly deformed. No matter how good the taste and contents are, even if the quality is top-notch, it will not be served on our table just because it has scratches or is distorted in shape. Class product". At cafe dining botarico, from the perspective of a fruit and vegetable store, we have come up with the idea that we can solve this dilemma with a positive approach.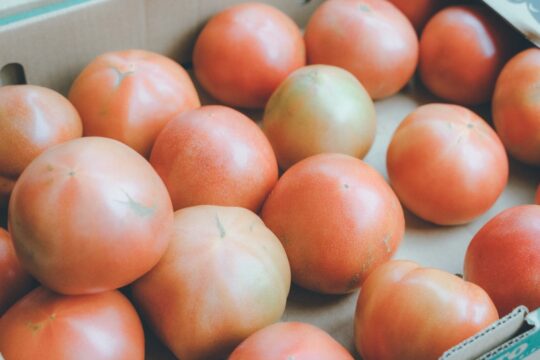 ・ A seasoning that makes you feel the presence of "vegetables and fruits" created by a chef from Italy
The food is prepared by an Italian-born chef, with healthy seasonings based on Mediterranean cuisine using olive oil and other ingredients. Ingenuity to incorporate soy sauce and wasabi is scattered everywhere, and we are particular about vegetables and fruits so that you can feel the main role. In addition to serving the most delicious fresh vegetables and fruits of the day to the table, we have prepared plenty of vegetables and fruits for curry and pasta sauce! The menu reflects the seasonal changes unique to a fruit and vegetable store, and we offer dishes that allow you to enjoy the charm of the ingredients from lunch to dinner.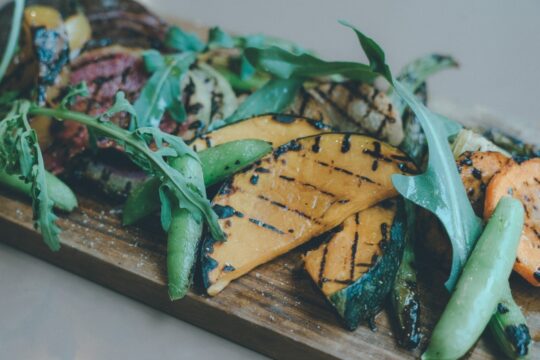 ---
---
・Enjoy a botanical healing time with carefully selected antique furniture and 50 potted foliage plants
In a chic and calm space surrounded by authentic antique furniture, 50 potted foliage plants are arranged, and you can relax in a botanical atmosphere. For foliage plants, please pay attention to stylish pots and pot covers. The owner himself purchases and sells directly from creators. Similarly, the tableware is placed in a way that blends in well with the interior of the store, so if you find something you like, you can purchase it. It is also an interesting experiment that customers who are interested in the use of utensils and stylish green interiors can take it home with it and enjoy it from the day. Please enjoy the dishes and the space carefully selected by a fruit and vegetable store that knows the true taste of vegetables and fruits.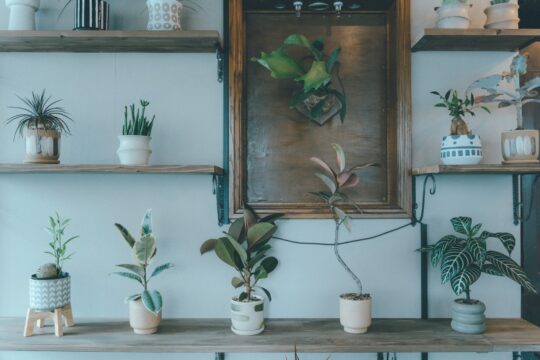 [Store overview]
cafe dining botarico
A new type of café dining where pets are allowed, where you can enjoy fresh vegetables and fruits for the operation of a fruit and vegetable store. Our Italian-born chef offers dishes that are carefully seasoned so that you can fully enjoy the charm of vegetables and fruits. The interior of the store has an antique interior and 50 pots of foliage plants are laid out, expressing a botanical healing space (foliage plants, plates, etc. can be purchased). In addition, we are actively working on food loss countermeasures, and even though it is a first-class product, it sheds grains during the packaging process and has been treated as waste until now. We will make effective use of vegetables and fruits that have not been distributed to the general public due to their low prices. "I want people to eat more and more delicious vegetables and fruits!" Through this store, I want people to feel more familiar with high-quality vegetables and fruits.
・Store name: cafe dining botarico
・Address: Nishiyama Kogyo Higashi Ginza Building 5F, 1-9-12 Ginza, Chuo-ku (3-minute walk from Exit 11 of Ginza 1-chome Station on the Tokyo Metro Yurakucho Line)
・Operating hours: Monday-Thursday, Sunday, the day before a holiday: 11:30-22:00 (Last order for food 21:00; Last order for drinks 21:30)
Fridays, Saturdays, and holidays: 11:30 a.m. to 11:00 p.m. (Last order for food at 10:00 p.m.; last order for drinks at 10:30 p.m.), open all year round Seating capacity: 41 * Pets allowed Phone number: 03-6228-6064
・ URL: https://botaricocafe.owst.jp/
・Instagram @botarico_ginza
◇cafe dining botarico Initiatives against food loss◇
・Even if the taste is comparable and the quality is good, vegetables and fruits that have been degraded for reasons such as scratches and poor shape are actively used as ingredients.
・In order to reduce the disposal of food ingredients (dishes that cannot be eaten), we ask customers who wish to take food home (however, hygiene is self-responsibility).
・cafe dining botarico will make effective use of "first-class B-grade products" without discarding them.
・ Menu overview * All prices include tax.
[Lunch menu]
・Lunch plate (3 types in total) *Weekdays, Saturdays and Sundays together ・Green curry with colorful vegetables ・Drink included: 1,200 yen (tax included)
・Additional 300 yen for mini desserts (mini sizes such as tiramisu and pound cake)
*Lunch menu consisting of main, side and salad plates. It changes weekly.
Main: chicken, pork, beef, fish side: french fries, sweet potato maple sticks, etc. Salad: potato salad, marinated salad, etc. *Limited time price with drink until 4/7. After 4/8, it will be 1,380 yen without drinks.
[A la carte menu] *Menu available after 17:00
<Appetizer>
"Fruit tomato and fruit caprese" 1,380 yen – 1,780 yen Tomatoes that have just rubbed against each other during growth, or tomatoes that are slightly distorted in shape, can be boiled and cut to create a very sweet flavor. rich too. Caprese with strawberries and mozzarella cheese is one of the chef's favorite dishes.
For April's fruit, choose one from strawberry, kiwi, pineapple, Kiyomi orange, and Shonan gold. (Strawberry: 1,780 yen / Kiwi: 1,380 yen / Pineapple: 1,480 yen / Kiyomi Orange: 1,580 yen / Shonan Gold: 1,580 yen)
"Grilled colorful vegetables (one plate of 10 kinds of vegetables)" 2,200 yen This is a dish that is sure to be delicious because it grills the freshest vegetables in the season. April after the store opens is the time when beans become delicious. Broad beans, green soybeans, kidney beans, snap peas, and other seasonal bamboo shoots will be added to create a dish that will make you feel the breath of spring. Enjoy with a simple seasoning of salt, pepper and extra virgin olive oil. *Vegetables change depending on the season.
・Shrimp and avocado 680 yen ・Strawberry and thyme marinated in balsamic vinegar 980 yen ・Two kinds of semi-dried tomatoes and burrata 1,180 yen
<main>
"Grass-fed sirloin tagliata" 1,980 yen Grazing beef and grass-fed beef have less fat and a refreshing taste. Thinly sliced meat with balsamic sauce and wasabi and gorgonzola cream sauce add richness and accent. A healthy and hearty dish that you can enjoy with vegetables.
・Roast pork ~Japonese sauce~ 1,600 yen ・Chicken thigh bone-in herb chicken 1,600 yen ・Lamb chops ~Red wine sauce~ 2,280 yen
<Pasta>
・Colorful vegetable peperoncino *Vegetables change with the season. 1,380 yen・Bolognese 1,880 yen・Pasta of the day (oil, cream, tomato sauce) 1,380-1,680 yen・Pescatore 1,480 yen・Lemon cream 1,680 yen
<Dessert> *Dessert fruit changes with the season.
The Italian-born chef's favorite is the tiramisu. Botarico's tiramisu has different fruits depending on the season. Spring is the time when berries are delicious. One of the characteristics of the restaurant is that the menu is decided by choosing tiramisu with berries and berry sauce, and fruits and vegetables first. The cookie crumble on top adds a rhythmical texture.
・Tiramisu ~Berry Sauce~ 850 yen ・Crepe ~Banana Caramelized~ 800 yen ・Pound Cake ~Citrus and Earl Gray~ 800 yen ・Verrine (Parfait) ~Strawberry Verrine / Passion Fruit Chocolate Blanc Verrine ~ 1,280 yen
<drink>
・Mead (honey liquor / 25ml each of 3 types of mead) 1,200 yen Mead is an alcoholic beverage made by fermenting honey and wine with yeast. Mr. Eric, an Australian beekeeper who loves bees so much that he runs a beekeeping business in Japan, is particular about handcrafting from the point of raising the bees that make honey. Alcohol content is around 12 degrees. It's fun to compare various drinks. Plain type fermented with white wine and honey from the right. The middle is a slightly nodding type combined with red wine. The left is a sweet type with a caramel flavor.
・Coffee (hot/ice) 600 yen ・Cafe latte (hot/ice) 700 yen ・Earl Gray (hot/ice) 500 yen ・Darjeeling (hot/ice) 500 yen ・100% orange juice 500 yen ・100% apple juice 500 circle
<Alcohol>
・Draft beer 700 yen ・Non-alcoholic beer 600 yen ・Glass wine (white, red, rosé) 680 yen ・Homemade seasonal fruit sangria (red, white) / glass: 780 yen ・Decanter: 2,180 yen *Fruits change depending on the season .
・Cocktails (gin and tonic, Moscow mule, screwdriver, tequila sunrise, rum coke, mojito, oolong high, lemon sour, jasmine high, etc. 700 yen~
・Preliminary press tasting event report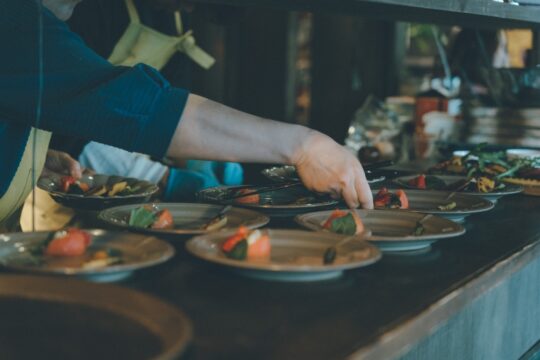 Prior to the opening, a pre-tasting event was held for the press the other day. On the day of the event, many members of the media attended and enjoyed dishes made with fresh vegetables and fruits. We were able to showcase the specialties of "cafe dining botarico", including the menu features and interior design.
🔳Because I want you to know more about the true deliciousness of vegetables and fruits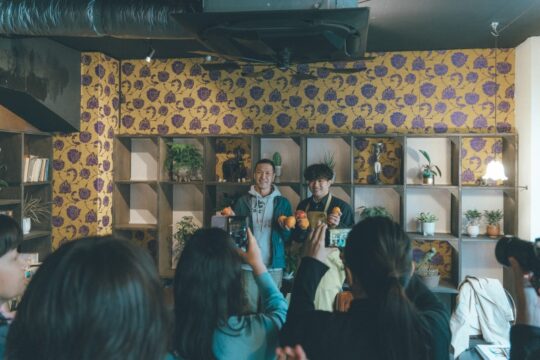 First, Kubota, CEO of Petit Verre and owner of cafe dining botarico, said, "I have been running a greengrocer for 10 years. Even for a single fruit, I was only interested in its name, whether it was sweet or sour… I wanted people to know more about the true taste of this fruit. I want people to think that the vegetables and fruits I ate here are delicious, and I don't care about any fruit and vegetable store, I want to know what's delicious! He talked about his passion for vegetables and fruits.
🔳Irregular shape but first-class taste on the table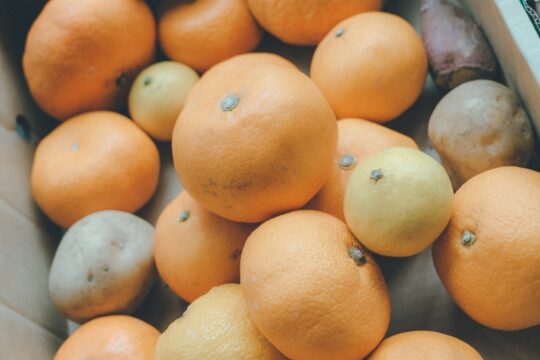 Next, Chef Nomura said, "At our restaurant, we are thinking about seasonings and menus that bring out the original taste of vegetables and fruits. To maximize the appeal of vegetables and fruits themselves, we use simple ingredients such as salt, pepper, and olive oil. Of course, we also serve meat dishes such as pork and beef, as well as dishes using seafood, with special sauces.Also, consider food loss.Even if the shape is irregular, the taste is extremely fresh. Vegetables and fruits.These are beautifully transformed and served.Because we want you to eat seasonal things, our menu changes little by little every season.
🔳Agricultural experience from a retailer's perspective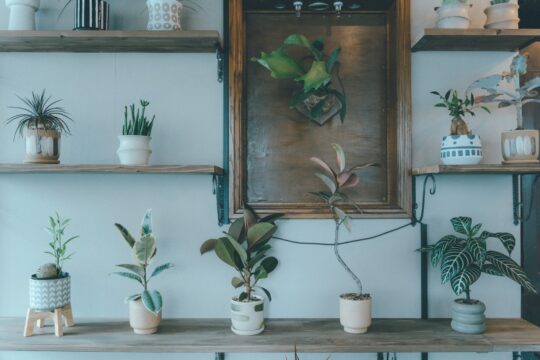 After the opening remarks, the owner Kubota said, "Actually, as a farmer, I grow vegetables and fruits myself, and last year I harvested about 5 tons. However, I wanted to see agriculture from the retailer's point of view.When I tried to grow crops, I realized how hard it is for farmers.In the heat of midsummer, in greenhouses, etc. Even the fruits and vegetables that we have worked so hard to grow can become uneven in size due to the difference in the harvest of just one day. That is why he said he would like to take food loss seriously and cooperate with like-minded colleagues.
🔳In the question-and-answer session from the reporter, who is one of the first to reduce food loss, I understand that the so-called "first-class B-grade products" will appear in the store, but what further ideas do you have for efforts to reduce food loss? In response to questions such as, vegetables and fruits that have been left at the storefront of a fruit and vegetable store for a whole day, it is not the best if you look only at the freshness, but there are ingredients that can be used sufficiently, and they can be used for making sauces and stewed dishes. Many reporters sympathized with the answer that it is an effective use that leads to improved taste and reduced food loss.
After that, the tasting time started, and each person tasted the 5 course-tailored dishes. The tasting menu is as follows.
Appetizer: Strawberry caprese Grilled vegetables Main dish: Beef sirloin tagliata Dessert: Tiramisu Drink: Mead
🔳 Additive-free 100% grape juice made from shed grapes from popular Australian grape farmers. It will be wasted without being put on the market. This is (bottom photo) purchased grapes that had shed their grains due to natural disaster damage, processed them into juice, and commercialized them. We partnered with Global Fruit Co., Ltd., which imports and sells fruits, to sell them at our stores. This will also be developed as part of food loss reduction. If you take a sip, you will be surprised by the 100% additive-free natural and rich sweetness.
🔳 Is the storefront of the restaurant a fruit and vegetable store? !
After the tasting time, another question from the reporter was, "It was very delicious, but can I buy today's vegetables at Petit Vert (fruit and vegetable store)?" In response, Kubota said, "I was thinking about putting cut fruits in the restaurant, but for vegetables… it would be nice to be able to buy the vegetables that were delicious when they were cooked. I'll try!", and there was an unexpected development that the sale of vegetables at the restaurant might be realized, and it was an exciting tasting party with a sense of unity with the participants. In addition, pets are allowed in the store, and some of our reporters came with their pets. All of us were healed by the dogs sitting on the pet seats prepared at the store and quietly watching the progress of the meeting.
cafe dining botarico owner & chef profile
Kubota Tadashi
cafe dining botarico representative (petit veil representative)
Born in 1976. Born in Otobe-cho, Nishi-gun, Hokkaido.
Moved to Tokyo after graduating from high school. Retired from the route sales of the textile industry where he was employed in two months and started aiming for university entrance exams. After two years of ronin life, he entered university. After graduating, he went through a variety of jobs, and when he was working part-time at a clothing store, he was scouted by an acquaintance who worked at a fruit and vegetable store and entered the fruit and vegetable store industry. Independent in 2017. Opened a fruit and vegetable store "Petit Verre" in Itabashi, Tokyo. Based on the belief that "Anyway, it's best if it's fresh and delicious!"
<A word from the owner>
This is the first time for us to open a cafe business. Originally a greengrocer, what I want to convey most through the launch of this café business is that I want people to feel more familiar with vegetables and fruits and eat more and more in their daily lives. As for the products, as long as they are delicious and fresh, I think it will be fine. Looking back, I remember that I was born and raised in the southern part of Hokkaido, in a rural area with nothing but the sea, mountains, and fields. If you look at it, you may have unwittingly come into contact with the simplest yet most fresh ingredients. From the perspective of a fruit and vegetable store, I would like to convey the appeal of ingredients to everyone through delicious dishes.
Ryuta Nomura, cafe dining botarico chef
Born in 1999. Born in Maebashi City, Gunma Prefecture.
During his school days, he was passionate about basketball. When he was in high school, he decided to become a chef on the advice of his homeroom teacher. Attracted by the charm of Italian cuisine that anyone can enjoy without pretentiousness, he tries to create a menu that allows you to fully enjoy the taste of vegetables and fruits at cafe dining botarico.
<A word from the chef>
At cafe dining botarico, "Caprese" is especially recommended. The theme is to use plenty of seasonal vegetables and fruits and season them so that you can strongly feel the taste of the ingredients themselves. Based on Italian cuisine, which I love and am good at, I also make menus using meat and fish, but rather than meat and fish as the main ingredients, the presence of meat and fish makes the vegetables and fruits delicious. We will serve dishes that you can enjoy in such a way that you can enjoy it!
[About petit veil]
An urban fruit and vegetable store with 3 stores in Tokyo (Itabashi, Hongo 3-chome, Tsukiji). In addition to high-quality fresh vegetables and fruits, we also have products that allow you to enjoy healthy and fresh ingredients such as "Chef's Serious Salad" and "Concentrated Cold Press Juice" that uses plenty of carrots, oranges, and grapefruits. Many office workers repeat at lunchtime.
[Misho Komaru Co., Ltd.] From the press release
<Related articles in the past>
Theater-type bar "Yataiya Hakata Theater Yurakucho" based on the concept of "Kyushu Hakata's food stall village" will open on Thursday, April 6, 2023!!
Yakiniku Toraji's new store will open on March 16 (Thursday) at the entrance to Hibiya, "Toho Hibiya Promenade Building"!
[New store opening] "Gyu no Tatsujin" celebrates its 27th anniversary this year. A store that condenses history and know-how will open on March 15 (Wednesday) as "Gyu no Tatsujin GINZA"!