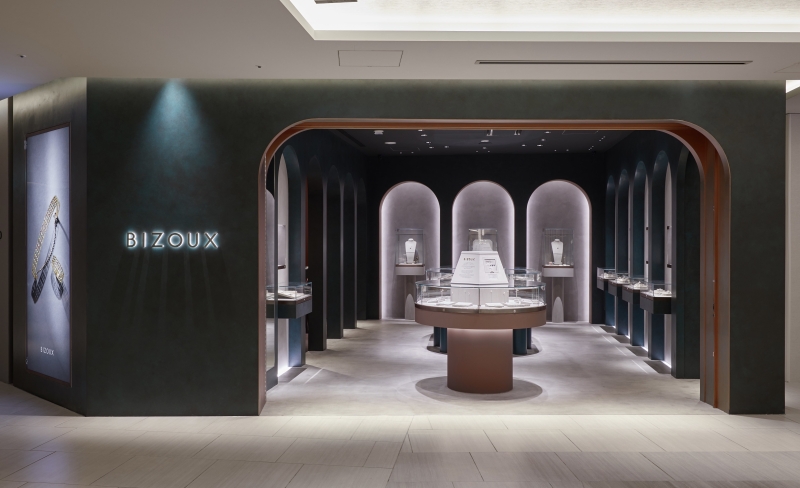 A collection of "one-of-a-kind jewelry" that makes the most of the uniqueness of stones Debuts only at new stores! Sustainable artificial gemstones (lab-grown series)
Dream Fields Co., Ltd., which is a group company of Harisley Co., Ltd., the same as Tsuchiya Kaban Seisakujo, handles jewelry. " flagship store will open tomorrow, March 30, 2023 (Thursday).
The "Bizoo GINZA SIX store" uses more than 100 types of gemstones from more than 20 countries around the world, and offers more than 600 types of colorful jewelry items (30,000 yen to 14 million yen excluding tax). We have a wide variety of items such as rings, earrings and necklaces. We will operate as a flagship store that maximizes the strengths of the brand that handles the largest number of natural colored stones in Japan.
At the new store, the store-limited collection "Designed by BIZOUX Atelier 2023" will also debut. In addition to developing "one-of-a-kind jewelry" that maximizes the individuality of each carefully selected stone, the brand's first global line "BIZOUX VACANCES", which is limited to new stores, will also appear, with an eye on inbound demand. We also have a lineup of series using artificial gems that are attracting attention from the perspective of "sustainability".
・The first global line debuts! Earrings and bracelets with a voluminous design
"BIZOUX VACANCES", the first global line of "BIZOU" with an eye on inbound (foreign visitors to Japan) demand, will be newly released exclusively at "BIZOUX GINZA SIX store". A new line that sublimates the unmatched silhouette, unique inclusions, and the natural beauty of natural stones into jewelry. It is characterized by a bold combination of "precisely polished, beautifully shining gemstones" and "large gemstones that allow you to enjoy the original color by daringly polishing roughly". There are two types of tanzanite with different cuts, earrings that combine iolite and sodalite, and bracelets made with colorful bicolor tourmaline. All of them are attractive with a voluminous design.
・One-of-a-kind jewelry inspired by the "individuality" of gemstones, limited sale at new stores
Similarly, the premium collection "Designed by BIZOUX Atelier 2023" will debut as a limited edition item at "BIZOUX GINZA SIX". Designers carefully select jewels with outstanding color and brilliance from among the jewels ordered from all over the world. "One-of-a-kind jewelry" designed with inspiration from the individuality of each stone. The first is 3 products. Two products, earrings and a necklace using boulder opal (produced in Australia), which is reminiscent of the sea with its wavy shape and marble-like blue and green, and bi-color tourmaline (produced in Brazil), which has a unique contrast between the two colors. We will develop a total of 3 items of pierced earrings using.
・"Artificial gemstones" are attracting attention for ethical consumption! "King of Jewels" Alexandrite and Sapphire
We will also develop a series of rings and necklaces using "lab-grown gems (artificial gems)" that are currently attracting attention for "ethical consumption". Artificial gems such as sapphire and ruby are developed. The brilliance that combines high-purity, high-quality color and clear transparency is as beautiful as natural stone. Man-made gemstones, which are grown using advanced science and technology, make effective use of limited resources, so they have little impact on the environment and are currently being supported from the perspective of sustainability.
The most popular is "Alexandrite", which is called "King of Jewels". The vivid color change is said to be "emerald by day, ruby by night". An elegant necklace and ring made from 5mm wide loose loose.
・In addition to diamonds, new options! Developing a series of "colored stone engagement rings"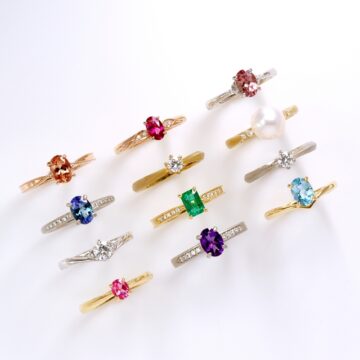 The new store will also offer a bridal series. Our company is now proposing new value and free choice of colorful and glossy colored stones for engagement rings. This is a series that is gradually gaining popularity, supported by couples who want to choose a color that is unique to two people, saying, "You can choose the color of your memories or your favorite color." Gemstones can be selected from emerald, sapphire, ruby, imperial topaz, Santa Maria aquamarine, and more. While making the most of the uniqueness of the stone, we are particular about simple and high-quality construction that can be worn as a bridal ring for a long time.
・A new store where you can enjoy the "various colors and lights" of colored stones using loupes and penlights
The concept of the new store is "Play with Color!", and you can enjoy the charm of a wide variety of colors and colored stones of light. The main attraction is the circular showcase that looks like a merry-go-round set up in the center of the entrance. Under the theme of "Gem Go Round", you can look into the "mysterious gem world" inside from around the case.
In addition, you can see the mysterious charm of stones such as "color change" where the color changes depending on the type of light and "bicolor" where the contrast is vivid, using a magnifying glass or penlight. Our knowledgeable staff guides you through these diverse colored stones. While conducting a personal color diagnosis of the customer, we carefully listen to the jewelry and clothes you have, and propose products with the optimal color and design.
Visitor Benefits "Jewel Specimen" Capsule Toy
For visitors, the first 150 people to arrive each day will receive a "Jewel Specimen" capsule toy.
The contents are gems that were not used as normal jewelry. However, every jewel is beautiful and precious. We want to eliminate the loss of gemstones. What kind of jewelry you can meet is fun after opening. There are also jackpot capsules containing rare stones. Don't miss the original machine of "Tsuchiya Kaban Seisakujo", which is made from high-quality tanned leather. (Limited quantity, ends as soon as it runs out)
・"BIZU" new store store overview
[Store name]
BIZOUX GINZA SIX store
[Open date]
Thursday, March 30, 2023
[address]
6-10-1 Ginza, Chuo-ku, Tokyo 104-0061 4th floor "GINZA SIX" 2 minutes walk from Ginza Station, 3 minutes walk from Higashi Ginza Station, 8 minutes walk from Ginza Itchome Station, etc.
[business hours]
10:30-20:30, no fixed holidays
[URL]
https://bizoux.jp/pages/ginzasix
[Official SNS]
Instagram: https://www.instagram.com/bizoux_jewelry/
Twitter: https://twitter.com/bizoux_official
[Benefits]
We will prepare an original novelty to commemorate the opening (both in limited quantities).
– Purchasers of 70,000 yen or more excluding tax: "GEM-COLORED PENCIL" (Bizoo original gem colored pencil) born from the color of gems
– Visitors: Can't wait to see what you come up with! "GEM CAPSULE TOY" (jewel specimen capsule toy) as a gift
・"BIZU" handles more than 100 kinds of various colored stones carefully selected by our own buyers from more than 20 countries around the world, which is the largest number in Japan.
Dream Fields Co., Ltd., which operates "BIZOUX," is a group company of Harrisley Co., Ltd., as is Tsuchiya Kaban Co., Ltd., which manufactures and sells leather products.
"Bizou" is a popular jewelry brand for women in their 20s to 40s, and has 11 permanent directly managed stores in Tokyo and other major cities (as of February 2023. Jiyugaoka, Nihonbashi, Ginza, Shinjuku, Omotesando, Nagoya, Kyoto, Osaka Shinsaibashi, Umeda, Kobe, and Fukuoka). This GINZA SIX store will be the 12th store nationwide.
The biggest feature of "Bizou" is the variety of natural colored stones that we handle, which boasts the largest lineup in Japan as a jewelry brand. "Colored stones" are booming in the jewelry industry. At BIZU, we always sell over 100 types of carefully selected jewelry based on the brand philosophy that "the individuality of both people and jewelry is attractive." is buying Taking advantage of our unique route, we also have difficult-to-obtain gems that are almost exclusively handled by "Bizou" in Japan.
—
HP: https://bizoux.jp
Instagram: https://www.instagram.com/bizoux_jewelry
Twitter: https://twitter.com/Bizoux_official
Company profile ・ Company name: Dream Fields Co., Ltd. ・ President: Shigenori Tsuchiya ・ Location (head office): 103-0012 REVZO 5F, 1-10-13 Nihonbashi Horidomecho, Chuo-ku, Tokyo
・Business description: Brand management / BIZOUX (jewelry), GEM EDEN (jewelry), AETHER (leather accessories, bags) and EC business management of each brand
[Dream Fields Co., Ltd.] From the press release
<Past coverage article>
A "skating rink" will appear for the first time at the GINZA SIX garden, the rooftop garden "closest to the stars" in Ginza!
GINZA SIX "Saf Gallery" will be held from Saturday, December 3, 2022 to Wednesday, December 14, 2022! Flower artist Yasuhiko Fujikawa
[Interview report] Go on an adventure on a magic carpet. Jean Julien's new work "The Departure" appears in the GINZA SIX atrium art