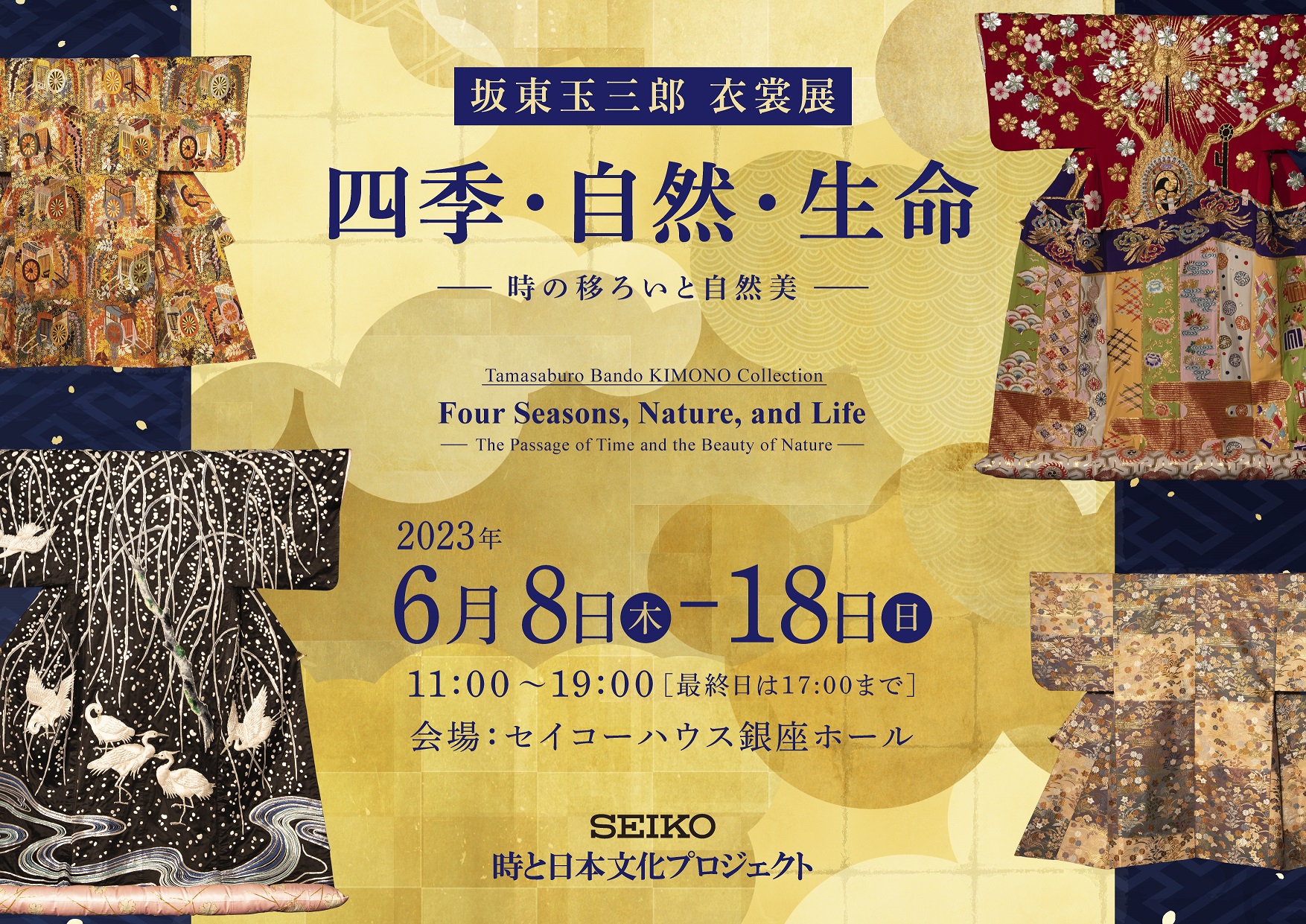 Invite 40 people to a special talk show by lottery
Seiko Group Co., Ltd. (hereafter referred to as "Seiko") is pleased to introduce the charm of Japanese culture and to have many people experience it as the first step of the "Time and Japanese Culture Project". Tamasaburo Bando V's costume exhibition "Four Seasons, Nature, Life-Transition of Time and Natural Beauty-" will be held at Seiko House Ginza Hall in Ginza 4-chome from June 8th (Thursday) to June 18th. It will be held until Sunday (Sunday) (admission free).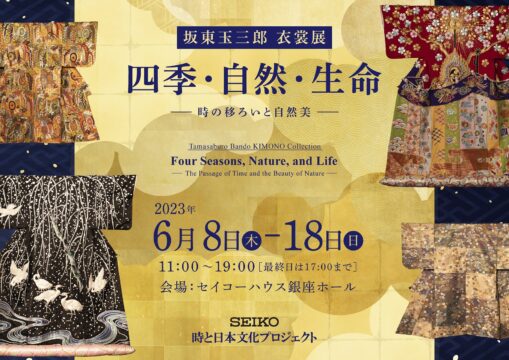 In this exhibition, we will display 10 beautiful costumes specially selected from Tamasaburo's cherished collection, in which the scenes of each season of spring, summer, autumn and winter are colorfully expressed by craftsmanship. Experience the four seasons, nature, and the transition of time through elegant costumes created by craftsmen in the refined space of Seiko House Ginza Hall.
Also, on Saturday, June 17th, 40 people will be invited by lottery, and a special talk show will be held by Mr. Tamasaburo Bando. With the theme of "time and traditional culture," Mr. Tamasaburo will talk about the thoughts he puts into his costumes.
Overview of Bando Tamasaburo Costume Exhibition "Four Seasons, Nature, and Life ~Transition of Time and Natural Beauty~"
・Exhibition period:
Thursday, June 8, 2023 to Sunday, June 18, 2023 11:00 to 19:00 (17:00 on the last day)
·venue:
Seiko House Ginza Hall 4-5-11 Ginza, Chuo-ku, Tokyo Seiko House Ginza 6th floor Short walk from Tokyo Metro Ginza Station Exits A9 and A10 Directly connected to Exit B1 (Access) https://www.seiko.co.jp/seiko_house_ginza/ access/
・Admission is free, no pre-registration required.
■ Comment from Tamasaburo Bando
As the first step of the "Time and Japanese Culture Project", we will hold a costume exhibition.
I am very happy that the costumes that I have been making since I was in my twenties will be gathered together at Seiko House Ginza as a costume exhibition that transcends time and can be seen by everyone.
Many costumes have been made one by one while discussing with the creators and craftsmen from time to time.
Since Japan has four distinct seasons, many Japanese performing arts are created with the four seasons in mind.
From there, I chose to show you seasonal costumes under the theme of "spring, summer, autumn and winter" this time. Ladies and gentlemen, please enjoy it.
Bando Tamasaburo Kabuki actor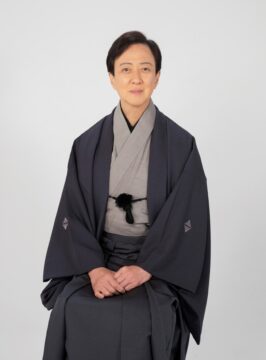 In December 1957, he made his first stage appearance as Kotaro in the Toyoko Hall "Terakoya" under the name Bando Kinoji. In 1964, he assumed the name Bando Tamasaburo V. He is also enthusiastic about adapting Kyoka Izumi's beautiful world to the stage, and has created many excellent stage productions, including his representative work "Tenshu Monogatari". In addition, he was invited to the Metropolitan Opera in New York at a young age and was acclaimed for his performance of "Sagimusume". He is also active internationally beyond the framework of Kabuki, such as developing a variety of collaborations with his family. In September 2012, she was certified as an Important Intangible Cultural Property Holder (Living National Treasure) as the fifth Kabuki woman. In 2013, he received the highest medal of the French Order of Arts and Letters, "Commandeur".
<Bando Tamasaburo Special Talk Show "Time and Traditional Culture" -The driving force that spins time and passes it on to the future->
・ Date and time:
Saturday, June 17, 2023, from 14:00 (required time: about 40 minutes, seated format)
·venue:
Seiko House Ginza Hall
・Capacity:
40 people lottery system by prior application
·How to apply:
Please apply from the application form at the following URL.
Bando Tamasaburo Special Talk Show Application Form
https://d3m4er5bybkn4h.cloudfront.net/app/tokitodentoubunka
(Note) We do not accept multiple applications. Please make a separate application for each person.
·Application period:
June 2nd (Friday) to 11th (Sunday) 18:00
・ Winner announcement:
June 13th (Tuesday) We will contact the winners directly.
・Inquiries:
Bando Tamasaburo Costume Exhibition Secretariat (within BG Navi Co., Ltd.)
TEL 03-6441-0524
e-mail ishouten@bg-navi.jp
Mon-Fri 10:00-12:00 / 13:00-17:00 Closed on Saturdays, Sundays and public holidays However, June 10th (Sat) and 11th (Sun) will be open until 18:00
■ About Seiko "Time and Japanese Culture Project"
In 2023, Seiko launched a new initiative to spread the charm of Japanese culture and have many people experience it. At SEIKO HOUSE GINZA in Ginza 4-chome, events and exhibitions where you can experience the charm of Japanese culture in various genres are held irregularly. As the second stage following the costume exhibition of Tamasaburo Bando, in July, we will invite Danjuro Ichikawa, who is a group ambassador of Seiko, as a producer, and hold a premium event "Learning from time" to experience the fun of Kabuki. We are planning.
(Reference) Press release
The Seiko Group has started a new project to experience "time and Japanese culture" in the center of Ginza.
https://www.seiko.co.jp/news/sgc/2023/202305091700.html
[Seiko Group Co., Ltd.] From the press release
<Related articles in the past>
[Seiko House Ginza Hall (former Wako Hall)] "Manji Inoue White Porcelain Exhibition Fresh-Wheat-like" will be held from June 22 (Thursday)
[Seiko House Ginza Hall (former Wako Hall)] "Natural history with thoughts on the change of time – Kazuo Takiguchi -" will be held from May 25 (Thursday)
[Seiko House Ginza Hall (former Wako Hall)] "14th Generation Imaizumi Imaemon Exhibition-With Life-" will be held from May 11 (Thursday)