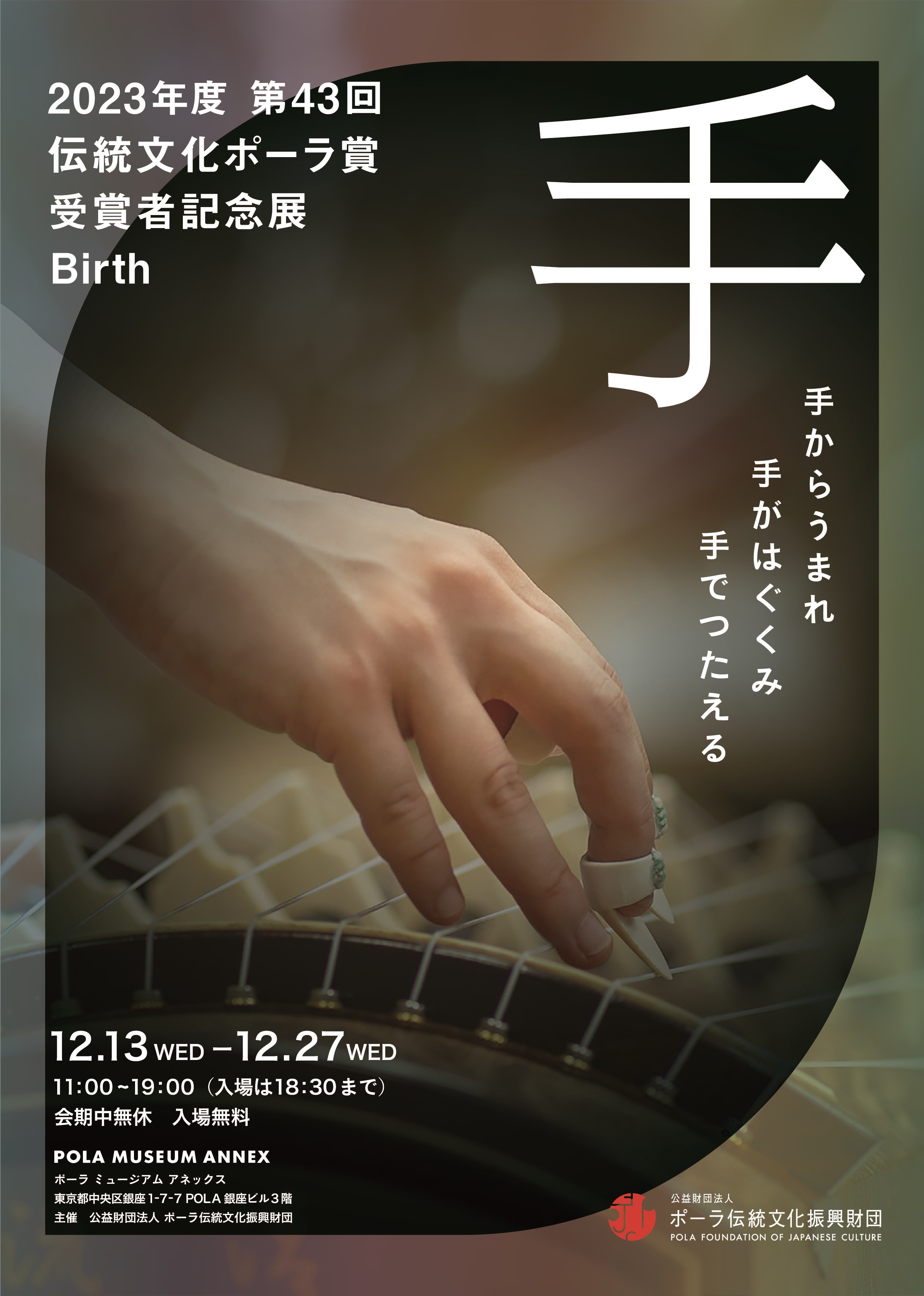 A commemorative exhibition introducing the Excellence Awards (2), Encouragement Awards (2), and Regional Awards (4) awarded at the 43rd Pola Traditional Culture Awards.
The Pola Foundation for the Promotion of Traditional Culture, a public interest incorporated foundation, will hold a commemorative exhibition to introduce the winners of the 2021 Pola Traditional Culture Award, which is part of its business.
---
---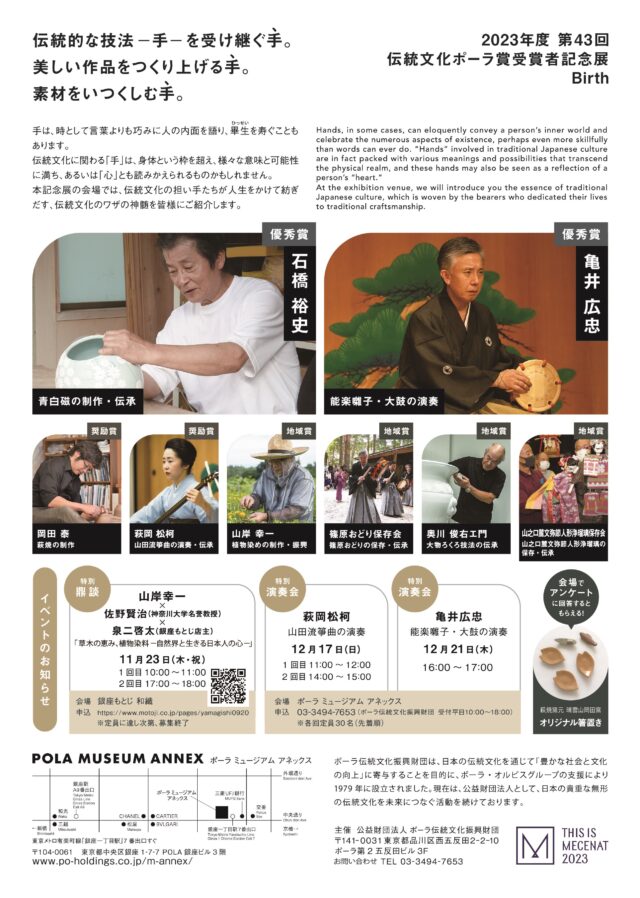 [43rd Traditional Culture Pola Award Winners Memorial Exhibition -Birth-]
◆Period: Wednesday, December 13, 2023 – Wednesday, December 27, 2023 11:00-19:00 (Admission until 18:30)
◆Venue: POLA Museum Annex (3F, POLA Ginza Building, 1-7-7 Ginza, Chuo-ku, Tokyo)
◆Free admission
The "Pola Traditional Culture Award'' is given to individuals and groups who have contributed to the field of intangible traditional culture, such as traditional craft techniques, traditional performing arts, folk performing arts and events, and who are expected to continue to be active in the future. The purpose is to encourage improvement, and this year marks the 43rd time. This year, there will be two Excellence Awards, two Encouragement Awards, and four Regional Awards.
[Inquiries regarding the Pola Traditional Culture Award and Winners Memorial Exhibition]
Tomoharu Suzuki, Executive Director, Pola Traditional Culture Foundation (c_suzuki@polaculture.or.jp)
Pola Daini Gotanda Building 3F, 2-2-10 Nishigotan, Shinagawa-ku, Tokyo 141-0031
TEL: 03-3494-7653 (10:00-17:00, excluding Saturdays, Sundays, and holidays) / FAX: 03-3494-7597
HP https://www.polaculture.or.jp
YouTube https://youtube.com/channel/UCqoBFBt6U8EV1Egj-PH-LbQ/
Facebook https://www.facebook.com/polaculture/
[Pola Foundation for the Promotion of Traditional Culture] Press release
<Past related articles>
"POLA Museum Annex Exhibition 2023" will be held from February 10th (Friday)
A two-person exhibition by environmental artist Mariyo Yagi and contemporary artist Yuna Yagi, "Tracing the Earth's Crust,'' will be held at Ginza Pola Museum Annex from Friday, September 16th.
"This is not a samurai", an exhibition by Tetsuya Noguchi, an artist who uses armor as a motif to question the inner nature and diversity of humans, will be held from July 29th (Friday) at the Pola Museum Annex in Ginza.