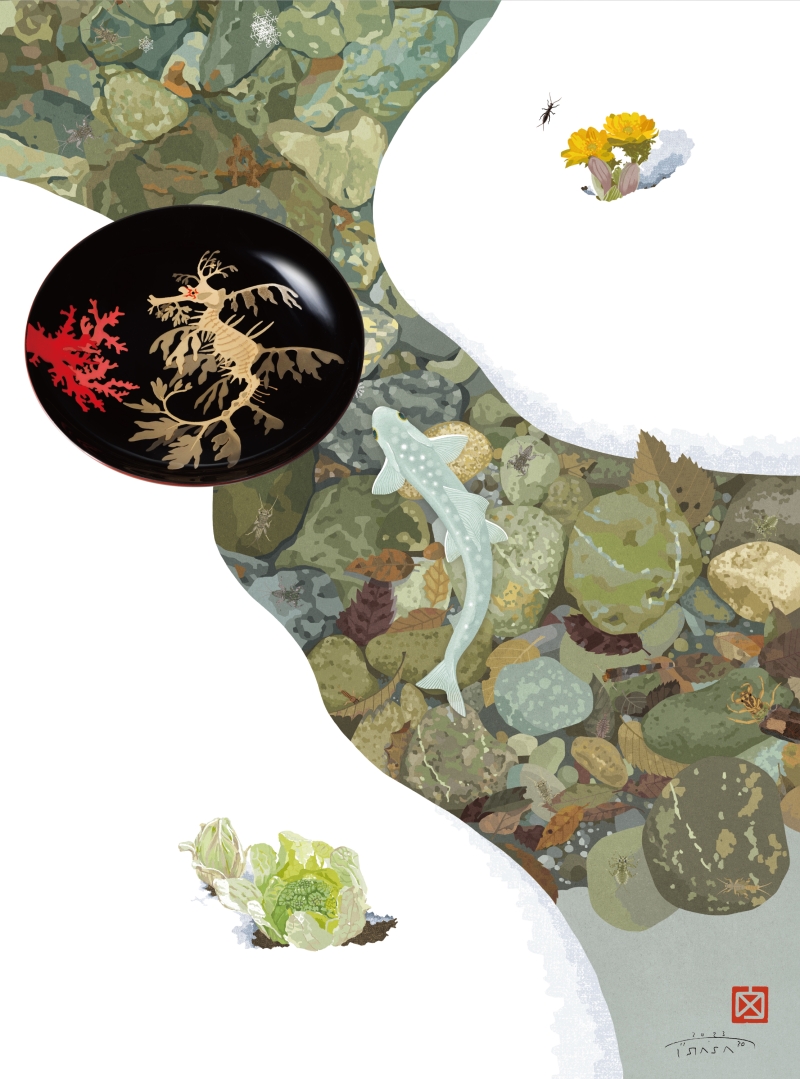 Introducing works by 13 notable artists from various fields of arts and crafts.
Seiko House Ginza Hall will hold "Wako Saijiki Written in Art" from December 14th (Thursday) to December 25th (Monday). Please spend a moment with heart-dancing art in Ginza at the end of the year.
This exhibition, which introduces notable artists from various fields of arts and crafts in hopes of good luck in the new year, will be held for the fifth time this year.
A total of over 400 works created by 13 people active in ceramics, lacquer art, glass, painting, dyeing and weaving, sculpture, and metalwork, including works related to next year's zodiac sign "Dragon" and works that are scented with the beauty of spring, summer, fall, and winter. and personalities come together.
◎Information about red painting demonstration by Kazuhiko Yoneku Every day 12:00-14:00, 15:00-18:00
[Exhibiting artists (in alphabetical order)]
Mayumi Asari (Painting) "Waiting for Spring" (96 x 33cm) / Hikoju Makie "Decorative Cup Lucky Sea Dragon" (Diameter 10.4 x Height 2.5cm)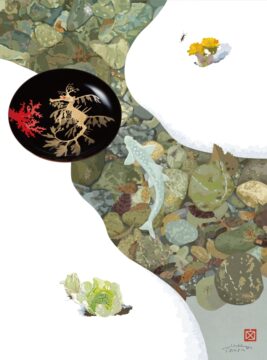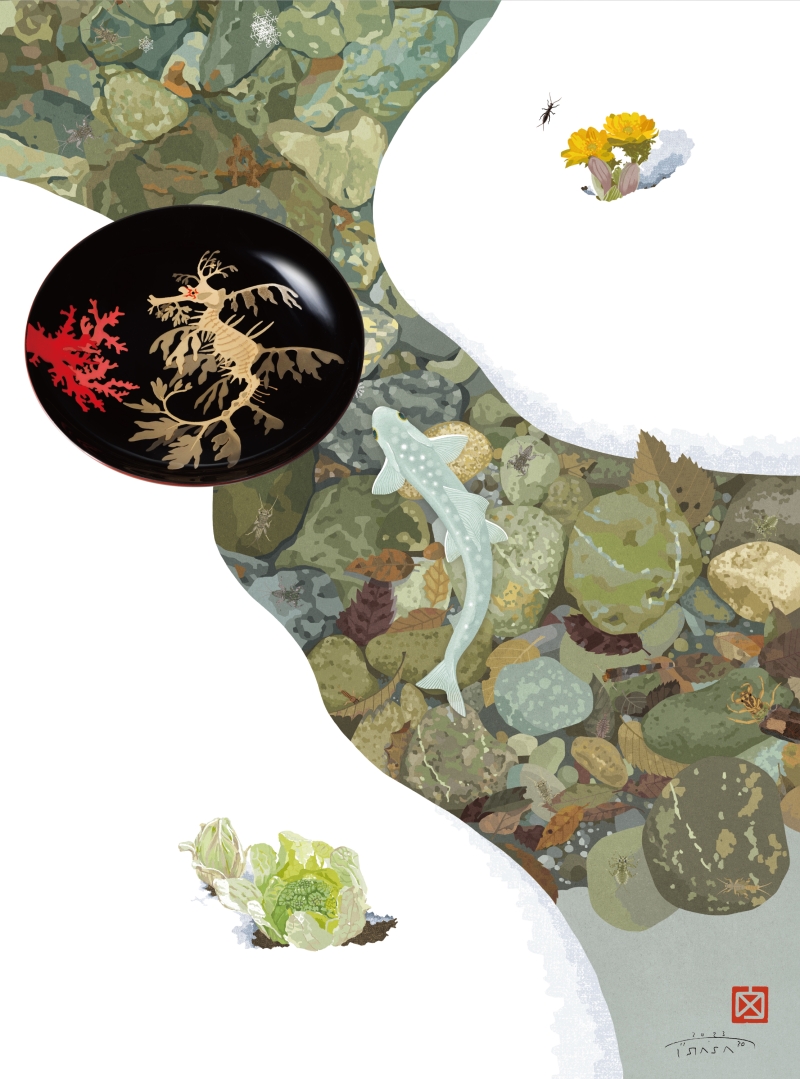 Arisa Oguro (sculpture) "Yumetatsu" (20.5 x 10.5 x Height 14cm)
---
---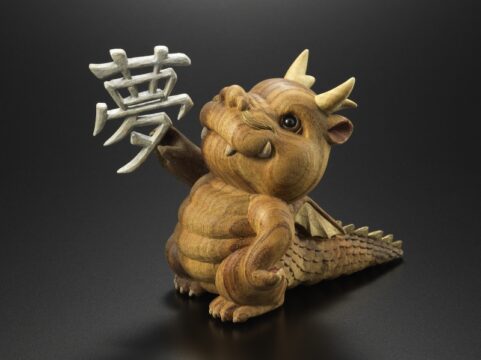 Kazuhiko Yoneku (ceramic artist) "Kissho ball cup" (each diameter 6 x height 6.5 cm)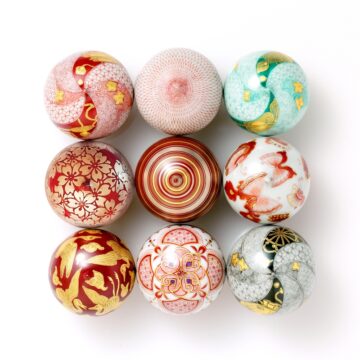 Ryo Sato (ceramics) "peace piece" (each 20 x 20 x 2.5 cm (frame size))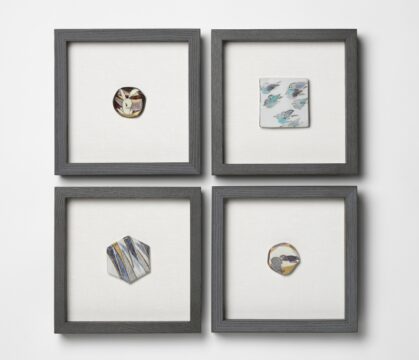 Hitomi Shintani (Lacquer Art) Dry lacquer mother-of-pearl ear cup "Triangle Dragon", "Feathered Dinosaur" (7.1 x 8.3 x Height 3.4 cm each)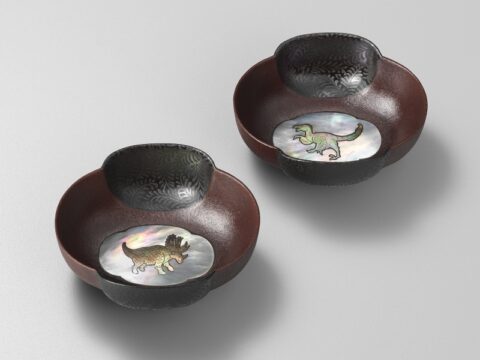 Nami Takahashi (Ceramics) "White Porcelain Gosu Platinum Tea Bowl" (11.3 x 11.7 x Height 8.2cm), "White Porcelain Tea Utensil" (Diameter 8.2 x Height 8.3cm)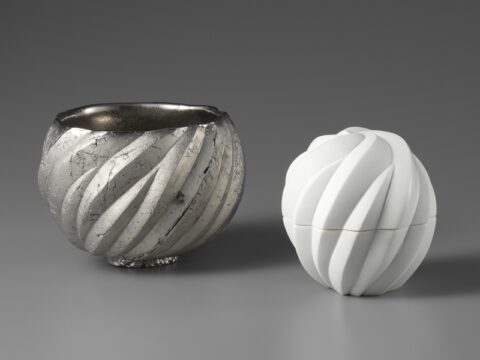 Mikiko Nakano (Glass) Glass Bowl "Wild Grapes" (Diameter 12 x Height 6cm)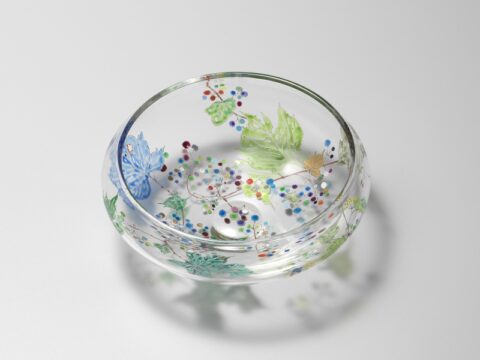 Daisuke Funaki (Ceramics) "Fun Memories Ryu" (14 x 12.5 x Height 13.5 cm)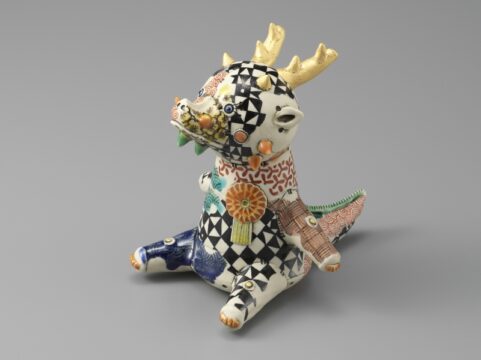 Yui Matsumoto (lacquer art) "Three-tiered box – star" (17 x 17 x height 17 cm)
Yusuke Maruyama (metalwork) "Omatsuri Box" (30 x 20 x Height 40 cm)
Kagari Miyoshi (lacquer art) "Twilight Cruise" (diameter 24.5 x height 2.7cm)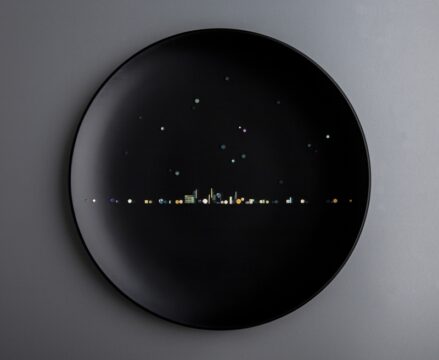 Yoshioka Sarasa (dyed and woven) "Cannabis cloth bag" (35 x 25 x gusset 7.3 cm), "Japanese madder dyed gradation stole" (180 x 120 cm)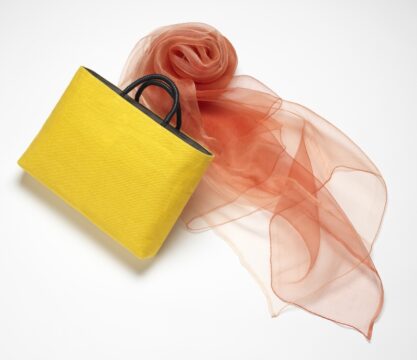 Yuko Watanabe (Glass) "FLOWER CLOUD" (30 x 60 x Height 10cm)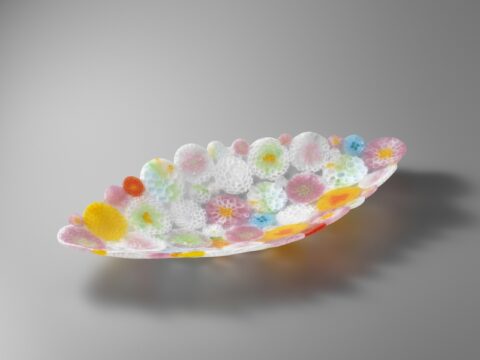 "Wako Saijiki written in art"
December 14th (Thursday) – December 25th (Monday)
Venue: Seiko House Ginza Hall (6th floor, Seiko House Ginza, 4-5-11 Ginza, Chuo-ku, Tokyo)
Contact: Wako (03)3562-2111 (Representative)
Business hours: 11:00-19:00 (until 17:00 on the last day)
Closed days: None Admission fee: Free Sponsored by/Wako
◎Wako Hall has been renamed to "Seiko House Ginza Hall."
We will communicate a variety of things to the world, including exhibitions related to Seiko Group business in general and co-creation with artists.
Business hours and events are subject to change without notice.
Please see our homepage for the latest information.
home page
https://www.wako.co.jp/
Instagram
https://www.instagram.com/wako_ginza_tokyo/
Instagram dedicated to art
https://www.instagram.com/art_wako_ginza_tokyo/
[Wako Co., Ltd.] From the press release
<Past related articles>
[Seiko House Ginza Hall (formerly Wako Hall)] "Kazu Yoneda and Fumi Yoneda Ceramics Exhibition – Shapes of the Wild, Shapes of Dreams" will be held from November 30th (Thursday)
[Seiko House Ginza Hall (formerly Wako Hall)] "Fusion of Crafts – This is the Answer" will be held from November 9th (Thursday)
[Seiko House Ginza Hall (formerly Wako Hall)] "Jihei Murase Urushi Work – Tradition and Future" will be held from October 12th (Thursday)