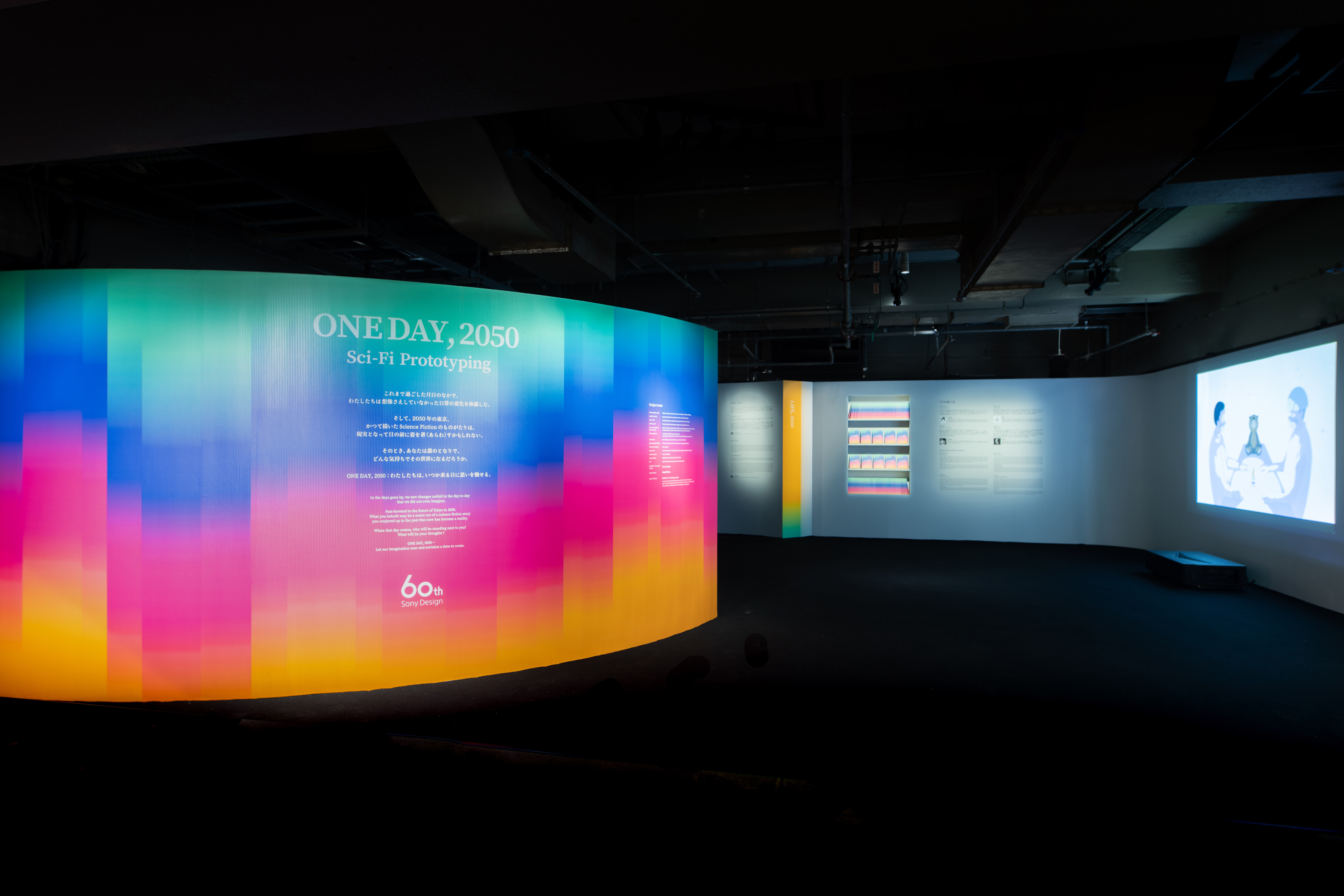 An exhibition of 2050 Tokyo stories drawn by the imagination of Sony designers and science fiction writers at Ginza Sony Park
"ONE DAY, 2050 / Sci-Fi Prototyping", a collaboration between a designer of the Creative Center, which is the design department of the Sony Group (hereinafter referred to as Sony), and a science fiction writer, will be held from August 31st (Tuesday) to September 13th, 2021. It will be held at the "Sony Park Exhibition" at Ginza Sony Park until Monday.
Ginza Sony Park is a final program "Sony Park Exhibition" on the theme of six diverse fields that Sony is working on before October 2021 when construction work for the "new Ginza Sony Park" scheduled to be completed in 2024 will begin. Is being held until September 30, 2021 (Thursday).
In addition, the "Sony Park Exhibition" is also holding an event with the theme of "technology and design" that supports Sony, which is constantly changing, and the third is "ONE DAY, 2050 / Sci" at the Creative Center. -Fi Prototyping ".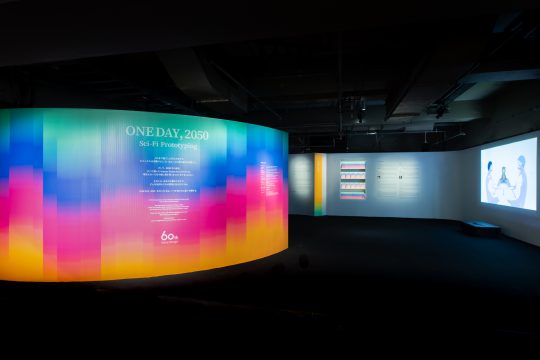 https://www.sony.com/en/SonyInfo/design/oneday2050/
Sony designers and science fiction writers collaborated to create "Tokyo in 2050" using Sci-Fi prototyping techniques.
Based on the four themes of "WELL-BEING," "HABITAT," "SENSE," and "LIFE," Sony designers created "design prototyping," and science fiction writers created "SF short stories." "Design prototyping" is a proposal of services and products that are close to the world view of each theme.
In this exhibition, you can see a trailer movie that depicts the future of people based on the "SF short story" and "design prototyping" by the designer. In addition, visitors will receive a free booklet that summarizes science fiction short stories.
■ Overview <br /> Title: Sony Park Exhibition "ONE DAY, 2050 / Sci-Fi Prototyping"
Period: Tuesday, August 31, 2021 – Monday, September 13, 2021 11: 00-19: 00
Location: Ginza Sony Park PARK B3 / B3F Price: Free admission (advance reservation not required, limited number of people)
https://www.ginzasonypark.jp/
* At the time of the first announcement on June 8, 2021, the session was set to start on August 30 (Monday), but due to circumstances, the start date has been changed to August 31 (Tuesday).
---
---
ONE DAY, 2050 / Sci-Fi Prototyping Web
Sun https://www.sony.com/en/SonyInfo/design/oneday2050/
English https://www.sony.com/en/SonyInfo/design/oneday2050/
* Advance reservations are required for other events held at the same time. Please check the special website of the Sony Park exhibition.
https://www.ginzasonypark.jp/sonyparkten/
* The contents of the exhibition and the date and time of the exhibition may be changed due to the issuance of the state of emergency. Please note.
■ Exhibition contents
Theme 1 "WELL-BEING, 2050"
No matter how much technology evolves in 2050, it will be difficult to eliminate stress and setbacks in life. That is why the resilience to recover from it-supporting the acquisition of resilience may enhance people's well-being. Sudden broken hearts, job failures, family deaths … When you're about to get discouraged, an AI counselor will customize the best counseling method from data such as your emotional changes and stress levels to suit you. Supports resilience acquisition by changing to a figure.
Design prototyping: "Resilience Program"
An AI counselor in 2050 who will help people develop resilience. It expresses how to perceive your stress and emotional changes and how to relieve stress.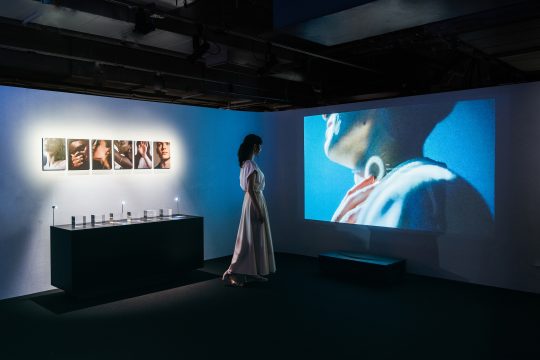 Theme 2 "HABITAT, 2050"
It is said that by 2050, more and more "climate refugees" will have lost their place of residence due to the effects of climate change, and more migrants will have to leave their country of residence due to political problems. It is possible that mobile dwellings on the water will bring about a future in which people will move and live on the seas around the world. And such groups may have their own ecosystem that coexists with the natural environment, like sea nomads.
Design prototyping: "Floating Habitat"
How is it possible for people from a wide variety of cultures to live together on the sea, or to coexist with the natural environment? It expresses people's lives and ecosystem at sea in 2050 from the viewpoint of "dwelling".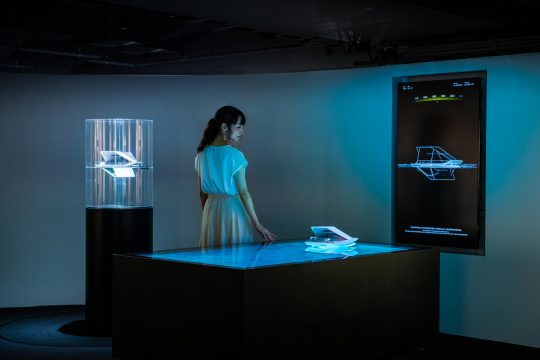 Theme 3 "SENSE, 2050"
The pandemic created a culture of wearing masks, which may not change in 2050. We envisioned a new mask as an important item for experiencing entertainment using the sense of smell following sight and hearing. In 2050, when research on the sense of smell, which is said to directly affect emotions and memory among the five senses, has progressed and it has become possible to digitize scents, people may share their favorite scents and experience new entertainment. Maybe.
Design prototyping: "Sensorial Entertainment"
What kind of entertainment will you enjoy in 2050? Based on the vast amount of emotional data accumulated, we envisioned services and tools that enable the reproduction of scents that were smelled in the past.
Theme 4 "LIFE, 2050"
In 2050, a new social security system may be implemented in society, starting with basic income. In such an era, the "job" necessary to live and the "work" to enjoy life may be separated, and people's lifestyles and life plans may change. With the development of complex sensing technology and advanced simulation of own assets beyond financial assets, services that support challenges in life and help design life on your own may be realized. not.
Design prototyping: "Life Simulator"
As lifestyles and values diversify, individualized life planning will be required. We envisioned a service that can simulate the possibilities of life with high accuracy.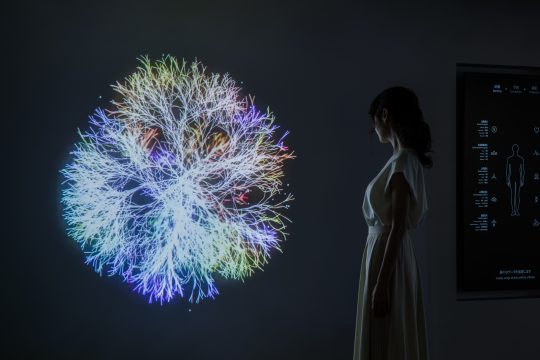 Sci-fi short story trailer movie
Based on the "sci-fi short story", a trailer movie depicting the future of people, produced by Sony PCL Inc., is produced by videographers Yoriko Mizushiri, Fumi Ohashi, Kohei Kadowaki, and que. Was produced by.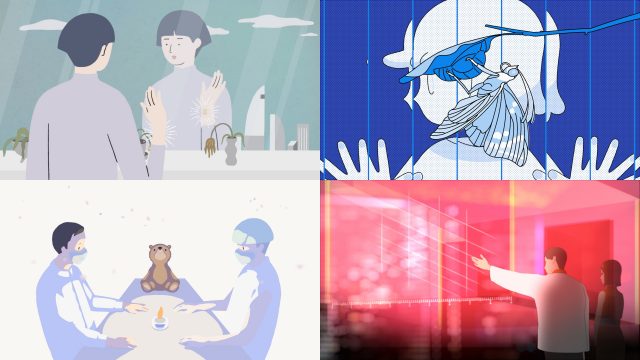 [What is Sci-Fi prototyping]
"Sci-Fi prototyping" is a technique that uses science fiction (SF) to envision the future, backcast from that point, and consider "what to do now".
The global pandemic has made it even more difficult to draw the "future" as an extension of the present. Meanwhile, this technique of prototyping the future by connecting the bold and elaborate imagination of science fiction writers with the issues inherent in society is suddenly attracting worldwide attention.
This time, Sony Creative Center will continue to think with a bold and detailed perspective unique to designers in a more uncertain and complicated future society, with the cooperation of "WIRED Sci-Fi Prototyping Institute", SF. We practiced Sci-Fi prototyping in collaboration with writers Taiyo Fujii, Miyuki Ono, Haruka Mugihara, and Itsuki Tsukui.
Under the three keywords of "2050," "Tokyo," and "love," Sony's young designers and science fiction writers intermittently work on the themes of "WELL-BEING," "HABITAT," "SENSE," and "LIFE" for about half a year. We repeated workshops in Tokyo and created four "design prototyping" and four "sci-fi short stories". It is one result of exploring the possibilities of a better future and Sony's role in that society.
[About WIRED Sci-Fi Prototyping Institute]
"WIRED Sci-Fi Prototyping Institute" is a research institute that provides consulting services for science fiction writers and envisioning the future. It was established in June 2020 in collaboration with the Japanese version of the world's most influential technology media "WIRED" and the creative group PARTY. In addition to providing consulting services to companies, we also develop workshops and methods that form the basis of programs, and disseminate information on "SF prototyping" through media such as "WIRED.jp".
https://wired.jp/sci-fi-prototyping-lab/
[About science fiction writers]
Taiyo Fujii | TAIYO FUJII
Born in Amami Oshima in 1971. In 2012, he personally published the feature-length "Gene Mapper", which he wrote while working at a software company, as an e-book, and gained the highest sales in the Kindle book "Novel / Literature Division" of the same year and became a hot topic. Major works include "Orbital Cloud" (winning the Japan Science Fiction Award and Seiun Award in the Japanese feature film category), "Hello World" (winning the Eiji Yoshikawa Literature Newcomer Award), etc.
Miyuki Ono | MIYUKI ONO
Born in Tokyo in 1985. As soon as the full text of the romance science fiction novel "Pure", which depicts "What if a woman cannot get pregnant without eating a man after sexual intercourse?" Obtained. The latest work is "Wonbin in the back alley" <U-NEXT> set in a fictitious Asian city in the 1980s. His books include the youth novel "Maison Kokunoyu" <Poplar Publishing>, which is set in a public bath, and the essay "If you get tired of life, a Spanish pilgrimage" <Kobunsha Publishing>.
Haruka Mugihara | HARUKA MUGIHARA
Completed the master's course at the University of Tokyo Graduate School of Mathematical Sciences. Genron Nozomi Omori SF creative course second grader. Debuted in 2018 with the 2nd Genron SF Rookie of the Year Award for Excellence in "Reverse Universe". In 2008, he published "I still want to work forever" in the August 20 issue of "SF Magazine" and "2259" in the January 2009 issue of "Novel Subaru", expanding his field of activity.
Itsuki Tsukui | ITSUKI TSUKUI
Born in Tochigi prefecture in 1992. Studied architecture at the University of Tokyo and the same graduate school. In 2017, he made his debut by winning the 5th Hayakawa SF Contest Grand Prize at "Cornutopia". He writes novels on the themes of design, creatures, and landscapes. The book is "Cornutopia" <Hayakawa Bunko JA>.
[About Sony PCL Inc.]
A creative company that continues to realize many ideas by making full use of various advanced video technologies, from prototypes to practical technologies.
We continue to create diverse user experiences such as high-quality video content such as 8K / 16K, interactive content, visualization, space design, and robotics.
As a member of the project, Ginza Sony Park has been in charge of planning, production and operation of activity programs including this Sony Park exhibition since 2018.
https://www.sonypcl.jp/
[About Sony Park Exhibition]
Ginza Sony Park (Ginza Sony Park) will start construction work for the "new Ginza Sony Park" scheduled to be completed in 2024, before October 2021, Sony will work on six diverse fields "game, music, The final program "Sony Park Exhibition" is being held until September 30, 2021 (Thursday) with the theme of "finance, movies, semiconductors, electronics" with the participation of six groups of artists belonging to the Sony Music Group. is. In addition, we are also holding events on the theme of "technology and design" that support Sony, which continues to change in a variety of ways.
https://www.ginzasonypark.jp/sonyparkten/
[About Sony Design]
Shortly after its founding, Sony quickly recognized the importance of design and established the Design Office (currently the Creative Center) in 1961. Based on Sony's DNA of "doing what people do not do," the Creative Center has expanded its activities from electronics to entertainment, finance, mobility, and other business areas, and has designed a wide range of products, including brands and interfaces. I am. We will continue to open up all the possibilities of design, and together with people all over the world, we aim to realize a richer and more comfortable lifestyle and to create a "prototype" of new value brought about by the fusion of design and technology. increase.
https://www.sony.com/ja/design/
<Related article>
Sony Park exhibition "⑤ Semiconductor is science fiction" that enters the "world of correspondence that transcends time and space" of YOASOBI's new song "Taisho Roman". 9/2 (Thursday) start | "ONE DAY, 2050" will be held at the same time
Sony Park Exhibition "③ Finance is poetry. Starts on July 30th (Friday) | A new planetarium experience "Planet Poem" has appeared in the basement of Ginza! A fusion of Skapara's music, Atsushi Yanaka's newly written poem, and the starry sky
Sony Park Exhibition "② Music is a journey. 7/13 (Tuesday) Start | Tamio Okuda "Cantabile IN THE PARK" to release new songs / Music experience to listen to songs that feel like a "journey" selected by more than 130 groups of artists