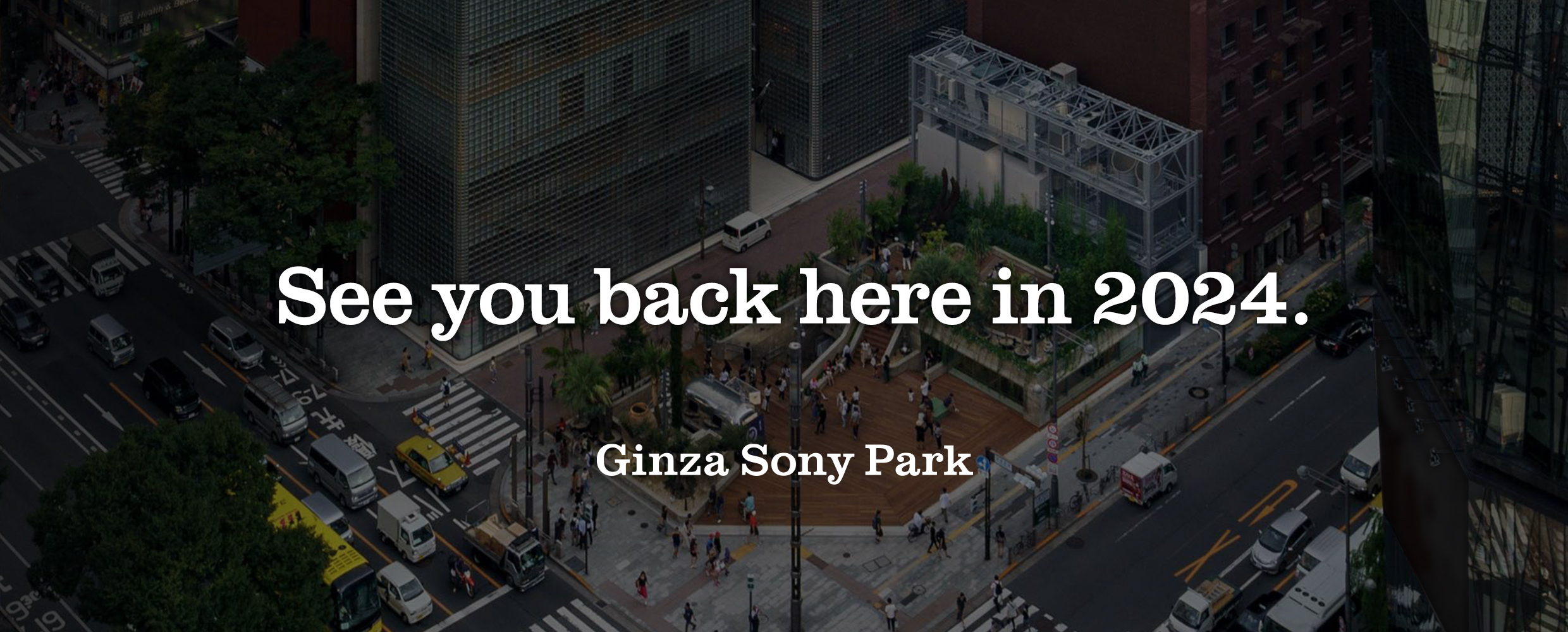 [Sony Corporation]
Ginza Sony Park has been temporarily closed for the new Ginza Sony Park, which is expected to be completed in 2024.
Ginza Sony Park continues from the Sony Building, which was born in Ginza in 1966.
It is an "experimental park" that only Sony can create to impress people.
We have been with many of you for the three years from August 2018 to September 2021.
I had an irreplaceable time.
I'm really thankful to you.
---
---
50 years spent as Sony Building
Three years spent as Ginza Sony Park
Carefully nurture many thoughts received from everyone,
We would like to create a new "experimental park" Ginza Sony Park in 2024.
See you again in Ginza in 2024.
New Ginza Sony Park,
Please be patient and wait.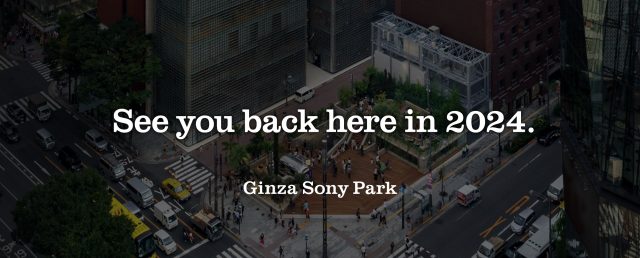 "See you back here in 2024" ~ LAST DAY IN THE PARK 2021 / Park Live Special Session ~
On September 30th, the period of Phase 1 of Ginza Sony Park, the artists who have colored this space with their performances have reunited and held a special session with memories from Sony Building to Ginza Sony Park. A special movie that records the time you can only meet at this place on this day.
https://youtu.be/1RqQuuxDR1E
Special Thanks
Shuta Hasunuma / U-zhaan / Yumiko Ohno / Zo Zhit it / SASUKE / Seiko Ito / Lee Lang / MIHO HATORI / & You
・ LAST DAY IN THE PARK 2021
The online event "LAST DAY IN THE PARK 2021" will be held on September 30th, which is the period of Phase 1 of the "Ginza Sony Park Project" ahead of the construction of the new "Ginza Sony Park". A special live performance of "Talk Session", which welcomes experts and looks back on the three years of "Experimental Park in the City", and "Park Live", which has provided accidental encounters with music as a "live session". Delivered online. You can see the archive here.
https://www.ginzasonypark.jp/lastday
・ Ginza Sony Park project
The Ginza Sony Park project aims to create a place for Sony's new brand communication, give people a realistic experience, and make Ginza a more comfortable city. The Sony Building aims to realize these three things. It is a project to renew.
The Sony Building, which has been in operation since 1966, was reborn as "Ginza Sony Park (Phase 1)" in August 2018. Inheriting and evolving the concept of "a facility open to the city" from the beginning of Sony Building, we have created an "experimental park in the city" with unique artists, creators and partners, and over the past three years, 850 We had more than 10,000 (*) visitors come to the park. Ginza Sony Park closed temporarily yesterday on September 30, 2021 as planned, and started construction of the new "Ginza Sony Park" scheduled to be completed in 2024. Then, in 2024, we plan to complete the new "Ginza Sony Park," which is a vertical extension of the concept of "park." (*: As of the end of September 2021)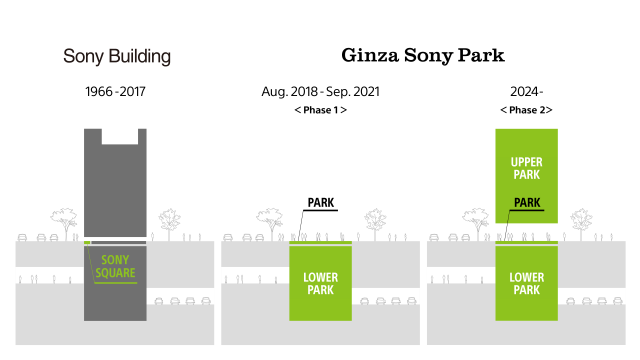 Ginza Sony Park Official Website / SNS Account
Web: https://www.ginzasonypark.jp/
Instagram: https://www.instagram.com/ginzasonypark/
Twitter: https://twitter.com/ginzasonypark/
Facebook: https://facebook.com/ginzasonypark/
YouTube: https://youtube.com/ginzasonypark/
<Related article>
Ginza Sony Park Phase 1 Special Program on the Last Day / LAST DAY IN THE PARK 2021 / Live event to follow the "experimental park in the city" visited by 8.3 million people
I tried to experience the world of YOASOBI's new song "Taisho Roman" in Ginza as soon as possible! "⑤ Semiconductor is science fiction. with YOASOBI "Venue Report
Sony Park exhibition "⑤ Semiconductor is science fiction" that enters the "world of correspondence that transcends time and space" of YOASOBI's new song "Taisho Roman". 9/2 (Thursday) start | "ONE DAY, 2050" will be held at the same time
Sony Park Exhibition "③ Finance is poetry. Starts on July 30th (Friday) | A new planetarium experience "Planet Poem" has appeared in the basement of Ginza! A fusion of Skapara's music, Atsushi Yanaka's newly written poem, and the starry sky