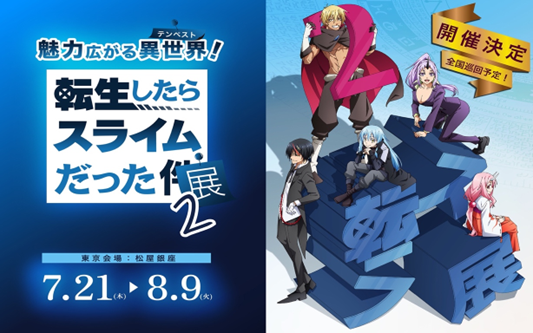 [ORIGRESS PARKS Co., Ltd.] Press release
The exhibition "That Time I Got Reincarnated as a Slime", which has attracted a lot of attention on the WEB and has exceeded 30 million copies in the series including novels and comics, and will not be released in the movie version in November this year. We are pleased to inform you that we have decided to hold an audio guide for "Exhibition 2" and a collaboration cafe. In commemoration of that, we will also carry out a Twitter campaign to present three people with autographed colored paper by Miho Okasaki, who plays the role of Limuru.
"That Time I Got Sla Exhibition 2" will be held in Matsuya Ginza for 20 days from July 21st (Thursday) to August 9th (Tuesday), 2022, and then touring the region.
● [Voice guide] The exhibition guide by the 6 popular characters is attractive because of the exquisite interaction that can only be heard here.
A full-length audio guide by gorgeous voice actors is completed. In addition to the fascinating exhibits, the audio guide offers original guidance from unique characters. You can enjoy the feeling of being reincarnated in the world of "Turn Sla" because your favorite characters talk happily with your ears and sometimes talk to you.
Voice guide characters: Limuru Tempest (CV: Miho Okasaki), Shuna (CV: Sayaka Senbongi), Zion (CV: MAO), Diablo (CV: Takahiro Sakurai), Verdola (CV: Tomoaki Maeno) , Mirim (CV: Rina Hidaka)

---
---
● [Collaboration Cafe] A cute and delicious summer menu will be available only during the event at the Tokyo venue!
At the restaurant city special cafe adjacent to the exhibition, we will offer a collaboration menu of drinks, foods, and desserts in collaboration with "That Time I Got Reincarnated as a Slime". Perfect for the summer season! In addition to the parfait and drink menu where you can feel the coolness of the food, there is also a full menu of meals such as black curry and sandwiches. The menu is based on character prints and stories, centered on Limuru, so it is "cute to look at and delicious to eat." When you come to the venue, please drop in at the collaboration cafe and enter the world of slurping. In addition, customers who order the collaboration menu will receive an original coaster (9 types in total) at random. * It will end as soon as the limited number is reached.

[Unique skill latte]
★ Take-out possible Latte with randomly printed unique skills.
<Price> 990 yen
[Black curry of Limuru and Diablo]
Curry with red and yellow paprika in the image of Diablo mesh.
With monaka.
<Price> 1,485 yen
[Sweets Alliance Parfait]
★ Take-out possible Parfait with strawberries, blueberries and custard cake. Please enjoy with honey syrup. With flag.
<Price> 1,375 yen

[Hakuro and his disciple's dessert plate]
Panna cotta, raspberry and tea mousse, blue Hawaii jelly, matcha roll cake, mizu manju plate. With flag.
<Price> 1,430 yen
[Rimuru and Langa cream soda]
★ Take-out is possible Coke and ramune ice cream soda with the image of Limuru on Langa. With monaka.
<Price> 1,100 yen
[Octagram sandwich]
A basket of sandwiches, soups, and tortilla chips sandwiched between eight ingredients. With flag.
<Price> 1,540 yen
* All listed prices include tax.
● Miho Okasaki, who plays the role of Limuru, will be presented with autographed colored paper for 3 people.
To commemorate the implementation of the audio guide and collaboration cafe, we will present a colored paper signed by Miho Okasaki, who plays the role of Limuru. By retweet on Twitter, you have a chance to get the autograph of Miho Okasaki! This is a limited edition autographed paper, so please apply!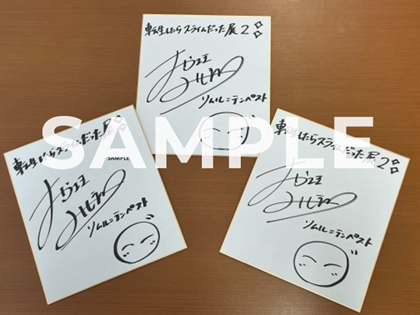 <How to apply>
① Follow the official Twitter account (@tenseislimeten) of "That Time I Got Reincarnated as a Slime Exhibition 2" ② Retweet the [Present Campaign] Tweet posted at 8 o'clock on June 30 ③ Application completed!
<Notes on applying for a gift campaign>
・ Prizes can only be shipped within Japan. ・ We will send a direct message to the winners with an input form for personal information required for shipping.
・ The right to win cannot be transferred or resold to a third party.
・ In the following cases, the right to win the lottery will be invalidated.
1. If you apply from a keyed account 2. If you do not reply to the required information by the deadline 3. If you publish a direct message on SNS, transfer it to a third party or resell it 4. Incomplete delivery address information or long term If you are absent 5. If you do not receive a direct message
[Tokyo venue]
Session: July 21st (Thursday) -August 9th (Tuesday), 2022
Venue: Matsuya Ginza 8th Floor Event Square Opening Hours: 10 am-8pm (Sunday, July 24th, Sunday, August 31st, 7:30 pm on Sunday, August 7th, afternoon on the last day Closed at 5 o'clock)
* Admission is 30 minutes before closing
[Ticket information]
Admission = General 1,500 yen (1,300 yen), High school students 1,000 yen (800 yen), Junior high school students 800 yen (600 yen), Elementary school students 500 yen (400 yen)
Admission ticket with goods = 2,700 yen (2,500 yen) * Goods are a mini colored paper set.
Audio guide = 800 yen * () is the advance price.
* All listed prices include tax.
・ Admission tickets can only be sold in advance at Lawson Tickets (L code: 31100), and will be sold at the venue window and Lawson Tickets on the day of the event.
・ Sales will end as soon as the admission ticket with goods is sold out.
・ We do not accept shipment of goods under any circumstances.
・ From 10:00 to 12:00 on the 21st (Thursday), 22nd (Friday), and Saturday and Sunday, there will be a "date and time designation system" with an upper limit on the number of units sold.
・ Sales will end as soon as the planned number is reached. Sales may end without notice.
[Ticket sales schedule]
General sale ◆ Reception target = 7/21 (Thursday) 22 (Friday) and each Saturday and Sunday from 10 to 12 o'clock designated date and left date
After 12:00 and from 10:00 on weekdays-Admission ticket ◆ Sales start = June 25 (Sun) 10:00-
["Tsuru Sura Exhibition 2" Official Website]
https://sp.ten-sura.com/tensuraten2/
["Matter that was slime when reincarnated" portal site]
https://www.ten-sura.com/news/anime/event/post/7297
【Overview】
Exhibition name: It was slime when reincarnated Exhibition 2
Organizer: "That Time I Got Reincarnated as a Slime Exhibition 2" Executive Committee Cooperation: Kodansha, Trans-Sla Production Committee Planning and Producing: ORIGRESS PARKS Co., Ltd.
<Past related articles>
TV anime SPY x FAMILY POP UP SHOP will be held at Matsuya Ginza for a limited time from June 29th (Wednesday)!
"That Time I Got Reincarnated as a Slime Exhibition 2" July 21st-August 9th in Matsuya Ginza will be held!
[Interview report] Special exhibition "Delicious time in Sylvania village" I faint in agony with the loveliness of a baby dressed as a bakery …! Held in Matsuya Ginza (until March 21st)