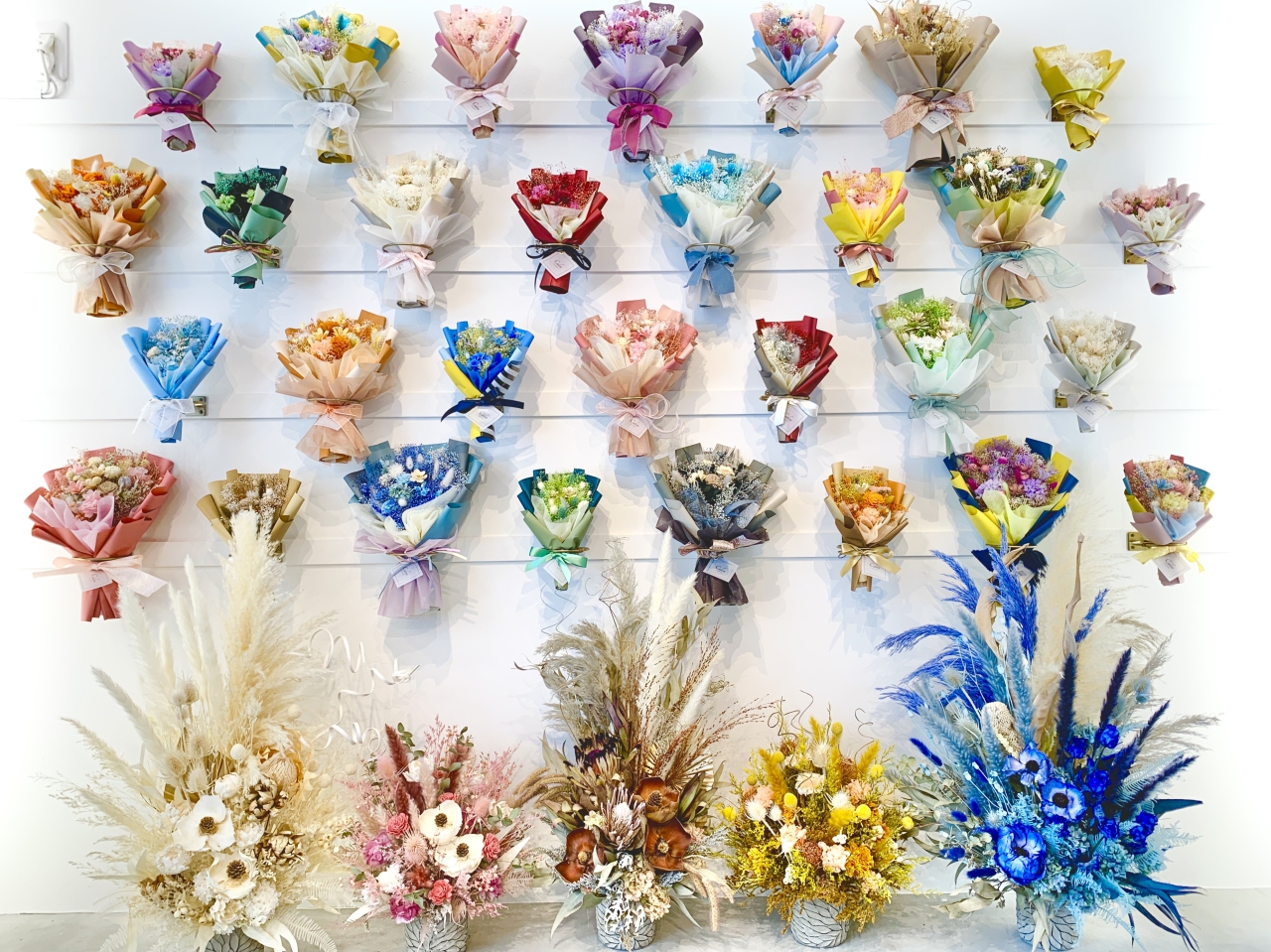 On July 23, 2022, "Calon DRY FLOWER Hanare Ginza Yurakucho" , a store specializing in dried flowers and preserved flowers that supports "pushing activities", opened in Ginza, Tokyo!
Since I participated in the pre-opening that was held in advance, I would like to introduce the inside of the store, the products that are being sold, and the prices.
* The images shown are as of the time of pre-opening. Please note that it may differ from the official opening.
A variety of color variations are popular! The second store of "Calon DRY FLOWER" opens
"Calon DRY FLOWER" is a specialized brand that offers dried flowers and preserved flowers in various colors that cannot be expressed with fresh flowers, based on the concept of "a new form of flower gift".
We have been rolling out products on the EC site since 2020, and in 2021 we will open our first real store in Ginza 1-chome.
The wide range of color variations has attracted attention from people who are doing so-called "pushing activities" who are looking for items with the image color of "pushing" that they support, such as idols and anime characters, and have been featured in many media. Was done.
" Hanare ", the second store of "Calon DRY FLOWER", has just opened in Ginza 1-chome, the same as the first store. It is easily accessible, about a 3-minute walk from JR Yurakucho Station. Along Sotobori-dori, next to Ginza Inns 3.
When I entered the store, the world was so vivid that I was surprised to see "Really dried flowers !?" The image of dried flowers that are "generally sober and dull" is overturned in one second after entering the store.
The flower materials arranged in a gradation and the walls decorated with colorful bouquets create a romantic atmosphere.
The dried flowers and preserved flowers we handle are made from fresh fresh flowers sent directly from farmers and are of good shape and high quality. There are flowers that make use of natural colors and dyed flowers, and we can handle all recommended colors.
---
---
Using such flower materials, the bouquet arranged by a skilled designer who has passed the brand's unique breeding program has a gorgeousness that is different from the fresh flower bouquet and is very eye-catching. The paper that beautifully wraps the flowers gives an even more impression of the color.
I visited a store of the same brand for the first time this time, and if I can emphasize the color with dried flowers, I am convinced that it will be loved by people who enjoy pushing activities!
"Hanare" is attractive in color development specializing in pushing activities!
In fact, the appeal of being "perfect for pushing" is not something that the outfield says on its own, but a feature that the brand is actively pushing out.
Mr. Teramachi, the representative of the brand, says that the launch of the brand "Calon DRY FLOWER" itself was triggered by the recent trend of the promotion culture and thinking "Is it possible to propose the promotion with dried flowers?" .. The reason why "Hanare" was opened this time is to make people who enjoy pushing activities even more happy.
The first store also sells dried flowers in various colors, but the point is that "Hanare" is even more specialized in color.
Mr. Teramachi "We received many requests from customers using the first store," I want a darker dried flower. "In the past, it was said that dried flowers were unlucky, especially black. Although it was not popular, black is also quite popular in our shop as a recommended color. Therefore, in "Hanare", deep black and blue and orange with strong coloring were considered to be difficult to accept as dried flowers. We have more colors than the first store. "
Unfortunately, you cannot order "Please make this a bouquet" by choosing your favorite flower material because the flower material is basically sold as a flower material and the bouquet is sold as a bouquet at the shop.
Therefore, for example, it seems that the first store could only make custom-made designs for bouquets such as "only blue flowers on the left and only red flowers on the right".
At "Hanare", such unique bouquets that promote such activities are also displayed in stores as standard items, so those who are active should feel free to take a look at the stores.
Flower materials start at 500 yen, and bouquets start at 5,980 yen. Interior miscellaneous goods and store-limited hair ornaments are also on sale
Here are some of the products you can buy at "Hanare". (* All prices include tax)
■ "Dry bouquet"
S size ¥ 5,980
M size ¥ 11,000
L size ¥ 27,500
LL size ¥ 49,500
First, the bouquet whose lineup changes every day. Every time I visit the store, I meet new people.
You can't change the paper, but it's nice to be able to change only the ribbon.
■ "Dry bouquet" (made to order)
S size [semi-custom made] ¥ 8,980
M size [Fully made to order] ¥ 16,500
L size [Fully made to order] ¥ 33,000
LL size [Fully made to order] ¥ 55,000
The bouquet can be made to order, and the S size semi-custom made and the M size bouquet can be made to full order.
At the time of pre-opening, there were no L size and LL size in the store, so it is an image, but please refer to this image for a feeling of size.
From the left, LL size, L size, and M size.
■ "Celebration flower" Standard type / Round type ¥ 11,000 ~ According to your budget
Custom-made products are also available for "celebration flowers" such as opening celebrations. You can consult with us according to the scene. You can also put in a large native flower, which is rare for dried flowers!
■ "Calon original one coin flower material" ¥ 500
Regardless of the type of flower material, one bundle is 500 yen per coin. You can choose your favorite from more than 100 kinds of flower materials displayed on the wall.
Vinyl cannot be removed due to hygiene issues, but it is possible to reassemble multiple flower materials into one vinyl. If you prepare your own ribbon, you can give it as a gift as a bouquet.
■ "Dried flower set" ¥ 3,300
For a while after opening, such a petite bouquet is also on sale as a memorial. It's a combination that shines with the designer's sense, so if you are new to dried flowers, we recommend that you try this first. (It is under consideration whether to continue selling)
■ "Mini Bouquet Bag" ¥ 3,970
"Bouquet bag" is a popular product that can be hung on a doorknob or hung on a wall. Many people put an acrylic stand of an anime character inside to decorate it.
Items using various dried flowers are also on sale.
<Item example>
■ "Flower candle" ¥ 2,970
■ "Photo frame" ¥ 11,000
■ "LED bottle flower M size" ¥ 7,150
■ "Bottle Flower" ¥ 2,970
■ "Flower Box" ¥ 5,500
■ "Ribbon accessories" ¥ 1,980 (store limited)
Such
As for the colorful "Flower Candle", the first store is developing with calm coloring, and "Hanare" is developing with pop coloring.
"Ribbon accessories", which are sold exclusively at "Hanare", are clips that you can attach to your hair. It is cute that the ribbon hangs down for a long time.
---
The brand continues to take on the challenge of overturning the trend of "I don't choose flowers that have withered for celebration", but if you receive such a wonderful bouquet, you will be happiest.
Dried flowers are more expensive than fresh flowers, but they have the advantage of being enjoyable for many years if stored in a dry, sunny place.
"Calon DRY FLOWER Hanare Ginza Yurakucho Store" It was a store that was sure to be a big success not only for yourself but also for choosing gifts for friends who have a recommendation.
By the way, the first store (address: 1-21-9 Ginza, Chuo-ku, Tokyo) has this kind of atmosphere.
Is it the first store for those who want to casually push and live, and "Hanare" for those who want to push hard? Please come and visit us.
Overview of "Calon DRY FLOWER Hanare Ginza Yurakucho"
Opening date: Saturday, July 23, 2022
Business hours: 10: 00 ~ 20: 00 * Business hours are subject to change at the request of the government and local governments.
Address: 1-3, Ginza, Chuo-ku, Tokyo Kita Yuraku Building 1F
TEL: 03-6673-2816
Regular holiday: Open all year round Official Instagram: https://www.instagram.com/calon.hanare/
Official Twitter: https://twitter.com/calon_hanare
Online shop: https://calon-flower.com/
<Past coverage articles>
[Interview Report] Five new works have appeared in Marunouchi's public art! "43rd Marunouchi Street Gallery" opens
[Artizon Museum] Three special exhibitions will be held at the same time! Press preview report
[Venue Report] "Art AQUARIUM Museum GINZA" opens in Ginza Mitsukoshi! A fantastic art space where goldfish dance
[There is a real food report] A new sweets spot is born in Ginza! Japan's first and Tokyo's first hot stores gather at "GINZA SWEETS MARCH"