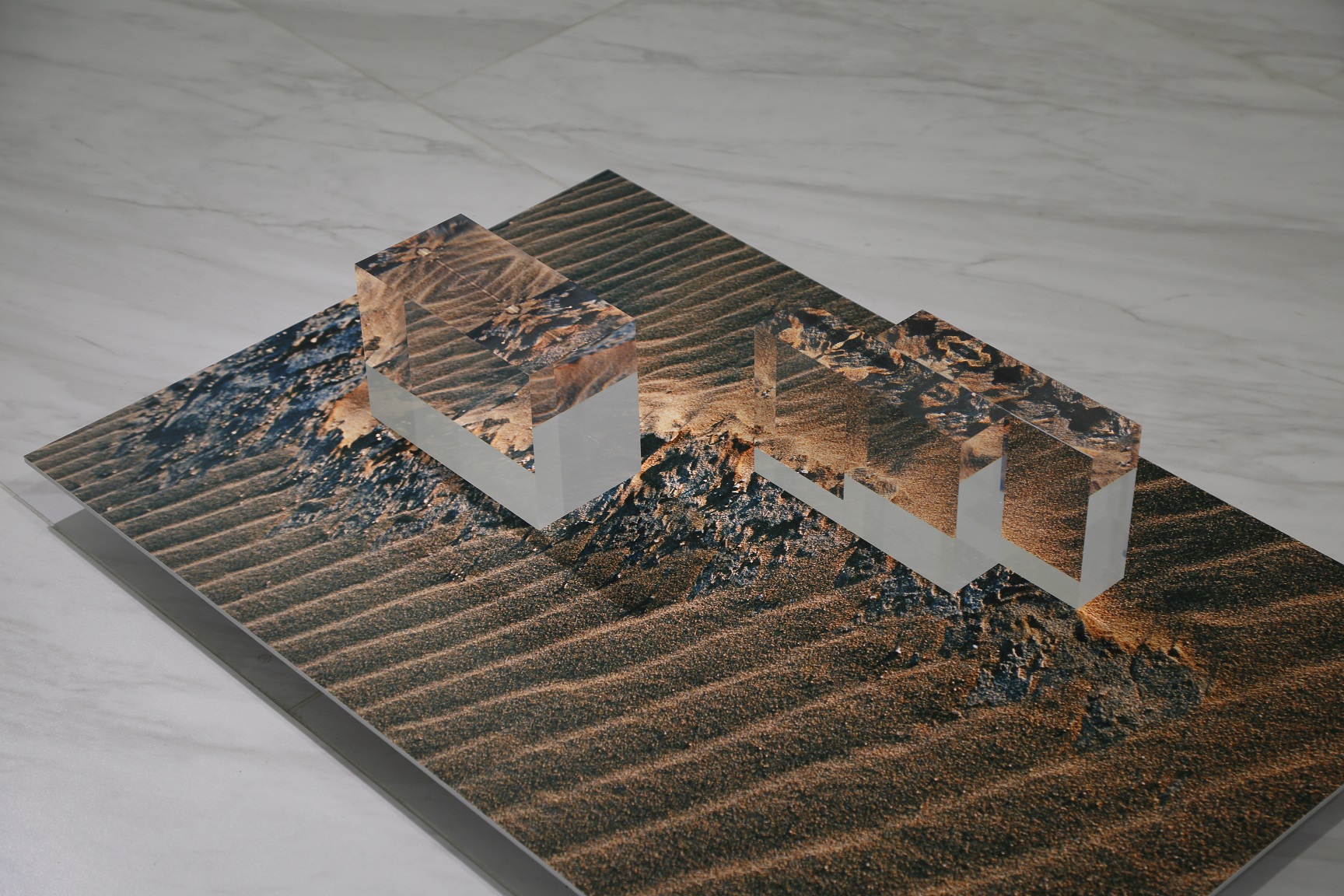 Yuna Yagi "patterns" 2020-22 C-print photographic paper Gatorboard Acrylic H180 x W600 x D900mm
Curated by Hiromi Kurosawa, Chief Curator of 21st Century Museum of Contemporary Art, Kanazawa
At the Pola Museum Annex (Ginza, Chuo-ku, Tokyo), the guest curator is Hiromi Kurosawa, the chief curator of the 21st Century Museum of Contemporary Art, Kanazawa. Will be held from September 16th (Friday) to October 23rd (Sunday), 2022.
Mariyo Yagi is an environmental artist who has grasped the enormous flow of energy generated from the crust and has sought to create a model in which human existence becomes one with the environment. The "Rope Logii" series is known as her masterpiece, as the twisting of the rope suggests a variety of life balances. This time, we will select iron, which is related to the creation of the earth, as a material, and announce a new work that explores the unprecedented path of life and human beings. Yuna Yagi is working on expressions that confront nature from an excellent perspective, such as the series of "Tanekaku Yu" that spins the fragility and richness of life, and photographic works that visualize the passage of time and the trajectory of light. There is. The latest work is a series of laying down the ground, which is like the present tense of the expression of the earth after a long time.
"Following the Crust" is an exhibition that creates a cosmological space in the city where great energy is born by the synergy of the works of the two people.
Hiromi Kurosawa (Chief Curator, 21st Century Museum of Contemporary Art, Kanazawa)
Exhibition overview
Exhibition name: Mariyo Yagi, Yuna Yagi "Following the Crust"
Date: September 16th, 2022 (Friday) -October 23rd, 2022 (Sunday) * Open all year round: 11: 00-19: 00 (Admission is until 18:30)
Admission: Free Meeting place: Pola Museum Annex (3rd floor, POLA Ginza Building, 1-7-7 Ginza, Chuo-ku, 104-0061)
Access: Immediately from Exit 7 of Tokyo Metro Ginza 1-chome Station / 6 minutes walk from Exit A9 of Tokyo Metro Ginza Station Organizer: Paula Orbis Holdings Co., Ltd. Cooperation: Japan Parkering Co., Ltd., Million Chemical Co., Ltd. TS Kogyo Co., Ltd. Yamada Photo Plate Making Co., Ltd.
URL: http://www.po-holdings.co.jp/m-annex/
* Contents are subject to change due to various circumstances. Please check the latest information on the gallery website before visiting.
Profile
Studied under Isamu Noguchi, an environmental artist, Mariyo Yagi. Founded a unique NAWALOGY philosophy. In recent years, it has been introduced to the EURIADE Human Rights Foundation "OUR EARTH" and is drawing attention around the world. Received an honorary doctorate in humanities from Anaheim University with the pioneering social aid art NAWALOGY. We develop earth work and public art that question the origin of life and the earth all over the world. Lausanne Biennale, Parallel Documenta Cassel, Irish Sculpture Symposium, Venice Biennale (GOTIKA Hermitage & Berengo) Milan Fluxus, etc. Exhibited and won many awards.
Yuna Yagi Contemporary Artist
Graduated from Parsons School of Design, New York in 2004, Faculty of Architecture. Currently based in Kyoto. Pursuing the truth of things through the experience of the act of "seeing" using planes, three-dimensional works, and installations that shake the eyesight.
Major exhibitions include Pola Museum Annex Ginza "NOWHERE" (2018), "BLANC / BLACK" (2019), KYOTOGRAPHIE Kyoto International Photo Festival "The Records of Seeds" (2021), √K Contemporary "View" / Biased / omnipresent "(2022), etc. Major awards include "KYOTOGRAPHIE Kyoto International Photo Festival" Portfolio Review Best Hasselblad Award (2016), Paris International Contemporary Photo Art Fair, FOTOFEVER (2017) Invited artist. Collection of works at 21st Century Museum of Contemporary Art, Kanazawa (2022)
Hiromi Kurosawa Chief Curator, 21st Century Museum of Contemporary Art, Kanazawa After working at Art Tower Mito and the Sogetsu Museum of Art, he participated in the establishment of the 21st Century Museum of Contemporary Art, Kanazawa, and was involved in architecture, commission work, and collection construction. Since its opening in 2004, it has exhibited exhibitions of contemporary artists such as Olafur Eliasson, Fiona Tan, Janet Cardiff, George Bures Miller, Mark Manders and Michael Bolemans.
<Past related articles>
Exhibition "this is not a samurai" by Tetsuya Noguchi, an artist who questions the innerness and diversity of human beings with the motif of armor helmets, will be held from July 29 (Friday) at the Ginza Pola Museum Annex.
Exhibition by two contemporary artists Kyo Takemura, Kengo Kito "Color and Emotion" Held at Ginza Pola Museum Annex from June 17th (Friday)
Former Prime Minister Morihiro Hosokawa's exhibition "Prayer for Tomorrow" will be held from Saturday, June 4th at the Ginza Pola Museum Annex