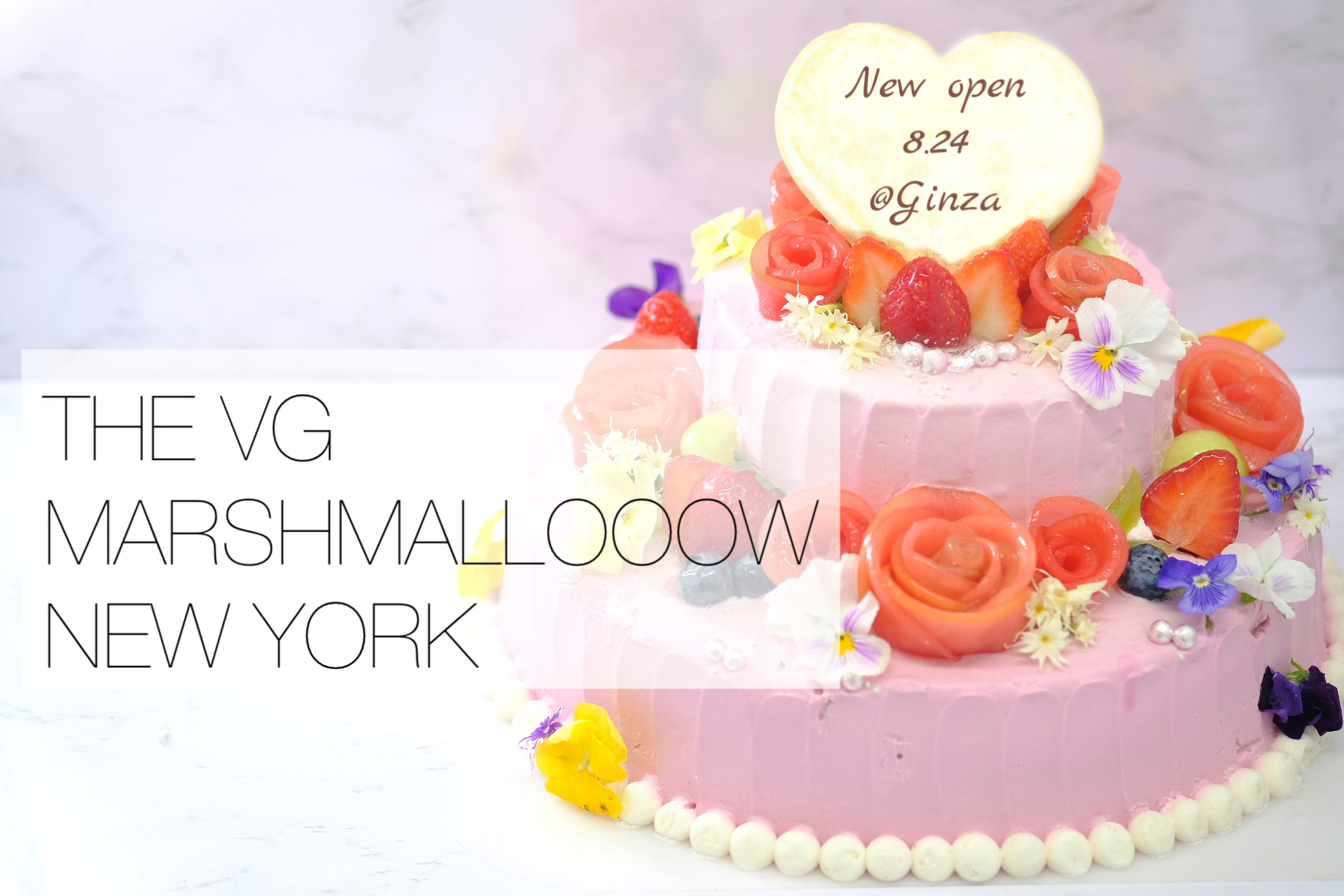 THE VG MARSHMALLOOOW NEW YORK Co., Ltd. will open the vegan marshmallooow on the 2nd basement floor of the Ginza Mitsukoshi Main Building on Wednesday, August 24, 2022.
The long-term promotion shop, which was launched last year, was very well received, and the long-awaited permanent store opening was an unprecedented long-term extension on the same floor.
As a vegan sweets specialty brand, we have the largest number of products in Japan, and we always have more than 30 types of vegan cakes and baked goods, such as gluten-free and low-sugar sponge shortcakes.
From New York! Enjoy the deliciousness of the sweets delivered by The Vegan Marshmallow that do not use animal ingredients such as eggs and dairy products, and the lightness of the aftertaste after eating.
・Instagram:
https://instagram.com/theveganmarshmallooow
---
---
[The Vegan Marshmallow Ginza Mitsukoshi]
・Ginza Mitsukoshi Main Building B2F ・Business hours: 10:00 a.m. to 8:00 p.m. *Business days and hours are subject to change due to various circumstances.
[Introducing part of the lineup]
■ "Oju Mont Blanc Purple Sweet Potato Gluten Free"
A high-quality heavy Mont Blanc seasonal item in a paulownia box, which is popular as a souvenir.
The vivid purple color is beautiful, and the purple sweet potato paste is layered over and over to bring out the original sweetness of the ingredients. Enjoy the harmony of sweetened chestnuts, mildly sweetened soy milk cream, and low-sugar, gluten-free sponge.
■ "Two kinds of grape cake gluten-free"
A cake made with Shine Muscat and domestic grapes.
A low-sugar sponge made mainly from soybean flour and a soy milk cream that matches the fruits bring out the deliciousness of the grapes.
■ "Chocolate cake"
Popular No. 1 cake that attracts beautiful vegan Miroir.
Soy milk chocolate cream and ganache are sandwiched between cocoa sponges, and the rich chocolate and fluffy texture that melts in your mouth is elegant, and it is a dish that will make you feel a moment of peace.
■ "Waguri no Mont Blanc Rice Flour Gluten Free"
You can enjoy domestically produced chestnuts in a variety of flavors, such as paste, diced sweet boiled chestnuts, and simmered astringent skin. The gentle taste of soymilk cream brings out the chestnuts.
Soy flour and rice flour are used for the crispy tart dough and moist sponge. We created different textures by using different powders.
■ "Premium's Cott Gluten Free" (advance reservation required)
A whole cake that harmonizes the juicy and fresh taste of fruit with gentle sweetness.
Inside is a soft low-sugar sponge, smooth soy milk cream, and strawberries, blueberries, and kiwi.
(Fruit types and designs may change depending on the availability of fruits and the season.)
■ "Coffee Chocolate Slim Pound Cake"
Chocolate chips are added to the coffee-flavored dough, and topped with pecan nuts, almonds, and cashew nuts. The flavor of coffee liqueur syrup creates a moderately bitter feeling.
■ "Seasonal Chocolate Orange Peel and Rum Raisin 8 Pieces"
It has been published in magazines and is a popular item that is constantly being ordered from all over the country.
The chocolate dough, which has a smooth and unraveling texture in the chocolate coating, is blended with an exquisite blend of chocolate mousse and ganache to create a delicate taste.
A vegan lamb ball with an elegant taste where you can enjoy the aromatic rum flavor.
*All products are produced in limited quantities, so there is a possibility that they may be out of stock. Please note.
[What is The Vegan Marshmallow]
From New York! "It's just delicious! Vegan sweets"
We have pursued the deliciousness of vegan sweets by using carefully selected plant-based ingredients and devising a manufacturing method.
Encounter unknown deliciousness to everyone in the world.
Instead of using animal ingredients, we use plant ingredients such as soy milk and beet sugar so that you can feel the light aftertaste after eating.
We propose "sometimes vegan" as a starting point for the global spread of "I want to incorporate vegan meals "as much as possible"".
<Related articles in the past>
Ginza Mitsukoshi food floor refreshed open on Wednesday, August 24! !
Contemporary art works by 57 noteworthy artists gathered at Ginza Mitsukoshi! "Art Fair GINZA tagboat × MITSUKOSHI" will be held from August 31 (Wednesday)
Enjoy the "season" at Ginza Mitsukoshi, start "summer vacation" at GINZA