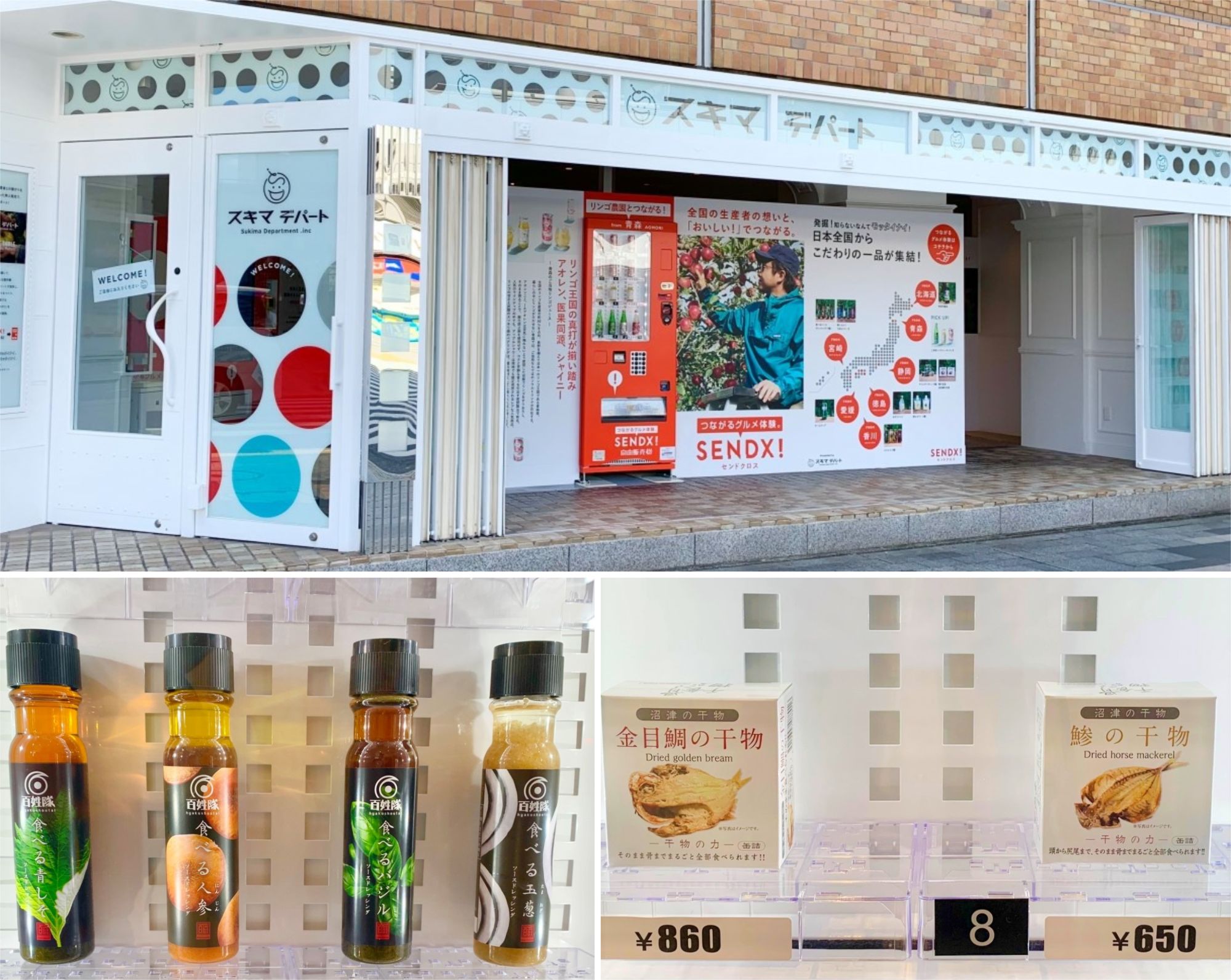 After leaving JR Yurakucho Station, go through the underpass where Ginza Inz 2 and 3 are located. Last year, a new shop (?) Opened in a place that had been vacant for a long time since the coffee shop "Ginza Miyukikan Ginza 2-chome" closed.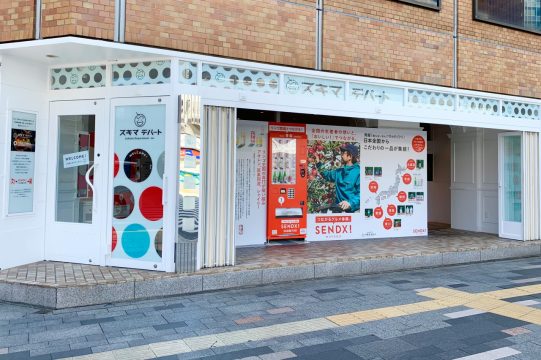 Although the table says "Skima department store" , there is no clerk inside the department store, and it is a mysterious space with only a few vending machines lined up.

Drinks, dressings, and bottled pickles are all food products sold at vending machines. Unmanned sales of food have increased due to the corona sickness, and we are now in an era where you can buy dumplings, fried oysters, and cakes from vending machines.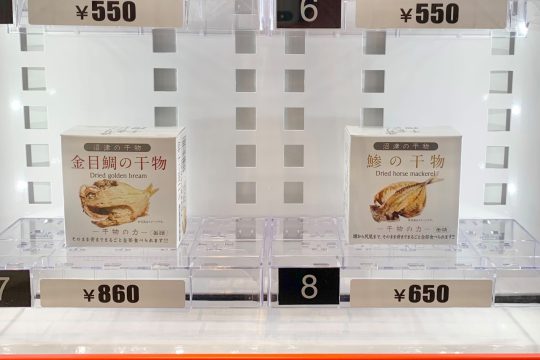 However, some rare items such as canned dried fish (!? ) Are also on sale, which seems to be interesting! So, I have been interviewing what kind of spot it is.
An unmanned pop-up shop where you can buy unknown gems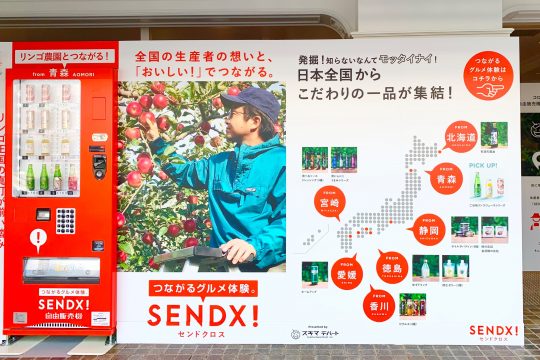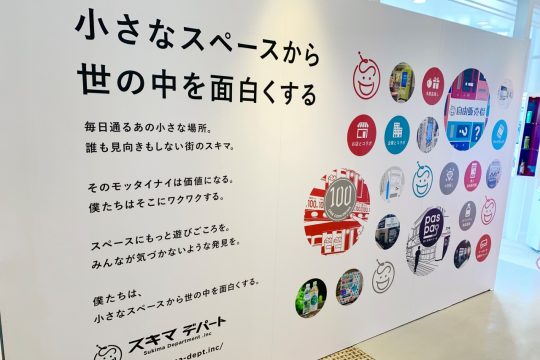 Mr. Kobayashi and Mr. Yokoyama, who are in charge of the operator , Skima Department Store Co., Ltd. (hereinafter referred to as Skima Department Store), told me about this space of concern.
---
---
Originally, let's make the world interesting by using free vending machines (vending machines that sell anything freely) and gaps (empty space)! It is said that it is a company that is making various efforts in various places under the theme of.
This time, Skima Department Store has teamed up to do "interesting things" in the idle land of Ginza , which connects more than 4,500 stores such as top restaurants in Tokyo and more than 6,000 producers nationwide, and distributes agricultural, livestock and fishery products. Planet Table Co., Ltd., which operates the support platform "SEND".
As a regional revitalization project that creates a new connection between producers and restaurants, which was lost due to the corona disaster, and by extension, a connection between producers and consumers, we are gathering special gems from all over Japan.
"It's a waste not to use such a good place!" And "It's a waste not to deliver such a good product!", It seems that it is a collaboration that realized the thoughts of both companies.
Next to the vending machine, a big story about the product is written.
According to Mr. Kobayashi, "Just arranging the products does not affect consumers. I wanted you to know the producers and the attractiveness of the products in the story before purchasing. It's difficult to read, so I devised a gallery-like space so that you can read it comfortably while giving a sense of sizzle in the photo . "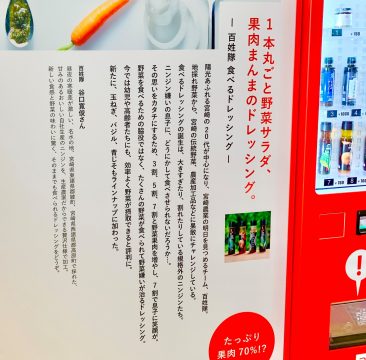 The story is about a youth team in Miyazaki prefecture, a peasant corps, who sells carrot and basil dressings that "cure vegetables" and "get vegetables efficiently".
You can see that the dressing of the flesh as it was born with the desire to use non-standard carrots that are too large or cracked for secondary use is linked to the elimination of food loss and the SDGs. When I heard that a child who hates carrots ate with a smile, I was also worried about it and became motivated to buy, so I felt that the exhibition of stories including such small stories is certainly effective. ..
What kind of products are you selling? Pick up the recommendations of the person in charge!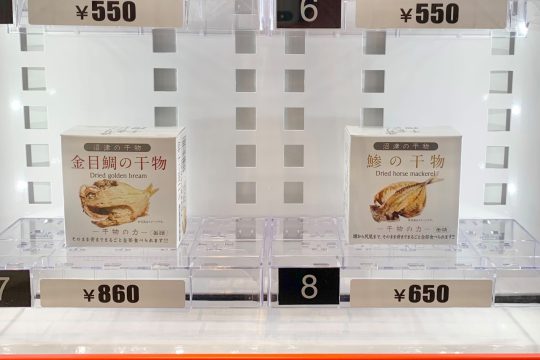 By the way, I was curious about the canned horse mackerel "Dried horse mackerel" (650 yen) and " Dried horse mackerel" (860 yen) , but Mr. Kobayashi also likes this product very much.
The only additive is salt. Not only can you enjoy the taste of the ingredients as they are, but they are also retort-heated, so they are soft enough to eat even the bones.
Mr. Kobayashi enthusiastically says, "Although the consumption of fish at home is decreasing these days, I would like children who are not familiar with fish to eat this dried fish."
A rare canned dried fish that was unlikely. It doesn't need to be cooked and has a best-by date of about 2 years, so it can be used as a side dish or a snack, so it's a product you definitely want to stock at home!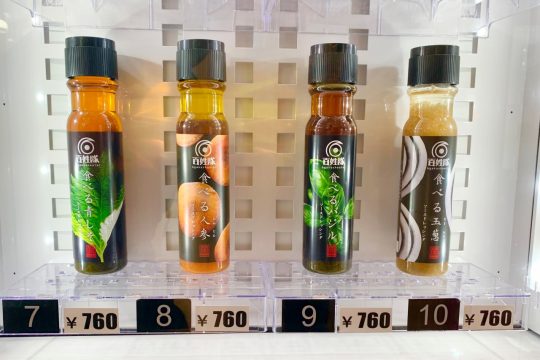 Among the dressings of the Hyakushotai that I mentioned earlier, Mr. Yokoyama says that he likes "eating carrot sauce dressing" and "eating onion sauce dressing" (both are 760 yen) and often eats them. He praised it as "the best for meat, fish, cold tofu, etc." and said that the family sometimes uses the whole bottle for each meal because of its deliciousness.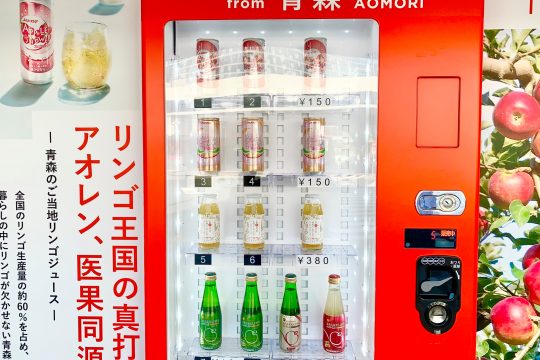 When asked about popular products, it seems that local apple juice in Aomori Prefecture is selling very well.
The author bought "Apple Juice with Immature Apples" (380 yen) from Ikadogen Apple Function Research Institute Co., Ltd.
It is a health-oriented juice that focuses on polyphenols, which are rich in blue and small immature apples, but the sweetness is modest and the drink is refreshing and refreshing. The sourness is moderate, and the impression that the apple's original taste is not impaired by a millimeter has made me a fan.
In addition, if you look over the product lineup of more than 30 types , you can see the lineup of local specialties such as sauce and dressing using black garlic "Kuromaru" from Miyazaki prefecture, jelly and honey drink using Kito yuzu from Tokushima prefecture. bottom.
The points I would like to keep in mind about this shop are as follows.
◆ This unmanned pop-up shop is for a limited time.
Currently, the store is scheduled to open by the end of September. It seems that there is a possibility of change, but if you are interested, you may want to visit early!
◆ Business hours are from 7:00 to 22:00.
Even though it is only a vending machine, the shutter will be released during the night and you will not be able to enter the space.
◆ The product lineup may be replaced.
Depending on the timing, the products introduced in this article may be gone.
◆ Basically, the products are replenished almost every day, but some of them are sold out in the evening.
The aim is in the morning!
"Many of the producers are having a great deal of trouble with the corona sickness. Supporting Japan's agriculture, livestock and fisheries will lead to a healthy future for Japan. I would be happy if you could use the shop, "says Kobayashi.
He continued, "I would like to continue to value the" mottainai "of" places, things, and things, "so please look forward to it."
There are many local antenna shops in Ginza, so if you want to buy delicious local gourmet food, you may want to visit there for a wide variety of products.
 However, this shop, where professionals on the road carefully select and introduce products that are not well known in the world and are not on the market , is a very welcome initiative for people like me who can not choose if there are too many choices. I felt it.
When you want to meet a new gourmet. If you have a business in Ginza, please come visit us.
Spot details
| | |
| --- | --- |
| address | 2-2-2 Ginza, Chuo-ku, Tokyo Hulic West Ginza Building 1F |
| business hours | 7:00 to 22:00 |
| Operating company official website | https://sukima-dept.inc/ |
| Twitter account | @sukima_dept |
* All prices appearing in the article include tax.
* The content of the article is as of the time of the interview (2021/8/6).
<Other coverage reports>
[Interview Report] Roses destined to be discarded will be reborn! Enjoy the charm of ethical roses at "re: ROSE" in Ginza
[Experience Report] Explore the world of digital pictorial books where you can meet animals at the "Zukan Museum Ginza" opened in Ginza!
[Panasonic Shiodome Museum of Art] "Beautiful Architecture Exhibition of Salinen and Finland" (~ 9/20) Preview Report