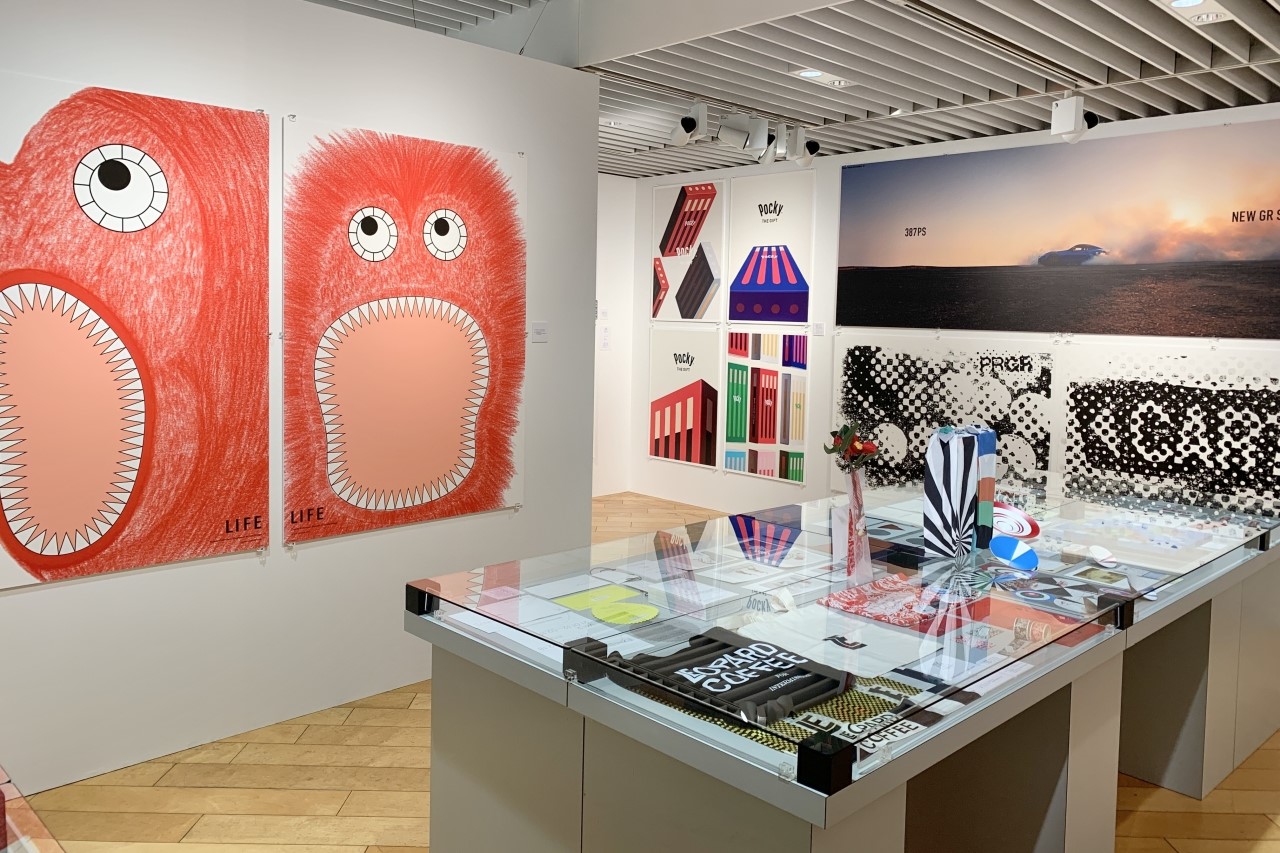 From November 1st to November 30th, 2021, "Japanese Art Direction Exhibition 2020-2021" is being held in Ginza, Tokyo, where you can get a bird's eye view of Japan's cutting-edge advertising and graphic design.
There are two venues : Ginza Graphic Gallery and Creation Gallery G8. We visited this exhibition where admission is free and photography is allowed .
Can a completely amateur in advertising and design just stop by and have fun? We will introduce you to the venue and interesting works.
Introducing excellent advertising and graphic works selected from about 10,000 submissions for two years!
The "Japanese Art Direction Exhibition" is held once a year by the art directors of the ADC (Tokyo Art Directors Club), which was founded in 1952 with the aim of establishing and promoting the professional skills of art directors in society. This is an open call for participants exhibition in which excellent works are judged and selected by members such as. Last year's exhibition was postponed due to COVID-19, so this exhibition will be held for the first time in two years.
The items to be judged were TV commercials, posters, newspapers, magazines, web pages, product packages, etc. that were announced, used, and published in Japan during the two years from May 2019 to April 2021. There were about 10,000 submissions!
A total of 81 ADC members selected 18 award-winning works and excellent works after strict screening.
ADC members' works are divided into Ginza Graphic Gallery , and general (non-member) works are divided into Creation Gallery G8 .
This is art direction! Works too. ginza graphic gallery
As soon as I entered the venue, I was greeted by the environmental space of the Grand Prix winners of this exhibition, The National Art Center, Tokyo, SAMURAI, TBS Glowdia, BS-TBS, Asahi Shimbun, TBS Radio, TBS, and Pia. 》 welcomes visitors.
As a first-time visitor to the "Japanese Art Direction Exhibition," I was surprised to learn that environmental spaces were also included in the judging process.
Kashiwa Sato is known for his brand strategy and creative direction for famous companies such as Uniqlo, Rakuten, and Seven-Eleven. The "Kashiwa Sato Exhibition" is an exhibition curated by the artist himself, rather than simply arranging it in order of his activities over the past 30 years. The exhibition structure is designed to entertain anyone by showing the power and influence of design, which is familiar to our culture and daily life, and which is not particularly conscious of it, in a way that anyone can understand. In addition, the novel attempt to see it as a work of art by developing it as an installation has become popular on SNS.
It's interesting that the exhibition itself that shows the artwork wins the artwork award. It's an exhibition that truly embodies the purpose of ADC's activities, which is to convey the appeal of art direction work to as many people as possible.
Among other works, the poster, newspaper advertisement, magazine advertisement, book & editorial, commercial film, and website of Ryohin Keikaku "Why does MUJI feel good?'', which won the ADC Member Award, are eye-catching.
The essence of human beings may be hidden in the universal human activity of "cleaning". Based on the idea that hints for a comfortable life and society that MUJI is exploring can be seen there, the scenery of cleaning in more than 100 places around the world that appears in the work was photographed. The commercial film does not advertise any products at all, just silent images of people washing clothes in a river, cleaning floors in a temple, and cleaning windows in a building.
It seems that the shooting was done before the COVID-19 epidemic, but this video was released in August 2020. The video was released at a time when COVID-19 was raging in Japan, and all "ordinary things" were no longer "obvious things." So.
In terms of video works, "Shadows as Athlretes" by the Japanese Olympic Committee, which also won the ADC Member Award, is worth seeing. (No photography was allowed here)
This work mainly captures the shadows of athletes who compete in sports such as fencing and rhythmic gymnastics. Something. Although the information is limited to shadows, you can feel the beauty of the movement of the body more honestly than looking at the body, and strangely, a hot feeling wells up in your heart.
Regarding the shadow (silhouette) connection, I liked the advertisement for "kubota 130th anniversary" and stopped and stared at it for a long time. It conveys the raison d'etre and mission of Kubota, which celebrated its 130th anniversary, by saying, "Why was it born?" The ambition and history of the company's more than 10,000 products are simply expressed in silhouettes against a blue sky. .
A lot of unique works. Creation Gallery G8
On the other hand, at the Creation Gallery G8, which exhibits about 200 general works, I had the impression that there were many quite unique works.
To take a look at some of them, first, here is the website of Otsuka Pharmaceutical "CalorieMate to Programmer" poster .
Yukihiro Matsumoto, the creator of the programming language Ruby, supervised the promotion that expressed the characteristics and messages of the balanced nutrition food "Calorie Mate Liquid" in a programming language.
It is a novel work that appeals to a limited group of programmers who tend to lack nutritional supplements, and that people who do not understand may not even notice that it is an advertisement.
The web movie of Shachihata "Inim Manzai Shi Forest'' is a stop-motion movie that shows the appeal of the "X stamper'', a penetrating stamp that does not require a stamp pad that has driven the growth of Shachihata. It is a human drama that expresses the conflicts and challenges of the main characters of comedians by comparing seal impressions to people. Of course, there is also the power of the voice, but the changes in size and color, and the movement of shadows skillfully convey the situation and emotions of the characters. It was a work that felt a completely new possibility of stamps.
vol.415 of "Hakuhodo "Advertising Vol.413-415" Book & Editorial" is bound in cardboard. It's perforated, and you probably tear it apart yourself to read it. It's related to the issue of "distribution," which deals with what happens between the creator and the recipient of a product or work. The sticker (?) on the cover shows the address of the company involved in the process from binding to sales.
In what condition will it arrive when I sell it? Is it still put in cardboard? I'm curious……
In addition to unique works, there are many eye-catching exhibits. For example, what attracted me the most at the venue was the environmental space of my CLINIC "my CLINIC" . It's a sign system made of a single pipe, but the sign is not only easy to understand, but it also has a sense of cleanliness that hospitals require, a simple but original design, and most of all, it's stylish. You can hear the voices of the surrounding residents saying, "That hospital over there is nice, isn't it?"
Regrettably, in August 2020, the amusement park Toshimaen, which closed its 94-year history, sent the last newspaper advertisement for Toshimaen "Toshimaen's Last Ad Thanks." After the battle, I just added a word "Thanks." Even though he was exhausted, he had a satisfied smile on his face. It doesn't say much, but it's a cool goodbye filled with the feelings of the Toshimaen staff. Many people must have been stimulated by this advertisement.
In the summer of 2020, sports competitions were canceled one after another due to the coronavirus pandemic. Otsuka Pharmaceutical "Web movie of Calorie Mate '2020, Summer, Club Activities.'" , and "Paula 'POLA International Women's Day' Newspaper Advertisement," which introduces the problem of Japan's gender gap with a true story and expresses the importance of caring for women's potential with overlapping palm graphics. I saw some impressive works.
---
I have introduced the works on display so far, but before visiting the two venues, I had a vague idea of what kind of work was selected as a 'good work'? rice field. However, looking back, I couldn't find a particular direction that would make me think, "This is the trend in advertising and graphic design!" (Maybe I just couldn't see it because I'm an amateur…)
However, there were various works in this exhibition, some that I had seen before and others that I had never seen before, but all of them were more or less attracted to me. Usually, it is not possible to see such excellent advertising and graphic design works at once, so if you take this opportunity to search for commonalities in the works you stop at, you will likely find something new. People in creative professions will surely receive good stimulation.
From 18:00 on November 19th (Friday), a talk event on the theme of "design dynamism" by Grand Prix winner Kashiwa Sato and ADC member Kazunari Hattori will be held on 11th. From 19:10 on Monday 24th (Wednesday), the winners and production staff talk event of "Suntory "Natural Water 2021"", which won the ADC Award, will be distributed online.
・Kashiwa Sato x Kazunari Hattori Gallery Talk (participation free, no reservation required)
https://www.youtube.com/watch?v=HooC_Gp3mXY
・ ADC Award "Suntory "Natural Water 2021"" winner ・ Production staff talk (participation free, reservation required )
https://salon20211124.peatix.com/ )
The period of the "Japanese Art Direction Exhibition 2020-2021" has passed, and there are about 10 days left. If you are interested, please visit as soon as possible.
Overview of "Japan Art Direction Exhibition 2020-2021"
exhibition period
Monday, November 1, 2021 to Tuesday, November 30, 2021
open time
11:00-19:00 *Only Creation Gallery G8 will be open until 18:00 on November 24 (Wednesday)
closing day
Sundays and public holidays
price
free entrance
venue
・Ginza Graphic Gallery DNP Ginza Building, 7-7-2 Ginza, Chuo-ku, Tokyo 104-0061
TEL 03-3571-5206
http://www.dnp.co.jp/foundation/

・Creation Gallery G8
〒104-8001 8-4-17 Ginza, Chuo-ku, Tokyo Recruit GINZA8 Building 1F
TEL 03-6835-2260
http://rcc.recruit.co.jp/

Exhibition introduction page
http://rcc.recruit.co.jp/g8/exhibition/2111/2111.html
<Past coverage article>
[Panasonic Shiodome Museum] Budapest National Craft Museum Masterpiece Exhibition "From Japonisme to Art Nouveau" (~12/9) Preview Report
Experience the world of YOASOBI's new song "Taisho Roman" in Ginza! "⑤Semiconductors are science fiction. with YOASOBI" venue report
[Interview report] Canned dried fish too!?