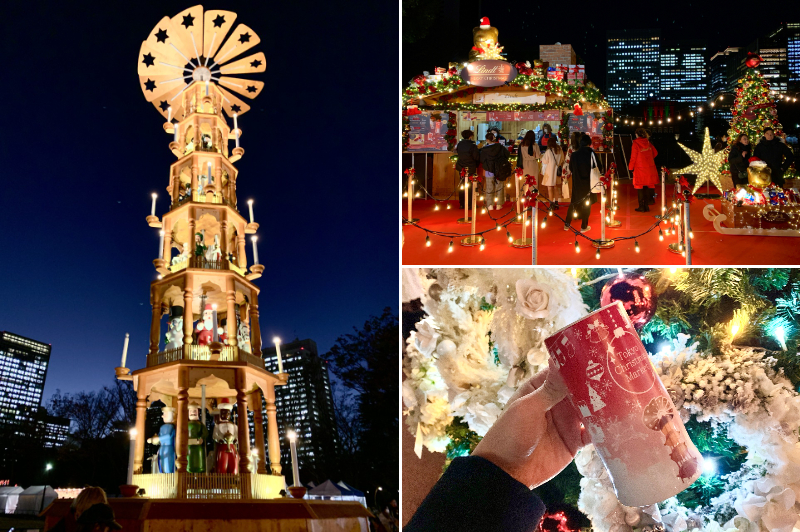 "Tokyo Christmas Market 2021 in Hibiya Park" is being held in Hibiya, Tokyo for 16 days from December 10th (Friday) to 25th (Saturday), 2021.
Glühwein (hot wine) for sausages with a fragrant scent that stimulates the appetite. Handmade Christmas ornaments that are fun to see. A live performance that excites the venue. And since I went to this event where you can enjoy the romantic Christmas tree and illuminations, I will introduce the state of the venue and recommended information along with the experience report.
If you are going to an event or want to know the atmosphere of the venue, please refer to it.
Enjoy the illuminations that make you feel like Christmas
The Christmas market is a traditional festival that has continued since the Middle Ages. It is generally held during the Advent period, four weeks before Christmas on December 25th. It spread from the birthplace of Germany to various parts of Europe, and is now held here in Japan as well.
The square is lined with beautifully decorated wooden huts called "huttes", and Christmas decorations, sweets, and local specialties are sold. It is an indispensable event in Germany's winter, which warmly colors the cold winter. Yes.
At the "Tokyo Christmas Market," which is celebrating its 7th anniversary this year, the venue, Hibiya Park, was lined with Hutte (16 restaurants and 11 miscellaneous goods stores) that were ornately decorated in a manner that imitated authentic Germany.
I visited around 17:00 to 19:00 on Monday . The roof illumination designs all seemed different. I don't know if it's during the day, but at night the illuminations shine and the atmosphere is very gorgeous.
The most striking thing in the venue is the 14-meter-high Christmas pyramid, which came from the village of Seifen, Germany, the home of Christmas ornaments. A symbol of the market, woodworking dolls with different motifs such as Santa and snowmen were spinning around in the 6-tiered pyramid. When it is lit up, it looks like a night view of Hibiya.
It's not just the illuminations that shine. Don't miss the Christmas wreath exhibition and the clippe!
---
---
In addition, there are many highlights and spots in the venue that make you want to take pictures.
When you enter from the entrance gate and walk to the far left, there is a quiet staircase to go to the long and narrow area where there is a "forest terrace seat" and a playset "Go Go Thomas", but the best flower is ahead. Many Christmas wreaths were exhibited as a collaboration project with the arrangement.
It's too nice! I haven't counted it properly, but I think it was decorated with about 100 pieces.
If you upload a photo of your favorite wreath on Instagram, a mini wreath with a design similar to that wreath will be presented by lottery. If you want it, please check the details at the venue.
Is it because the entrance is a little difficult to understand because it is separated by stairs? I felt it was a waste because this area was not very popular. (I'm lucky because I enjoyed it slowly)
In addition, there are many photo spots in the venue that you will want to take with friends or couples, so please look for them.
Hot chocolate and glühwein are very active in the Christmas market under the cold sky!
By the way, when you come to the Christmas market, you have to enjoy not only the illuminations and decorations, but also the gourmet food that is unique to the Christmas market.
To enjoy a drink at the venue, as shown in the photo, you pay the drink fee + container fee for the first cup, and from the second cup you pay only the drink fee and have them put in your container. (There was a washing place at the venue, so there is no need to worry about the taste being mixed.)
However, at this event, you will get one mug at the entrance gate as an admission privilege, so if you use that, you do not need to pay for the first mug.
This time, my aim is a drink from the chocolate brand "Lindt". I was looking forward to the "Christmas Melty Hot Chocolate Drink", which has a rich chocolate taste that is perfect for the cold winter, but it was sold out …!
I came on Monday to avoid crowds, but maybe it sold a lot during the weekend? Of course, it will be replenished soon, but when I often look around the venue, drinks and food are sold out, so I'm lucky if I can buy it! It may be good to participate with the same feeling.
I want to change my mind and drink a drink that is typical of the Christmas market! So I bought Glühwein. Glühwein is a hot wine with honey, cinnamon, berries, etc., and is said to be a standard cocktail not only in Germany but also at the Tokyo Christmas Market.
It seems that Glühwein and hot chocolate were especially popular because the wind was strong on that day and the whole body became cold in a blink of an eye just by walking a little. Of course, cold beer is also on sale, so if you want to feel the authentic German atmosphere, please have it with sausages ♪
There are many German-style dishes such as German-style katsuretsu "Schnitzel", stewed dish "Grache", and fried potatoes, but there is also a wide variety of menus such as pizza, pasta, crepes, galettes, and soups. It was complete.
There are some shops that sell sweets such as Bush Donoel, but the focus is on "Doitsu Center", which sells sweets imported directly from Germany. You can buy traditional German sweets such as Stollen, a cake kneaded with dried fruits and nuts, and Lebkuchen, a cookie with honey and spices.
You can eat it on the spot. You can use it as a souvenir. This is a shop that you definitely want to visit.
When you have a meal, the "forest terrace seats" may be a little-known spot!
As you can see in the photo, it's crowded even if admission is restricted. Rather than walking slowly and immersing yourself in the atmosphere, it is a lively event that you should attend with an attitude of enjoying this crowd.
Eat-in spaces at the venue include tent seats next to the fountain and stands in the space between the stores, but it was also quite crowded and it was difficult to find a vacant place.
When I searched for a better place, I found a little-known place!
This is the area where the Christmas wreath exhibition introduced earlier is located. There was a table seat named "Forest Terrace Seat" here, and it seemed that there was plenty of space. The fact that there is a windbreak vinyl is also a high point.
When I went to the back, there were more table seats, but I was surprised at this. It's a short walk from the restaurant that sells food, but if you want to calm down and eat, or if you can't find a seat, this is recommended.
By the way, when you visit the Tokyo Christmas Market, it may be safe to wear clothes that you don't mind getting dirty. Everyone was moving around with sausage plates and drinks in such a crowd, so I heard voices such as "I bumped into a person and ketchup got on my clothes" and "I spilled". It is better to bring wet wipes if possible!
For souvenirs, try the wood crafts from "Toy Village"
There are various grocery stores in the Tokyo Christmas Market that are fun just to look at, but if you are looking for souvenirs, you can't miss "Seiffen".
The village of Seifen, Germany, where the Christmas pyramid that appeared earlier was created, is a land famous for making wooden toys. From the workshop in Seifen Village, many cute items such as wooden Christmas ornaments, smoke dolls, nutcrackers, and Christmas pyramids that feel the warmth of wood have arrived at the venue.
Most of the products are handmade, so the point that each doll's face is slightly different is that it tickles the heart. Especially recommended if you are looking for a Christmas decoration that is a little different from people ♪
The perfect gifts are tea brand "DEMMERS THE EHAUS" tea cans and cookie cans, and "STEAMCREAM" whole body moisturizing cream with Christmas-style designs. It caught my eye. Standard items such as snow globes and candles were lined up in various places, so be sure to check them out.
Also pay attention to the daily live performance
On the stage of the Tokyo Christmas Market, gospel groups and entertainment units such as "Sunnyside Gospel Club", "Festival Capelle", "Amato Danshi" and "SFX Boyz" will sing and perform on a daily basis to liven up the venue. The appearance schedule is on the official website.
Checking the appearance schedule, it seems that some groups appear every day and some artists only appear for one day. It seems that the stage of singer-songwriter Nami Tamura who showed off her wonderful singing voice was only on this day, so I feel like I got it ♪
"Tokyo Christmas Market 2021 in Hibiya Park" is being held in Hibiya, Tokyo, which is crowded with many people. There are concerns about the new coronavirus infection at events where food and drink occur, but to be honest, there were some parts where I felt that infection control was not perfect (I want an acrylic board in the dining space …!). That is what I would like to expect from the response in the latter half of the session.
Outline of "Tokyo Christmas Market 2021 in Hibiya Park"
Venue
Hibiya Park Fountain Square
(1-6 Hibiya Park, Chiyoda-ku, Tokyo)
Holding period
December 10th (Fri) to 25th (Sat), 2021 * Held even in rainy weather (may be canceled in stormy weather)
11: 00 ~ 22: 00 (L.O21: 30) * Only on the first day 16: 00 ~ 22: 00
Admission fee
Adults (junior high school students and above) 1,000 yen Children with original mugs (elementary school students and above) 500 yen (admission only)
Free for children under 5 years old
Organizer
Tokyo Christmas Market Executive Committee
Sponsorship
Embassy of the Federal Republic of Germany in Japan / Embassy of the Federal Republic of Germany / Tokyo / German Tourism Bureau / Bavarian State Representative to Japan / Saxony Tourism Bureau / Seifen Village
telephone number
03-5224-6239
Official site
https://tokyochristmas.net/
<Past coverage articles>
[Winter 2021] Coverage of the latest illuminations in Marunouchi, Yurakucho, Hibiya, and Ginza! Introducing more than 10 spots that shine on Christmas
[Actual food review] Colorful and cute petite size meat bun specialty store "TOKYO PAO" opens in Yurakucho!
Nana Suzuki fires "nice!" Tokyu Plaza Ginza "Manabel Marche-Production Process Exhibition Covered by Children-" Coverage Report
[Venue Report] "Japanese Art Direction Exhibition 2020-2021" Many unique advertisements and designs that are creatively inspired are on display!