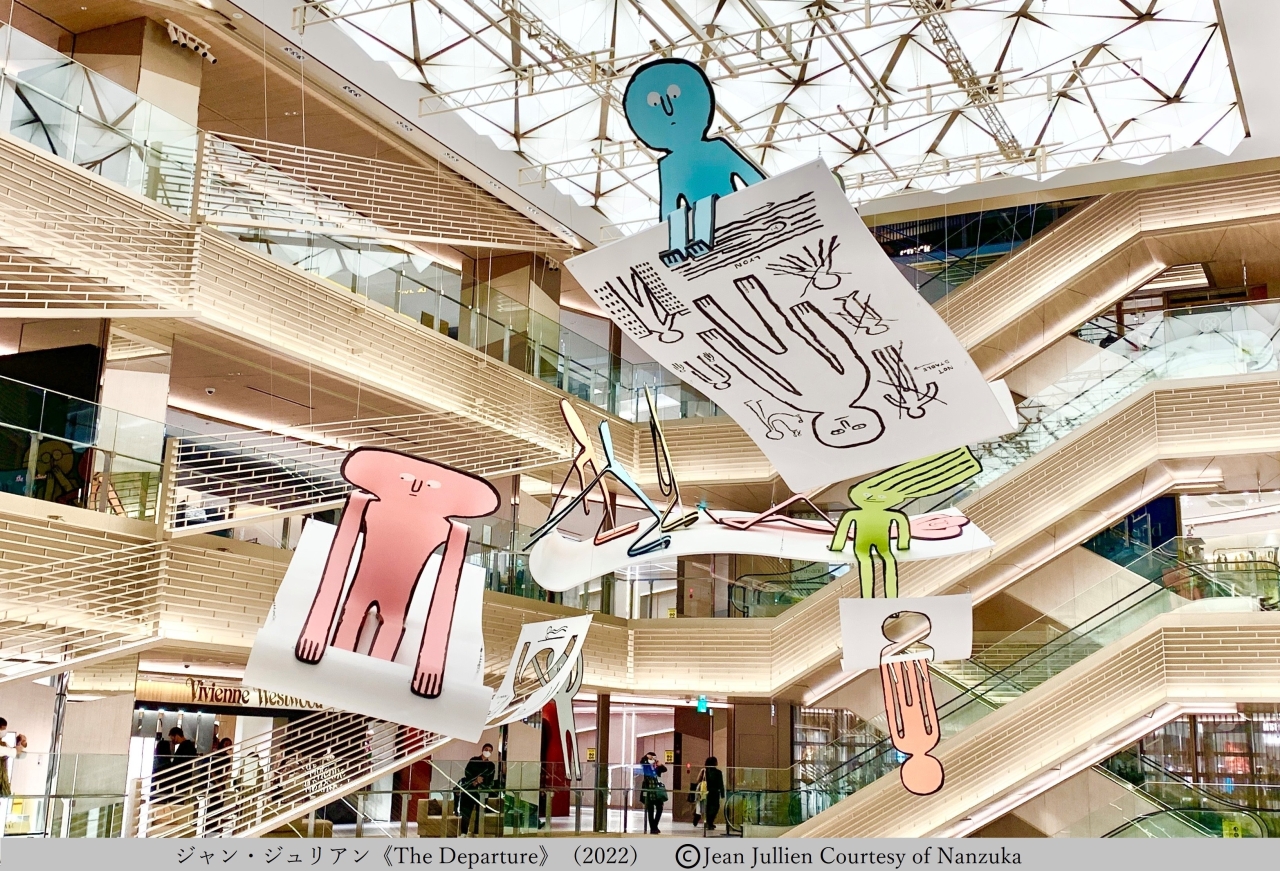 On October 26, 2022, a large-scale installation of comical characters by visual artist Jean Julien "The Departure" appeared in the central atrium of "GINZA SIX", the largest commercial complex in the Ginza area.
The exhibition period is until the spring of 2024 (planned).
On the first day of the exhibition, the artist himself gave an art lecture to the press.
Jean Julien's first floating installation "The Departure" appears
GINZA SIX, which celebrated its 5th anniversary in April of this year, offers sophisticated food, fashion, art, and more under the theme of "From Ginza to the World," offering "things that can only be found here, experiences that can only be experienced here." It is a cultural dissemination base.
You can touch installations and art works that stimulate your sensibility in various places in the building, but in the central atrium space that can be said to be a symbol of GINZA SIX, programs by world-famous artists and creators such as Yayoi Kusama have been held. It's been done.
Jean Jullien's new work "The Departure" , which has recently appeared, is the eighth generation of art atrium.
Julien was born in 1983 in Nantes, France. He is an up-and-coming visual artist who is active in a wide range of fields, mainly illustration, photography, video, clothing, and installation production, while providing works to various clients such as the New York Times, National Geographic, The Guardian, and VOGUE.
Based in London, he has been actively exhibiting works in museums and galleries around the world, and "The Departure" is the artist's first installation that floats in the air, challenging a large scale as public art.
Comical characters with bodies as flimsy as paper fly around freely on a flying carpet in the atrium that extends from the 2nd to 6th floors of GINZASIX. The unique touch that is the charm of Julien's drawings is alive and well in his sculptures. The overall size is 18m wide, 8m long, and 10m deep.
Their name on the carpet is PAPER PEOPLE . Born at the solo exhibition "PEPER PEOPLE" held at Shibuya PARCO in Tokyo in 2021.
Julian has also started painting in the past few years, but in the process of production, he said, "I started painting on canvas, and I'm not sad about the drawings (left alone). I had an idea that."
From there, it seems that the setting of PEPER PEOPLE, " a character who realized that he was abandoned by the creator who tried to create himself, and had an idea to create friends with paper,'' was born. Inspired by Stein.
It's an episode full of kindness, typical of Julien, who has created many works humorously depicting casual everyday scenes such as the beautiful sea in his hometown of Brittany and children playing with toys.
In fact, at Shibuya PARCO's solo exhibition, a blue PAPER PEOPLE, who had been alone, drew an orange character and made friends as a three-dimensional work. After that, PAPER PEOPLE traveled to France and South Korea, but each time they made more friends. When I came back to Tokyo again, it was quite colorful and lively.
Although it is set as a character born from paper, the work itself is made of metal, and various metal materials such as aluminum are used in consideration of strength and safety.
It seems that it was produced with the concept of "returning to Tokyo once more, this time taking off from the ground and leaving for the world ." The author simply explores GINZA SIX, where shops of various genres are lined up, saying, "Let's go to that shop next!" It seemed to embody GINZA SIX with the theme of "from to the world".
Originally, PAPER PEOPLE was born as an incarnation of Mr. Julian, so maybe Mr. Julian, who flies around the world, had a feeling of "I want to move on a magic carpet''?
I was imagining something like this, but it was interesting that it also contained the message, "Let's get out of the rut of everyday life in the city and go see the scenery of the countryside!"
You can enjoy the work from any angle, 360 degrees, but it is especially recommended to view it while moving on the escalator, as you can enjoy the floating feeling of the work.
PEPER PEOPLE who enjoy creative activities freely like children
The blue PEPER PEOPLE that was born first seems to have a slightly melancholic nature and has an uneasy expression, but it seems that this expresses a positive feeling of excitement about flying away.
PEPER PEOPLE are watching over the friends born from paper gently, but if you look closely at the back side of the carpet, you can see the drawings of the friends left by PEPER PEOPLE and the drawing process until they decided to use the carpet as a means of transportation. was left. Some of them have been marked with an x, but Julian says that this is not a negative thing either.
"Strictly speaking, things that fail are not failures, but new things are born out of them, and there are things that are born later. It shows that nothing is perfect."
"Even among the PEPER PEOPLE, there is a desire to keep improving themselves like humans.
Julian speaking. The choice of a flying carpet instead of a Shinkansen or an airplane makes me feel like a child who is not bound by common sense, thinking, "This is the most fun!"
Just by looking at it, it seems that PEPER PEOPLE's infinite creative desire is contagious.
Julian is
"The simplicity of paper cutouts is accessible to everyone and evokes childhood play, but sometimes it goes beyond the mundane scale and pulls the viewer into a fresh wonder."
"Unlike art galleries and museums, there are people who come to an installation in a commercial facility without knowing about the exhibition. increase"
I have high hopes for this work, but I hope that this work will appeal to everyone, saying, "There is nothing perfect in this world. Isn't it sometimes important to ask whether this is really a failure instead of lamenting that it is a failure?" It seemed like an ale from Mr. Julian who sent it.
GINZA SIX has sofas on each floor, so you can relax and appreciate the works. In addition, the animation of PEPER PEOPLE is being broadcast in various places in the building.
The large-scale installation "The Departure" is scheduled to be on display until the spring of 2024.
[GINZA SIX basic information]
location
6-10-1 Ginza, Chuo-ku, Tokyo 104-0061
access
Directly connected to Ginza Station on the Tokyo Metro Ginza Line, Marunouchi Line, and Hibiya Line through an underground passage.
business hours
Shop/Cafe (B2F-5F) 10:30-20:30, Restaurant (6F, 13F) 11:00-23:00
*Some stores and restaurants have different business hours.
*Please check the official website for details.
*Business hours are subject to change.
* Depending on the situation inside the store, entry may be restricted without prior notice.
closing day
Irregular holidays
TEL
03-6891-3390 (GINZA SIX general information reception hours 10:30-20:30)
HP
https://ginza6.tokyo/
*The contents of this article are as of the interview date (October 26, 2022). Please note that it may differ from the latest information.
<Past coverage article>
[Actual food report] Autumn gastronomy to taste in Ginza! Introducing GINZA SIX's 2022 autumn recommended dishes and sweets
[Preliminary experience report] "Ginza Town Bar 2022" is the best gourmet event where you can challenge a high-class bar for about 1,300 yen. Attention Ginza Beginners!
[Artizon Museum] "Two Journeys for 140 Years of Birth Shigeru Aoki x Hanjiro Sakamoto" Press Preview Report
[Coverage report] The dried flower specialty store "Calon DRY FLOWER Hanare Ginza Yurakucho" opens!