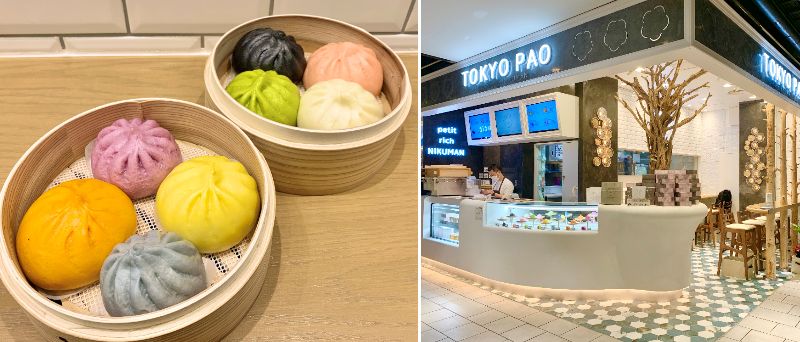 On Saturday, December 4, 2021, "TOKYO PAO", a meat bun specialty store with colorful and cute meat buns, will open on Food Avenue on the first basement floor of Yurakucho Itoshia.
Since I participated in the media tasting event held in advance, I will review all 8 types of meat buns for sale! I asked for a meat bun recommended for the shop ♪
The tension goes up to gorgeousness! Colorful meat bun of "TOKYO PAO"
"TOKYO PAO" will open on Food Avenue on the first basement floor of Yurakucho Itoshia, right in front of JR Yurakucho Station. It is operated by Asian Table Co., Ltd., which operates a Chinese restaurant such as "Dalian Dumpling Base DALIAN".
When I visited, I was surprised, "What! Here?" It's like a fashionable pastry shop that you couldn't imagine from the sound of a "nikuman specialty store". The attached eat-in space has wooden objects, and the color of white and brown makes you feel calm.
There are 9 seats in the bright eat-in space, which are difficult to see in the photo, but they are separated by partitions. There was also a luggage compartment under the seat, so it's okay to stop by while shopping.
The product description, menu table, food sample, etc. on the monitor above the counter introduce each difference in an easy-to-understand manner, so let's take a closer look.
There are 8 types of meat buns on sale, including the classic "pork buns", as well as bean paste that focuses on popular Chinese dishes such as "Ruro buns", "Deep-fried chicken with soy sauce", and "Shrimp chili buns". It's packed.
---
---
As you can see in the photo, the colorfulness of the meat buns of "TOKYO PAO" is the most distinctive feature. .. Whether you choose by taste or by color … It's definitely fun to worry about your choice! By the way, it seems that the skin is colored with natural coloring agents derived from vegetables and flowers.
The size is a small size with a diameter of about 6 cm, which is smaller than a general meat bun. It is a feeling of size that even a small-sized woman can eat and compare several types. All types are priced at 234 yen including tax (238 yen including tax for eat-in) .
The signboard and paper bag of the shop said "Petit rich meat bun", but the impression is that it is a petit luxury meat bun that you will want to use in various scenes as a snack between light lunches and shopping. is. It doesn't use garlic, so you can carry it without worrying about the smell. It's smart!
Not just cute! A real food review of all 8 types of meat buns from "TOKYO PAO"
Now, let me introduce all 8 types of meat buns sold at "TOKYO PAO".
White is "001 white PAO (pork bun)"
Black is "002 black PAO"
Pink is "003 pink PAO"
Green is "004 green PAO"
Yellow is "005 yellow PAO (curry man)"
Blue is "006 blue PAO (Daigakuimoman)"
Orange is "007 orange PAO"
Purple is "008 purple PAO (black sesame bun)"
(I'm sorry it's hard to understand the order …)
How about this, isn't it the loveliness that makes you want to look at it without eating for a while? It seems that each size is different, but it seems that it may spread a little sideways depending on the bean paste inside.
I took a picture of the cross section divided in half, but it was a little crushed. (Sorry for the shop)
The real thing was a little more plump!
"001 white PAO (pork bun)"
First of all, from the basic pork bun. The seasoning is neither too dark nor too light, and it is a perfect finish that suits the word "basic" with the taste of pork and shiitake mushrooms. I love the skin of meat buns, but the skin is slightly sweet, moist and elastic, so I'm very satisfied! This pork bun was the most delicious of the dough itself.
"002 black PAO"
The black pepper of the skin with bamboo charcoal makes it stand out. Before I ate it, I had a strong scent to appeal to me, but the moment I ate it, the Japanese pepper spread in my mouth, and I was surprised at the strength of the claim. I felt not only numbness but also bitterness (I misunderstood that it was the taste of bamboo charcoal), but as I tasted it well, I could feel the flavor of meat and sauce from the back. This is definitely the meat bun with the strongest habit! If you are a fan of Chinese pepper, this is a dish that you should definitely try.
* If you eat Chinese pepper bun, the flavor of Chinese pepper will stay in your mouth even if you drink a drink, so it is recommended to eat it last.
I was wondering if the only difference between pork buns and pepper buns is the color and the presence or absence of peppers, but pork buns are made from charcoal, dried menma, shiitake, and pepper buns are made from oversized pork and bamboo shoots. , The ingredients of the pepper were also slightly different.
"003 pink PAO"
Rouleau bun made by boiling domestic Sangen pork with more than 10 kinds of spices such as star anise, cinnamon and cloves. It is a sweet seasoning with a lot of spice. It's natural that the dish that would normally be eaten with rice was arranged to match the meat bun, but the seasoning was a little different from the image of Lo Bah png. However, this is very delicious. It had a lot of thick meat, and it was the most delicious of the 8 types.
"004 green PAO"
Deep-fried chicken with soy sauce is wrapped in savory fried Oyama chicken with vegetables such as shiitake mushrooms and onions and sweet and spicy sauce. The sweetness of the vegetables and the slight sourness of the vegetables make it even more juicy than ordinary pork buns. The more you chew, the deeper the taste you can enjoy, and it is a dish that you definitely want to repeat at the next opportunity.
"005 yellow PAO (curry bun)"
Contains keema curry made by boiling beef with more than 20 kinds of spices and flavored vegetables. The rich curry is very spicy, so children may need to be careful. The balance between umami and spiciness is exquisite. I'm not very good at spicy foods, but it's definitely delicious!
"007 orange PAO"
Sweet and spicy shrimp chili sauce with ginger, onions, and roasted eggs and seasoned with chili sauce. There was a fair amount of shrimp in it. The texture is a little more pre-prepared than pre-prepared. It's spicy but has a fairly mellow taste, probably because it contains roasted eggs. The freshness of ginger is also good. It may be good as a snack.
The last two are sweets.
"006 blue PAO (Daigakuimoman)"
Until now, it was only meat buns with colors that can be imagined from each bean paste, but blue was a surprisingly unexpected Daigaku-imo bun. The potatoes are crushed to some extent, but the texture leaves a warm potato feeling. This is really delicious! The honey is not heavy, and it has a simple, warm and gentle taste, but mysteriously, the taste has a strong presence, and the presence of the skin disappears from consciousness.
"008 purple PAO (black sesame bun)"
Moist and smooth black sesame paste with plenty of fragrant walnuts! It adds an accent to both the taste and texture. With its elegant sweetness and flavor, it can be enjoyed by children and adults alike. The sweets-based meat bun is decided by Daigaku-imo, and it is a black sesame bun that I tasted in a half-digestive game, but why is this also a perfection that is hard to put on?
As mentioned above, the meat buns were not only cute but also very satisfying in taste.
I asked the shop staff! What kind of meat bun was selected in "This is recommended for the first time"?
We asked "TOKYO PAO" about the meat buns of the product.
——I was surprised that the spices such as Chinese pepper buns and curry buns worked well!
"At first, there was a talk that it would be better to keep the spiciness of the curry modest so that a wide range of customers can enjoy all the meat buns. Because there is, I tried to make a difference. I wanted people who like spicy foods to be satisfied, so I finished it with full-fledged seasoning. "
——Since the gift box contains 4 meat buns, which one would you recommend to customers who are shopping at "TOKYO PAO" for the first time?
"I can recommend all of them with confidence, but if I mention it, first of all, it's curry bun, which is a dish packed with the commitment of the development side. Then, after all, try the basic pork bun and the most characteristic Chinese pepper bun. Lastly, I would like to recommend one sweets type, but Daigakuimo Man and Black Sesame Man … Well, I'm worried. "
——Both are really delicious! I think Daigakuimo is rare, but what made you decide to make it?
"I made it because I wanted another kind of sweet meat bun besides black sesame bun, but the development was quite stray (laughs). I managed to be satisfied while having outsiders taste it. It's a nice finish, so I'd be happy if you could eat it. "
——I'm sure there are people from afar who want to try it, but are there any plans for mail order in the future?
"Yes, we are planning to sell frozen products that can be used as Tokyo souvenirs in the near future, and eventually we will launch a mail order site. We hope you will look forward to it."
The meat bun specialty store "TOKYO PAO" will open on Saturday, December 4th. For lunch, shopping breaks, small gifts, and eventually Tokyo souvenirs. It was a nice shop that you would want to stop by for both eat-in and take-out, so please come visit us.
"TOKYO PAO" store information
place
2-7-1 Yurakucho, Chiyoda-ku, Tokyo
Yurakucho Itoshia B1F Food Avenue
telephone number
03-5224-6239
business hours
11: 00-21: 00 (LO20: 30)
Regular holiday
Same as facility closure
Opening date
December 4, 2021
access
JR Yamanote Line "Yurakucho Station" Central Exit 1 minute walk Yurakucho Line "Yurakucho Station" D7-b Exit 1 minute walk Ginza Line / Hibiya Line / Marunouchi Line "Ginza Station" C-9 Exit 2 minutes walk
<Past coverage articles>
Nana Suzuki fires "nice!" Tokyu Plaza Ginza "Manabel Marche-Production Process Exhibition Covered by Children-" Coverage Report
[Venue Report] "Japanese Art Direction Exhibition 2020-2021" Many unique advertisements and designs that are creatively inspired are on display!
[Panasonic Shiodome Museum of Art] Budapest National Museum of Crafts Masterpiece Exhibition "From Japonisme to Art Nouveau" (~ 12/9) Preview Report
I tried to experience the world of YOASOBI's new song "Taisho Roman" in Ginza as soon as possible! "⑤ Semiconductor is science fiction. with YOASOBI "Venue Report
[Interview report] Canned dried fish !? Get a rare gourmet dish at the vending machine of Ginza "Skima Department Store"