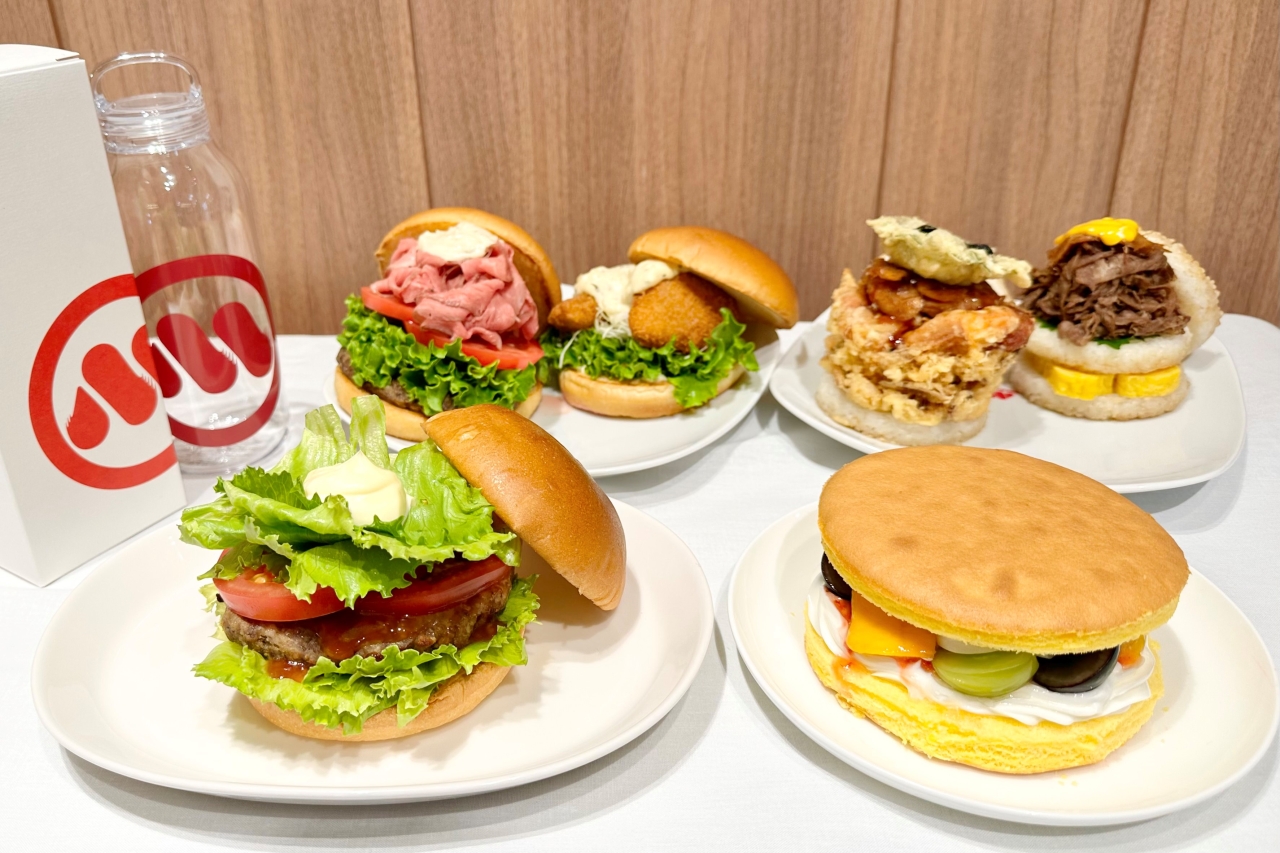 "Mos Burger" developed by Mos Food Service and "Ginza Mitsukoshi" of Isetan Mitsukoshi have collaborated to open a special store "Mos Koshi" that sells "special hamburgers that can only be eaten here" of the basement quality of department stores, Ginza Mitsukoshi New Building 9. Open from Wednesday, September 6, 2023 to Tuesday, September 19, 2023.
I participated in the press preview that was held a while ago and tasted the main products, so I will report on them along with the lineup.
To commemorate Mitsukoshi's 350th anniversary, Ginza Mitsukoshi is currently offering various limited pop-ups and items only available during the anniversary period. "Mosukoshi'' is the main project that is positioned as the culmination of these efforts, creating a total of 6 types of burgers with flavors from famous department store underground restaurants such as "Nadaman Kitchen'' and "Asakusa Imahan.''
[Participating brands]
Roasted Beef ITO, Asakusa Imahan, Ginza Wakana, Tsukiji Matsuro, Ginza Tenichi, Nadaman Kitchen, Patisserie Mon Cher (in alphabetical order)
"Mosekoshi'' is a takeout specialty store and does not offer side menus, drinks, or set sales.
Products will be sold on a rotating basis during the first week of the event, from September 6th (Wednesday) to September 12th (Tuesday), and the second week, from September 13th (Wednesday) to September 19th (Tuesday). Only 70 to 300 of each product will be sold each day, so if you want to get your hands on one, we recommend getting there early.
The main product offered throughout the year is the "Ginza Teriyaki Burger,'' a special version of Mos Burger's signature product "Teriyaki Burger .''
---
---
"Ginza Teriyaki Burger"
1601 yen (1 piece)
Sales period: September 6th (Wednesday) – September 19th (Tuesday)
<Limited to 300 each day>
A dish where you can enjoy sweet and sharp teriyaki sauce made with dashi and tomato paste from "Nadaman Kitchen'', a long -established Japanese restaurant established in 1897, which brings the flavors of Nadaman to your table, and Kuroge Wagyu beef patty. In honor of the Ginza area, the motif is the color of Kabuki curtains, with black representing Japanese black beef patties, persimmon color representing tomato, and moe color representing lettuce.
When I held it, it felt very heavy and I was surprised that I could barely hold it with one hand. When I spoke to Shinichiro Hamasaki, a product developer at Mos Food Service, he told me that the diameter of the burger is about 10 centimeters, but it looks even more impressive than that. Mos Burger's signature vegetables such as fresh lettuce and tomato remain as is, while the other buns, patties, sauces, and mayonnaise are original to Mos Koshi.
This time I tried this. When I tried it, I found it to be quite different from the "Teriyaki Burger" normally sold at Mos Burger!
I knew from the weight that the Kuroge Wagyu beef patty was thick and had a lot of presence, and the juicy, melt-in-the-mouth texture made me feel happy with just one bite. The teriyaki sauce is made with a completely different formula than usual to bring out the best in Nadaman Kitchen's soup stock, and the rich flavor of the dried dried bonito flakes and kelp soup stock will directly delight your palate. The seasoning was quite sweet, but the plenty of crunchy lettuce and slightly sour mayonnaise balanced it out nicely, and I was able to eat it all the way to the end without getting bored.
"Teriyaki burger fans may be surprised by the difference in taste when they try it, but I hope it's a good surprise.Of course, even customers who have never eaten a teriyaki burger will be shocked by the deliciousness.'' It's a work I'm confident that people will enjoy," said Hamasaki.
The regular "Teriyaki Burger" costs 430 yen, and this product is about four times as expensive, but the volume and quality of the burger made it worth the price. For your information, I was pretty full with just one serving.
We will also briefly introduce the other menu items.
First of all, there are two types of limited edition products for the first week of the exhibition period.
"Shirahime Shrimp Kakiage Rice Burger – Shirahime Shrimp Kakiage and Tempura from Kagoshima Prefecture"
Price: 1,601 yen (1 piece)
Sales period: September 6th (Wednesday) to September 12th (Tuesday)
<Limited to 200 points each day>
This Japanese-style burger features kakiage made by deep-frying sweet white shrimp prepared by Ginza Tenichi, a long-established tempura restaurant, with green onions and onions, and a sauce made with flavorful sukiyaki warishita from Nadaman Kitchen. The rice plate uses Koshihikari rice grown in Niigata Prefecture. The ingredients are thick and the volume is so large that you might be worried about whether it will fit in your mouth, so we recommend you try the real thing.
"Roast Beef Burger – Japanese Black Beef Patty and Roast Beef with Horseradish"
Price; 1,801 yen (1 piece)
Sales period: September 6th (Wednesday) to September 12th (Tuesday)
<Limited to 200 points each day>
A luxurious-looking burger sandwiched between a Kuroge Wagyu beef patty and plenty of roast beef from Roasted Beef ITO, a roast beef specialty store. This dish is highly recommended for meat lovers who want to see how the patty and roast beef work together in harmony. The combination of the tangy and refreshing horseradish mayo sauce brings out the flavor of the meat.
There are also two types of limited items for the second week of the exhibition period.
"Sukiyaki Dashi Rolled Egg Rice Burger – Dashi rolled egg and sukiyaki served with Edo Okaka ginger."
1,801 yen (1 piece)
Sales period: September 13th (Wednesday) to 19th (Tuesday)
<Limited to 200 points each day>
What a dream co-starring of the tastes of 3 well-known stores. Kuroge Wagyu beef sukiyaki soaked in the secret sauce from Asakusa Imahan, which is famous for sukiyaki and beef tsukudani, is sandwiched with a sweet fluffy egg from the tamagoyaki specialty store "Tsukiji Shoro'' , and a sandwich from the pickle specialty store "Ginza Wakana''. A dish accented with Edo Okaka ginger. It seems to have a rich and refreshing finish. It is very voluminous because it contains 3 rice plates.
"Red sea bream cutlet burger-fried natural red sea bream from Nagasaki prefecture with special lemon tartar sauce"
1,601 yen (1 piece)
Sales period: September 13th (Wednesday) to 19th (Tuesday)
<Limited to 200 points each day>
This is a product that was completely remade according to "Mos Koshi", which was released for a limited time at Mos Burger two years ago. Crisply fried wild red sea bream from Nagasaki prefecture, red sea bream cutlet, sandwiched with a special tartar sauce made with Ginza Wakana's pickled radish and pickled vegetables.The saltiness and flavor of the pickles enhances the flavor of the sea bream.A rich fish. Burger.
Desserts are also served in burger style at "Mosukoshi".
"Fruit cake sand ~ Rumbling fruit and plenty of cream ~"
1,601 yen (1 piece)
Sales period: September 6th (Wednesday) to 19th (Tuesday)
<Limited to 70 points each day>
A hamburger-style fruit sandwich perfect for dessert, made with moist dough and cream from Patisserie Mon Cher, famous for its Dojima roll.
Although it is sold all year round, the special feature is that the type of fruit changes between the first and second rounds, with the first round using kiwi, white peach, and pine, and the second round using Shine Muscat, Nagano Purple, and Mango. It is almost the first time to handle such a cake with Mos Burger. Because the number of sales is small, it may be the rarest item in a sense.
Regarding this project, Isetan Mitsukoshi proposed joint development with Mos Burger, which is Japan's first domestically produced hamburger chain and is particular about safety and security, and values Japanese food culture. It took eight months to develop the product.
"We sympathize with Mos Food Service, which has a vision of being the only restaurant company in Asia that attracts the attention of the world. We hope that this initiative will encourage people who don't usually visit department stores to come and have an enjoyable time." (Mr. Ryo Enomoto, Manager of Ginza Mitsukoshi)
"(During product planning), we usually think from scratch, but this time, the key point was to use ingredients from well-known stores with a different flavor. So, we went through a process of trial and error, including figuring out which ingredients to use and in what amounts.All the ingredients from well-established restaurants are precious, and we wouldn't normally be able to use them.They are made by the restaurant. We had ingredients, and development was so much fun." (Mos Food Service product development manager Shinichiro Hamasaki)
In addition, as limited original goods during the period, "Mos Koshi x KINTO Water Bottle" using the "Mos Koshi" original logo (1 each / 500 ml each / 1,980 yen each) and "Mos Koshi Shopper Bag" (1 piece / 101 yen) is also on sale. Don't forget to check it out if you're a fan.
"Mosukoshi" is open for a limited time. Specially designed and unique burgers that can only be tasted here are prepared for the anniversary, so why not stop by once?
*Detailed sales methods and sales status on the day will be posted on Ginza Mitsukoshi Official X (Twitter) as appropriate, so please check here.
■Overview of Mosgoe
Schedule
September 6th (Wednesday) to September 19th (Tuesday), 2023
time
10:00-20:00
*Last order is 30 minutes before the end of each day (until 16:00 on the last day only)
place
Ginza Mitsukoshi New Building 9F Ginza Terrace/Terrace Room (4-6-16 Ginza, Chuo-ku, Tokyo)
Ginza Mitsukoshi official website
https://www.mistore.jp/store/ginza.html
*The content of this article is as of the time of the interview (September 5, 2023). It may differ from the latest information, so please check the official website for details.
<Past coverage article>
[Coverage report] Scale up of "ART AQUARIUM MUSEUM GINZA" of goldfish art! Many new aquariums appear, enter the world of fantasy with the largest "Tenku Rium" in the hall
[Venue report] Special exhibition "Tadanori Yokoo Ginza Bangaichi" will be held in Ginza. A unique exhibition with many works on display for the first time, scattered with the design process "only"
[Venue Report] Makoto Shinkai's "Suzume no Toshimari" exhibition will be held at Matsuya Ginza. Relive the movie story and immerse yourself in the charm of "Shinkai World"
Is the city of Tokyo pixelized? ! I experienced "Pixelized Adventure in Japan" on Sony Park Mini.
[Venue report] Chikawa's first original painting exhibition "Nagano Exhibition" opens at Matsuya Ginza. Over 200 original drawings, as well as behind-the-scenes settings that are a must-see for fans! ?