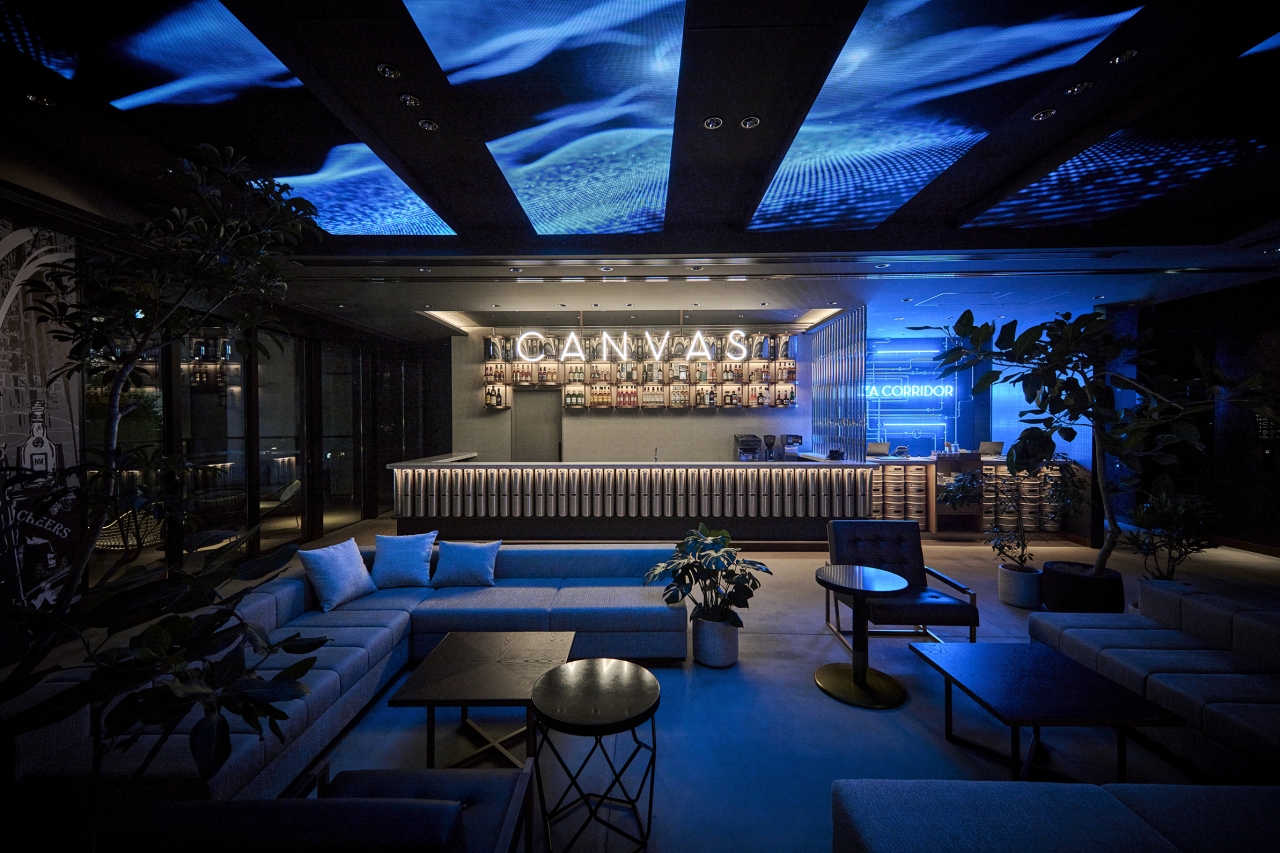 The Royal Park Canvas Ginza Corridor , a hotel operated by Royal Park Hotels and Resorts Co., Ltd. (Mitsubishi Estate Group), is located next to the Ginza Corridor, a downtown area that creates new encounters and has an outstanding presence in Ginza at night. opened on November 16, 2022.
The hotel aims to provide the best nightlife in Tokyo by preparing a large number of contents based on the concept of "getting drunk" . Since I was able to cover it immediately, I will introduce the state of the hotel, such as the guest rooms, the bar, and the restaurant.
A lifestyle hotel that enriches your nighttime in Ginza
The "The Royal Park Canvas" series developed by the company does not provide conventional general hotel services, but an environment where customers can choose the services they need and spend comfortably as if they were painting on a canvas. A lifestyle hotel for millennials that provides
The recently opened "The Royal Park Canvas Ginza Corridor" is the second store in the Ginza area following "The Royal Park Canvas Ginza 8".
5 minutes walk from Tokyo Metro Ginza Station. Located in a lively location facing the Ginza Corridor, it has good access to surrounding tourist attractions.
Regarding the development theme, Mr. Kengo Oba of the hotel facilities product planning department said, "When planning a hotel in Ginza, which is a popular destination for foreign visitors to Japan, and in the distinctive downtown area of Corridor, we focused on the nighttime economy. I guessed."
The nighttime economy refers to various consumption and economic activities that take place at entertainment facilities, restaurants, and events from 6:00 pm to 6:00 am the next day.
Mr. Oba noticed that a questionnaire survey of foreign visitors to Japan showed that compared to other countries, Japan has less nighttime content that satisfies foreign tourists.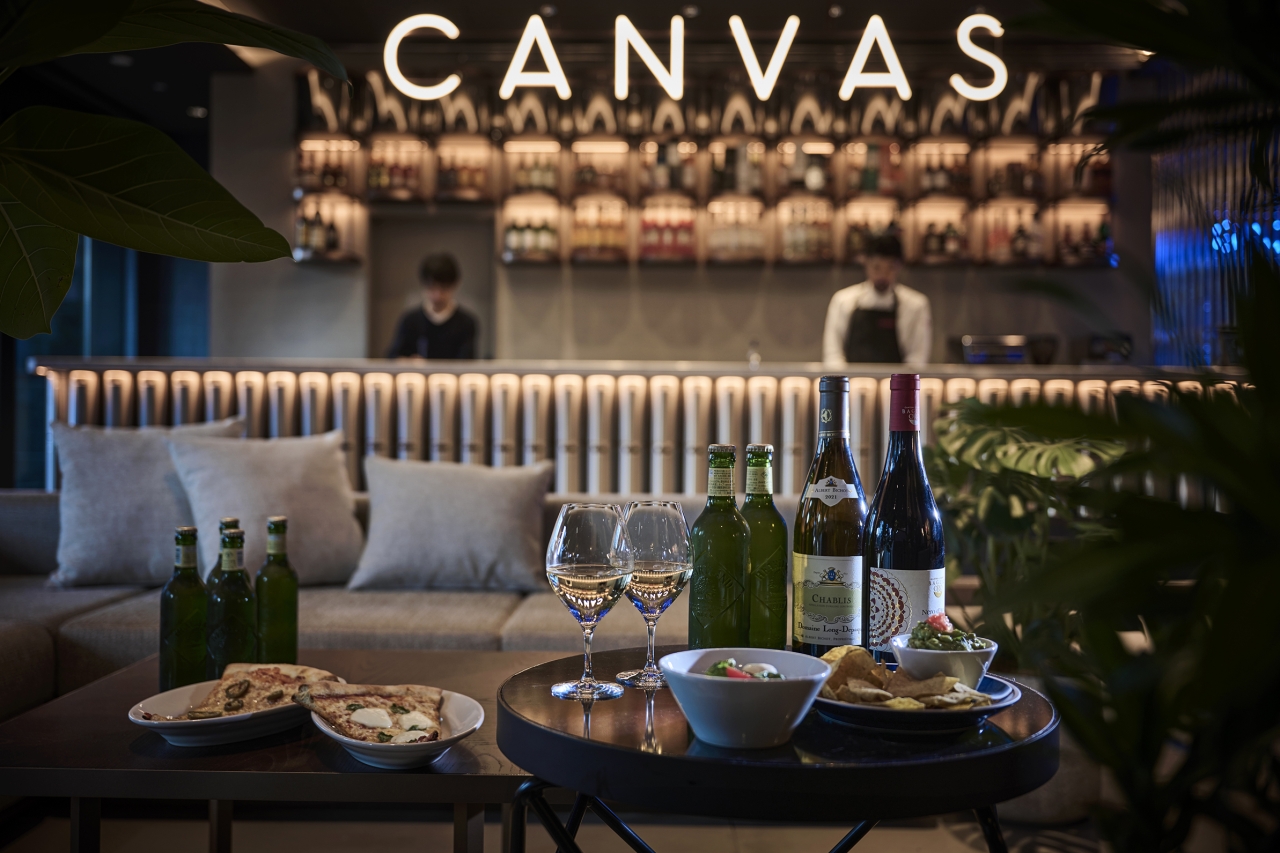 Therefore, as a hospitality unique to a hotel located in the downtown area of Ginza Corridor Street where gourmet and entertainment gather , the concept is to be "intoxicated" with alcohol / music / light / color, and you can enjoy bar hopping (drinking while walking). , The hotel was planned and completed to provide a dramatic nightlife experience that blends into the city .
Enjoy drinking at 3 different types of bars and a secret bar!
The three bars are the first symbols of the hotel, which offers a rich nightlife.
■PROSECCO BAR
"PROSECCO BAR" is right in front of you when you enter the entrance on the first floor. They have many sparkling wines that are light and comfortable to drink, including Italian sparkling wine "Prosecco".
With an atmosphere that makes it easy to stop by, it is a hotel waiting bar where you can enjoy a new aperitivo style (an aperitif style both day and night).
PROSECCO BAR (1F)
Business hours: 11:00-23:00 (last order at 22:30)
Number of seats: 6 seats + standing
■CANVAS LOUNGE produced by PCM
---
---
When you go up the stairs to the second floor, you will find the hotel's main bar, CANVAS LOUNGE produced by PCM .
Produced by Marunouchi's legendary bar "PCM (Pub Cardinal Marunouchi)", this is a cash-on-delivery style standing bar where you can enjoy a wide variety of alcohol until late at night. Drinks such as original cocktails, and food such as "Italian Gourmet Sliced Pizza" and Italian sweets are available.
The main attraction here is the DJ team led by the sound producer LAVA, who hold live DJ performances every night from Monday to Saturday until midnight!
The entire lounge will be livened up with a mix of sound, light and video that will make you feel "intoxicated", creating an atmosphere of drinking and encounters with people. It also has an open terrace, so it would be nice to have a leisurely conversation while looking out at the Ginza Corridor.
"CANVAS LOUNGE produced by PCM" (2nd floor)
Business hours: (Monday-Saturday) 11:00-28:00 (drinks last order at 27:00), (Sundays and holidays) 11:00-22:00 (drinks last order at 21:00)
Number of seats: 16 seats (sofa) / 6 seats (terrace)
[Overview of DJ live]
Date and time: (Monday)-(Saturday) 20: 00- Held every night * The holding time may change depending on the day of the week.
Appearance: DJ LAVA, etc. *Event details are subject to change. Please see our website for the latest information.
■ OMIKI BAR
If you go further down the 2nd floor, you will find the OMIKI BAR , a bar specializing in Japanese sake, where records are played behind a noren curtain. Produced by "IMADEYA GINZA", which promotes sake culture from GINZA SIX, you can enjoy rare Japanese sake and shochu that match the four seasons, and pairings with snacks.
Here you can listen to music played from analog records selected by "GINZA RECORDS & AUDIO". If you get tired of the gorgeous sounds and lights of the Canvas Lounge, it might be a good idea to have a drink at the "OMIKI BAR".
OMIKI BAR (2nd floor)
Business hours: (Monday-Saturday) 17:00-28:00 (drinks last order at 27:00), (Sundays and holidays) 17:00-22:00 (drinks last order at 21:00)
Number of seats: 20 seats
■ Champagne Bar Room312 by LILI LA YULI
Furthermore, it is clear that there are invitation-only (membership-only) secret bars in addition to these three bars!
Receive the card key at the front desk on the 2nd floor and take the elevator to the 3rd floor. When you open the door to room 312, which at first glance looks like no other guest room, you will find yourself in a private space that is unified in chic colors and wrapped in the world view of Yuriko Watanabe, who is also active as a total coordinator of the dining space. increase.
The word hideout is perfect!
There is also a stylish way to enjoy the champagne relay, where the Maison's initials are alphabetized from A to Z and the glass of champagne is changed every night. It's a must-see for wine lovers, as it's possible to meet small-scale homegrowers and brewers, as well as wines that normally can only be drunk by the bottle.
The whole room was wrapped in a nice scent that made me feel calm. If you have a glass of the finest champagne selected by Mr. Watanabe here, you will be able to finish the day in the best mood.
Champagne Bar Room312 by LILI LA YULI (Room 312)
* In principle, only available to referrals <br /> Business hours: (Mon-Sat) 18:00-24:00 (last order at 23:30) (Sundays and holidays) 18:00-22:00 (last order at 21:30) )
Number of seats: 15 Price: 1,000 yen per person, Champagne by the glass from 2,000 yen, Champagne by the bottle from 12,000 yen (tax included)
*When using sofa seats, only bottle orders are accepted.
Guest rooms are equipped with projectors, high-quality speakers, and bass audio.
Just like the charm of the Ginza Corridor, even after enjoying encounters with various alcoholic drinks through bar hopping, the hotel's "intoxicating" hospitality continues to the guest rooms.
There are 161 guest rooms ranging from 23 to 60 square meters. There are 107 double (king) rooms and 54 twin rooms, of which 10 rooms can accommodate triples.
■ Check-in 15:00 / Check-out 11:00
There is a front desk on the right side of the canvas lounge on the 2nd floor, so check-in will be handled there. Some of the amenities are gathered at the counter, and you can choose what you need on your own.
■ Amenities in the room
Bath towel / Face towel / Shampoo / Conditioner / Body soap / Face & hand soap / Slippers / Pajamas (separate type) / Deodorant spray / Shoehorn / Shoe cloth / Mineral water
■ Amenities at the front desk
Skin care set (cleansing, facial cleansing foam, lotion, milky lotion) / face pack / cotton pads / cotton swabs / hairbrush / hair tie / toothbrush / razor / shower cap / body towel / coffee / black tea / green tea
The appearance of the hotel is the same, but I found that the entire hotel, such as the elevators and guest room floors, was designed with a liquor motif.
Guest room floors are from the 3rd floor to the 13th floor. The design is divided into three types, and they are named "Prosecco", "Omiki" and "Canvas" .
"PROSECCO – Prosecco type" (3rd to 7th floors) is based on gold, with a design based on the motif of the moment when sparkling wine is poured. Small items and art pieces have a sense of playfulness, and the rooms are simple yet bright.
"OMIKI Type" (8th to 13th floors) is a guest room that pursues relaxation. It was a space with a Japanese atmosphere with lanterns and small rises installed in the overall subdued colors. You can forget the hustle and bustle of Ginza and spend a relaxing time here.
Among the three types, the most spacious and luxurious "CANVAS-Canvas Type" (4th to 13th floors) has a variety of colors and lights, such as full-color lighting where you can enjoy colors that match your mood and wall art with cocktail motifs. A luxurious room where you can experience
The biggest feature of the hotel's guest rooms is that all rooms are equipped with projectors and high-quality speakers (Panasonic Group's high-end audio brand "Technics" premium class wireless speaker "OTTAVA" series)!
After having fun at the hotel bar, prepare your favorite drink in the wine glass or champagne glass provided in your room, and play your favorite video on the big screen while being intoxicated by the realistic sound… It's very luxurious. You can create a relaxing time. It seems to be exciting at girls' associations!
In addition, the image of the projector will be projected on the screen in the "canvas type" and on the wall in the other rooms. When the sun is high, it was a little difficult to see the video in some rooms due to the sunlight, but I don't think it really bothers me because my stay is mainly at night.
In addition, the image is basically projected in front of the bed, but in some rooms it is slanted from the bed, so if you are worried about it, it would be good to check the position of the projector and choose a room. .
I actually sat on the bed, but it was soft, but it wasn't the type to sink excessively, so it seemed comfortable to watch videos while lying down.
If you want to use your smartphone to play videos on the projector, you can borrow the cables you need at the hotel. Also, most rooms don't have TVs, but if you want to watch terrestrial TV, you can borrow a tuner from the front desk.
In addition, all bathrooms and shower rooms are equipped with ceiling bath audio. Surprisingly, the DJ live in the lounge can be enjoyed in real time as it is in the room or bathroom!
In addition to staying without meals, there are unique accommodation plans such as a plan with breakfast, and a bar hopping plan with a ticket that allows you to drink one drink at each bar of the hotel.
The price of accommodation varies greatly depending on the timing of your stay and the plan, but for example, if you stay in a room for two people per night, there are plans that cost less than 10,000 yen per person, including tax.
Until March 31, 2023 (Friday), you can stay at a very reasonable price with the opening plan, so be sure to check it out.
All-you-can-drink sparkling wine from the morning! ?
Don't miss the casual restaurant "Il Cardinale Ginza Corridor Cucina Italiana" on the 1st floor.
An authentic trattoria, here you can enjoy regional Italian cuisine with a focus on Tuscan cuisine. The recommended menu is T-bone steak "Bistecca alla Fiorentina".
Guests with a breakfast-inclusive plan will be served an Italian breakfast at this restaurant. It seems that you can choose according to your taste, such as risotto, zuppa (soup), homemade focaccia, etc., but what is especially important to check is that the drink comes with all-you-can-drink Italian sparkling wine "Prosecco"!
The plan with breakfast is highly recommended because you can spend a luxurious time full of alcohol until morning.
If the weather is not bad, the glass door facing the road is opened, so you can enjoy your meal while feeling the seasonal breeze.
Il Cardinale Ginza Corridor Cucina Italiana (1F)
Opening hours: Breakfast/07:00-10:00 (09:30 LO), Lunch/11:00-15:00 (14:30 LO), Dinner/17:00-23:00 (Course 21:30 LO) FOOD 22:00 LO Drinks 22:30 LO)
Number of seats: 52 seats
・
The spiral staircase leading from the entrance on the 1st floor to the 2nd floor is also beautiful, so please pay attention to it.
The design is based on the curved lines of wine poured into a glass, and on the wall is an art depicting the goddess of sake, Oeno, named "Innocence."
In addition, from January 2023, we plan to offer a "morning activity" plan with the theme of meeting and discovering a new self.
Inviting a specialist instructor, we are currently adjusting various morning activities such as how to make a daily routine and self-development such as mental training, fashion coordination tips, and self-improvement themes. .
The place where I am happy about the plus α that does not end just by enhancing the nightlife. I can't wait for the official announcement.
The hotel "The Royal Park Canvas Ginza Corridor" offers an unprecedented new nightlife while producing an "intoxicating" night. If you are looking for accommodation in the Ginza area, please include it in your list.
For details, please visit the official website of the hotel .
Overview of "The Royal Park Canvas Ginza Corridor"
location
6-2-11 Ginza, Chuo-ku, Tokyo
Facility configuration
Guest rooms (161 rooms), restaurant (1 place), bar & lounge (3 places)
site area
701.45 square meters (212.19 tsubo)
Hotel total floor area
About 7,304 square meters (about 2,209 tsubo)
Structure/Scale
Steel structure, 13 floors above ground, 1 floor below ground
access
About 5 minutes on foot from Tokyo Metro "Ginza Station", "Hibiya Station" and "Yurakucho Station"
About 6 minutes on foot from JR "Shimbashi Station" and "Yurakucho Station"
Hotel official website
https://www.royalparkhotels.co.jp/canvas/ginzacorridor/
*The content of this article is as of November 14, 2022. Please check the official website for details, as it may differ from the latest information.
<Past coverage article>
[Interview report] Go on an adventure on a magic carpet. Jean Julien's new work "The Departure" appears in the GINZA SIX atrium art
[Actual food report] Autumn gastronomy to taste in Ginza! Introducing GINZA SIX's 2022 autumn recommended dishes and sweets
[Preliminary experience report] "Ginza Town Bar 2022" is the best gourmet event where you can challenge a high-class bar for about 1,300 yen. Attention Ginza Beginners!
[Interview report] Fun leads to learning! "I tried it ~ Amusement park where you can learn with your body ~" is being held at Tokyu Plaza Ginza (until September 4, 2022)
[Artizon Museum] "Two Journeys for 140 Years of Birth Shigeru Aoki x Hanjiro Sakamoto" Press Preview Report